Dehydrating Marshmallows and Make Marshmallow Powder
Today, I want to share how to make Marshmallow Powder. I shared a post a few weeks ago on Dehydrating Marshmallows, and then I found these peppermint gems on sale! What I like is that the flavor is just right, not too strong and not too bland.
During the holidays, do you like to stir a candy cane or peppermint stick in your hot chocolate or hot cocoa? It seems like someone always stops by with a neighborhood gift and a candy cane is attached.
Then, I make a warm drink that night and use that sweet peppermint treat! Well, now I have jars and jars of dehydrated peppermint marshmallows sealed with my FoodSaver.
Please remember, you can't use the accessory hose with the powder, it will ruin your machine.
So, for my monthly powder batch, I use the wide mouth Ball White Lids shown below. If your Food Saver didn't come with the accessory lid this is where you can buy one: FoodSaver Accessory Lid Set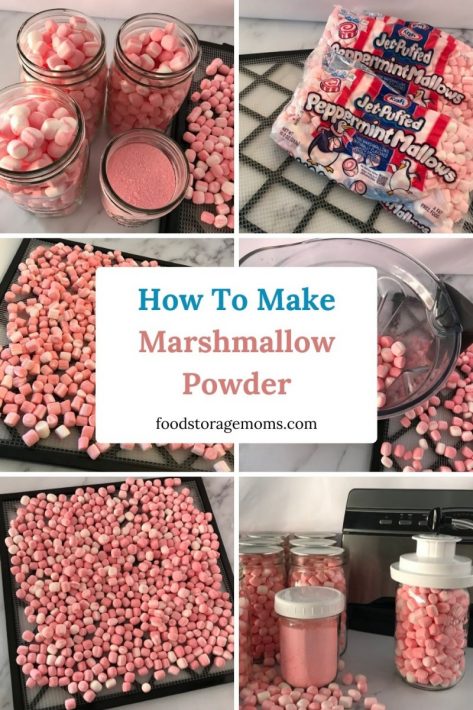 How To Make Marshmallow Powder
December and January are great months to stock up on marshmallows. You can dehydrate them and make marshmallow powder. It's so fun!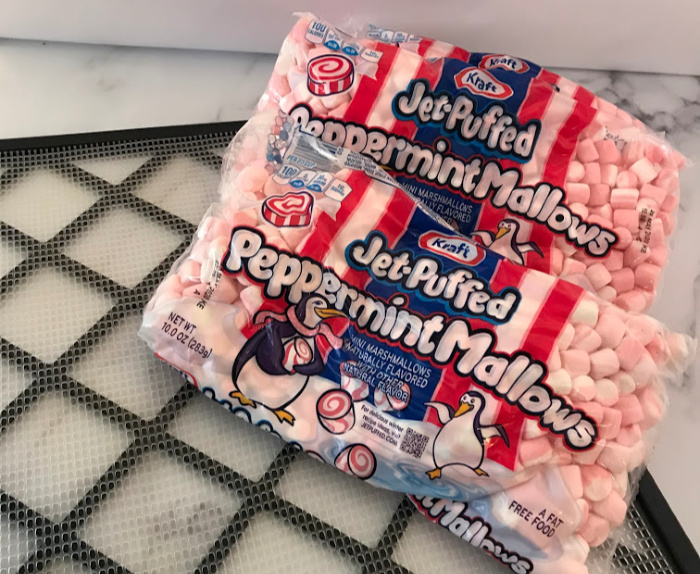 Step One
I have an Excalibur Dehydrator, but any model will work. Watch for the marshmallows to go on sale. Keep in mind they do not shrink.
What you see is what you get. Spread the marshmallows evenly on your dehydrator racks as shown.
Step Two
You can see I did several racks because I love peppermint in hot chocolate.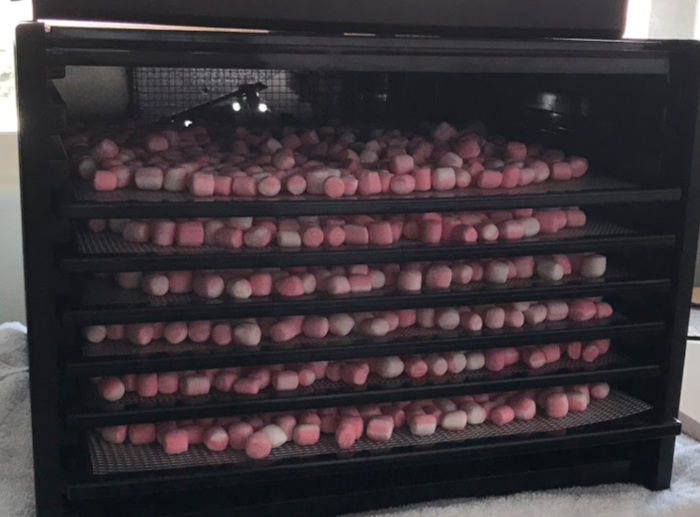 Step Three
These are a little bit bigger than the mini size marshmallows. Not much, but boy did they take forever to dry. They took 3 days at last count. Crazy, huh?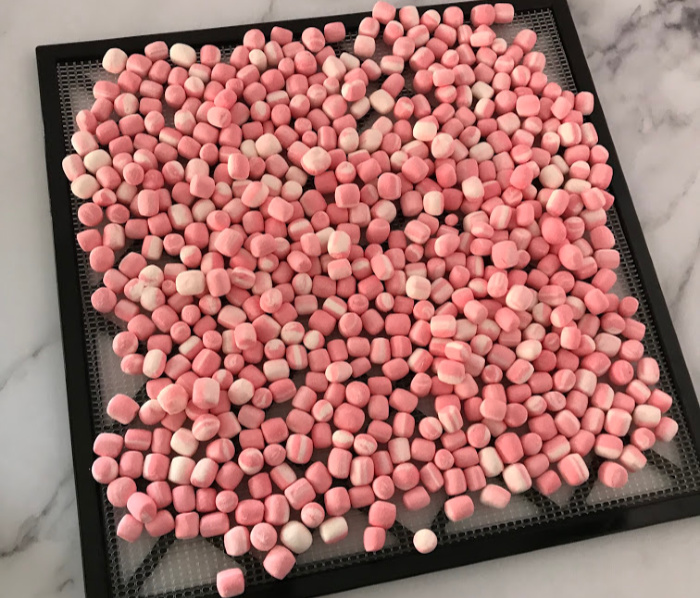 Step Four
I used my Vitamix blender to make the powder. Mark used the pulse button until I could see the consistency I was looking for in the marshmallow powder.
Be careful when you take the lid off, remember it's powder. Take the lid off slowly since it could blow all over, just giving you the heads up here.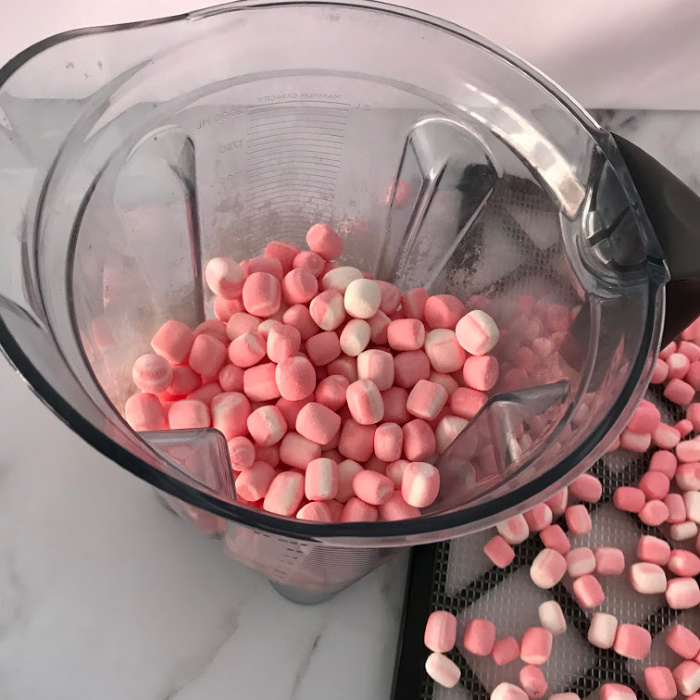 Step Five
How To Condition Your Fruit or Vegetables
If you live where it is HUMID: "To condition the fruit, take the dried fruit that has cooled and pack it loosely in plastic or glass jars. Seal the containers and let them stand for 7 to 10 days. The excess moisture in some pieces will be absorbed by the drier pieces. Shake the jars daily to separate the pieces and check the moisture condensation." https://nchfp.uga.edu/how/dry/pack_store.html
I live in the DRY DESERT: I set my fruit and vegetables on my countertop for 5-7 days. Ten days is even better to make sure everything is dry before using your FoodSaver unit.
I used my FoodSaver to seal the jars of the dehydrated marshmallows and I used the white Ball lids for the powder. Please don't use your accessory hose for the powders, it will ruin your unit.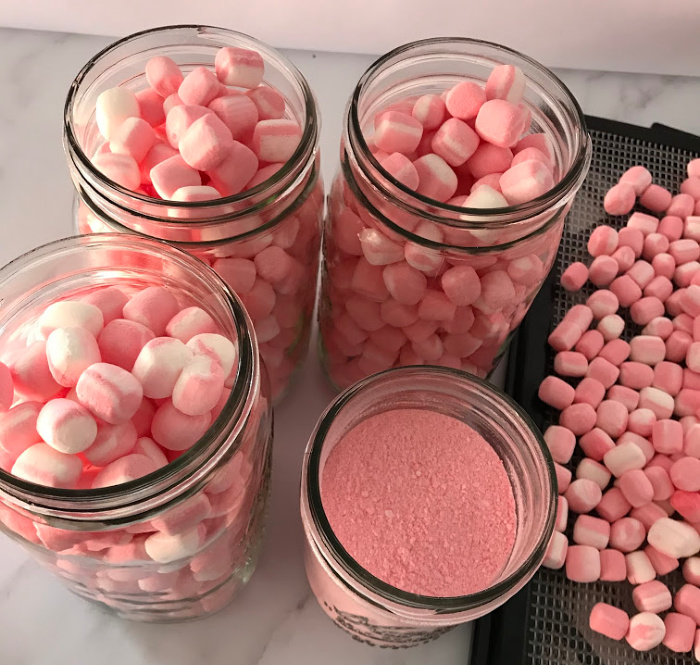 Step Six
Here is a picture of the FoodSaver using the FoodSaver sealing lid and accessory hose.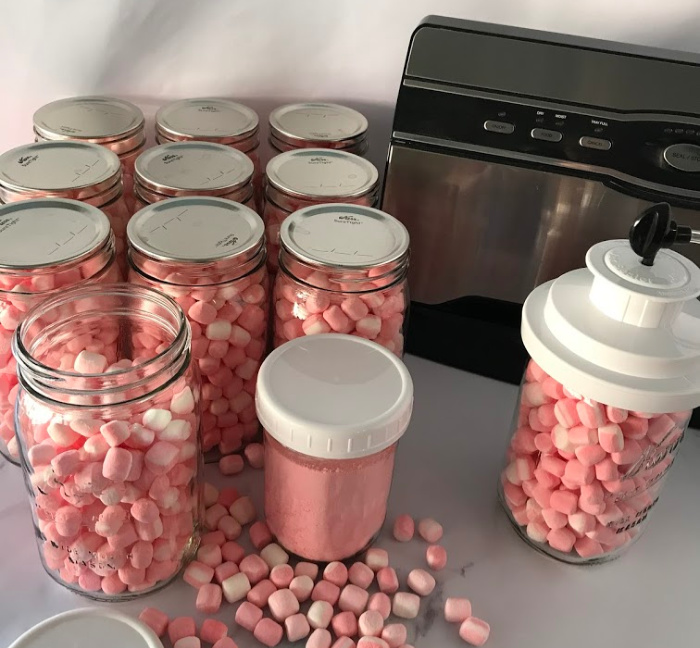 How Can I use Marshmallow Powder
Add to Hot Cocoa or Hot Chocolate
Sprinkle it to sweeten your tea
Sprinkle it in when you make Rice Krispie Squares
Roll cookies in it after baking you cookies (peppermint flavor is the best)
Add it to your morning cereal
Dip fresh fruit in sour cream or whipping cream, then the marshmallow powder
Marshmallow Powder
This is super concentrated so you only need a little, oh my, is it ever yummy!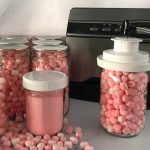 Marshmallows Dehydrated and Powder by FSM
Ingredients
1-6

bags

of marshmallows (mini works best) these are Peppermint, but any flavor works.
Instructions
Spread the fresh marshmallows evenly on your dehydrator racks. I have an Excalibur Dehydrator and I set the temperature at 150 degrees. These took a very long time to dry. I don't know if its because these were a bit bigger than the mini marshmallows I have done before. These took literally 3 days to dry. It's worth it, I promise! The time will always depend on the humidity of the room you are drying your marshmallows. Let the trays sit for a day or two (2 weeks is even better) after drying before putting the marshmallows in jars to store in your pantry. I like to make sure the food is totally dry before using my FoodSaver to seal the quart mason jars. Use a blender to make marshmallow powder. I use a FoodSaver to seal my dehydrated marshmallows but do not use your accessory hose to seal the powder, it will ruin your unit.
Hot Chocolate/Cocoa Recipe
I've shared this recipe before, but just in case you missed it, this is the best hot chocolate in the world. It's all about using our food storage.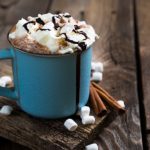 Hot Chocolate/Cocoa
Ingredients
Ingredients
1

cup

sugar

1/2

cup

Dutch cocoa or any dry unsweetened cocoa

2/3

cup

water

4

cups

milk

2

teaspoons

vanilla

whipped cream (optional)

peppermint bark (optional: place a small piece in the bottom of each cup and pour the hot chocolate over the peppermint bark, if desired)
Instructions
Instructions
Place the sugar and cocoa in a saucepan and blend the mixture. Add the water and stir until blended. Bring the mixture to a boil and stir constantly for two minutes. Add the milk slowly and heat thoroughly, but do not boil. Serve with whipped cream, if desired.
Instant Milk Alternative
Please note*** If you want to make a dry mix: My Thrive Instant Milk Can states: 1 cup water + 2 tablespoons dry milk = 1 cup milk. It also says (to make it easy) 4 cups water + 2/3 to 1 cup dry milk = 4 cups milk. My recipe calls for 4 cups milk so I would add 1 cup dry milk to the recipe with a note to add 4 cups water when making this recipe with the 1 cup Instant Dry Milk.
Here are the other Dehydrating Posts I have done:
Final Word
This is one more way to use your dehydrator to preserve some fun food. Life is so good when you love what you're doing! It's all about being comfortable to dehydrate just about any food.
Please let me know if you try making marshmallow powder, I love to hear from you. We can do this, I promise.
Thanks for being prepared for the unexpected. May God bless this world, Linda