How To Make And Use Lemon Powder
Today it's all about how to make and use lemon powder. The first thing you have to do is dehydrate the sliced lemons. I wish you could smell my house, it smells like a freshly squeezed lemon. It's heavenly.
I read about scraping the lemons and not using the white pithy part. My gut told me to try just slicing them as is. So, I sliced the lemons about 1/4-inch thick with a good sharp knife.
I removed the seeds before I placed the lemon slices on the dehydrator racks. My dehydrator book said to set the temperature at 135 degrees.
How To Make Lemon Powder
Dehydrating Lemons
Step One
I washed the fresh organic lemons and cut the ends off, and then sliced them about 1/4-inch thick. The next thing you need to do is remove the seeds. All you do is spread the slices out so they don't touch one another and you're good to go. My dehydrator states to dry them at 135 degrees.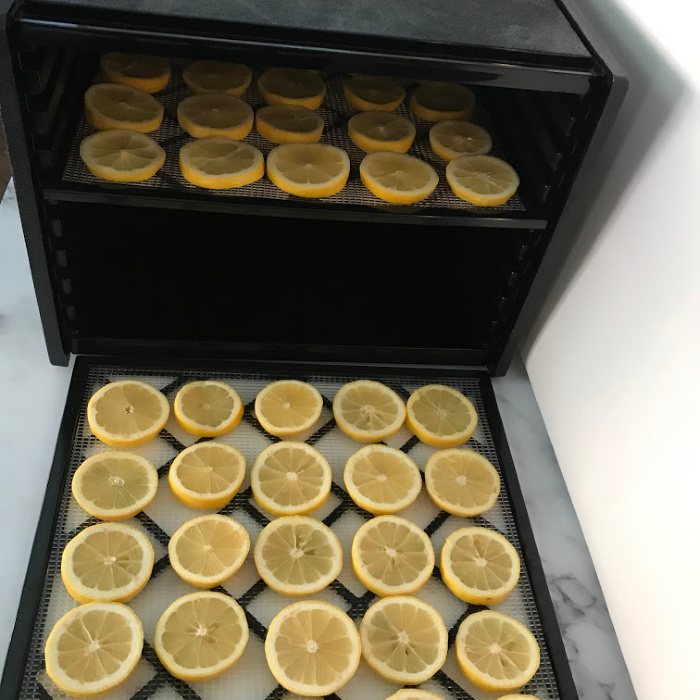 Step Two
These took about 16 hours to dehydrate until they had that crisp texture. You can see how the colors change from the bright yellow to the darker color shown below. The drying time will always depend on the humidity of the room you are using to dry your food and the temperature setting on the dehydrator.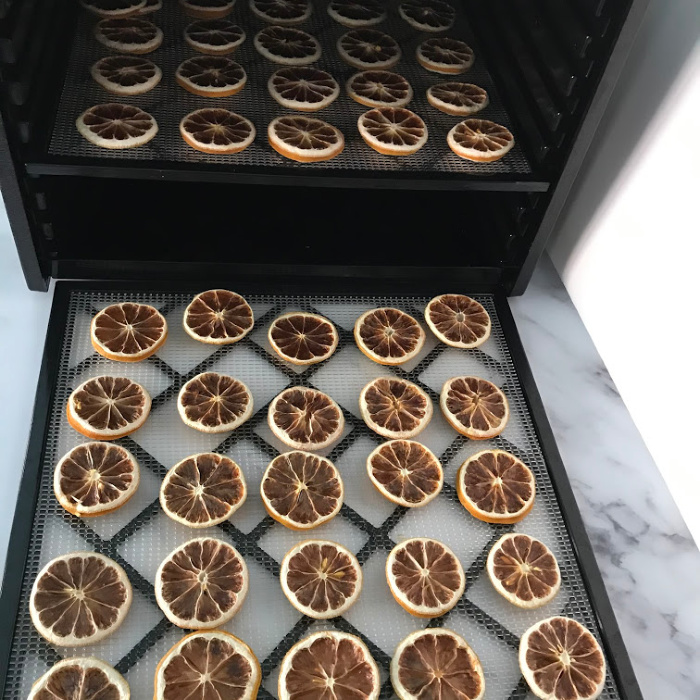 Step Three
You can grind them in a coffee mill, Magic Bullet, or your blender.
Step Four
You can store some lemon slices in mason jars to place in your drinks whenever you want a little lemon in your glass of water, soda, or other favorite drink. You can also grind the lemon slices in your blender on the pulse button to make lemon powder. I ground some slices in my Magic Bullet as well. They both worked great.
Step Five
You can use a FoodSaver to seal the mason jars with the dehydrated lemon slices. I never seal any powder with my FoodSaver because it could possibly damage the tubing that removes the air from the jars. Therefore, I use these white ball lids shown below. Wide mouth and regular jar sealer.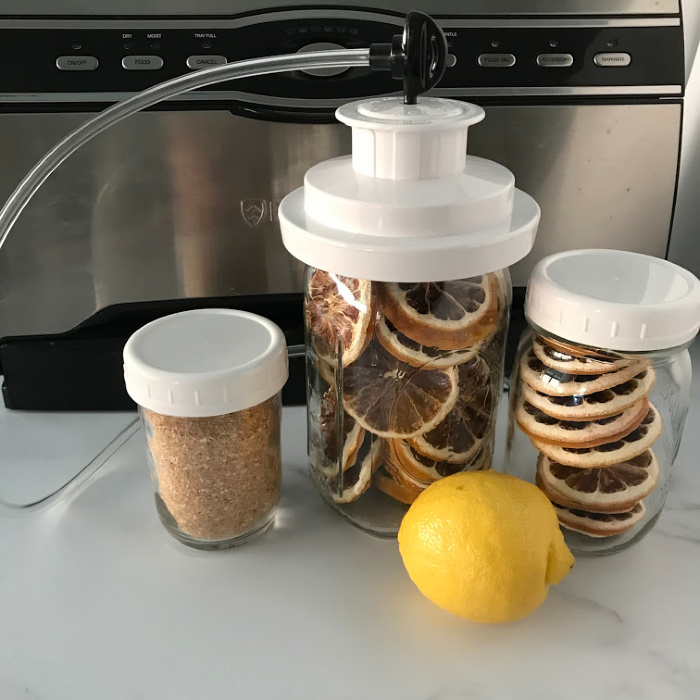 I Ground It Finer With My Blender
I wasn't totally happy how the Magic Bullet ground it, so I used my blender to make the lemon powder even smoother and finer.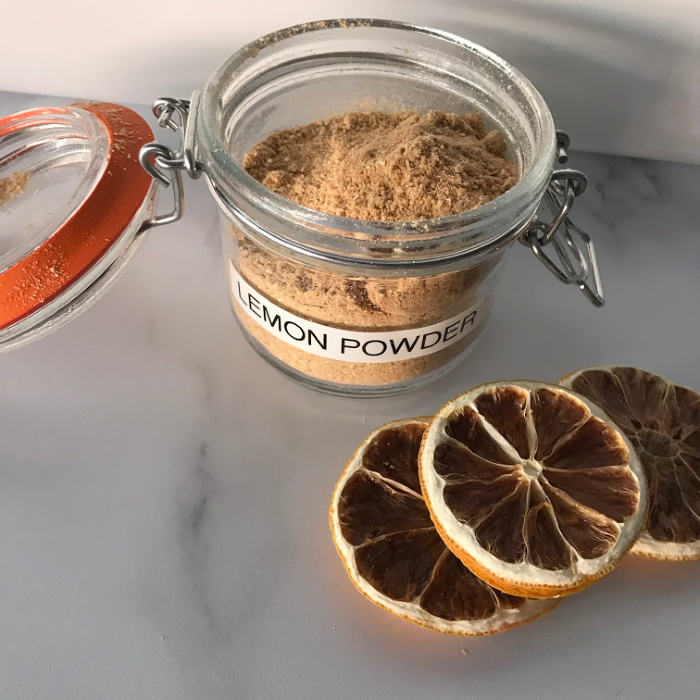 This is how I store it in my pantry for short term storage.
I use jars like this that are airtight, or I use mason jars with Ball White Lids.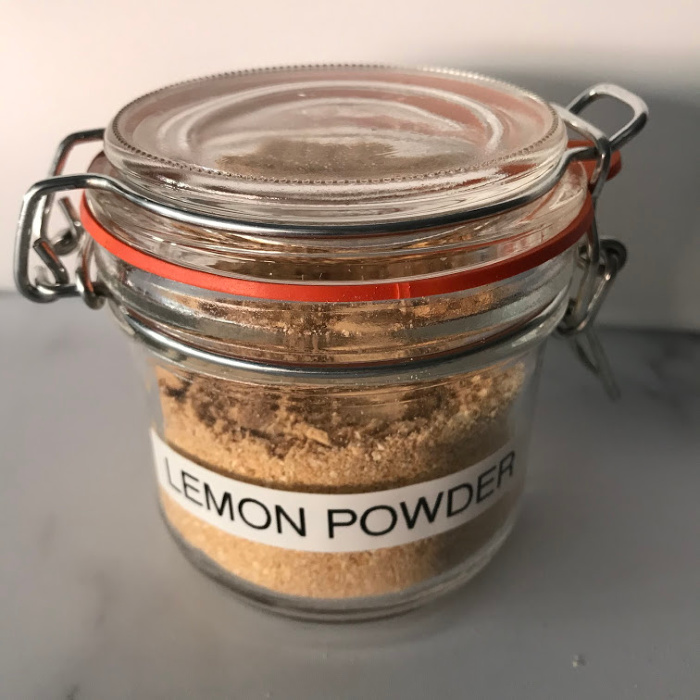 How I Use Lemon Powder?
Make homemade Lemon Pepper by adding pepper to some lemon powder.
The powder can be used in place of zest (add out 1 teaspoon powder for 1 tablespoon zest if your recipe calls for zest).
Add it to your glass of water for the day.
A perfect addition to cookies.
Add to icings or frosting.
Flavor your homemade scones.
Add to iced tea.
Add to hot tea with honey.
Salad dressings
Puddings
What Are the Health Benefits of Lemons?
Lemons contain a high level of Vitamin C and lots of soluble fiber. They may aid in the prevention of heart disease, kidney stones, and cancer. They can possibly even help with weight loss.
How Many Lemons A Day Are Safe?
Here's the deal, one lemon has 50 mg of Vitamin C, so the juice of 2 lemons a day is the perfect number. You may want to drink a cup of hot water with the juice of those 2 lemons.
Can I Freeze Lemons?
Yes, you can. All you need to do is slice, or quarter them and place them in a freezer bag with the air removed before sealing.
How Many Lemons Grow On A Tree?
A healthy lemon tree can produce up to 600 pounds of lemons every year.
How Long Do Sliced Lemons Last?
Lemons will become soggy and look a little undesirable at room temperature. Now, if you place some sliced lemons in a picture of water and store it in the refrigerator they will keep for up to 3 days.
Do Lemons Prevent Kidney Stones?
I remember my son-in-law having kidney stones, and the doctor told him that 2 lemons a day in his water bottle would increase the urine citrate, and therefore likely reduce his risk of kidney stones. I call it my healthy lemon juice.
Can They Improve Digestion Issues?
Not only is the Vitamin C in lemons good for your body, but the lemons help break down the nutrients to improve your immune system.
Final Word
Today I wanted to share my post on how to make lemon powder with you because it's one more way to be self-reliant. I think it's critical we know how to dehydrate as many foods as we can and make a powder out of them as well.
We can do this! Thanks for being prepared for the unexpected. May God bless this world, Linda
Homemade Lemon Extract by Linda