Dehydrating Spinach and Make Spinach Powder
Have you wanted to learn How To Dehydrate Spinach To Make Flakes Or Powder? If you are like me, sometimes I have some spinach hiding in the back of the refrigerator that I forgot about. Yes, I freeze it in small bags but I only have so much room in my small freezer. I dehydrated some Kale and it worked out great for smoothies. Of course, dehydrating spinach or kale is not going to be delectable for a salad, but for smoothies it's great.
First of all, I must tell you I did not cut off the stems because I was too lazy. I am not going to cut off hundreds of stems. Nope, nada. I took two containers of spinach from Costco that weighed one pound each. I had never looked at the weight so I just laughed when I realized they only weighed one pound each. Anyway, because I didn't layer the spinach totally flat I had to do two batches. I did wash the spinach leaves just because I worry about pesticides. The containers say organic, but I wash them just because I feel better knowing I hopefully got all the possible e-Coli, or whatever, off of the leaves.
It's Easy To Dehydrate Spinach: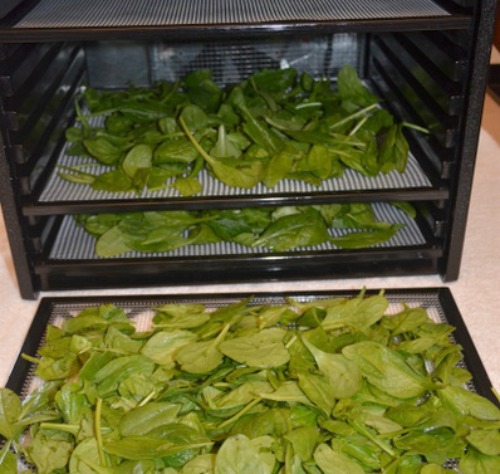 This is a really easy vegetable to dehydrate because you just have to wash them and spread them out as evenly as possible.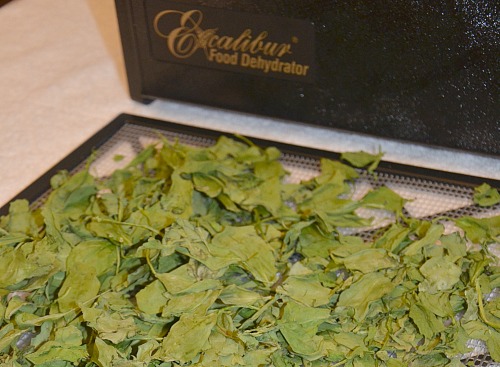 If you dehydrate spinach just think about all the possibilities you will have to add some spinach to so many dishes or smoothies. You can place the flakes in quart jars and seal them with a FoodSaver. You can use a Magic Bullet or blender to make spinach powder. Spinach powder is great for adding to some of the dishes I have listed below. You can add the flakes to all of them as well.
How To Condition Your Fruit or Vegetables
If you live where it is HUMID: "To condition the fruit, take the dried fruit that has cooled and pack it loosely in plastic or glass jars. Seal the containers and let them stand for 7 to 10 days. The excess moisture in some pieces will be absorbed by the drier pieces. Shake the jars daily to separate the pieces and check the moisture condensation." https://nchfp.uga.edu/how/dry/pack_store.html
I live in the DRY DESERT: I set my fruit and vegetables on my countertop for 5-7 days. Ten days is even better to make sure everything is dry before using your FoodSaver unit.
Dehydrate Spinach To Use In:
1. Smoothies
2. Omelets
3. Lasagna
4. Taco meat
5. Muffins
6. Waffles (yes it's awesome)
7. Spaghetti Sauce
8. Chili
9. Casseroles
10. Sweet Bread (like banana or pumpkin bread)
11. Pasta
12. Tortillas
13. Soups
14. Spinach Dip
15. Sprinkle on flatbread with olive oil
Health Benefits Of Spinach:
Spinach leaves are dark leafy greens loaded with nutrients, with very few calories. Popeye the Sailorman was onto something when he would eat his spinach. That cartoon was always so entertaining. Spinach can improve glucose control in diabetics, helps in lowering cancer risks, lowers blood pressure and cholesterol levels. Most of the calories are from protein. It's high in Vitamin A, calcium, magnesium, potassium, and folate. Remember, never go overboard on any food, including spinach, because if you are on blood thinners or have issues with your kidneys you are asking for health problems. Always do your research.
I thought I would share my Kale Dehydrating article: How To Dehydrate Kale.
How To Dehydrate Spinach
Freshly washed spinach (I left the stems on)
Set your dehydrator to 125 degrees for about 3 hours. I am using an Excalibur Dehydrator and my book says 125 degrees. Please check your own dehydrator for the temperature required. The dehydrating time will vary according to the humidity in the room where you are drying it. When completely dry store in airtight containers.
Final Word
Isn't it great when you can dehydrate food from your garden? Spinach is so easy to dehydrate and even easier to store in jars! May God Bless this world, Linda