Inexpensive Foods to Eat for High Blood Pressure
We all know that consuming too much sodium can have a direct negative impact on our blood pressure. But when it comes to your heart and blood pressure, there's a lot more than salt and sodium intake to consider. Did you realize that eating foods like vegetables, fruits, and whole grains, along with several others can also help manage your blood pressure? So, we need to consider beneficial foods besides always avoiding foods that are high in sodium and fats. It's true!
I'm going to mention this a few times if you are on blood thinners. Some of the foods discussed may not be right for you to eat. Please consult with your medical professional to make sure your medication is compatible with these items.
Now's the time to stock the food you can safely eat if an unforeseen emergency or disaster hits your neighborhood and you're dealing with high blood pressure issues. You can bug in or evacuate with the foods you can safely eat.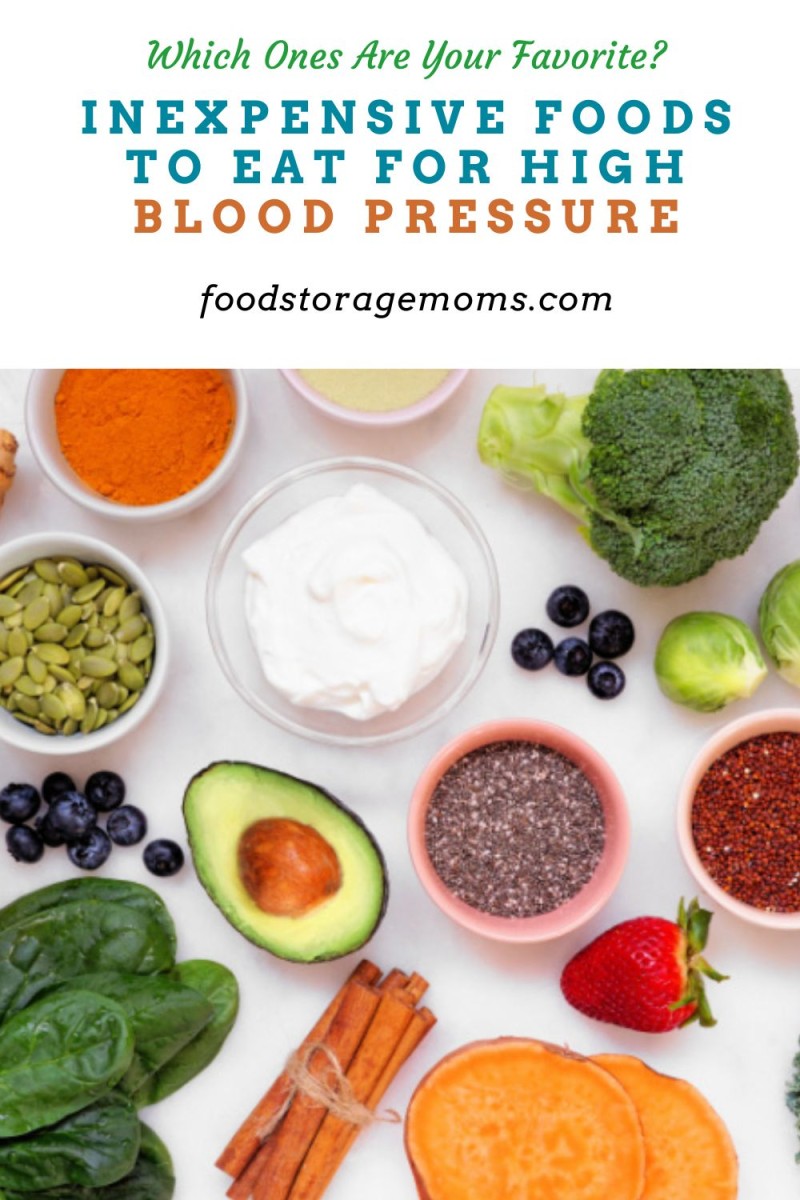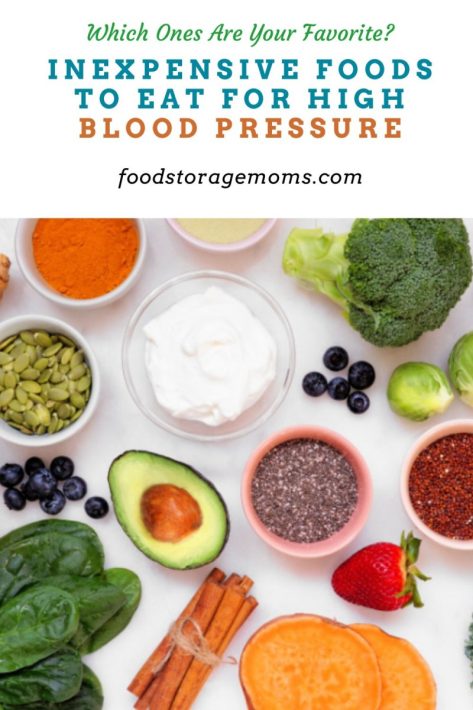 Inexpensive Foods to Eat for High Blood Pressure
And what's even better is that you don't necessarily need to spend a bunch of money to start enjoying a healthier lifestyle. These are inexpensive foods to consume for those of you that wrestle to keep your high blood pressure under control.
Bananas
Studies have shown that diets low in potassium are commonly associated with high blood pressure. The good news is, bananas are very rich in potassium, with around 420 milligrams in the average banana. Not only are they rich in potassium, but they also have high levels of fiber, which is another component that plays a role in regulating blood sugar levels.   The Best Ways to Preserve Bananas
On a per-pound basis, bananas are one of the least expensive fruits you can buy. Mark loves bananas each morning as part of his breakfast meal with cereal. He's been paying around $.55 per pound at a local Smiths store, much less than most other fruits.
Berries
Berries, especially blueberries, are packed with nitric oxide, a gas that helps to increase blood flow in your body. This results in lowered blood pressure. Research has proven that consuming even less than an ounce of blueberries each day can go a long way in reducing high blood pressure. Berries taste delicious when mixed in with oatmeal, yogurt, a smoothie, tossed in a salad, or simply enjoyed on their own. Fresh fruits are always a great idea and an easy way to eventually reduce hypertension.
Leafy Greens
Leafy greens are rich in potassium and magnesium, both of which play a crucial part in lowering high blood pressure. Kale, spinach, romaine, collard greens, and Swiss chard are several different types of leafy greens that you should consider adding to your diet. Besides having them as part of your salad, you can also add them to sandwiches, omelets, and even smoothies. When you eat leafy greens, you can have a significant reduction in your risk of having a high blood pressure reading. If you are on blood thinners, please check with your medical professional.
When fixing a meal with leafy greens, add some health benefits by adding carrots, beans, and lentils. These added foods provide needed fiber in your diet, along with being rich in nutrients like potassium and magnesium.
Broccoli
Broccoli and other cruciferous vegetables are cram-packed with 4 key compounds that help manage high blood pressure, including potassium, magnesium, calcium, and vitamin C. There have been studies that have shown that people who eat broccoli and other cruciferous vegetables regularly tend to have a longer life span and a lower risk of heart disease. Broccoli is a surefire way to get those essential nutrients in! Roasted Broccoli Recipe
Sweet Potatoes
Sweet potatoes come packed with magnesium, potassium, and fiber. Not only are they good for your blood pressure, but they may also provide benefits for your heart health. They taste fabulous when added to certain salads, or baked side-by-side with your choice of protein to make a deliciously easy meal. Sweet Potatoes: Everything You Need to Know
Red Bell Peppers
Rich in potassium, as well as vitamins A and C, red bell peppers are another great food choice for those that struggle with high blood pressure. They go wonderfully with hummus, vegetable dip, stir-fry, scrambled eggs, or simply enjoyed broiled with a bit of olive oil. Fresh produce is the way to go and red bell peppers are proof! Bell Peppers: Everything You Need To Know
Beets
Similar to berries, beets are high in nitric acid, a well-known high blood pressure-reducing gas. It's been proven that drinking beetroot juice can dramatically lower systolic blood pressure by as much as 4 to 5 mmHg. Just be careful if you plan on buying beetroot juice from the store because you need to see one out that doesn't have all the added sugar.
Garlic
The compound allicin may also help to reverse hypertension, which is released when garlic is chopped or crushed. Doctors don't recommend you use garlic supplements for high blood pressure because there hasn't been enough research done to prove their effectiveness. Garlic: Everything You Need To Know
Garlic Roller and Slicer/Mincer
Low-Fat or Fat-Free Yogurt
Low-fat yogurt is an excellent source of calcium, which happens to be a compound that plays a significant role in reducing high blood pressure. But besides this, you're adding several other vitamins, minerals, and potassium to your diet. You can also consider mixing berries, granola, or sliced almonds to add more benefits to counter high blood pressure.
Dairy products in general are often viewed as bad for your overall health due to their fat content. If you enjoy dairy products like milk and cheese, Just try to eat low-fat dairy products when possible.
Whole Grains (Oatmeal)
Whole grains provide several health benefits besides lowering high blood pressure thanks to their high level of fiber. Just three servings of whole grains a day can lower your risk of cardiovascular disease by as much as 15%. Whole grains can also assist you with lowering your cholesterol and help you lose weight. Oatmeal is a great way for you to start off the day with whole grains, followed up with quinoa, barley, whole wheat bread, or brown rice for lunch or dinner. Oatmeal: Everything You Need to Know
Salmon
Salmon may be one of the more expensive foods out of this bunch, but it too plays a significant part in lowering high blood pressure. Fatty fish is rich in omega-3 fatty acids, which help lower your blood pressure as well as reduce inflammation. Salmon is also a great source of vitamin D, helping your body absorb calcium much easier. Again, this helps to regulate blood pressure and may even protect you against depression.
If you enjoy fish, you might also want to try mackerel, sardines, and mussels, all varieties of seafood that are considered oily fish like salmon.
Dark Chocolate
This one may come as a surprise to some, but dark chocolate is actually quite beneficial for your heart and cardiovascular system. Studies have shown that having dark chocolate with a cocoa content of around 70% or higher can help lower blood pressure significantly. This is thanks to the flavonoids in dark chocolate which help relax your arteries. Just remember not to consume too much, because there are still plenty of calories in this sweet treat. Is Dark Chocolate Healthy For You?
If you're looking for a fun treat besides the chocolate mentioned, try popping some popcorn. Since popcorn has little to no sugar content, it has a low glycemic index (GI) rating. Just make sure you don't make the mistake of adding lots of butter and salt which are common additions to popcorn.
Can I eat pasta dishes when I'm dealing with high blood pressure?
You can still deal with your blood pressure issues and eat pasta, just try to use pasta varieties made from whole wheat. Consider making pasta that combines with other foods we've mentioned like salmon and healthy veggies. Flavor your meal with some lemon juice and try using more healthy oils like olive oil in your salad dressing side dish.
Are there nuts I can eat that help lower heart disease risk?
I love to eat nuts, just about any kind of nut. Four varieties that have proven to be more "heart healthy" are pistachios, almonds, walnuts, and believe it or not, peanuts and peanut butter.
The key when eating nuts is to enjoy them in moderation and choose the unsalted varieties.
Final Words
These are just a few examples of inexpensive yet beneficial foods that those who suffer from high blood pressure can incorporate into their daily diet. Not only will they be helping their own health, but also enjoy plenty of delicious meals while doing it! Do you know of any other inexpensive foods to eat for those that deal with high blood pressure?
While those healthy food choices can be hard to make at first, it's to find inexpensive foods to eat for high blood pressure! A balanced diet doesn't have to be expensive! Less sodium is the goal for those of us with high blood pressure! This is the year we eat less fast food and enjoy more budget-friendly healthy eating. May God Bless this World, Linda
Copyright Images: Healthy Food Ingredients AdobeStock_423415420 By Jenifoto