Cheap And Easy Oatmeal You Make Once A Week
This post will show you how to prepare cheap and easy oatmeal you make once a week. I have seven Ball or Kerr wide-mouth mason jars and seven wide-mouth Ball lids to have seven jars of easy oatmeal you just add boiling water to, bing, bam, boom! Breakfast in no time! I grab a jar in the morning and I add the boiling water as directed below. These are the lids and these are the jars. I love these because I don't want to fiddle with the seal and ring. Here they are: Kerr 518 Wide Mouth Jars with Lids and Bands, 16-Ounce, Set of 12
 and Ball Wide-Mouth Plastic Storage Caps, 8-Count
I know a lot of people who work out of the home will find these are a great way to make your breakfasts ahead of time, like on a Saturday, for the following week. All you do is fill the pint size mason jars with the dry ingredients you want to eat each day. Store the jars in your pantry until you are ready to eat them. When you are ready to enjoy them pour the required boiling water over the dry jar mix and replace the lid. Slightly tighten the lids and set on the counter to "cook". These recipes do not boil over in the pan or microwave because you add the boiling water to the jar ever so carefully. Put the lid on, tighten slightly and go do a batch of laundry or get ready for work. Easy peasy.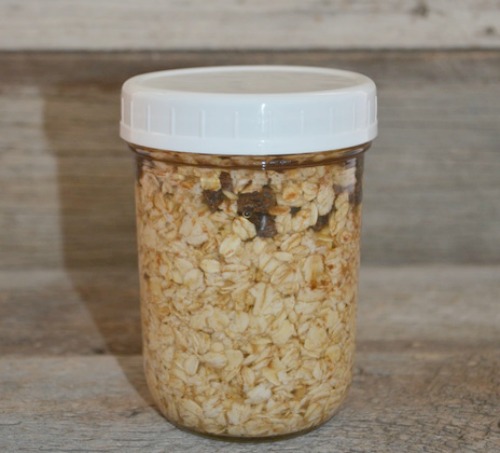 Oatmeal Recipes Are Easy To Make
Here is the finished "cooked" breakfast. This one is recipe #1. You can even take the jar in your car and eat it when you get to work. It thickens and is yummy as is. I don't add milk to mine as some people do. I am sure you can think of many more freeze-dried fruits to add to the ingredients in your jars. I don't add honey because it needs to be dry ingredients. They are low calorie as well as a very healthy and hearty breakfast. Of course, they are inexpensive too.
I love Ball jars, but Kerr jars are great as well. The white lids are from Ball. You can use the lids that come with the jars, but these white ones are reusable and I use them for everything. I always use one of these funnels when I fill the jars: Prepworks by Progressive Canning Funnel for Regular and Wide Mouth Jars
Easy Oatmeal Recipes
Ingredients:
1/2 cup oatmeal, dry regular rolled oats
1 tablespoon raisins
1 tablespoon brown sugar or 2 tablespoons dry Stevia,  you could use any kind of dry sweetener or no sweetener at all
1/2 teaspoon ground cinnamon
1 cup boiling water
Instructions:
Place all of the ingredients except the boiling water in a pint mason jar. When ready to eat, carefully pour the boiling water into the mason jar with this recipe or the ones below. Place the lid on and screw lightly. Set timer for 15 minutes, then wait, and remove the lid and it is ready to eat. Or you can use 8 ounces of water from your Keurig machine and microwave the jars without the lid for 30-40 seconds. Be careful they will be hot. Put the lid on and drive to work, or put the laundry in the washing machine or take it to park and read a book.
Recipe #2 is the recipe above plus cranberries and sliced almonds
Recipe #3 is the recipe above but add shredded coconut and chopped pecans
Recipe #4 is the recipe above but add freeze-dried bananas (one layer)
Recipe #5 is the recipe above but add freeze-dried apples (one layer)
Recipe #6 is the recipe above but add dehydrated peanut butter and some freeze dried bananas
Reader comments:
Donna:
I make refrigerator oatmeal ahead of time. Add 1/2 c regular oats to a glass jar. Top with 3/4 plain Greek yogurt, tsp of honey, and 3/4 c fresh or frozen berries. Put on lid and store overnight in the fridge. Next morning, the oats have been hydrated by the moisture. Lots of protein and yummy. I make 3-4 on Sunday and eat them when I get to work.
Elaine:
I've been doing this for years – super easy for breakfast on the go!! When I worked in the office building I would put in the hot water and place my container in a small insulated lunch bag and let my oatmeal get ready while I drove to work.
My favorite recipe is dried cranberries, a pinch of cinnamon and my homemade unsweetened applesauce! (I make my applesauce with cider instead of water!!)
Also – when I go on vacation I fill snack baggies with the dry pre-measured ingredients so I won't miss my healthy breakfast.
My favorite things: