Homemade Hamburger Buns In One Hour
Today, I'm sharing my homemade hamburger buns recipe with you. I really don't like going to the grocery store, unless it's for a case lot sale. You know by now I love making bread, any kind, anywhere. I love it! My friend from southern Utah got me started making hamburger buns.
She could mold them perfectly, me not so much. I kept trying and trying to make them look as beautiful as hers, but they never did. So, I ordered this pan to give me some help.
Plus, I don't need a lot of hamburger buns, I only need a few, like six, maybe. Yes, six would be perfect. I would have some for lunch the next day. This recipe makes 12, so you can freeze some.
This hamburger bun recipe doesn't require eggs in the dough, this is critical when we have issues getting eggs at the grocery store. Those of you who have chickens are so lucky to have fresh eggs. I tip my head to all of you.
You know how frustrating it is when you want to make sloppy joes and you have everything but the buns? Yeah, me too. Or pulled pork sandwiches? You know what I'm saying. We need a small recipe to make those buns, so here it is my friends.
These homemade hamburger buns are semi-soft on the outside and soft on the inside. They make the perfect bun for any filling!
Homemade Hamburger Buns In One Hour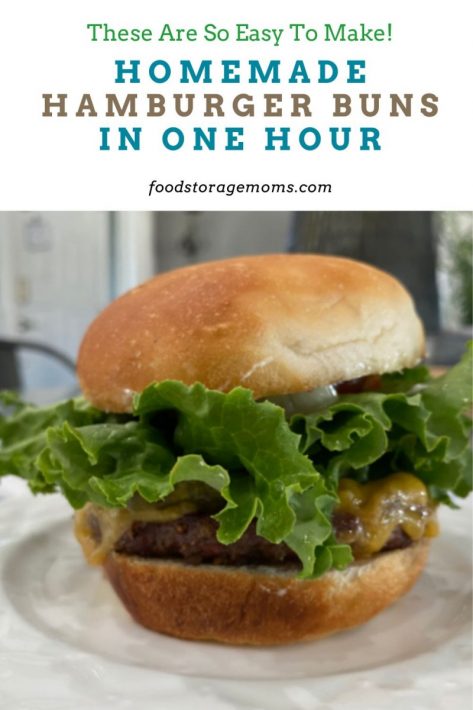 Items You May Need In The Kitchen:
Mixing Bowl, Bread Maker, Bread Mixer, or KitchenAid Mixer
Whisk
Measuring Cups
Measuring Spoons
Homemade Hamburger Buns
Step One: Gather Ingredients
The first step is to gather your ingredients which are so simple, and I love that this recipe doesn't need eggs. This is the same recipe that makes two loaves of bread, or pizza dough, it's so versatile!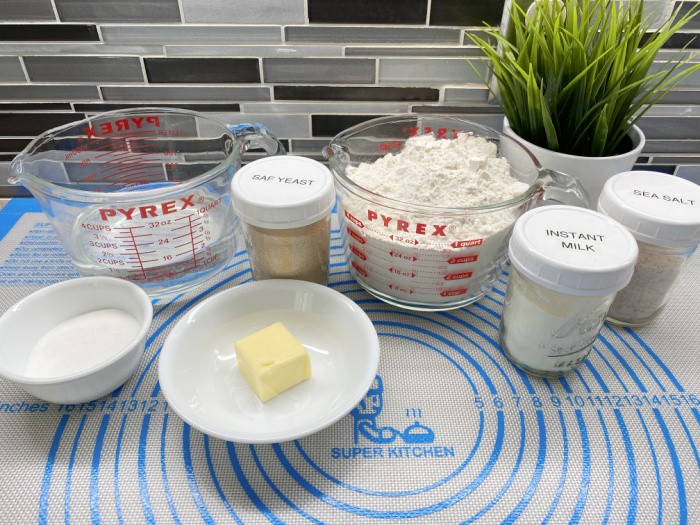 Step Two: Mix Ingredients
You can use a mixing bowl, a bread maker, or a bread mixer like I did. I used my Zojirushi bread maker, did I tell you I love it even more than my Bosch? I still need my Bosch for making several loaves of bread and dozens of cinnamon rolls, but this machine is awesome. I dump everything in and push a button to have it mix, knead, and rise. I don't bake any bread in it, even though I could.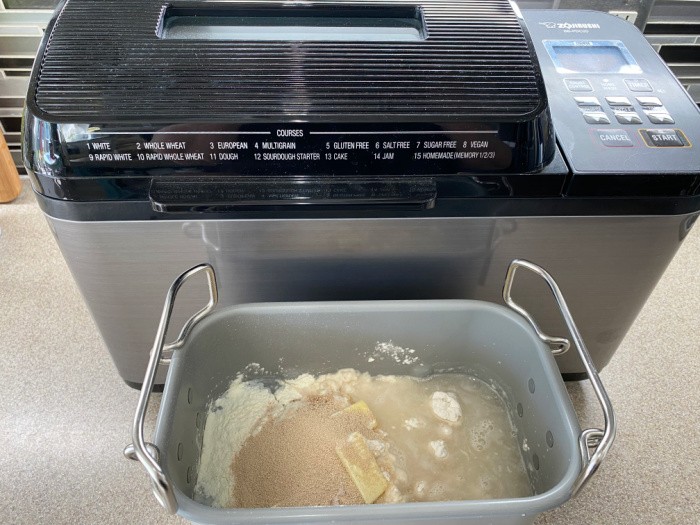 Step Three: Use Machine
I turned the machine to mix it, knead it, and let it rise. Here are instructions on how to make bread using the machine: Bread Machine Bread-How To Make It. Or you can mix this small batch by hand.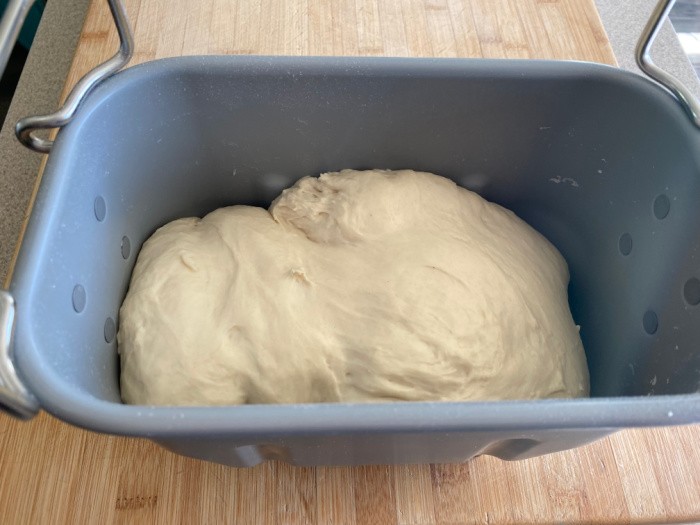 Step Four: Cut Bread Dough
I use a dough scraper to cut my bread dough instead of "pulling the sections" apart. I cut the dough into 12 pieces as evenly as I could.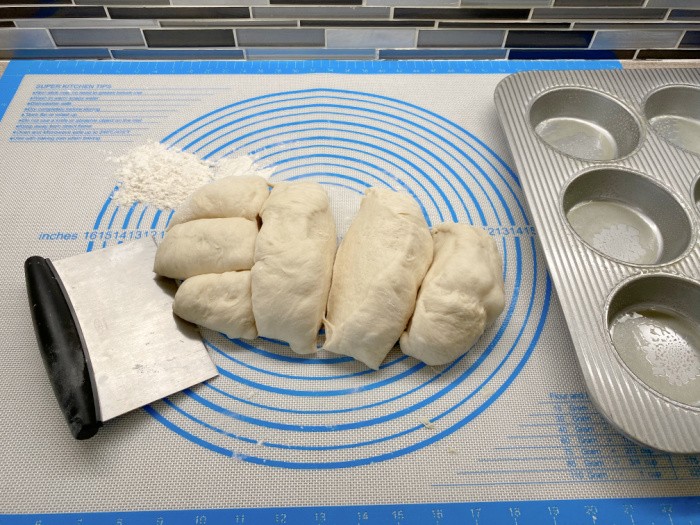 Step Five: Mold Dough Pieces
You mold them in a ball and push them down to flatten them in the hamburger bun pan, or on a cookie sheet. I really like to use the special pan since it helps keep the buns shaped the way you want them.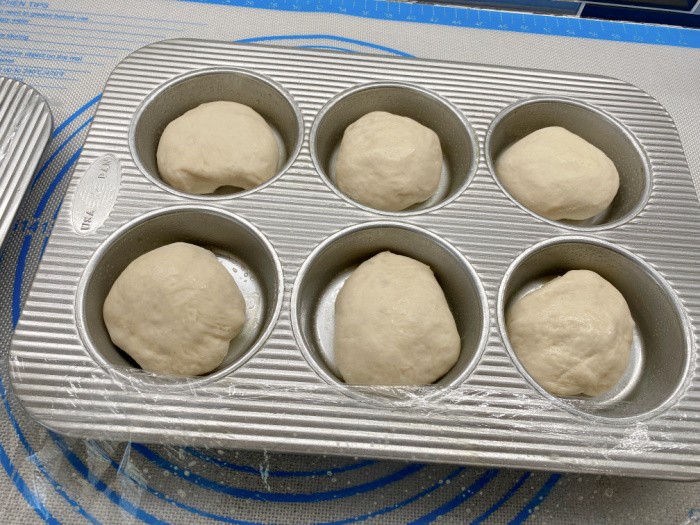 Step Six: Cover & Let Rise
Cover the unbaked hamburger buns with greased plastic wrap and let them rise for about 30 minutes.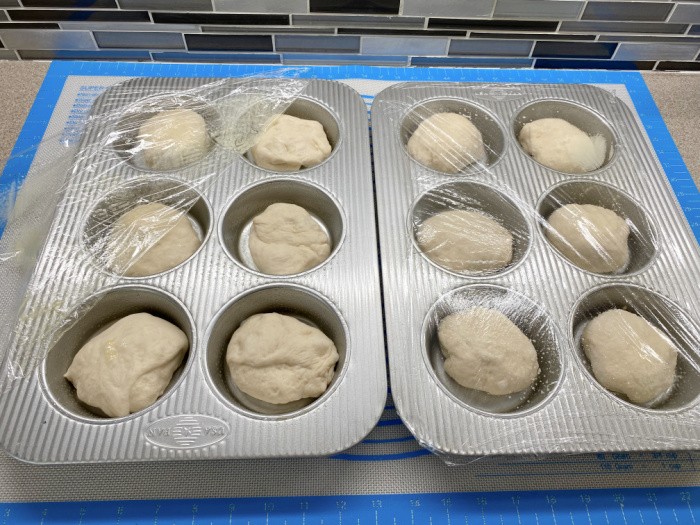 Step Seven: Bake
Remove the plastic wrap and bake them at (425°F) = (218°C) degrees. Bake these for about 12 minutes, or until golden brown.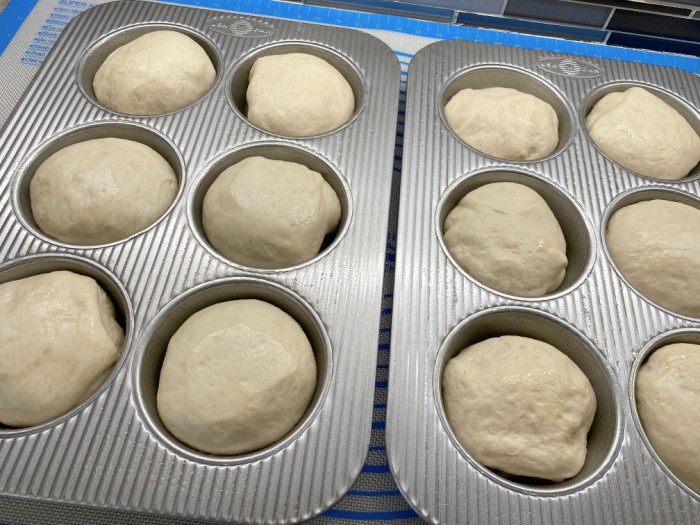 Step Eight: Remove & Cool
Remove the baked hamburger buns from the pans and let them cool on a cooling rack.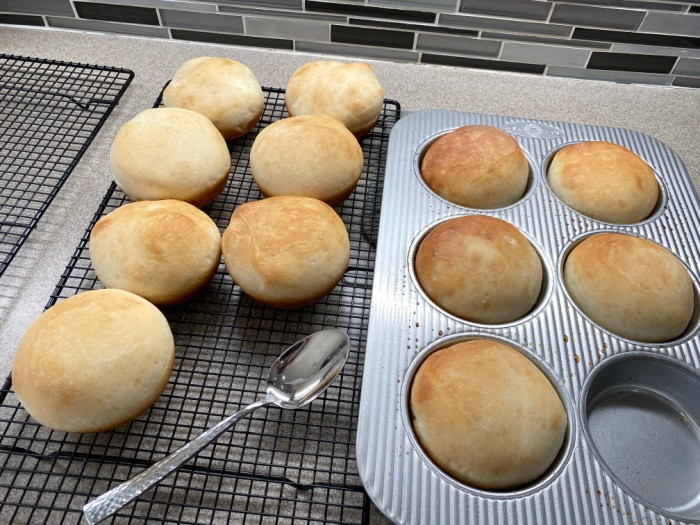 Finished Product
A serrated knife works best for slicing hamburger buns, or bread for that matter. Slice these and use them for homemade hamburgers, pulled pork sandwiches, or whatever sounds good for dinner.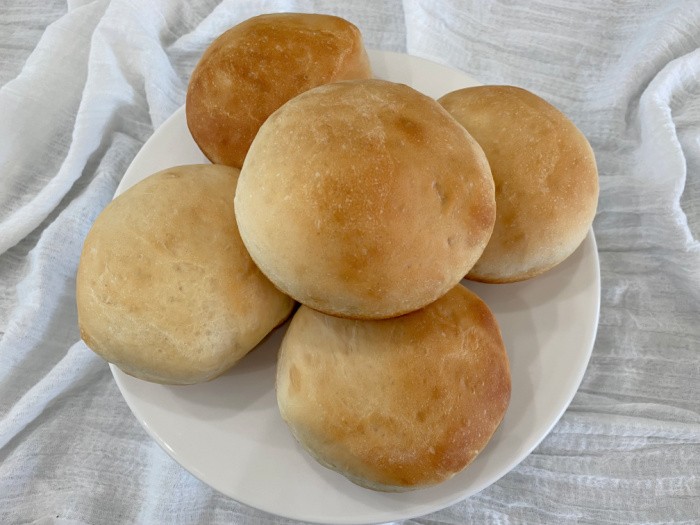 Homemade Hamburger Buns Recipe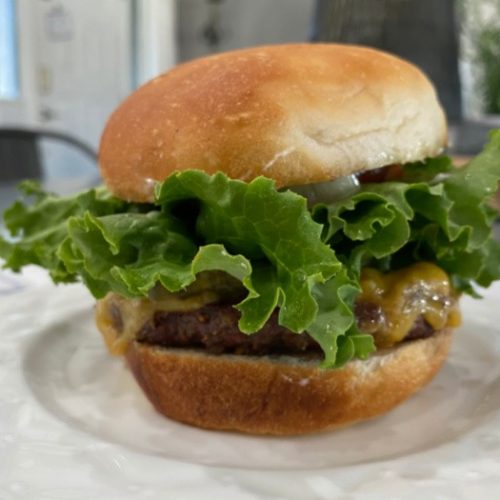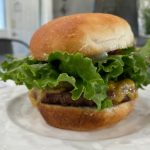 Homemade Hamburger Buns
Ingredients
1-1/2

cups

water

4

cups

bread flour or white flour

1/4

cup

white granulated sugar

2

tablespoons

dry instant milk

2

teaspoons

salt

2

tablespoons

butter (softened)

1

tablespoon

SAF Instant yeast
Instructions
Preheat the oven to (425°F) = (218°C) degrees.

1. Now, you can make these in a large bowl, but I use my Bosch bread mixer or my Zojirushi bread maker. As you know, I dump everything in the mixer (yep, I'm a dumper). I wait until the bread dough pulls away from the mixer (using the Bosch).

2. I add just a little flour until the dough pulls away from the sides of the bowl (only if needed).

3. Now sprinkle some bread flour on the counter and knead the bread dough for about 2-3 minutes and divide the dough into 12 pieces.

4. Grease a cookie sheet or hamburger bun pan and set it aside. Now you roll the pieces into balls and flatten them with your hands.

5. Place each flattened ball onto a greased or parchment-papered cookie sheet or in the hamburger bun pan.

6. Cover the pan(s) with greased plastic wrap and let rise for about 30 minutes. Bake at 425 degrees for about 12 minutes, or until golden brown.
How do I store the leftover baked Hamburger buns?
I use my bread bags because they are cheaper than the boxed baggies. Bread Bags and Ties These easily hold a full loaf of bread, or about 6 buns.
Can I freeze these after baking them?
Yes, you can, I have frozen them for up to two months in a freezer bag. With just the two of us, we often freeze loaves of bread and these buns.
Can I make these into Hot Dog bun shapes?
You sure can, I love hot dogs! This dough is so easy to make, you will love this recipe. I don't have a hot dog bun cooking pan, but I'm sure they have them available. You creative cooks can get away with shaping them yourselves by hand.
Final Word
Please let me know if you make your own hamburger buns. This is one more way to teach our kids and grandkids to cook from scratch! May God Bless this world, Linda