20 No-Bake Strawberry Desserts
I love these 20 no-bake strawberry desserts! Strawberry lovers will appreciate these no-bake desserts that don't require an oven. These fruity desserts come together with the help of your fridge or freezer and are perfect for summer entertaining. You'll find easy ways to up-level the already juicy and delicious strawberries into a dessert that's irresistible.
Grab a bucket of fresh strawberries from your farmer's market and get ready to make some delightful no-bake desserts! From pies to popsicles, and from layered desserts to creamy cheesecakes, you'll find inspiration to turn strawberries into a sweet summer sensation.
Browse this collection of no-bake strawberry desserts to help you find the perfect crowd-pleasing recipe that's sure to earn you rave reviews!
20 No-Bake Strawberry Desserts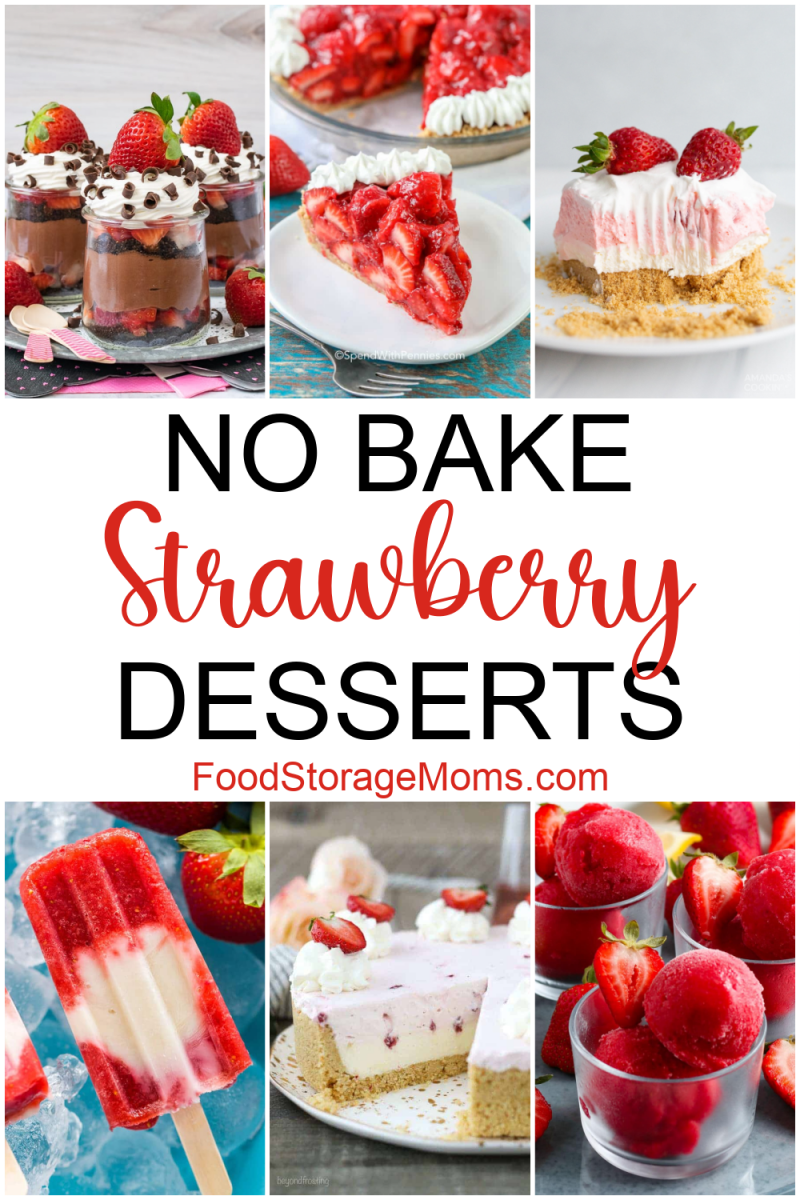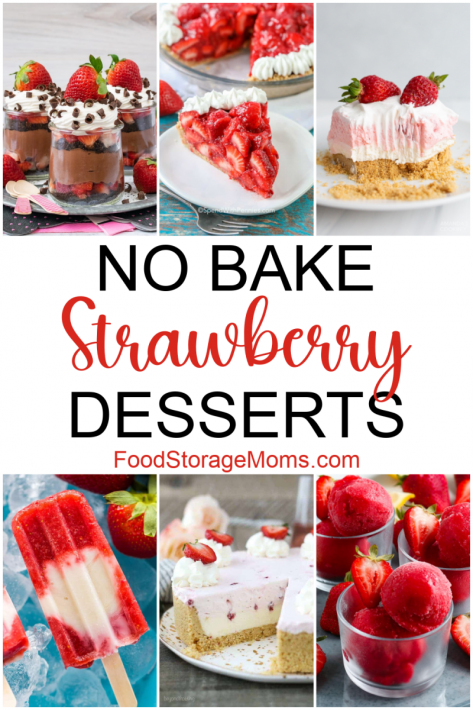 No-Bake Strawberry Pie by Spend With Pennies
This stunning pie is almost too pretty to eat! Full of a jello and strawberry filling, this bright fruity pie will be the centerpiece of your summer dessert table. A graham cracker crust acts as the foundation for this pie. Make this one ahead of time so it can chill all the way through before slicing and serving.
Strawberry Lasagna by Amanda's Cookin
Layers of strawberries, cream cheese, jello, and cool whip join together to create this fruity lasagna dessert. The easy no-bake crust made from crumbled graham crackers offers a buttery foundation to this always popular light, fluffy, and layered strawberry treat.
No-Bake Strawberry Chocolate Cheesecake Parfait by Inside Brucrew Life
Crushed chocolate Oreo cookies provide crunchy layers between chocolatey cream cheese and cool whip filling, along with freshly sliced strawberries. Layer this parfait dessert in clear serving glasses and top each with whipped cream, chocolate shavings, and a fresh strawberry. Stunning and irresistible!
Strawberry Shortcake Ice Cream by Celebrating Sweets
Get that same strawberry shortcake taste with this easy frozen ice cream treat. It's a no-churn recipe that uses sweetened condensed milk, freeze-dried strawberries, whipped cream, shortbread cookies, and vanilla extract. It's super easy to make with your food processor. Let it all freeze overnight for the best results and superior taste and texture.
No-Bake Strawberry Cream Pie by A Spicy Perspective
Perfect for summer, whip up this dessert pie full of pudding, cream cheese, and frozen strawberries that sits on a graham cracker crust. It's all topped with whipped cream for a layered look. Slice into this well-chilled pie and serve this delectable fluffy strawberry treat to rave reviews!
Strawberry Ice Cream Float by Culinary Shades
Who says desserts have to be eaten with a fork? This one can be sipped with a straw as you enjoy the sweetness of ice cream and fresh strawberries combined into a tasty dessert beverage. Strawberry ice cream, fresh strawberries, club soda, and a sweetener are easily combined to make this gorgeous float that's best served in a clear glass.
Pretzel Strawberry Ice Cream Pie by Brown Eyed Baker
You'll swoon over this no-bake pie made with a crunchy crust of crushed sugar ice cream cones and crushed pretzels mixed with melted butter. Press it into a pie plate, freeze it, and then top with strawberry ice cream and a fresh strawberry puree mixture. Freeze until ready to serve. Garnish the ice cream pie with a drizzle of hot fudge sauce and crushed pretzels.
Strawberry Shortcake Fudge by Shugary Sweets
Finger-food desserts are always a hit, and here, this sweet fudge is a miniature version of a strawberry shortcake! Nilla wafers are crumbled for a foundation to hold the white chocolate and strawberry preserves mixture that starts out on the stove. Top the crumb crust with it and let it chill in the fridge for at least 4 hours before slicing into delectable bites.
No-Bake Strawberry Mousse Cake by Beyond Frosting
Golden Oreos form the crust for this scrumptious two-tone layered cake. The first layer is an easy-to-make white chocolate mousse followed by a strawberry whipped cream and gelatin layer. Refrigerate to chilled perfection before serving with additional whipped cream and strawberries, of course!
Homemade Strawberry Yogurt Popsicles by Tastes Of Lizzy T
There's nothing more refreshing on a hot day than a homemade strawberry yogurt popsicle. It's super easy to make with its fresh strawberry puree that's layered between a tangy Greek yogurt base and poured into popsicle molds. Chill well before enjoying this pretty and bright popsicle.
Strawberry Rice Krispies Treats by House Of Nash Eats
Perfect for potlucks, picnics, or just a lazy snack, these easy Rice Krispies treats are up-leveled with freeze-dried strawberries. Fluffy marshmallow creme is mixed with the Rice Krispies before the dried strawberries are added. Press the mixture into your baking pan, cut them into squares, and enjoy. Quick, fruity, crunchy, and delicious!
Strawberry Mousse by An Italian In My Kitchen
Gorgeous, sweet, and fruity, this mousse is a dessert that needs just 3 ingredients. Fresh strawberries, sugar, and heavy cream are all you need, plus a blender. Blend up a strawberry puree for the bottom of your serving container and top it with homemade whipped cream that's had some reserved strawberry puree folded in. Add that to the container and serve. So pretty!
Strawberry Sorbet by Mom On Time Out
With just 4 ingredients, you'll process fresh strawberries, sugar, lemon juice, and water into an icy and fruity dessert of sorbet. You'll need a high-speed blender or food processor to bring it all together before freezing it to refreshing perfection. So easy and vibrant!
No-Bake Strawberry Cheesecake Bars by Handle The Heat
These cheesecake bars start with a buttery graham cracker crust that holds the luscious cream cheese and strawberry filling. The filling uses both freeze-dried strawberries as well as fresh strawberries and creates a beautiful color that's irresistible. Refrigerate these sweet fruity bars until well chilled.
Strawberry Icebox Cake by The Soccer Mom Blog
You're just 3 ingredients away from this impressive no-bake strawberry dessert that's layered to chilled perfection. Graham cracker sheets provide sturdy layers for the cool whip and sliced strawberries. Repeat these layers several times for a triple-decker dessert. Chill well before serving this icebox cake.
Strawberry Shortcake Jar by Suburban Simplicity
A store-bought angel food cake or pound cake will provide the cake chunks that are layered between sliced strawberries and whipped cream in this no-bake dessert. Make it in a clear glass or jar for a stunning effect and then dig in!
Strawberry Fluff by Like Mother Like Daughter
Summertime potlucks practically require this marshmallow fluff dessert and strawberries are the perfect fruit to include. Whipped cream is folded into a base of cottage cheese and powdered strawberry jello mix. Next, come mini marshmallows and freshly sliced strawberries. Stir this dessert together and chill well before serving.
Strawberry Banana Frozen Yogurt by Happy Foods Tube
Use frozen strawberries, banana, Greek yogurt, and a smidge of honey to create this scrumptious sweet and tangy frozen treat using just a high-speed blender or your food processor. It's as easy as dumping the ingredients in and blending. Let the strawberry and banana yogurt dessert freeze until firm and then enjoy!
No-Bake Strawberry Fool by That Skinny Chick Can Bake
This "fool" dessert takes macerated strawberries and folds them into a sweetened whipped cream mixture. Just add chopped strawberries with sugar and let them sit for about 10 minutes to release their delicious fruity juices. That is enough time to whip the heavy cream with powdered sugar and vanilla. Gently fold in the strawberry mixture and refrigerate until it's time to serve this sweet and fruity no-bake dessert.
Strawberry Jello Mold by Butter With A Side Of Bread
Strawberry jello mix is dissolved in boiling water, and when cooled, gets the addition of freshly sliced strawberries to amp up its fruitiness. Pout it into your jello mold pan and let it chill in the fridge. Make another jello mixture with the addition of sweetened condensed milk and pour it over the chilled jello in the fridge. Let it all chill overnight, and when ready to serve, turn it out onto a platter for a beautiful two-layered strawberry jello dessert.
Final Word
I hope you try a few of these no-bake strawberry desserts! Strawberries are coming into season here in Utah! I love fresh strawberries, and these 20 desserts give you so many delicious choices. Let me know which one you love the most. May God Bless this world, Linda