Pizza-How to Save Money By Making Your Own
You may be surprised how cheap it is to make homemade pizza. I wrote a post several years ago showing how to make my pizza dough in a jar. All you need to do is add the wet ingredients. Easy, and saves so much time and money. Pizza Dough In A Jar
I'm still anxious to teach people to cook from scratch, so today it's all about making pizza from scratch. Let's talk cost to make it as well. I can only give estimates because we all buy different products and pay different amounts for electricity or gas to bake the pizza. My labor is FREE, just giving you the heads up. Plus, I do not have to drive into town to pick up a pizza or tip the driver when it's delivered. So here we go, my friends.
Cost For Pizza Crust
I only buy bread flour and I buy 25-50 pounds at a time. If I only use 4 cups of flour, I'm estimating the cost to be $.20 cents. Cheap, right? I buy my SAF Instant yeast in larger packages and store what I don't use in the freezer. I'm guessing maybe $.05 cents. Salt is approximately $.02 cents. Water is FREE. Sugar is about $.05 and olive oil I buy in half-gallon containers, the cost would be about $.25. The total cost for the pizza crust: $.57 for 2 small pizzas or one large 14-inch pizza. Total $.57 cents.
Cost For Pizza Sauce
I check out all the case lot sales so my tomato paste costs a mere $.50 cents. The tomato sauce or diced tomatoes are $.75 cents. The total cost for the pizza sauce: $1.25 for 2 small pizzas or one large 14-inch pizza. Total $1.25.
Cost For Cheese
Mozzarella cheese, I shred the 8-ounce block myself to save money and it costs $1.75 for two small pizzas or one 14-inch pizza. Total $1.75.
I buy the pepperoni when it's on sale for 2 for $3.00 and each package will cover two small pizzas or one large 14-inch pizza. The cost is $1.50. I freeze the packages and bring one out when I make pizza. Total $1.50.
Cost For Vegetables
I like onions and peppers and I get them for less than $.50 total for 2 small pizzas or one 14-inch pizza. I slice and chop them myself. Total cost $.50 cents.
Electricity
I have to guess that it may cost $.50 cents because I have to have the oven preheated up to 375 degrees. And I will bake it for 25 minutes total cost $.50 cents.
Total Cost:
Two small pizzas or one large 14-inch pizza totals $6.07. This is cheaper than Little Caesar's Pizza or Dominos. Here's the deal, we can now add more meat or more cheese and I call that a cheap meal at home. That's $3.04 per small pizza. Score!
Pizza Crust Recipe
Now, you do not have to put the ingredients in a jar, but I do and it's ready when I want to mix it up for that last minute dinner. You can make one large 14-inch pizza or two smaller ones. It depends on how thick you like your crust too! My mouth is watering right now!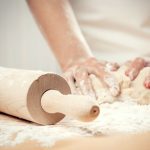 Pizza Dough In A Jar Recipe by Food Storage Moms
Ingredients
Place the first four ingredients in the jars:
3

cups

flour

2

teaspoons

SAF instant yeast

1

teaspoon

salt

1

tablespoon

sugar
Please add these to the ingredients in the jar into a bowl with:
2

tablespoons

oil

1-1/4

cups

warm water
Instructions
Mix by hand and roll out the dough and bake on a greased large pizza pan at 375 degrees for 20-25 minutes. This recipe fills one QUART jar and makes one large pizza. My pizza pan is 14 inches in diameter. You could also make two smaller pizzas instead of one large. Who loves to make pizza?
Pizza Sauce
Mark and I do not like a lot of spices, call us plain folks, but you can add fresh chopped garlic and some of your favorite spices to this sauce recipe.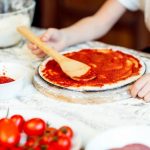 Pizza Sauce by Food Storage Moms
Ingredients
1

6-ounce can tomato paste

1

15-ounce can tomato sauce or diced tomatoes (drained)

1

tablespoon

Italian Seasoning

1/2

teaspoon

garlic powder

1/2

teaspoon

onion powder

salt and pepper to taste

dash of sugar (optional)
Instructions
Combine the ingredients in a small mixing bowl. All you need is a good whisk to mix it thoroughly. Next, you spread the pizza sauce on the pizza dough. Bake the pizza as instructed in the pizza dough instructions.
Pizza Dough
I don't know about you, but I LOVE the feel of bread dough, or in this case, pizza dough. You may have flour all over your apron, if you wear one, I don't. I should but that's how I roll, no pun intended. You'll want to flour your countertop and the rolling pin.
You can make it in a circle or place it in a cookie sheet. I always watch for the cheese to bubble on top and lift the crust to see if it's brown enough. You can sprinkle cornmeal on the pan, but I don't. I do grease the pan though.
Here's the deal, you can make single size pizzas and everyone rolls their own out. I used to do do that for birthday parties, kids love it!! Then the kids or adults put the exact ingredients they want on their own pan.
Spreading the Pizza Sauce
You can spread it thin or thick, it's that easy. One thing I like to do is spread the sauce on the dough, then sprinkle a layer of cheese on before you add your favorite toppings. After the toppings, I sprinkle another layer of cheese on top. Is your mouth watering yet?
Final Word
I hope you print out these pizza recipes and make them soon with the ingredients you have in your home. Life is good if we can cook from scratch and save time and money. The bonus is that we know what is in our food. Thanks for being prepared for the unexpected. May God bless this world. Linda