Make Pizza Dough In Minutes
This is my frugal way to make pizza dough in minutes, literally. This is an updated post because it has been one of the most popular articles I have written. I decided I would make my favorite pizza dough recipe into what I call a "jar recipe" that I could give to my neighbors. This is a recipe that my daughter Heidi gave me. I also wanted to make some jars of the recipe ahead of time for use from my pantry. I live about 8-10 miles from the nearest town so if I want pizza I have to drive to get one to serve for a late dinner. So here is an alternate for all of us to try, along with FREE printable tags below to go with the jars.
Do you sometimes think I would love to make pizza but, I will have to drag the flour container out, the yeast, salt, sugar, and oil, and then start adding the water? Blah, blah, blah. So, I thought to myself, I am going to fill some quart jars with the dry ingredients and attach a tag with the instructions. If I ever want to make pizza, all I have to do is grab a bowl and dump the jar with the dry ingredients into it, add the specified oil and water, mix, knead, and roll out. Bim, bam, boom I have pizza dough.
When my daughters were little we would make individual pizzas for the kids that came to their birthday parties. What child doesn't love making their own pizza? I also don't like to stand in line waiting for a pizza. I call myself a stay-at-home mom. No, I do not have any children at home, but I love to cook from scratch. When I go see my daughters we always eat in. I don't like to eat out because it's too expensive. When they come here, we eat in. Everyone pitches in with the cooking, chopping, and baking. I can't wait to make these pizzas when I see family again.
Make Pizza at home: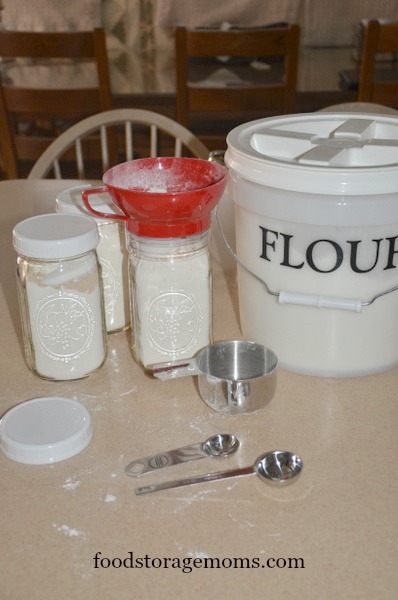 Pizza Dough Cooked In The Barbecue:
Now keep in mind the pizza is not the perfect circle you may see at restaurants, but this recipe is the best I have ever tasted. This was the first time I used my Lodge pizza pan. I was determined to see if I had a disaster where I live that I could make moist, cheesy pizza on my barbecue. It works great and I love it! I consider myself a multi-tasker, and the shape of my pizza below is proof that sometimes you need to take on tasks one at a time. I was trying to heat the pizza pan on the barbecue, put mozzarella cheese, sauce, and pepperoni in bowls, and roll out the dough at the same time so I could take a picture for my readers. Next time I will not be photographing when I make this recipe!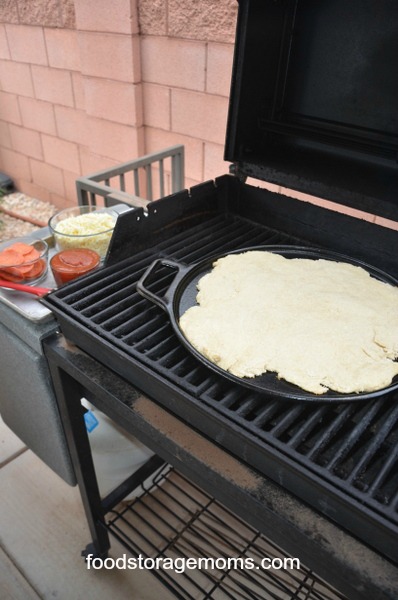 I must confess, I buy the small 14-ounce Ragu pizza sauce jars. You only need 1/2 of the sauce per recipe, so I freeze the other half of the sauce for another day. Now you can also make tomato paste, water, and a few Italian spices and you have pizza sauce from scratch. Tomato sauce works just as well but tends to be too runny for me.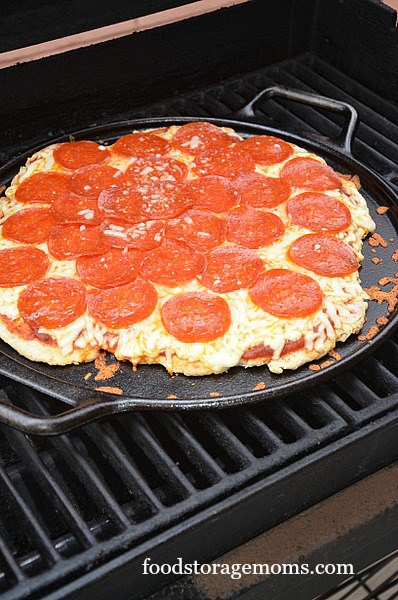 Here's the deal, you could use your freeze-dried mozzarella cheese hydrated with water and drain it. I used a bag of grated mozzarella cheese and topped it off with pepperoni as you can see above. Next time I want to use some veggies from the garden. Maybe bell peppers, basil, onions, and tomatoes. Here's the Lodge pizza pan I have: Lodge Pro-Logic Cast Iron Pizza Pan, Black, 14-inch
Please note I did not let the pizza dough rise:
I did, however, heat the Lodge pizza griddle on my barbecue so it was really hot 400-450 degrees or so. Barbecues are not the best at holding the temperature exactly where you want it. I placed the dough on the hot griddle and spread the sauce all over it, cheese, etc. Then I closed the barbecue lid and turned the heat down to low to try and keep it at 375 degrees.
Pizza Dough Toppings:
1. pizza sauce
2. mozzarella cheese is my favorite on all pizza types
3. chopped onions
4. bell peppers green, red, and yellow
5. mushrooms
6. olives, black or green
7. yellow hot and sweet peppers
8. sausage
9. ham and pineapple
10. barbecue sauce, shredded cooked chicken, sliced red onions
11. bacon
12. taco pizza, hamburger, cheese, tomatoes, and salsa
Pizza Dough In A Jar Recipe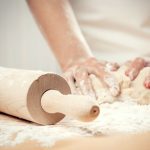 Pizza Dough In A Jar Recipe by Food Storage Moms
Ingredients
Place the first four ingredients in the jars:
3

cups

flour

2

teaspoons

SAF instant yeast

1

teaspoon

salt

1

tablespoon

sugar
Please add these to the ingredients in the jar into a bowl with:
2

tablespoons

oil

1-1/4

cups

warm water
Instructions
This recipe fills one QUART jar and makes one large pizza.

When you want to make pizza add the dry ingredients in the quart mason jar to a bowl and add the water and oil.

Mix by hand and knead until smooth and roll out on a floured countertop.

Roll out the dough into a circle and place it on your greased pans.

My pizza pan is 14 inches in diameter. You could also make two smaller pizzas. Be sure and grease your pizza pans.

Spread the pizza sauce on top of the dough, sprinkle veggies, Mozzarella Cheese, and top with Pepperoni if desired.

Bake on a greased large pizza pan at (375°F) = (190°C) degrees for 20-25 minutes.
FREE printable Pizza Dough In A Jar Recipe Tags: PIZZA DOUGH IN A JAR RECIPE
I usually fill about three QUART jars of the dry pizza dough mix then add some tags to the jars. I measure the ingredients and put them in each jar. I hope you try to make some pizza dough from scratch and maybe you'll share a jar with a friend. You can make pizza in less time than a pizza delivery company can deliver it! Plus, you will know what ingredients YOU put in it. Of course, you can cook your pizza dough and the finished product on your kitchen stove, but I wanted to show my readers that your BBQ can be used for things like pizza in an emergency when kitchen cooking isn't an option. Gotta love it!
My favorite things:
Lodge Pro-Logic Cast Iron Pizza Pan, Black, 14-inch
Reader Tips:
Tres: To this basic recipe, I add basil, oregano, a little garlic powder, and parmesan cheese. Makes a very tasty crust.
Jennifer: I actually don't bother to use the pan with my grill. I make sure I oil the grate well and just lay the dough on the grate. it looks like it'll sag through but if the grill is hot enough puffs slightly and cooks, then you flip it over and add your toppings and let it bake for 5ish minutes (maybe shorter may be longer depending on the heat). I aim for about 350F for the grill. And I stretch out my dough on parchment paper and use that to place it on the grill. and then peel off the parchment.
Catherine: I make an extra large batch of dough when grilling my pizzas in nice weather and make individual-size crusts, along with filling the outside table with toppings – pesto, red sauce, whatever cheeses I have (provolone is popular!) and home-grown veggies along with pepperoni. The "starving" neighbor kids come over when they see me fire up the BBQ and then it turns into a block party. It's a fun way to catch up with the neighbors.
Thanks for this crust recipe – I have been trying different ones, but this is definitely the best!