How To Make Gluten-Free Sandwich Bread
So many people would love a good gluten-free sandwich bread, right? I realize more and more that people are having celiac issues, so I'm working on several gluten-free recipes. As I enter this journey of gluten-free bread making I have learned many things. My SAF instant yeast is okay and my choice of Dough Enhancer is fine. Some bread must be stored in the refrigerator, others on your pantry shelf. They are also made with a lot of processed ingredients.
Two critical things I learned about making gluten-free food items.
1. This flour is only for cakes, cookies, muffins, pancakes, etc. No yeast recipes. You can substitute cup for cup in ANY recipe you love. This means one cup of white flour for one cup of this gluten-free flour. Easy peasy. Bob's Red Mill sells this type of flour, just watch for the wording one for one or measure for measure.

2. This all-purpose flour is for bread or rolls with yeast. King Arthur sells this type of flour as well.
I bought a 44-ounce bag of Bob's Red Mill Gluten Free All Purpose Baking Flour for $13.99 plus tax. The bag has just over 9 cups of flour. I need 3 cups to make one batch of bread with this recipe below. So, I'm estimating the cost of this bread would be approximately $5.00 for each loaf. Here's the deal, I know you can purchase gluten-free sandwich bread at Costco that costs about $7.70 for two loaves. So, if you make it at home you will still save a little bit of money, plus the fact that if you store the flour in your freezer, it is one less trip to the grocery store. I also like fresh bread, that's how I roll.
I used my Kitchen Aid stand mixer to make this batch of bread. I wanted to buy the King Arthur brand locally, but they didn't have it at the store. So, I picked up this brand of flour and xanthan gum. If you are wondering what the xanthan gum is let me tell you. Xanthan gum is an effective thickener and stabilizer to prevent ingredients from separating.
The crazy thing is this stuff is like glue if it gets wet. When I was measuring the stuff I sprinkled a little on the counter that overflowed from the bag. I used a wet paper towel to clean it up. Now, this stuff is STICKY I had to use a scrubber to get it off my fingers after wiping it up off the counter. It felt like glue, yes glue.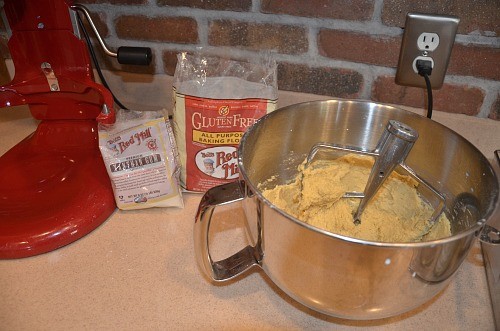 After you combine everything in the bowl you mix it for three minutes. Cover the bowl with some greased plastic wrap for about an hour.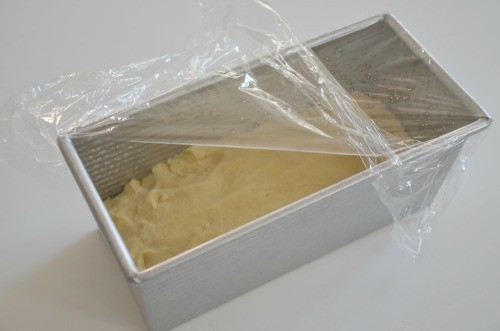 Then you grease your bread pan with vegetable oil and scoop the bread dough into the pan and flatten it with your fingers or spatula. Cover with some greased plastic wrap for another hour.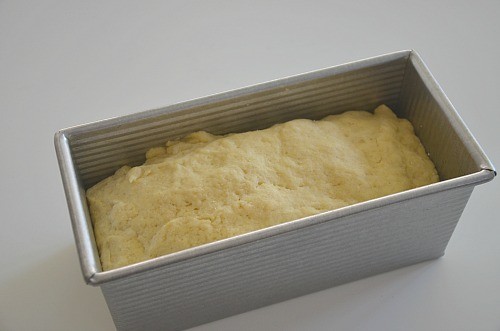 The gluten-free sandwich bread dough will double in size. Next, remove the plastic wrap and bake for 35-40 minutes, or until golden brown.
This recipe has been modified from the King Arthur Flour website.
Gluten-Free Sandwich Bread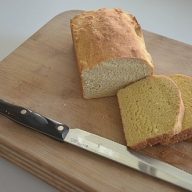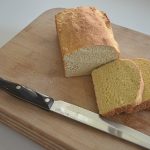 Gluten-Free Sandwich Bread
Ingredients
Ingredients:

3

cups

King Arthur Gluten-Free /Multi-Purpose Flour

3

tablespoons

sugar

2

teaspoons

SAF instant yeast

1-1/4

teaspoons

salt

1-1/4

teaspoons

xanthan gum

1

cup

warm milk

4

tablespoons

soft butter

3

eggs
Instructions
Instructions:

Use a hand mixer or a stand mixer. Combine the ingredients in a mixing bowl except for the milk. Turn the mixer on low, the ingredients will look crumbly at first. Next, drizzle the milk over the ingredients and start mixing until it comes together. Beat for three minutes. Cover the dough with some greased plastic wrap for about an hour. Push the dough down to remove the air with a spatula. Grease a pan 8-1/2" by 4-1/2 " by 4" or a larger pan 9" by 4" by 4" with vegetable oil, and scoop the dough into selected pan size. Gently smooth the dough with your hand or a spatula. Cover with some greased plastic wrap for another hour. Remove plastic wrap and bake at 350 degrees for 38 to 45 minutes or until golden brown.
I hope you try this easy gluten-free sandwich bread recipe or share it with someone who could use it. I will be posting more recipes as I learn them. Be safe and prepare for the unexpected.