How To Use A Thermal Cooker
Have you wondered how to use a thermal cooker to make meals? Do you know what a thermal cooker is by chance? It's basically a slow cooker using zero electricity after you bring the recipe in the main pot to a boil for four FULL minutes.
The next thing you do is quickly place the lid on the inner pan (that's boiling) and place it in the sturdy thermal cooker and lock the lid in place. I wish every family had one of these to use for hot dishes and cold dishes. I bought mine about four years ago and love it to make meals for vacations or taking something to the park to eat.
The first time I saw this thermal cooker was on my friend, Julene's blog. She and I taught classes together occasionally in a store in Salt Lake City, Utah. I bought my thermal cooker and emailed Amy Loveless (Jack's wife) from Saratoga Jack's thermal cookers about some questions I had about using one.
She ended up calling me and she told me all the ways she was using it to make meals for her family vacations, and so much more. I prefer the larger one because I like how easy it is to lock the lid in place.
I have the large 7-liter model Saratoga Jacks 7L and the smaller 5.5-liter unit too. It has four pieces, the outer thermal cooker, the inner stainless steel cooking pan, a smaller pan, and the lid.
The smaller pan (sits on top of the lower pan) is for cooking small items on top of the larger pan at the same time as you cook the main meal. It looks like Saratoga Jacks isn't selling these anymore, but they have similar ones on Amazon like this one: Thermos Thermal Cooker
Thermal Cooker
If we were to lose power you could use a butane stove to fry the meat and onions until browned. You could also fry the meat in the main stainless steel inner pan, but I did this so you could see that the meat is cooked before I added it to the pot.
I highly recommend a butane stove for emergencies: Camp Chef Butane 1 Burner Stove with Camping Case
 and please get some canisters: 12 Butane Fuel GasOne Canisters for Portable Camping Stoves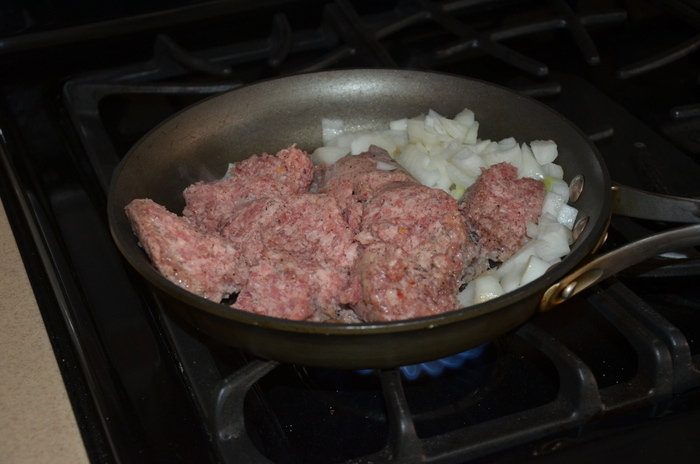 I started with one pound of sausage (Jimmy Dean) and one chopped onion. I cooked the meat and onion with a little salt and pepper.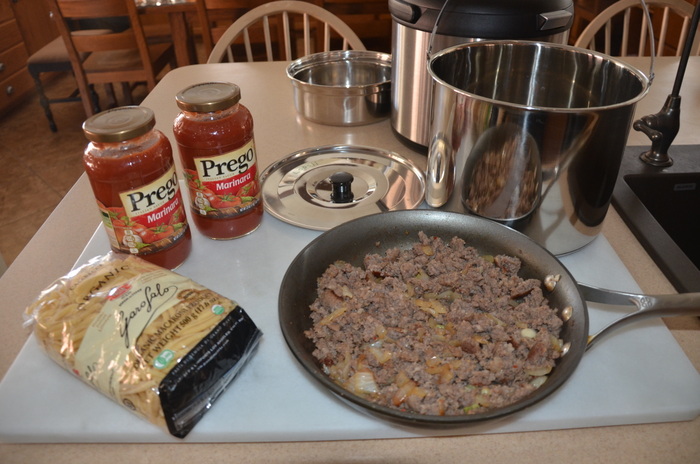 I scooped the cooked meat and onions into the stainless steel inner pan and added two jars of spaghetti sauce (23-ounces each) with one package of uncooked pasta (17.6 ounces). I could see I needed more liquid so I added one more 23-ounce jar of spaghetti sauce.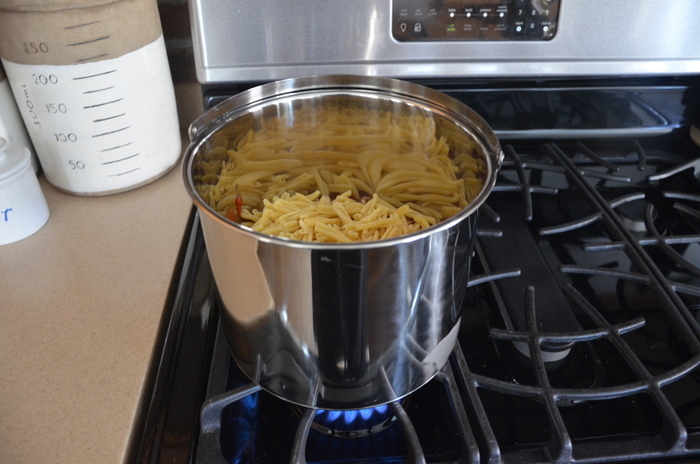 Boil For 4 Minutes
I stirred the mixture to evenly distribute the sausage, onions, uncooked pasta and the three jars of spaghetti sauce. I then stirred the mixture non-stop to keep it from burning and to get it up to the full boil needed.
Once it was boiling I set my timer for four full minutes. After the four minutes, I quickly put the pan inside the thermal cooker and placed the lid on the pan and locked the thermal cooker in place.
No Electricity
I was headed to my friend's house at 11:30 A.M. so I left the thermal cooker to slow cook my dinner. No electricity, just sitting on the counter.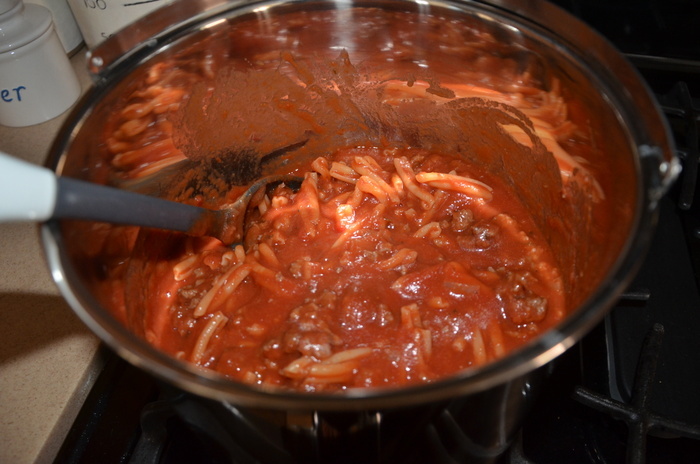 The outside is cool to the touch and you don't have the smell of dinner cooking if you were to take this in your car to cook as you drive 4-6 hours. This is truly a dream for vacations or sporting events.
The dinner cooks as you drive or sit on a blanket at the park. I arrived home at 4:00 P.M. and I opened the lid to take pictures, and dinner was ready to serve. I made a tossed salad and some French Bread! French Bread 
I always use my cheese grater to sprinkle some cheese on top of my pasta. Here is my favorite grater: Zyliss Classic Rotary Cheese Grater
 It was hot and ready to eat, but I could have kept it cooking for another hour or two.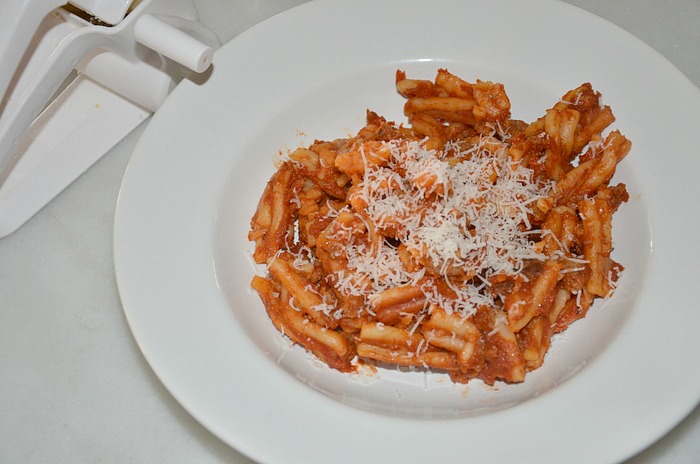 You have to remember, when making dinner in one of these it's like it's cooked in a slow cooker. It's more like a casserole, but who cares if you are at a game and take some paper plates and forks to the park or sporting event. It sure beats take out!
One other great thing about these thermal cookers is the fact that you can put a cold salad (dressing in a separate container) inside the inner stainless steel pan with the lid overnight in the refrigerator and the next morning put the pan in the thermal cooker and close the lid. You can go to a family reunion and It will keep your salad cold for 6-8 hours.
Final Word
I love the fact that a thermal cooker can be used if the power goes out if you have a way to bring the contents to a boil for 4 minutes. Please think of it as a slow cooker without using power. Thanks again for preparing for the unexpected. May God bless you in your efforts to be prepared! Linda