20 Summer Farmer's Market Recipes
Take advantage of summer's bounty from your farmer's market. There's nothing that tastes better or healthier for you than seasonal fresh fruits and vegetables. Here, you'll find 20 recipes that are perfect for helping you use zucchini, peaches, watermelon, corn, okra, eggplant, cherries, blueberries, fresh greens, strawberries, tomatoes and more.
From salads to sorbet, from salsa to desserts, you'll find delicious and creative ways to use your summer produce. Pair fresh fruits with savory ingredients for a burst of summer flavor goodness. There is no substitute for fresh produce, and these 20 summer farmer's market recipes will help you celebrate the season and enjoy fresh approaches to cooking with your favorite ingredients.
20 Farmer's Market Recipes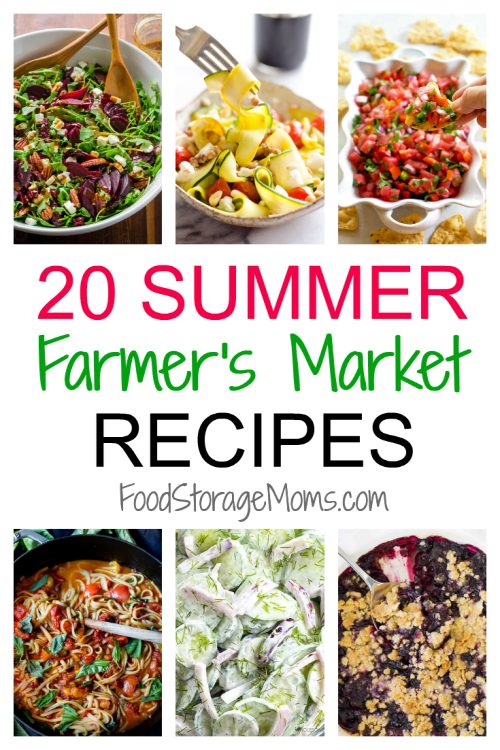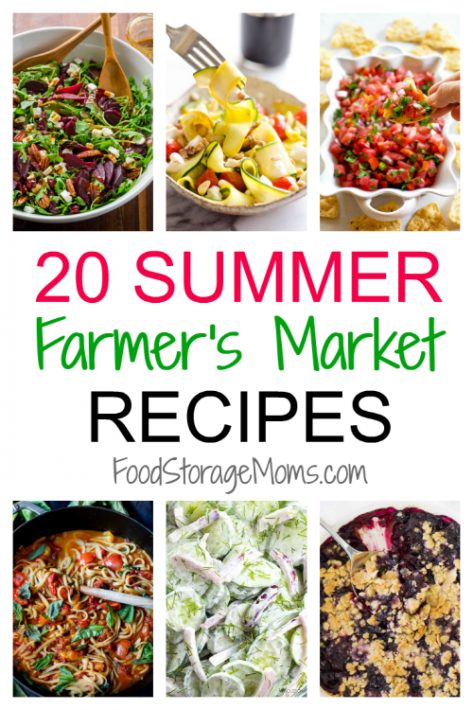 1. Watermelon Salsa
Watermelon Salsa by The Girl Who Ate Everything
Use up that last wedge of watermelon with this zesty salsa full of pepper, onion, cilantro, and lime. A summer explosion for your taste buds!
2. Garden Fresh Corn Salad
Garden Fresh Corn Salad by Cookie And Kate
There's nothing better than fresh corn on the cob, unless it's this fresh corn off the cob extravaganza of a salad. Bursting with garden-fresh goodness, this salad is a summer delight.
3. Ribboned Squash/Zucchini Salad
Ribboned Squash and Zucchini Salad by The Creative Bite
This gorgeous display of ribboned squash in a salad helps you use up your abundance of zucchini and yellow neck. Tomatoes, goat cheese, and a dash of balsamic make it a summer keeper.
4. Eggplant Parmesan
Eggplant Parmesan by Brown Eyed Baker
This layered lasagna-style dish of eggplant, pasta sauce, and cheese does it up right. Even non-eggplant lovers can be won over with this dish!
5. Heirloom Tomatoes with Pesto
Savory Tomato Galette With Pesto And Heirloom Tomatoes by Savory Tooth
This is the perfect use for all those little heirloom tomatoes that you just couldn't resist picking up at the farmer's market. Make a quick dough and then layer on the colorful tomatoes and toppings and then bake.
6. Beet Salad with Arugula/Balsamic
Beet Salad With Arugula And Balsamic by Natasha's Kitchen
Make this gorgeous salad with beets that you've baked, (which makes them super easy to peel), pecans, arugula, and feta. Be prepared for an incredibly savory taste.
7. Easy Fried Okra Recipe
Easy Fried Okra Recipe by Zesty Olive
Learn how to make that classic southern dish, fried okra, in your trusty cast-iron skillet. It's easy and tasty!
8. Strawberry Fields Salad
Strawberry Fields Salad by Spicy Southern Kitchen
Fresh strawberries on a bed of fresh mixed greens with fresh summer veggies are what dream salads are made of.
9. Cantaloupe Melon Sorbet
Cantaloupe Melon Sorbet by The Kitchen McCabe
Here's a new way to enjoy summer melons. With just 4 simple ingredients you can create this refreshing sorbet from cantaloup.
10. Crispy Roasted Garlic Radishes
Crispy Roasted Garlic Radishes by Take Two Tapas
If you love radishes then you have to try this easy roasted radish recipe. The roasting mellows out the flavor and gives you a new way to appreciate this summer staple.
11. Creamy Cucumber Salad
Creamy Cucumber Salad by Wholesome Yum
Sour cream replaces mayo in this creamy salad to help you use up those cucumbers. This makes a delightfully refreshing side salad to help you stay cool during the summer heatwaves.
12. Spaghetti-Fresh Tomato Sauce
Spaghetti With Fresh Tomato Sauce by Feasting At Home
Put that jar of marinara back in the pantry and make this fresh tomato sauce instead. You won't regret it. It's so easy and the taste is divine. Just add pasta and enjoy!
13. Easy Zucchini with Parmesan
Easy Sauteed Zucchini With Parmesan by Well Plated
It couldn't be easier to saute these zucchini slices and flavor them with a little onion and parmesan cheese. This is the perfect taste of summer!
14. Watermelon Cherry Salad
Summer Watermelon Cherry Salad With Feta by Happy Foods Tube
This bright salad is overflowing with summer farmer's market goodness. Watermelon, cherries, corn, and feta are just a few of the luscious ingredients in this glorious salad.
15. Instant Pot Creamed Corn
Instant Pot Fresh Creamed Corn by The Spicy Apron|
Take your bounty of corn and make this creamy corn recipe with the help of your Instant Pot. In less than 15 minutes you can have this amazing fresh meal on your table ready for rave reviews!
16. Kiwi Avocado Popsicles w/Lime
Kiwi Avocado Popsicles With Lime by Sugar Salted
Make these refreshing and healthy popsicles with summer's green fruits: kiwi and avocado.
17. Peaches-Goat Cheese-Basil Salad
Farmer's Market Salad With Peaches, Goat Cheese And Basil by Simply Recipes
You'll love the taste of peaches paired with greens from the farmer's market, along with cheese, basil, tomatoes, and a divine dressing.
18. Grilled Miso-Glazed Eggplant
Grilled Miso-Glazed Japanese Eggplant by Recipe Tin Eats
Pair eggplant with miso glazes and grill it for a new and flavorful way to enjoy this summer vegetable.
19. Garlic Parmesan Yellow Squash
Garlic Parmesan Yellow Squash Chips by Diethood
These yellow squash slices get a crispy bake after a seasoned panko and parmesan coating. Perfect as a summer snack, appetizer, or side dish.
20. Fresh Blueberry Crisp
Fresh Blueberry Crisp by Taste And Tell
If you have a few minutes and an abundance of blueberries, throw this easy dessert together. It's a crowd-pleaser only made better with a scoop of vanilla ice cream on top. A true summer delight.
Final Word
Isn't summer wonderful? We can harvest our own vegetables and fruits, or buy them to make all of these Farmer's Market Recipes! If you are lucky enough to have a Farmer's Market near you that is so awesome! Let's buy local if we don't have room to grow our own. May God bless this world, Linda