Instant Pot® 101 for Beginners Guide
Did you just get an Instant Pot and have no clue how to use it? If so, you aren't the only one in this boat. You probably saw the magnificent Instant Pot product in all of your newsfeeds with tons of delicious Instant Pot recipes you wanted to try. Now that you have the unit, you are a little afraid you might blow up the house. No worries, this Instant Pot 101 for beginners guide is all you need to start making delicious food in no time.
I wrote this post about 5 years ago knowing people may need some help on how to use it. If you get one of these for the holidays or a birthday, I hope this post helps get you started. They save so much time in the kitchen and help make meal prep a breeze.
Please note, my favorite pressure cooker is the Zavor, (formerly Fagor). That's the one I learned from classes taught by Chef Brad in Southern Utah. Zavor Pressure Cooker. My entire family uses a pressure cooker almost every day. It's not uncommon to have two going at the same time. Yes, they are worth the cost.
My goal was to purchase a couple of different sizes of the "Instant Pot" so I could learn how to use them, and then pass that knowledge on to family members and my readers. I found them to be a little more complicated than my Zavor, but either way, you can buy the cheapest cuts of meat and make them tender enough to cut with a spoon after using the cooking cycle. I did end up giving both of them to some families who could use them.
Instant Pot/Zavor Pressure Cooker Accessories
These Instant Pot accessories really come in handy: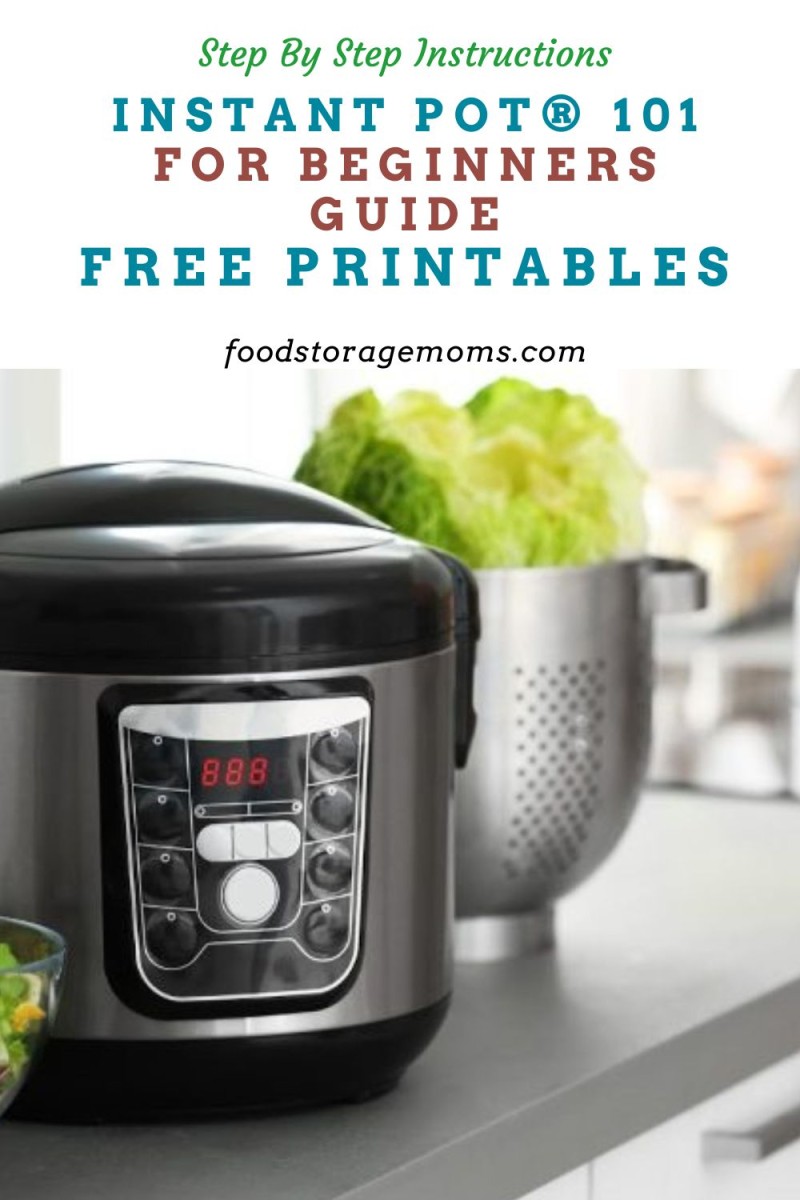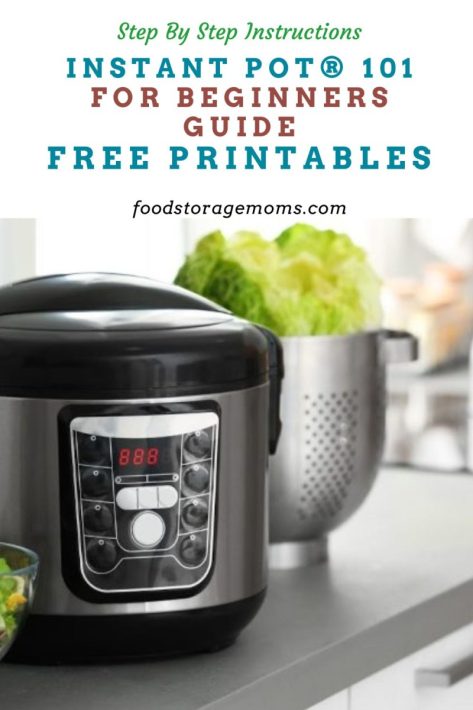 Instant Pot® 101 for Beginners
This is a comprehensive guide to get you started right with your Instant Pot. Here's what you will learn:
What is an Instant Pot®
In addition to being new and improved, it is a faster, healthier, and more eco-friendly way to cook. Whether you are really busy, have family responsibilities, work stress, or just want to eat healthier, the Instant Pot is the way to go. 3-Quart Instant Pot or 6-Quart Instant Pot or 8-Quart Instant Pot
Simply put, today's instant pot is yesterday's old slow cooker! However, it's faster and better than its older version. Basically, it's an electric pressure cooker, kind of like the one your mom or grandmother used to use, but it's been improved.
One of their most popular models, particularly for those new to pressure cooking, is the Instant Pot Duo. It is referred to as a 7-in-1 unit since it is a slow cooker, steamer, warmer, saute unit, yogurt maker, pressure cooker, and rice cooker. It has 14 built-in smart programs that include program settings like bean-chili, soup, meat-stew, rice, porridge, poultry, multigrain, slow cook, saute-simmer, warmer, yogurt, pressure, steam, and manual control.
It also has 10 ULC Certified safety features you'll love:
Leaky lid detection
Steam release
Thermal fuse
Anti-block shield
Electrical fuse
Safety lid lock
Automatic pressure control
Lid position detection
Overheat protection – won't burn
Automatic temperature control
Parts of an Instant Pot®
There are several parts to your Instant Pot, and you may feel confused looking at all of them. Below you will learn about the different parts of the Instant Pot and how they work:
Inner Pot
The stainless steel pot that fits inside the Instant Pot is called the inner pot. It is removable so you can wash it between uses. This part is essential to using your Instant Pot. DO NOT operate your Instant Pot without the inner pot!
Inner Ring
The inner ring is the silicone ring that seals the lid to your Instant Pot. It needs to be removed for cleaning and replaced when wear and tear are visible.
Floating Valve and Shield
Found inside your pot, the shield prevents food from getting trapped in the pressure release valve. The float valve is made to automatically be pushed up when there is enough pressure inside the cooker.
Condensation Cup
The plastic cup on the outside of the cooker collects any moisture that leaks out during the cooking process. It is usually used when cooking stew, broth, or stock.
Stainless Steel Rack
The steel rack can be placed inside the Instant Pot. It is used for food that you don't want to be submerged in liquid. An example would be baked potatoes.
You can also put another pan or pot inside the rack and utilize what they call the pot-in-pot cooking method. This approach uses the cup of liquid in the bottom of the Instant Pot to cook foods that don't have much natural moisture, like casseroles, desserts, and more. What ingredients are to be cooked influences if you use this method or not.
The Buttons
There are quite a few buttons on your Instant Pot which can make you feel a little uneasy about using it. However, once you start, the buttons will become very easy for you to understand and use.
Your pressure cooker has preset buttons that allow you to cook most things with just the push of a button. There is a button for soup, rice, multigrain, porridge, poultry, as well as beans, and chili as mentioned above. These functions are set on the average cooking time and are just a good starting point.
For other buttons, you would simply follow the recipe. If the recipe is leaving you stranded, check out our 3-quart Instant Pot Cooking Times or our 6-Quart Instant Pot Cooking Times and now I have the Instant Pot 8 Quart Cooking Times
How Does the Instant Pot® Work
An Instant Pot works like a pressure cooker, only better. It uses water or other cooking liquid in a sealed stainless steel pot to create steam that causes pressure to build up inside the pot.
This pressure raises the temperature in the Instant Pot quickly. This means it cooks your meals faster while sealing in the nutrients, vitamins, and juices lost using slower cooking methods.
Do a Water Test
One of the first things you want to do when you get your new Instant Pot is a water test. You do this to get acquainted with the machine and to make sure it is working correctly. Here's what you need to do:
First, you will pour 3 cups of water into the inner pot of your Instant Pot.
Then, put the lid on your cooker and turn your valve to sealed. This seam release valve is a very important part of the machine. Make sure the lid is turned to lock properly.
Once it is sealed, set it to high pressure for 3 minutes. To do this hit the cooking time or manual button and then plus or minus until the screen reads 3. Make sure it's not in the low-pressure setting.
Once the pressure cooker has reached pressure 3, it will begin to count down from 3 minutes to zero.
When the time is up, the Instant Pot will beep. When it beeps, you will turn the pot to the "keep warm" function.
Then, you will turn your Instant Pot off. To do this, hit the off button.
Allow the pressure to release. Remove the lid and dump out the water.
Now you're ready to start cooking some great recipes!
When doing a water test, here are some other tips you may want to keep in mind:
The cooker will hiss as the water begins to come under pressure.
After it has hissed for a short amount of time, the float valve will float up and the pressure will be reached.
You have the choice to allow the pressure to release naturally or you can do a quick release.
Natural Pressure Release Vs Quick Release
Most recipes will tell you whether or not to use a natural release or the quick release on your Instant Pot. However, if it doesn't, here is how you can know:
Natural Release: This type of release is for tougher cuts of meat, recipes with high starch like rice or grains, or recipes that require a lot of liquid.
Quick Release: You will use the quick release for delicate cuts of meat, vegetables, seafood, chicken breasts, and steaming.
If you are using the quick release on your Instant Pot, you will want to place a towel over the valve and use a wooden spoon to manually turn the valve from seal to vent. The towel will help prevent you from getting steam on your face, arms, and hands.
How to Clean It
It is important to keep your Instant pot clean. Not only because it needs to be sanitary, but if you don't it will stink…bad!
To begin cleaning your Instant Pot, make sure the appliance is off and unplugged. DO NOT submerge the appliance in water. Use a damp cloth to wipe the pot's exterior and remove residue. Use a Q-tip or a small brush to clean hard-to-reach spots.
Next, wash the lid and the inner pot in warm, soapy water. This is removable, so you can put it in the sink and wash it.
If you find burnt-on food after cooking, or you are getting a burn notice, you will need to clean your Instant Pot with a mixture of baking soda, dish soap, and water. To do this, you will bring the pot to pressure, release the steam, and pour out the water. Wipe the gunk with a paper towel.
For discoloration, use white vinegar to clean it.
Quick Cooking Tips for the Instant Pot®
Of course, knowing how to use your pressure cooker isn't the only thing you should learn in our Instant Pot 101 for Beginners. Along the way, I have found some quick tips to help make your Instant Pot experience easier:
Once you remove the lid on your Instant Pot, you can rest it on the handle. Then, it won't be in your way.
When you are using a recipe that calls for a thickening agent, such as cornstarch or flour, you will want to add it AFTER cooking.
If you don't want hot steam blown into your face, use a long spoon to vent the pressure cooker.
Don't put your pressure cooker under your cabinets. The steam travels up, and you don't want to possibly ruin your cupboards from all the moisture generated over extended uses.
To brown veggies or large chunks of meat, you will use the saute feature with the lid off before cooking.
DO NOT overfill the Instant Pot. There is a max fill line for a reason. Trust me, you don't want to find out that reason.
If the Instant Pot doesn't come under pressure, check to see if the inner ring is inserted properly on the lid. Also, check to see that the valve is sealed.
Use cold water in your pressure cooker. Warm water will change the cooking time.
Check the unit's plug from time to time for wear and tear. Also, don't override the three-pronged plug, always use a three-pronged outlet.
3-Quart Instant Pot® Cooking Times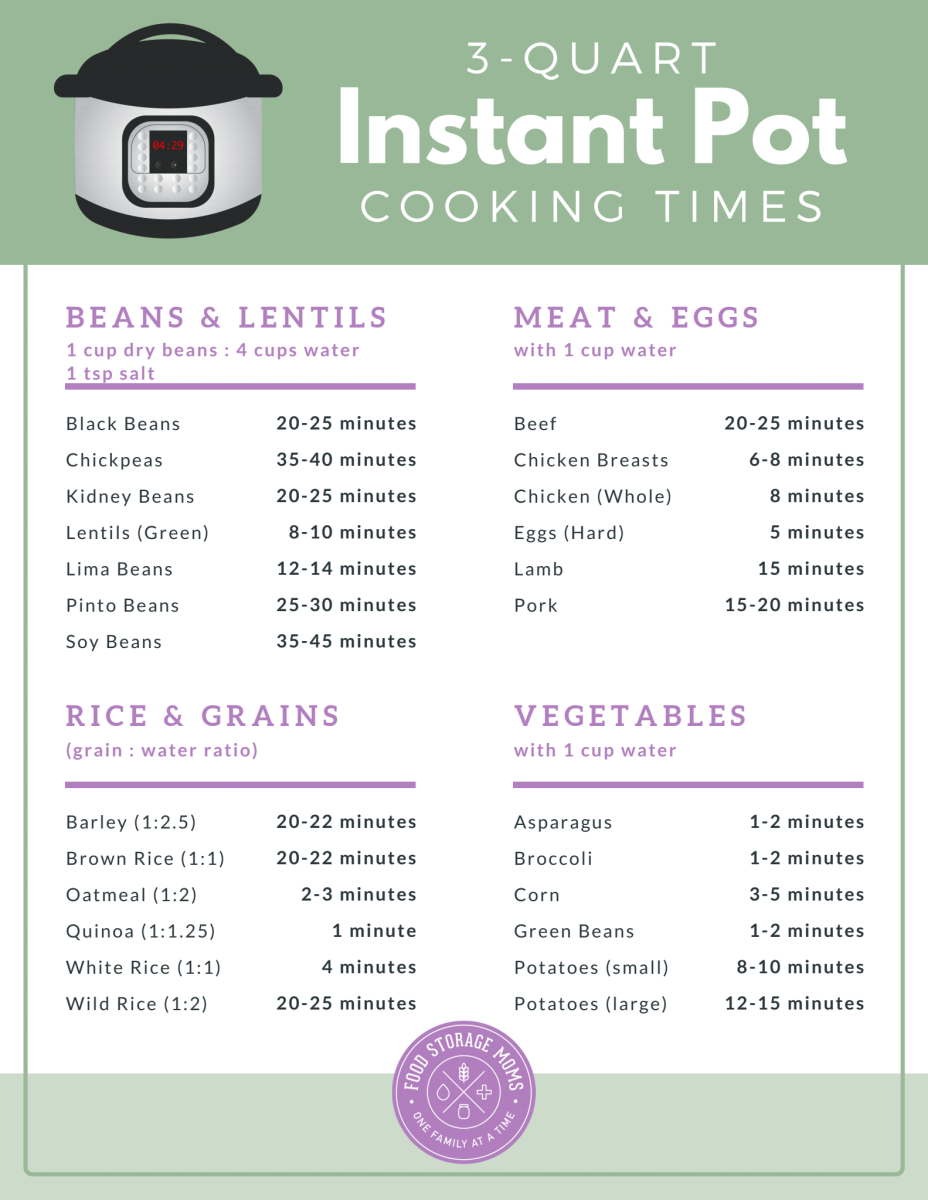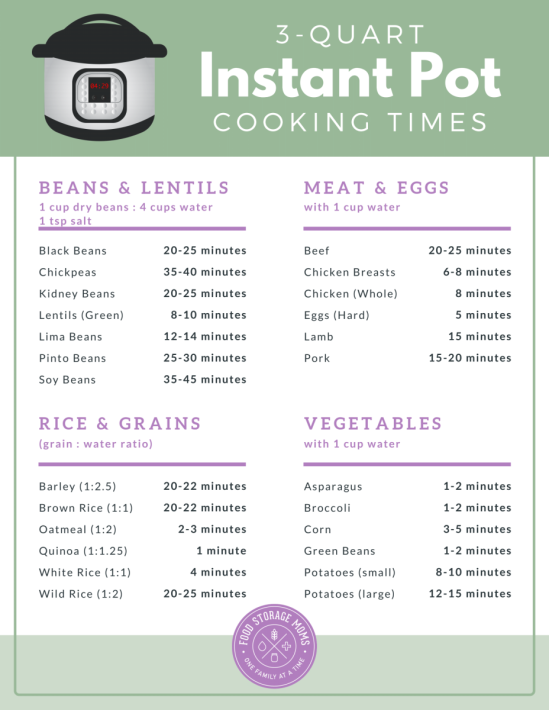 6-Quart Instant Pot® Cooking Times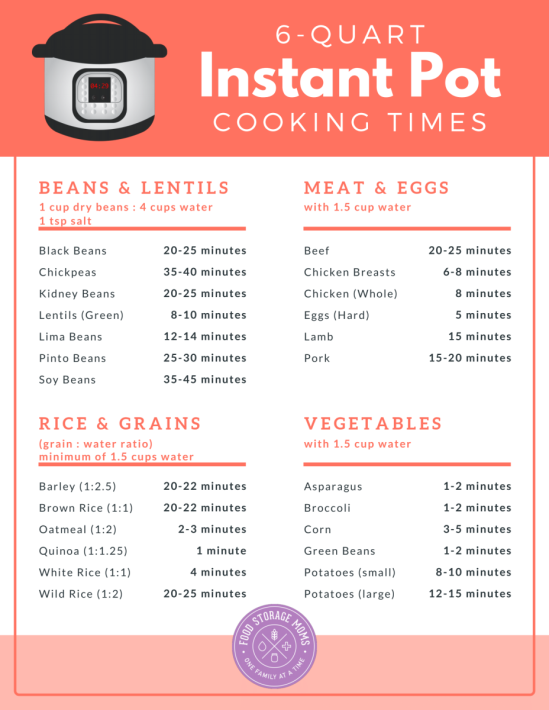 8-Quart Instant Pot® Cooking Times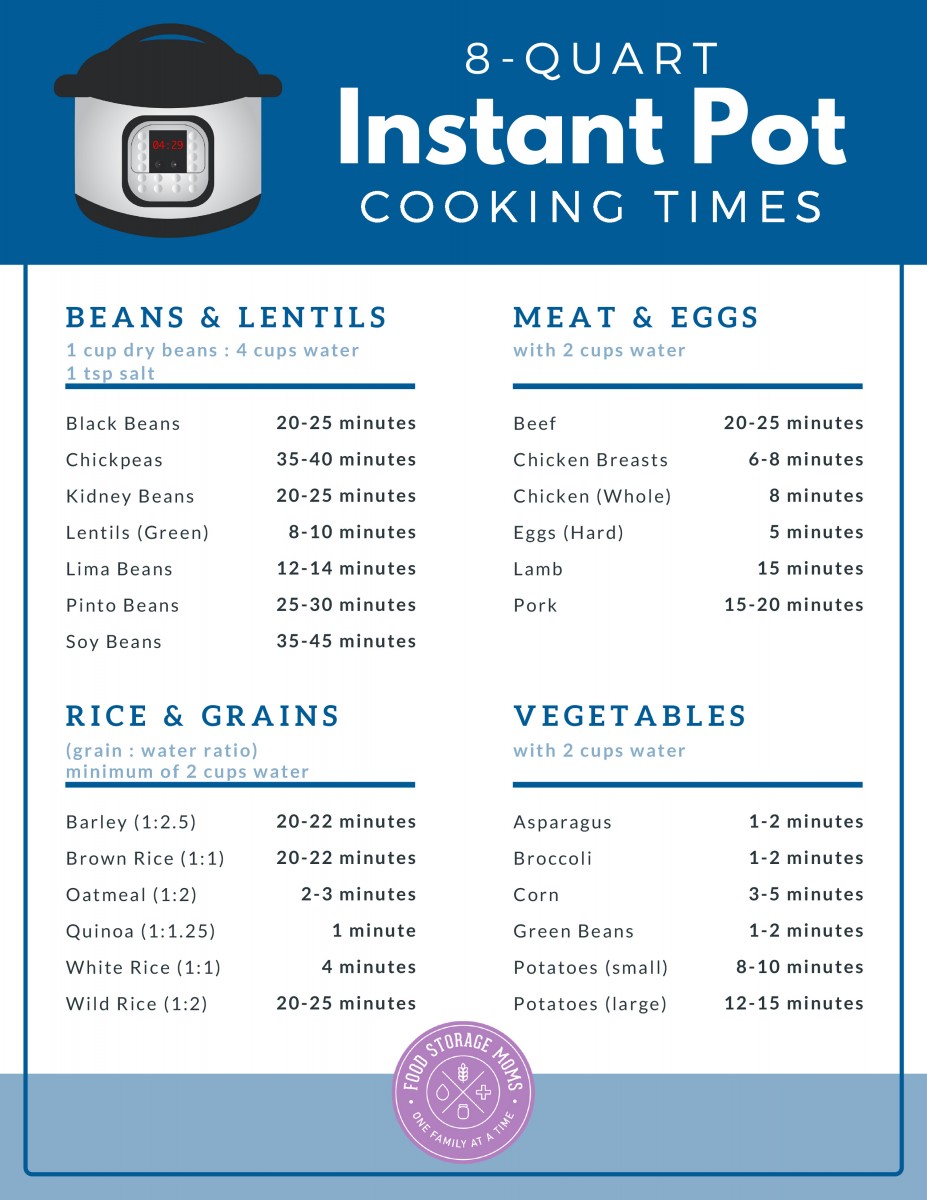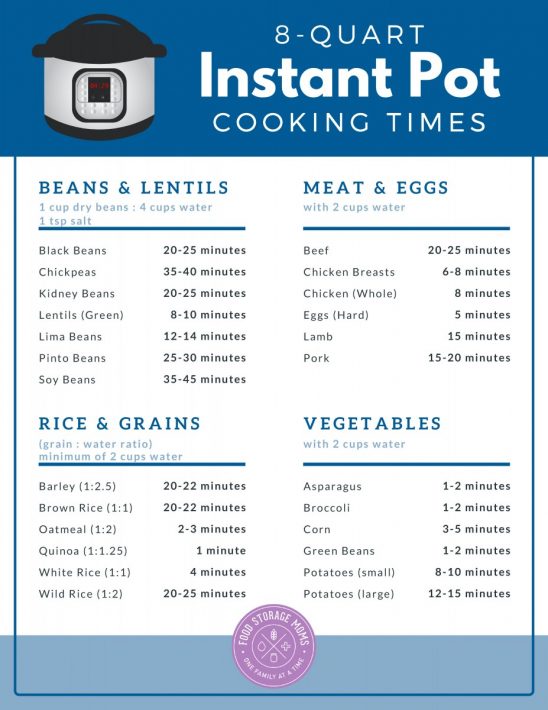 Can I cook rice in a pressure cooker like a rice cooker?
Yes, you can if you use the "Rice" button, your pressure cooker can cook rice with rice-to-water ratios as required.
Is it possible to sauté meat or vegetables before I pressure cook them?
Yes, indeed. I love to sauté different cuts of meat before I add the water to pressure cook them. It seals in the flavor.
Can I use my pressure cooker to slow-cook some recipes?
If your pressure cooker has a slow cook button you can use it like a slow cooker. Just remember to follow the instructions in your brand's instruction book.
Can I make yogurt in my pressure cooker?
I know people who make yogurt all the time in their pressure cookers. I have not, so please follow the instructions in your brand's manual.
What can't be cooked in a pressure cooker?
Cookies (no one wants steamy-cooked cookies)
Burgers or Fried Chicken (it's not designed to fry meat-use your oven or stove instead)
Pies (this would be too soupy)
Dairy recipes typically will curdle, with the exception of cheesecake and yogurt
DO NOT "can" food in your pressure cooker, you need a pressure canner
Light-colored lentils will turn to mush, so be prepared (red and yellow lentils-don't do it)
Pasta will tend to be gummy after cooking, so be aware and cook it on the stove instead
Final Word
Now that you have learned the basics of your Instant Pot® with our Instant Pot® 101 for Beginners, check out these 20 Instant Pot Beef Recipes or these Award Winning Instant Pot Chili Recipes. Happy cooking!
Do you have any other questions about how to use your Instant Pot®? If so, share them in the comments below and I will do my best to answer each and every one of them.
Thanks again for being prepared for the unexpected. May God bless this world, Linda
Copyright Images: Pressure Cooker Depositphotos_241271036_S