MREs have been around for a long time, dating as far back as WWII. But unless you were a service member of the armed forces or knew somebody who was, chances are you've never heard of one. MREs are Meals-Ready-to-Eat that don't require any cooking or heating of any kind and each package contains a complete sustainable meal for one person. Here is what to know about MREs. In case you missed this post, 30 Items You Need To Survive A Pandemic
The United States Armed Forces made them the primary food ration for its members ever since 1980. While many servicemen and women dreaded having to eat them, by the time they were veterans they actually missed them.
The MRE package is designed in order to stay protected from the elements while its food portions are able to last on the shelf for a number of years. Though it's not recommended that you resort to only eating MREs, they do contain all the necessary calories and nutrients to hold you over during an emergency.
Which is why many preppers and civilians have already gotten their hands on them. Hence, civilian MREs and MIlitary MREs Fortunately, it's not that hard for you to find them. Here's more on what to know about MREs. Please note, I do not buy MREs or premade meals for my food storage, but I wanted everyone to realize what these meals are. I have tried many Mountain House ready to eat meals (just add water) but they have such a short shelf-life I didn't want them. Some actually tasted pretty good.
"Prepare Your Family For Survival" by Linda Loosli
Butane Stove and Butane Canisters
What To Know About MREs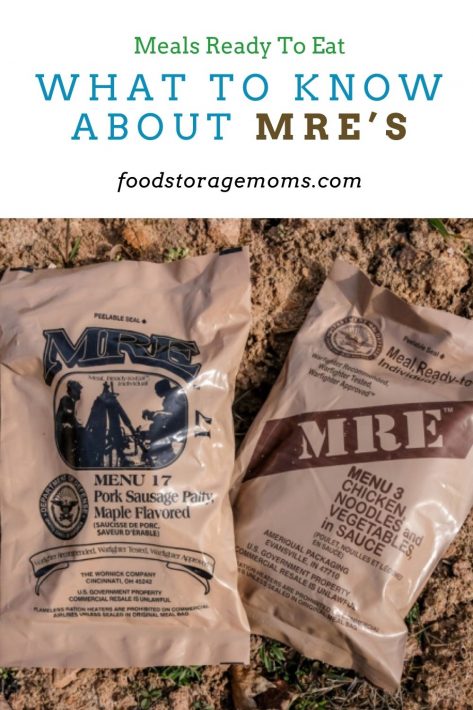 What is an MRE?
An MRE is a packaged food product that has been finely processed, canned, and sometimes even freeze-dried in order for it to have a much longer shelf life. They've been used by the military as combat rations for several decades now, but civilians can enjoy them too.
The entree includes meat, vegetables, fruit, carbs, dessert, and a drink. Some of the main dishes from the menu for MREs include spaghetti, chicken and noodles, chili with beans, spinach fettuccine, rice and beans, chicken burrito bowls, and bacon, potatoes, and hashbrowns for breakfast.     
Each MRE is packaged in a pouch that can survive the elements and comes with a number of different items. Every MRE comes with a heating source that requires a bit of water to help create an electrostatic charge, alongside the ingredients of magnesium, iron, and sodium chloride. With this combination, it can heat an MRE to 100 degrees in very little time.
What is in an MRE?
If you're wanting to find out exactly what meal options are out there, take a look at this MRE menu. Just keep in mind that the United States military updates it every year so don't be surprised if a few changes are made.
On average, every MRE contains approximately 1250 calories, with 13% protein, 51% carbohydrates, and 36% fat. Eating 3 MRE's is equivalent to having 3 meals. The following list includes examples of some of the food items that come with a military MRE: 
Main entree: Beef stew or spaghetti
Side dishes: Mashed potatoes, corn, rice, fruit
Bread or crackers
Spread: Cheese spread, peanut butter, or jelly
Seasoning or hot sauce ( only in certain packaging)
Beverage: Coffee, tea, Gatorade drink mixes, dairy shakes
Dessert: Pound cakes or cookies
Candy: Tootsie rolls, M&M's, or skittles
Other Accessories: Sugar, salt, creamer, matches, spoon, toilet paper, chewing gum, etc.
Is it Really a Good Source of Nutrients?
When looking at the list of food items that are in an MRE, you may think to yourself that there's not much nutrition there. But you'd be surprised. While an MRE is not meant to completely replace your regular everyday meal, they do contain the nutrition and calories to sustain you.
The military uses them because of how convenient they are and that they'll hold soldiers over when they're in a pinch, particularly when the soldiers are out on patrol or in specialized training exercises.
MREs contain several vitamins and minerals along with enough calories to keep you going. Preppers often have them stored away in their emergency kits for use should a disaster ever strike. That way if their fresh food is limited or damaged, they'll still be left with something that can sustain them.
How Long Do They Last?
Your average MRE is meant to last for up to 3-5 years when stored at the proper temperatures of around 70 degrees. When temperatures exceed this, the shelf life will be greatly decreased. The civilian MREs have a longer shelf life because of the short life of the candy that comes in the military MRE.
However, you're not going to get sick if you decide to eat an expired MRE. There are known situations where soldiers have eaten expired MREs that were more than 10 years past the coded data, which points to the fact that MREs don't really have an expiration date. It's also recommended that you always cook your MRE, even though it's something that's not required.  
Where Can I Find MREs?
Even though you may never have seen an MRE at your local grocery store, they're actually not that hard to find. There are two kinds of MREs, the civilian and the military options. It's actually illegal to buy or sell military MREs, but there are still ways that veterans can get their hands on them. Here are a few different ways:
Army Surplus Store
Many army surplus stores carry MREs, whether it's online or off-post. Just pay close attention to what they try to charge for them. You could wind up paying close to $100.00 for only one case. It's best to get it from someone that you know is actually involved in the military base of operations, that way you save yourself a bunch of money.
Ask Your Military Friend
When the military can no longer use expired or overstocked MREs, soldiers are then able to put them to good use.
Online and Auction Sites
You can go online or an auction site to purchase your MREs. Most of the websites list the manufacture date so you know what you're getting. Just be aware that if you do in fact purchase military MREs online or an auction site, that it is in fact expired MREs that you're purchasing and that the practice is also considered illegal by the military. 
I can see that Amazon sells some "MREs" that look like military but I do not feel comfortable listing the link. They do not say civilian, so I will leave it at that. Most of the buckets you see at Sam's Club or Costco are in reality MREs, they just look different and have very few calories.
Please be cautious when you buy one of those buckets. They have different expiration dates on each packet. No problem, but just look closer and educate yourself.
Final Word
MREs are a food source that every prepper should have in their emergency kits. They provide all the necessary nutrients and calories to keep you energized, and if it comes down to it, you also don't necessarily have to heat them. Just remember to keep them stored in a place that doesn't have a temperature that exceeds 70 degrees. May God Bless this world, Linda.
Copyright Images: MRE Meals Ready To Eat Deposit photos_383459878_s-2019