What to do With Your Pets in an Emergency
Taking care of your loved ones should be your number one priority when an emergency strikes, and that includes your pets as well. Having emergency plans in place prior to a disaster can not only keep your animals safe, but should also help support your family. By using these precautions and following these steps you will provide them with shelter and also keep you from making a huge mistake that you could end up regretting. Here's more on what to do with your pets in an emergency.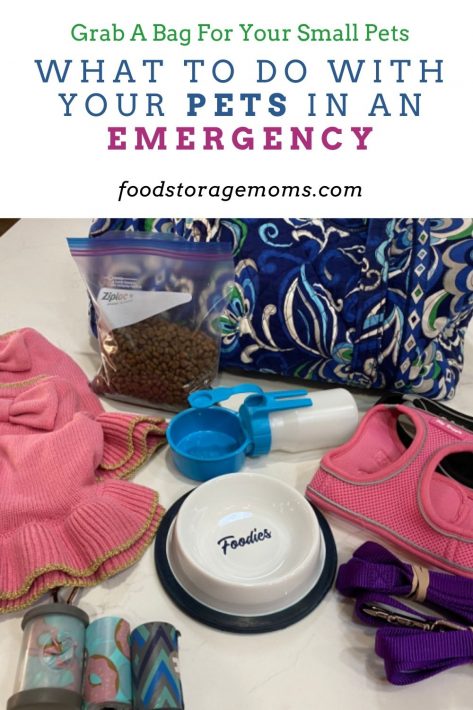 Make Sure Your Pet Wears a Collar and Identification Tag
If you were to become separated from your cat or dog following an emergency, one of the quickest and best ways of finding them is to make sure they are wearing a collar with an identification tag attached. Some people choose to put their own telephone number or a relative's number on their pet's collar to increase their chances of finding their pet if they were to become separated. Be sure and have two pictures of your pets available in case you need to post one on a missing pet board.
You can also choose to have your pets microchipped, which will increase your chances of being reunited with them. This will certainly come in handy when someone turns your pet over to an animal shelter. Just be certain that the registration is in your name. 
Take Your Pets With You, Don't Leave them Behind
Leaving your pets behind to face the consequences is not a responsible decision for you as a pet owner. If conditions are no longer safe for you and your family to stay in your home, it's also not safe to leave your pets there. 
Doing so greatly increases the chances of your cat or dog becoming injured, lost, or even killed. Another reason not to leave them behind is that you don't know how long it will be before you are allowed to return to your home. There will be no one there to feed and care for them for a possible extended period of time.  
Evacuating while leaving your pets in your home prior to an emergency should not ever be an option. No, I'm not suggesting that you should risk your own neck or the lives of one of your family members to try and rescue your pet should your situation become dire. Just don't allow the situation to escalate to that point, which brings me to my next point.
Leave Early
When you're stuck in limbo and trying to decide whether to evacuate your home, don't make the mistake of waiting until the last minute. Strong winds mixed with getting wet along with loud thunder can be pretty overwhelming to an animal and cause a lot of stress for them. 
Doing so only puts you and your pet at a greater risk because it may be far more difficult to load your cat or dog into a carrier when the conditions are severe. It's common for pets to want to hide or become more aggressive when these types of conditions take place.  
I'd encourage you to evacuate early before it becomes a mandatory evacuation, that way you avoid running into any problems that are unforeseen and also reduce some of the stress you are going through. If you make the mistake of staying and then wind up having to be rescued by emergency officials, chances are they'll tell you to leave your pets behind.
Find Accommodations Ahead of Time
It's not safe for you to assume that you'll be able to bring your pets with you to an emergency shelter that's only meant for people. You need to do some research ahead of time to see whether those shelters will allow your pets, but don't be surprised that most of them do not.
Get with Friends or Family
Contact a number of your friends and family who live outside your area to see whether they'd be willing to take in not only your family, but your pets as well. Chances are they will and that will save you from having to spend money on a hotel room. 
Head to a Pet-Friendly Hotel
Another option for you would be to contact hotels and motels that are outside your affected area to see whether they allow animals. Some of them might waive their "no pet" policy following an emergency. There's also a number of websites that you can look into in order to find pet-friendly lodging in your area. Here's just a few to check out: 
Check With Animal Shelters
You also have the choice of contacting an animal shelter locally and outside your area to take care of your pets until your family can get back on their feet. Local animal shelters may be stretched thin with their resources and increase in animals due to the emergency so you'll probably have to contact an animal shelter that's further from home.
What If You're Not Home?
So what happens if no one in your family is home when an emergency strikes and your pet is still there? What you can do is have arrangements made with someone that you trust, whether it's a next-door neighbor or a friend that lives close by. You'll need to give them a spare key and agree upon a location that you can meet up with them once they've retrieved your pet.
Another important detail is that the person should be someone that your pet has been around and is familiar with. Most pets have a hiding spot in your home that they escape to when they become nervous or scared. Make sure to share that information with that particular person as well.
Final Word
Don't be surprised if your pet acts a little funny following an emergency. It may take them a while to return to normal, but do your best to get them back into their everyday routine. You may even experience behavioral problems with them afterward, so you'll need to be patient. But if your pet seems to be experiencing health problems after, you'll need to get them in to see the veterinarian. May God Bless this world, Linda.