Survival Preparedness-Are Your Ready For A Disaster
Today I feel like I must address survival preparedness, are you ready for a disaster? Are you ready to evacuate your home within minutes, possibly seconds? If you have your TV on and listen to the news you may have seen the recent fires in Utah, and California, horrendous fires. Other states have had fires as well, it makes you realize how things can change in the blink of an eye, literally.
Here's the deal, the California fires have made me realize I must keep more emergency items stocked in my car. It also makes me check the gas gauge more often, a lot more often. As I watched the homes, the churches, and the businesses burn to the ground, I thought to myself, these people have lost everything, luckily most of the people survived, as far as the news I have heard. I sure hope they grabbed their important documents, can you imagine having to get those duplicated?
Survival Preparedness
Your Surroundings
Be aware of your surroundings, can you smell smoke, is it really quiet, I mean too quiet? Is it windier than usual in your neighborhood? Do you see someone that does not live in your neighborhood looking suspicious?
Gas Tanks
Please keep your gas tanks at least 1/2 full, ideally 3/4 full. If you lose power and need to evacuate, the gas stations may have such long lines they may run out of gasoline by the time you get to the pumps. You also don't want to run out of gas on the freeway, you may be in danger if some crazy deranged person wants food, water, or much worse in your vehicle.
Important Documents
No excuses here, my friends, I have a FREE download to help you gather your critical hard-to-replace documents. I even have instructions for you. Please get on it, it's a piece-of-mind thing. You will be so grateful you followed through with this one. If your stuff is in a safety deposit box that's great. I hope you have copies because if the bank loses power for days, weeks, or months, your documents will be locked up all right, but unable to access them. I used to work at a bank, I understand why some people have those safety deposit boxes. I just want you to think about power outages.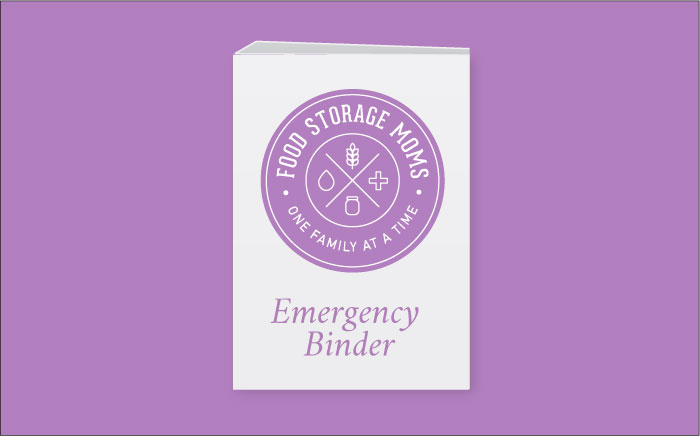 FREE Emergency Binder Instructions:
Tab#1:
"Emergency Contact Information" is a section to collect the home and cell phone numbers of family members, friends, etc. These are numbers we might not remember in a real disaster or emergency. We are so used to having the numbers stored in our cell phones or emails stored on our laptops, etc. What if we can't use our cell phones, then what? What if we can't use our laptops, then what? This is why we need these numbers or emails in the "Food Storage Moms Emergency Binder."
Photo Pockets: It's a good idea to have two pictures of your family members or friends in case you get separated in an emergency. This way you keep one picture and you post another picture of someone on a "search and find" wall should you get separated.
Tab#2:
"Bank and Investment Accounts" is a section I designed to fill in your bank account numbers, bank phone numbers, bank street addresses, or email addresses. If you need to dash out the door in a real disaster or unforeseen emergency you might need these numbers if you can't return to your home. I suggest you take copies of all of your credit and or debit cards (front and back) for two reasons. If you lose or have your wallet/purse stolen you have the card numbers and the phone numbers to reach the credit/debit card companies to report your loss.
Tab#3:
"Birth Certificates, Marriage Certificates, Religious Documents, School Graduation Papers, etc. This is where you will place your original, or copies if you prefer, and they are ready to grab and take should you need to leave your home in a short amount of time. They are all together in this binder, just grab and go.
Tab#4:
"Zippered Bag" is for your original passports, Copies of your driver's licenses, concealed weapon permits, Social Security cards, Medicare cards, etc.
Tab#5:
"Medical/Dental Information" and "Insurance Information." If we need to leave our homes unexpectedly we might be glad we have our Doctor's, Dentist's, and Pharmacy names, addresses, email addresses, phone numbers, etc. We can include medical issues we have and medications with dosages we take. We might need the drug's name, dosage, and how often to take it. Please write down any allergies you or a family member might have.
We might need our insurance policy numbers, agent's phone numbers, and addresses. We might need our Medicare/supplemental insurance coverage documents. If we have this in our binder we are good to grab and go.
Tab#6:
"Accounts/Website Access Codes" This section needs to be kept in a safe place, as well as all of the documents listed above in all the tab areas. This section would be important if someone in the family is hurt and the other family member has no idea how to gain access to your joint accounts. If you need to check your accounts and you can't go back to your house you will at least have these facts to "carry on" with your everyday family matters.
Tab#7:
"Zippered Bag" is available to start collecting small bills like ones and fives. If we lose power the ATM machines will NOT work. The GAS PUMPS will NOT work. You will need small bills to pay for things. The stores, gas stations, etc. will not have change for a $20.00 bill. Period! Please start putting small bills in this zippered bag. You'll be glad you did.
Tab#8:
"Titles" This section is where you'll want to place your Titles to Cars, Boats, etc.
Tab#9:
"Will/Family Trust" This is where you could place the most important sections (copies at least) of your trust and/or wills.
Tab#10:
I left this section empty so you may put anything else that you may need or want should you have to leave your home ASAP.
When you have an emergency in your neighborhood or community if you have the binder sheets completed and your important documents in a binder you can grab them and leave feeling more confident that you'll be ok. Please remember your prescriptions, pets, and pet care. May God bless you for your efforts.
***Please download on a laptop or stand-alone computer, the file may be too large for your phone:
Food Storage Moms FREE Printable Emergency Binder Download
Cash
Please have a few ones, five, and ten-dollar bills available to take with you in your binder. Please store your binder in a safe location so you can grab it and go out the door.
Prescriptions:
Grab your prescriptions if you need to flee your home. Natural Remedies That Work in an Emergency
Pets
Grab your pet's bug-out bag if it isn't already in your car. Be sure and have a document showing vaccinations, this will be critical, I promise.
Water/Food
Please keep your car stocked with food and water for at least five days worth.
Emergency Car Kit
Please keep your car stocked with emergency items, Car Kit or Survival Car Kit
First Aid Kit
This post is one of my most popular posts. First Aid Kit
Final Word
I pray that all of you get prepared for the unexpected as soon as possible so you are ready to evacuate if you need to leave your neighborhood quickly. Practice telling one another to grab your emergency binder, prescriptions, etc. Monitor your gas tank, and rotate the water and food in your car. Survival preparedness will save your life IF you are prepared. May God bless this world. Linda