25 Prepping Items to Hoard
When disaster strikes, it's typically too late to start planning, making a list, and then heading to the grocery store to pick up your needs. By the time you get there, people will likely already be out of control, ransacking foods, and supplies that you should have already stockpiled. This doesn't have to be you in this type of situation. Be prepared. It's time to talk about these 25 prepping items to hoard.
Related Topic: 13 Surprising Uses for Flour
25 Prepping Items to Hoard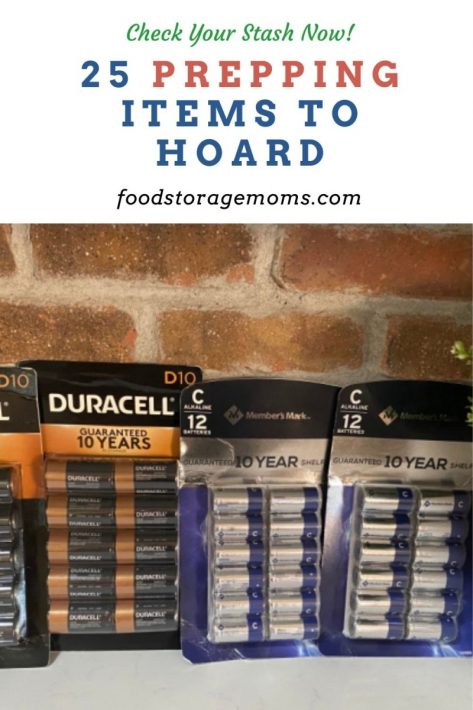 25 Prepping Items to Hoard
1. Pain Relievers
Having aspirin on hand can be useful for relieving not only headaches and reducing fevers. Applying it directly to burns, scrapes, and cuts can reduce pain directly to your skin. It even works well on a bug bite or bee sting. Without a doubt, this is one of those prepping items to hoard!
2. Electrolytes
Catching a fever with flu-like symptoms during a crisis is not only bad, but can be deadly. Stocking up on electrolyte drinks, such as Gatorade or Pedialyte can help replenish your electrolytes and keep you from becoming dehydrated.
3. Hand Crank Radio
Not being informed during an emergency can be even scarier without any information from the outside world. Purchase a hand-crank radio to help with this problem. No batteries required. Having two may seem like hoarding, but it is good to have a backup unit, or one you can share with a neighbor.
4. Multi-tool
Having a multi-tool on hand during a crisis is much more effective than carrying around a toolbox full of heavy tools everywhere you go. Most of them have knives, scissors, screwdriver, bottle opener, can opener, and pliers. Having more than one gives you the option of having other family members work on things at the same time.
5.FireArms
Unfortunately, bad times usually bring out the bad actions in people. Having firearms stashed away for protecting your family is important, even if you aren't fond of them. If you are totally against guns, find some other solution or form of protection to help keep your family safe.
6. Extra Blankets
Heaven forbid if an emergency were to strike in winter. But if it did, make sure that you are ready. Electricity and keeping your home heated might not even be an option. Make sure to have plenty of extra blankets stored away, just in case.
7. Duct Tape
Duct tape has so many uses. You could patch a tent, patch a hose, better insulate your shoes, and so on. Mythbusters even made a kayak with duct tape and a few pieces of wood.
8. Paracord
Paracord, like duct tape, has many uses. It's much stronger and lighter than typical rope. You can use it to tie sticks together to make a shelter. Paracord can also be used for climbing, a fishing line, a sling, and countless other survival uses.
9. Batteries
You're going to go through a bunch of batteries if you lose power. Make sure you stockpile batteries of all kinds while preparing for an emergency. If someone in your family uses a breathing machine or respirator, be sure to stock up on the appropriate batteries.
Those batteries you see up above were sent to me by my friend, Harry from Texas. He heard I couldn't get "C" and "D" batteries where I live and the next thing I know , a package was delivered to me. Although, I have never met him and his wife, I know if we ever met in person we would be great friends! Life is so good with people looking out for you. Consider "paying it forward" by providing prepping supplies to friends and neighbors.
10. Flashlight
Having extra flashlights hoarded away will keep your family out of dark situations at night. Flashlights with Batteries and Solar Flashlight
11. Can Openers
Canned food is about the only source of food you will find that hasn't spoiled. So when hard times hit, make sure to have more than one handy can opener available. Can Openers
12. Charcoal/Lighter Fluid/Campfire Fuel
Charcoal is a great way for cooking your food. Be sure to have plenty of lighter fluid or campfire fuel to help speed up the process. If you have a fireplace in your home or apartment, figure out how to have firewood stacked somewhere close so you can put it to use. We used to have a fireplace insert and we'd have two or three cords of wood stacked on the side of our house. It made us feel so confident that we'd make it through most any wintertime emergency. And don't forget lanterns with fuel as well.
13. Camp Stove
Camp stoves are not only great for camping, but having stoves for use in case of an emergency just makes sense. They don't give off smoke like a campfire does, keeping you from giving away your location if you don't want to be found. I bought one of these for all four of my daughters. Butane Stoves and Butane Fuel
14. Water Filters
Not having clean water to drink will get you sick or dehydrated in a hurry. Have several survival water filters to keep your drinking water fresh.
15. Hand Sanitizer
Stock up on hand sanitizer ahead of time to keep germs away. You can also make your own if you read my post. Why You Should Make Your Own Hand Sanitizer + DIY Recipe
16. Freezer Bags
Freezer bags will not only store your food and keep it fresh longer, but they work great for storing other things as well. You can even use them like a mixing bowl or for marinating your meat.
17. Garbage Bags
Garbage bags serve many purposes, not just for taking out the trash. They can be worn as rain ponchos, shelter covers, and human waste removal for proper sanitation.
18. Paper Cups/Plates/Towels
Don't eat like an animal just because the end of the world seems to have taken place. Eat and drink like a king and queen on paper plates, cups, and use paper towels to clean your mugs and utensils.
19. Toilet Paper
Just imagine not having toilet paper during a crisis. Now that's talking about "the end of the world" scenario. Stockpile toilet paper for a much softer, more sanitary way of cleaning yourself. Remember, when the pandemic was first announced toilet paper was one of the first things that you couldn't find at most any store. Plan ahead and have plenty on hand, just in case.
20. Laundry Detergent
Another great item to hoard for an emergency is laundry detergent. You might not have a working washing machine, but you can still clean your clothes the old fashioned way, with laundry detergent and your two hands.
21. Shampoo/Soap
Taking a shower every day after a catastrophic event might not be an option. Yet, when someone in your party begins looking at you funny or is avoiding you, at least you collected plenty of shampoo and soap to get the job done.
22. Vaseline (AKA Petroleum Jelly)
If you're already in a miserable situation, getting an injury sure doesn't help. Vaseline works great on soothing cuts, burns, and scrapes.
23. Tooth Brushes/Toothpaste
Gather several toothbrushes and toothpaste to keep your teeth pearly white on the grayest of days that you can remember. Staying clean is so important not only for your physical health, but also for mental wellbeing.
24. Lysol
Lysol helps to kill germs and lice, helping keep you safe from sickness. Consider Lysol your new best friend during an emergency.
25. Gasoline/Propane
Having various ways to prepare your meals or keep an automobile running might be tricky without gasoline or propane. When an emergency strikes, you can count on them not being available. If stored properly, gasoline should be good for up to one year. Have extra propane tanks on hand stored in a cool dark space like a garage. Never store these in your home. This is without a doubt one of those prepping items to hoard.
25 Prepping Items to Hoard
Final Word
These are 25 things that everyone should hoard in case of an emergency. If you've taken measures to prep for the unexpected, what other items would be crucial for survival? What are some other prepping items to hoard that you have in place? May God Bless this world, Linda.
Copyright Images: Duct Tape Deposit photos_36934715_s-2019