Why You Should Make Your Own Hand Sanitizer + DIY Recipe
I'm sure you've heard it all over the news. Every single store is out of hand sanitizer. Your first priority should be to use soap and water to kill the germs that could be on your hands.
Making your own hand sanitizer may not be your first choice, but since all of the stores are sold out, you may be stuck making your own.
I'm going to give you several reasons why you should make your own hand sanitizer. Read up on why you should wash your hands often.
I looked at the bottles I have stocked in my prep inventory and found all of them say 60% isopropyl alcohol. Then I watched a doctor on TV suggest IF we make our own it should be 60% minimum isopropyl alcohol to be beneficial at killing off some bacteria that may be lurking on our hands.
Well, the only bottles I could recently find in the stores to add to my inventory were 70% isopropyl alcohol. In the past, I had purchased a bottle that said 91%, but then I read where you have to be careful since the % is too high it can dry out your skin, it may crack and bleed.
Well, that's not good. So I am using only 70% isopropyl bottles.
DIY Ingredients for Hand Sanitizer
70% Isopropyl alcohol (correction 91%)
Aloe Vera Gel (not liquid or juice) I bought mine at a Natural Grocers Store
Please note correction:
Thanks to my friend, Harry for bringing this to my attention.
Linda,
I believe you need to use 91% isopropyl alcohol in your recipe. If you mix 2/3 cup of 70% alcohol with 1/3 cup of aloe vera gel, you will dilute the alcohol content in your result to 47%. In order to achieve 60% of your result, you need to start with 91% alcohol. Basic math. Sorry, but this is too important not to mention.
Items Needed To Make It Yourself
I chose plastic containers, glass is wonderful but it breaks. It's too difficult for me to clean up any more broken glass containers. Just sharing my 2 cents.
Why Make Your Own Hand Sanitizer
This is a prepping website. We focus on prepping for things we'll need and taking matters into your own hands. When an emergency strikes, no one else is going to do anything for you, you have to be willing to do for yourself.
There are many reasons why you should make your own. See what the CDC says about hand sanitizer.
It's Cheaper
At this point, unless you want to pay $500 for a bottle of hand sanitizer with someone who is trying to rip you off, it's cheaper to make your own. I promise, there are no fancy ingredients involved in this process.
Perfect for the Future
If you discover you don't need hand sanitizer right now, you can always save this recipe and the supplies for later. I wouldn't mix it all up until later when you need it if you don't need it now.
Sometimes it takes stressful situations, like the Coronavirus to help us all be a little more self-reliant. Please keep in mind this will NOT KILL the Coronavirus. Please refer to the CDC for accurate information on COVID-19.
Hand Sanitizer Comes in Handy
I think we all use hand sanitizer on a regular basis, and while I would encourage you to wash your hands first, I would use hand sanitizer too!
It doesn't hurt anything to use something like this a lot because you know it's killing germs and helping to prevent sickness and the spreading of germs.
What is the shelf life of Hand Sanitizer?
Based on this article, I would think 2-3 years. Here again, it's all about how fresh the ingredients are when you make it and the temperature where you store it. Healthline Website
What Does the CDC Say
I quote: Alcohol-based hand sanitizers can quickly reduce the number of microbes on hands in some situations, but sanitizers do not eliminate all types of germs.
Why? Soap and water are more effective than hand sanitizers at removing certain kinds of germs, like Cryptosporidium, norovirus, and Clostridium difficile1-5.
Although alcohol-based hand sanitizers can inactivate many types of microbes very effectively when used correctly 1-15, people may not use a large enough volume of the sanitizers like they would the soap and water, or they may wipe it off before it has dried 14. CDC Show Me The Science
How to Make Your Own Hand Sanitizer
This recipe is going to teach you how to make your own hand sanitizer. I need to say that if you make and use this product you do so at your own risk. I can't be held accountable for you not getting the percentages of alcohol and aloe vera gel correct.
Today, this batch I used two bottles of Aloe Vera Gel (8-ounces each) and 1-quart of 70% isopropyl. I did not use the entire bottles of the Aloe Vera Gel or the whole bottle of alcohol.
First of all, it's very hard to get the last of the gel out of the bottle, but that's okay. I barely used half of the alcohol. Just giving you a ballpark price here.
I did not include the cost of the bottles. We all have some bottles we can use, typically.
Here is the cost break-down:
(2) 8 oz bottles of Aloe Vera Gel @$4.60 each for a total of $9.20
(1) quart of 70% isopropyl alcohol – total price (I only used approx. 1/2 of the bottle) $1.79
Let's assume I used all the ingredients today: $9.20 + $1.79= $10.99 and it made three bottles. Each bottle has 8-ounces filled with homemade hand sanitizer. So, these cost approximately .45 cents per ounce or $3.66 per bottle.
Now, let's keep in mind these have 70% alcohol compared to the 60% alcohol in the one I usually buy at a local dollar store. Remember I still have some of the ingredients left-over.
Step One:
Gather the ingredients, it uses Aloe Vera Gel and 70% isopropyl alcohol. The CDC recommends a minimum of 60% isopropyl alcohol. (please see my correction to 91%)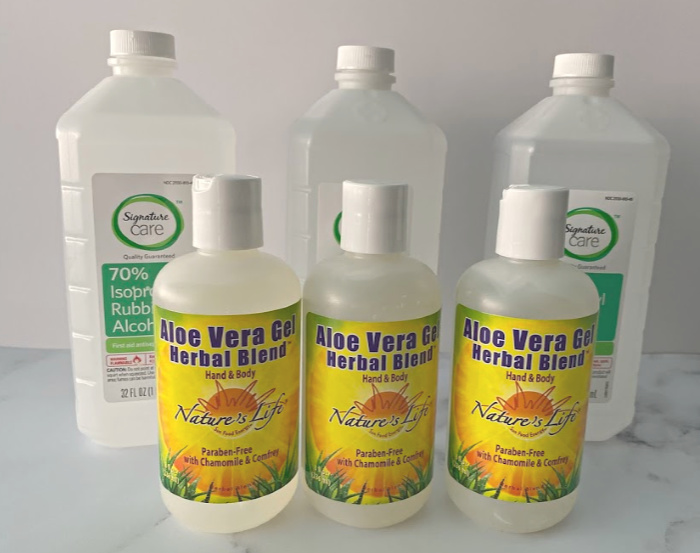 Step Two:
Combine the isopropyl alcohol of choice and the Aloe Vera Gel. Stir until smooth. It will look similar to water with some aloe vera in it after mixing.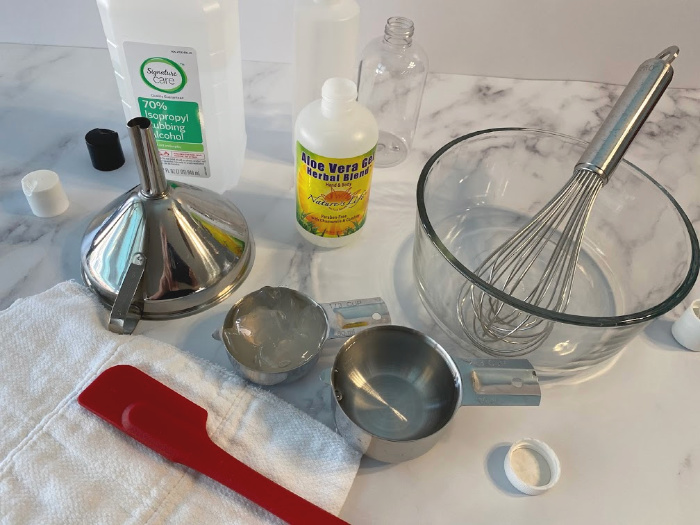 Step Three:
Use a funnel to fill the desired containers.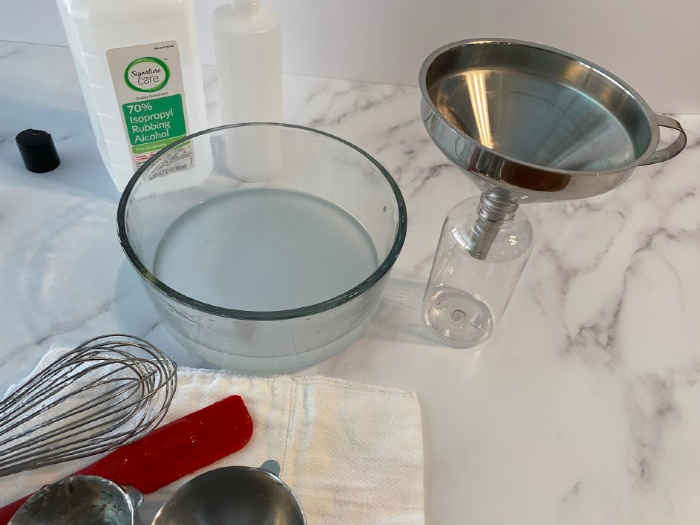 Step Four
You can choose a pump or flip cap container.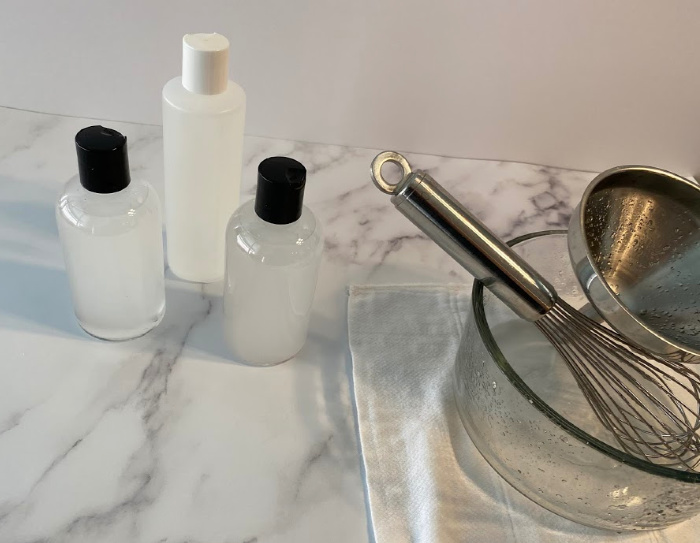 Step Five
These are the three bottles I filled with my homemade hand sanitizer. I did not put any essential oils or coloring in them. These work for me as is.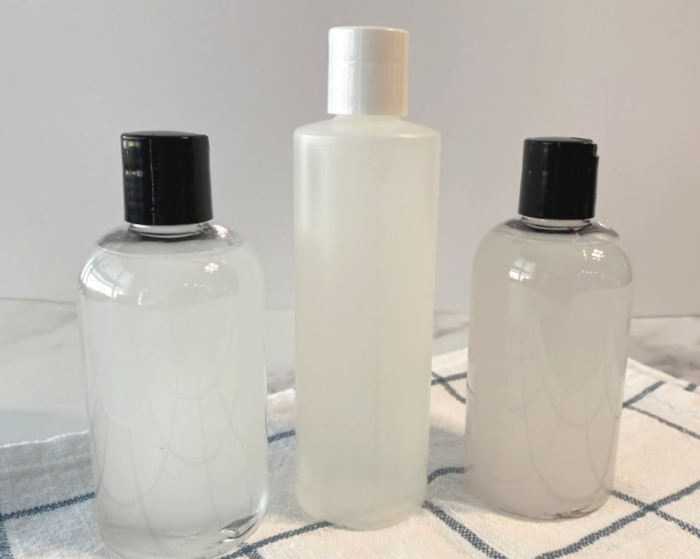 Step Six
I made these labels for the bottles.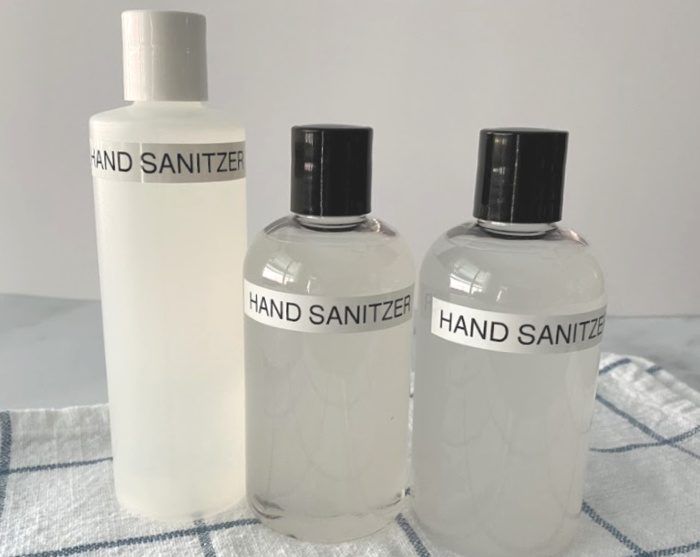 Step Seven
In case you're wondering how I label things around my house and these bottles, for example, this is the little machine I use. Brother Easy Label and Brother Easy Label Case.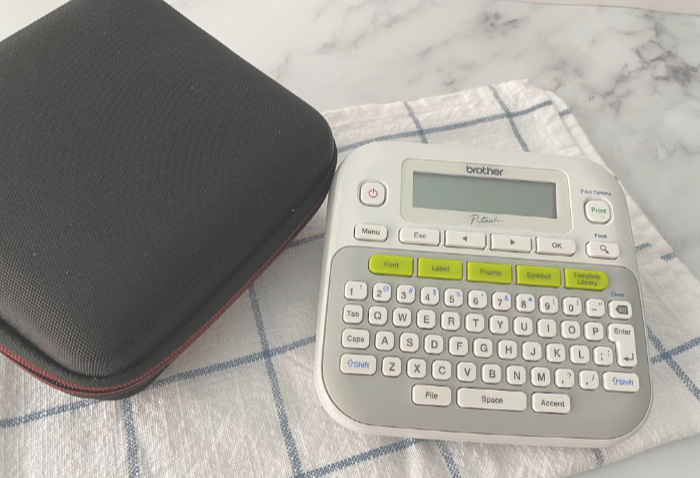 Things to Consider When Making Your Own Hand Sanitizer
I'm for ALL the reasons why you should make your own hand sanitizer. But keep in mind there are things to consider when making your own. The ingredients are a lot harder to come by now.
However, this won't be the first pandemic to ever happen in the world. Keep this DIY hand sanitizer recipe handy, so that you can use it in the future. The more self-sufficient you are in life, the better off you'll be.
You have to use 70% pure isopropyl alcohol. You can't use spirits or liqueurs because they are watered down and not 100% alcohol. If you try and create a hand sanitizer with something like that you will only get a 40% proof hand sanitizer.
I would not use any dyes or essential oils in your hand sanitizer if you make any from store-bought ingredients. I've seen a lot of recipes online that use them, but I just want my hands clean, they do not need a fragrance.
I'm just a simple chick who wants my hands clean, that's it. I wash my hands a whole lot more with plain soap and water.
My dermatologist suggested a hand soap called "Tone" that I buy at Wal-Mart. It is easy on my sensitive skin and I don't have to clean the scum on the soap dish very often. Tone Hand Soap
But I also keep some hand sanitizer in my car. Oh, and I'm the one that brings a hand sanitizer container to the food tables where food is served at church meals.
I also bring it to family reunions where it's popular to share foods we all bring. It's how I roll. Some people use it, most do not. But I bring it for health-conscious people like me.
Homemade Hand Sanitizer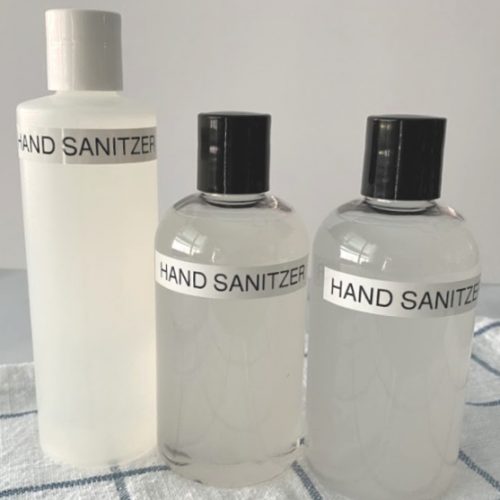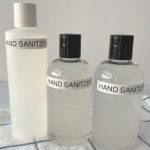 Homemade Hand Sanitizer by FSM
Ingredients
2/3

cup

isopropyl alcohol, you need to use 91%

1/3

cup

aloe vera gel (not juice)

essentials oils (optional) I did not use any
Instructions
Combine the isopropyl alcohol of choice and the aloe vera gel. Keep mixing, it will look similar to water with aloe vera in it. Use a funnel to fill the desired containers. You can choose a pump or flip cap container.
Final Word
Remember that no one else is going to take care of you in any kind of emergency. You need to be ready to do things yourself.
Even small things like knowing how to make your own sanitizer are important. Keep this in mind. May God bless this world, Linda.