Why You Should Wash Your Hands Often
Have you ever been to the bathroom and realize someone didn't wash their hands as they walked out? Don't be that person! Never leave someone wondering whether or not you washed your hands.
You may be wondering why you should wash your hands often. Please refer to the CDC for accurate information on COVID-19 or other illnesses/diseases.
Washing your hands should be the number one thing that you do the most often, especially for healthy living. Washing your hands is the best way to prevent germs from spreading.
When germs aren't killed by hand washing, they go on living in other places, like countertops, kitchen tables, and bathrooms.
Germs can live on surfaces and they can live in the food we eat. The global rates of people washing their hands after using the bathroom are at 19%. That's an insane statistic.
Why You Should Wash Your Hands Often
Have you ever thought about why you should wash your hands? Obviously, we know it kills germs. However, there are actually many reasons out there for washing your hands.
There is actual science behind washing your hands. In fact, this is one of the best ways to keep yourself from getting sick.
Removes Germs From Hands
The most obvious reason for washing your hands often is that it removes germs from hands. There isn't anything else in the world that can remove germs off your hands, like washing them can.
Yes, hand sanitizer works, but it's not the very best thing for removing germs. This is what can happen if you don't wash your hands to remove germs.
Germs Get Into Food and Drinks
When germs are not killed, they multiply. When they multiply, they get into your food and drinks. If you are preparing food, then the germs will get into the food, contaminating them.
In the right circumstances, germs can even multiply in food and drinks, which can make you even sicker.
Germs Can Transfer
Think about it, when your hands are not washed, those germs are then transferred to other things. Germs can live on almost every surface.
Germs then move from one person to another, and the cycle continues of people getting sick.
Saves Your Life
While it may sound dramatic that handwashing saves your life, it's not. According to the CDC "About 1.8 million children under the age of 5 die each year from diarrheal diseases and pneumonia, the top two killers of young children around the world." source
Battles Antibiotic Resistance
If you haven't been reading up on antibiotic resistance, it's time to do so. When you wash your hands, you are battling against antibiotic resistance.
When you wash your hands, you are preventing sickness. Since there is an overuse of antibiotics in the world, antibiotic resistance is becoming more and more of a real thing. Which Antibiotics Work Best For Which Infection
What Happens When You Wash Your Hands?
When you take the time to wash your hands, you are doing several things:
You are helping keep germs from spreading.
You are keeping yourself from getting sick.
You are keeping others from getting sick.
Removing germs through handwashing helps reduce the spread of diarrhea.
Removing germs through handwashing helps reduce the spread of respiratory infections.
When you wash your hands, you're keeping those who are immune-compromised from getting sick from certain germs.
When Should You Wash Your Hands?
Now that you know WHY you should wash your hands, you may be wondering when you should wash your hands. Here are some instances when you should wash your hands:
Before prepping food or cooking.
Before eating and after eating.
Before and after caring for someone who is sick.
After using the bathroom.
After touching an animal.
After touching garbage.
Before and after doing first aid on someone.
After anything pet related.
After cleaning.
Before and after caring for someone in diapers.
When Should Hand Sanitizer Be Used?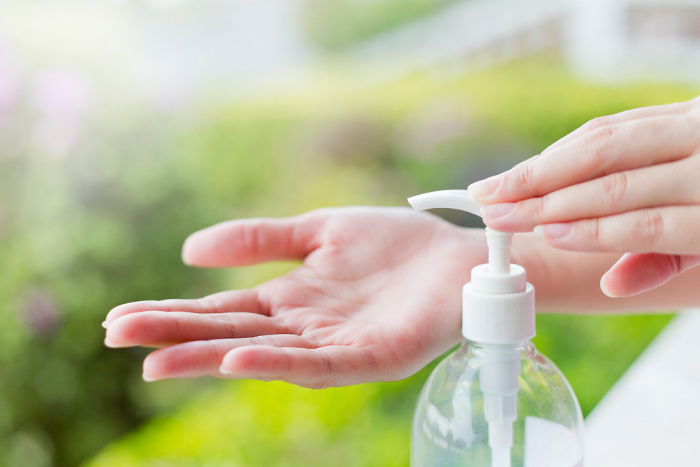 I use hand sanitizer all the time. However, you should always wash your hands if you're able. Hand sanitizer isn't always equal. Look at the product label to make sure it contains at least 60% alcohol.
It's important to note that hand sanitizer doesn't get rid of all germs. It's a great alternative when there is no soap and water available for traditional hand washing.
I keep a small hand sanitizer container with a pump in my car and Mark and I use it every time we go somewhere and get back in the car.
This works for us to cut down on stuff our hands may have picked up unknowingly.
How to REALLY Wash Your Hands
Have you thought about how you should wash your hands? While most of us do know how to wash hands, I wanted to give you the quick rundown recommended by the CDC.
Step One:
Turn on the water and get your hands wet with cold or warm water.
Step Two:
Grab some soap and lather your hands together with the soap. Make sure you clean the front and back of your hands. Also, wash in between those fingers!
Step Three:
Wash your hands for at least 20 seconds. Make sure you do it for at least the whole 20 seconds. You can set a timer if you need to.
Step Four:
Rinse your hands really well. When you are done, you can use a clean towel to dry them. Please never share a hand towel in the bathroom.
If possible, have your own one. I use paper towels in my bathroom.
Stock Your Home Pharmacy
Final Word
Proper handwashing is critical. Not only does it keep you from getting germs, it really keeps other people from getting those germs from you.
The next time you're tempted to not wash your hands, think about these tips and WHY washing your hands is such a good idea. May God bless this world, Linda
10 Cleaning Tips For The Minimalist
How To Love Cleaning Bathrooms Every Week
Copyright Images: Washing Hands Depositphotos_28423197_s-2019, Hand Sanitizer Depositphotos_76447447_s-2019