How To Love Cleaning Bathrooms
I'm sharing why I love cleaning bathrooms with you today. It may seem odd, but I really love to clean MY bathrooms. It cuts down on bacteria, obviously, the bathrooms have who knows what in the toilets, the bathtubs, and the countertops, and don't forget the light switches.
I have a definite routine for my bathrooms. My last home was very small and only had just 2 bathrooms, so keeping them clean was a breeze. Please stay well by keeping your bathroom(s) clean.
When I worked, I had someone clean my house every week for almost 20 years, it was awesome. Yes, I'm a perfectionist and I had to give instructions to the gal that worked for me. I had the same housekeeper for all those years and I loved her like a sister.
I had a large home with five bedrooms, four bathrooms, a dining room, a living room, a family room, and two kitchens. It was a great family home, but a few years ago, Mark and I decided to downsize. It's been very hard for me to live in a tiny home because I love to entertain and I have had to adjust to a very SMALL home.
Update
Update: as you know by now, we are downsizing again to northern Utah. We are building a smaller home with one bedroom and a large pantry. I wanted to be closer to family, so here we are. We are still waiting on the building approval from the city. Our new home will have 1 and 1/2 bathrooms.
But I am grateful I'll have a home, regardless of what size it is. Since I'm semi-retired, my routine for cleaning bathrooms is every Sunday. Yes, it's the Sabbath, but that day is my day to clean my bathrooms. What can I say, it works for me.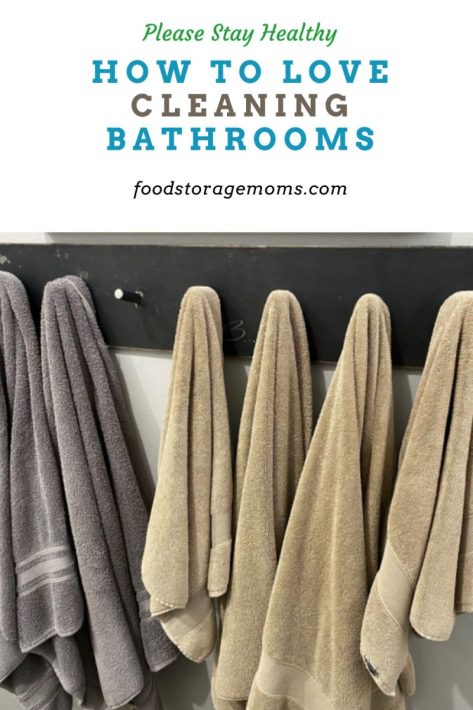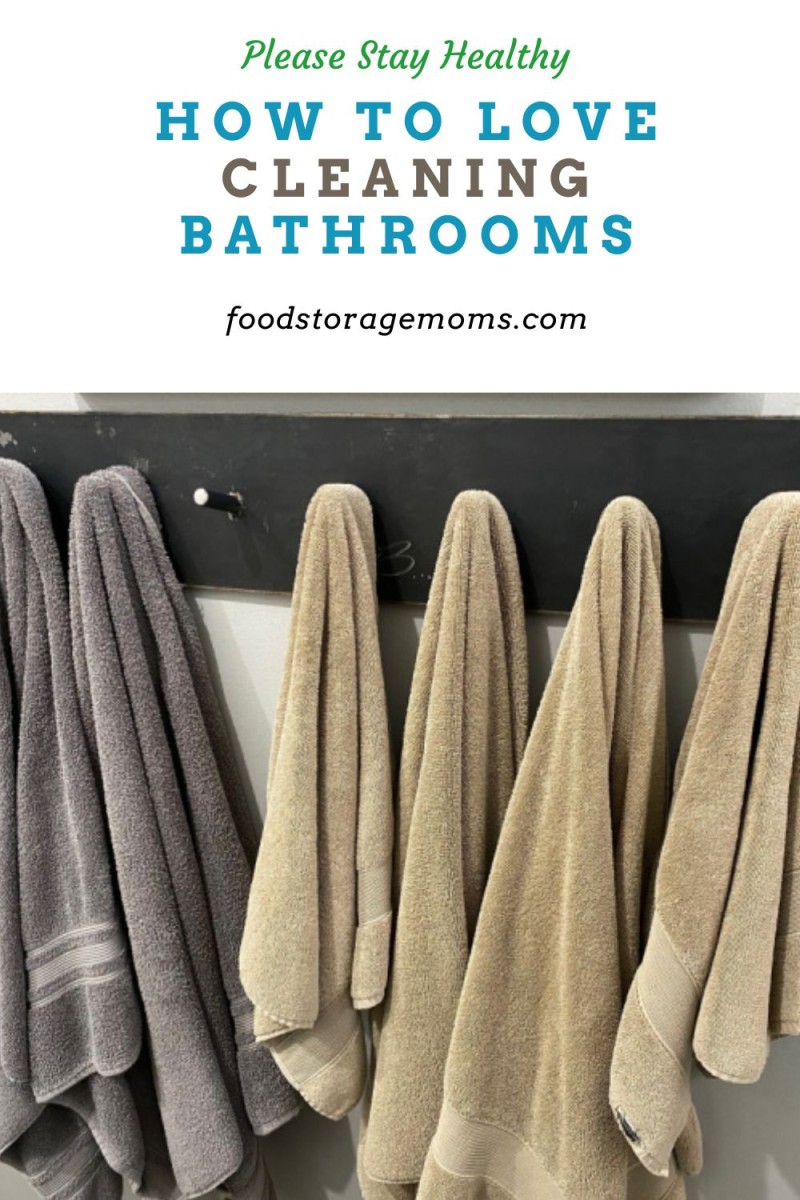 Cleaning Bathrooms:
The first thing I do is wash the toilets, I love to clean the toilet Mark and I use. I literally can clean my bathrooms in five minutes. Yep, five minutes. Here is the tool I use for the toilets: Don Aslett's Complete Toilet Set and these are the brush replacements: Don Aslett's Johnny Mop I buy this product when my bottles of cleaner get low: Safety Foam Toilet Bowl Cleaner 2 Pack
Next, I clean the bathtubs with this gadget as I can no longer kneel on my knees: Electric Spin Brush
Keep in mind if you can kneel, just use a good brush to clean the tub and keep up on the scrubbing because I only use this baby once a month.
I use Spic N-Span or whatever cleaner I have in the house. I've tried homemade cleaners using a baking soda mixture, and they don't measure up to my scrub test when it comes to removing any mold or mildew. If you have a great recipe for one, let me know. Then I clean the countertops with disinfectant Clorox wipes and clean the windows with a good window cleaner like this one: Sprayway Glass Cleaner
I think you can buy this brand at Costco as well. If you want clean mirrors and clean windows don't buy the old standby spray window cleaner brand. It leaves streaks and the windows look worse after you smear the dirt around. Just giving you the heads-up here.
I kind of work my way out of the bathroom by cleaning the floors with my Clorox wipes. Yep, I have a small bathroom, this wouldn't work if you have large bathrooms. I clean mine every week and therefore I can clean it in 5 minutes, literally.
Be Careful With Countertops
Every countertop can be washed or cleaned, but some can't tolerate harsh chemicals. So, please research what you can use on your bathroom or kitchen countertops. Different countertops like granite, quartz, and marble require different cleaning products. I like using a microfiber cloth when cleaning the bathroom.
Towels, Hand Towels, and Wash Cloths
As you know, these are germ catchers. I use paper towels to dry my hands after using the bathroom. Please make it easy for a family member to hang up their bath towels to dry. We wash them weekly in hot water. We skipped the hand towels because I prefer to throw away paper towels.
After brushing our teeth, no one is wiping their mouth on the hanging hand towel. Does that make sense? Washcloths are generally washed daily. We place them in a bucket and they're washed in the clothes washing machine every day, or every other day depending on who is home.
If you can install something to hang towels similar to this, it makes it easy to hang towels. My son-in-law made this for their home. He doesn't sell them, just makes a bunch for extended family use. If you know a welder, you may be able to get someone to make one just like it.
I just found these on Amazon, 3 Pack Rustic Style Industrial Iron Pipe Coat Towel Holder They come in a set of three so you can hang as many as you want.
I grew up having to fold the bath towels into thirds and then hanging them over a long bar. It seemed like they never got dry overnight.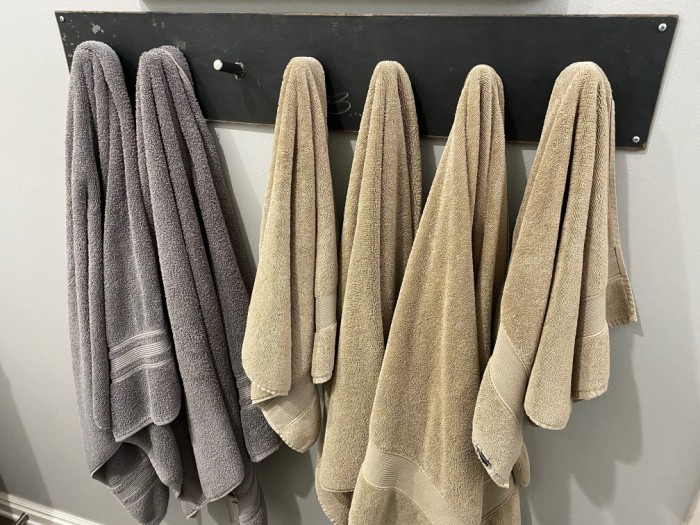 Clean the Shower Doors or Curtain and Tiles
Most of the showers in our homes have had a swinging glass shower door or sliding glass shower doors. I would need to clean the water stains and soap scum from the door(s). We actually kept a small squeegee in the shower so we could clean the doors after each shower, much like you clean windows. If kept up each day, there wasn't as much to clean during my weekly routine.
Where we are now has a shower rod and shower curtain. Periodically I'll take down the shower curtain liners and through them in the washer with some bleach. The outer curtain doesn't really get dirty very often, other than from the dust in the room, so I don't clean it as often. I like linen material for my shower curtain liners rather than plastic shower curtains since I can more easily throw it in the washing machine to get it clean.
Cleaning the tiles is another matter. Unless your shower has a solid piece in the "shower surround," you're having to deal with a tile of some kind. The tiles themselves are generally pretty easy to wipe down, it's the grout between the tiles that become the challenge. You can buy a commercial grout cleaner, but I've found that Comet or Soft Scrub usually does fine.
I take an old toothbrush to clean the grout where needed. The toothbrush can also get those nooks and crannies in the corners too. Sometimes I'll also use the toothbrush to clean the shower soap dish or built-in soap shelf.
Cleaning the Bathroom Sink, Mirror, and Cabinets
Although some bathrooms have the sink(s) made out of the same materials as the shower tiles or countertop tiles, most seem to be made of porcelain like your toilet and tub. Porcelain is pretty durable and can take most cleaners and stiff bristle brushes. I seldom have to use a scrub brush to clean my sinks since we try to wipe them out after our morning shave, toothbrushing, and makeup routine, sometimes a more diligent approach is needed.
I'll often use the old toothbrush to clean around the top of the sink where it meets the edge of the countertop. I'll use one of my microfiber cloths to wipe down the faucet handles, making sure I don't use any gritty cleaners that could scratch the chrome fixtures.
I use the SpraWay Glass Cleaner to give me a streak-free look on the mirrors. I'm surprised how often water droplets, floss debris, and other mystery items show up on the mirror.
I'll generally use one of my microfiber cloths to wipe down the cabinet fronts and sides. Mild soap or the window cleaner both work fine.
Stay Healthy-Keep Bathrooms Clean
The reason I'm talking about cleaning bathrooms today is that I have several, and I mean several, sick people in the neighborhood. No, it's not from bathrooms that need to be cleaned, but I think clean bathrooms do help us stay healthy. Of course, we need to eat fruits and vegetables to keep our immune systems healthy as well.
This post is a friendly reminder to use a cleaner (I use Clorox or Lysol wipes) on door knobs, light switches, TV remotes, and countertops. And don't forget to empty the bathroom garbage cans as needed. I use the small 4-gallon garbage bags in my bathroom. I replace them as needed, but at least once a week. You can buy them at your local supermarket or Amazon: Glad Garbage Small, White, 30 ct, 4 gallons (six boxes so you can stock them).
What is the importance of cleaning bathrooms every week?
Bacteria and viruses can survive for up to a week on our countertops, door knobs, light switches, and of course the toilets. Plus, keeping the shower curtain or glass doors clean, besides scrubbing the tub or shower, we have to keep up on the cleaning chores.
Can you get sick from cleaning the bathroom?
Yes, you can. Of course, you can get sick from bacteria or viruses even if you don't clean the bathrooms. You must be careful not to inhale the "chemicals" you use to clean the areas in your bathroom. When in doubt, just clean the bathrooms.
In what order should I clean the bathroom?
Clear off the countertops
Wash the hand towels and bath towels
Sweep or vacuum the floor
Clean the tub or shower walls and floor, and the sink
Clean the toilet, lid, flush handle, and tank
Spray the window and wipe it down with streak-free cleaner
Wipe the countertops and shine the faucets
Clean the floor
From BDN: I clean for several of my friends from the dog club. In several of the houses, I use a 50/50 mixture of white vinegar and isopropyl alcohol as a Window cleaner, a laminate floor cleaner, and during cold/flu season as an all-purpose cleaner to wipe down door frames, handles, cupboard hardware, remote controls, computer keyboards, computer, and TV screens and telephones. It also cleans grime and disinfects the dog crates.
Final Word
Today I wanted to talk about cleaning bathrooms so we all stay well. I hope you are well and working slowly on being prepared, you will be glad you are! May God Bless this world, Linda
Copyright Image: Cleaning Bathrooms AdobeStock_68906477 By Alexander Raths