15 Foods That Last Forever
When you're on your food storage journey, you may want to add these 15 foods to your stash that last forever, as long as they're properly stored. There is something about having some food in your pantry that you never have to worry about going bad. We spend our hard-earned money to stock our home with the food we can eat in the future, right?
I remember when Mark and I first started our food storage project many years ago, one of the biggest mistakes was storing beans, sugar, and powdered milk in 50-pound barrels. Yes, large green barrels not buckets. We had a large "fruit room" in the basement where it was cool and dry. That was the good part, the bad part was the large barrels. They were too large to maneuver and didn't seal tight.
We had one barrel full of wheat that we planned to grind to make bread for years to come. We decided one day we better check on things, so we opened it up. Boy, were we surprised when we opened the barrel and it was like a seething caldron of wheat and bugs. Yep, had to chuck all of it. Lesson learned! Wheat and other items only have long shelf lives if stored in airtight containers, and food safety is very important.
We eventually converted to five-gallon buckets with those lids you couldn't remove unless you had a "tool" to lift them off. Then came Gamma Lids, thank goodness for those airtight and easy-to-open lids. They were a life changer for me. I color-coded my entire food and fuel storage with those colored lids.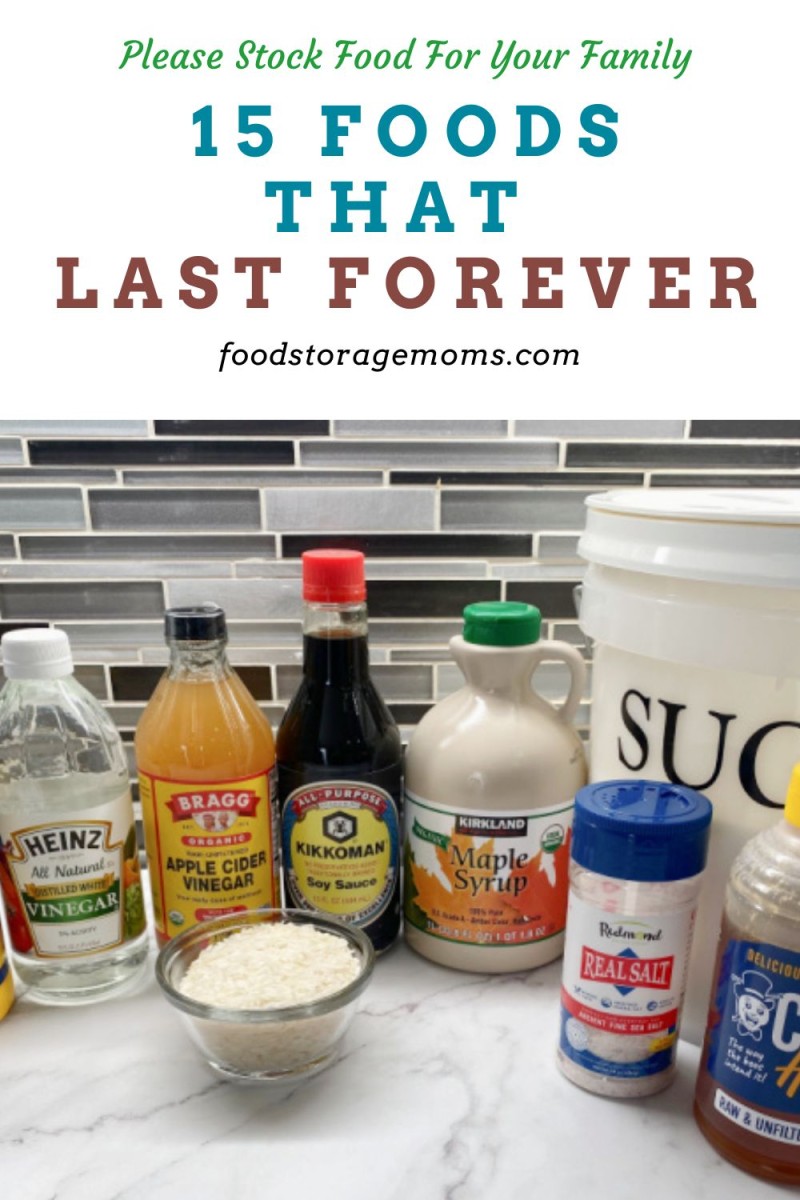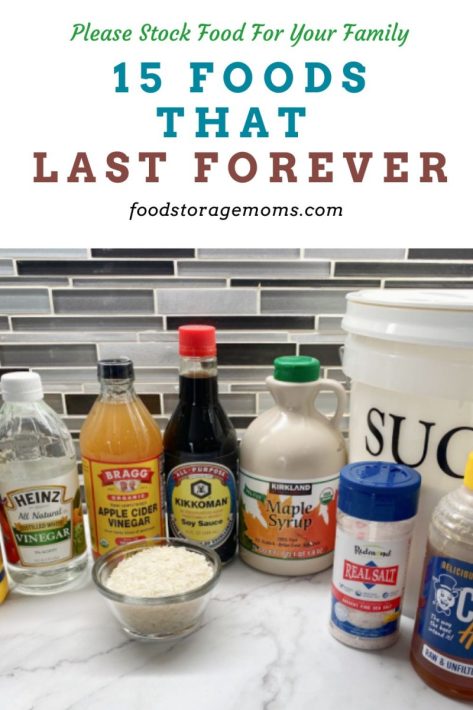 15 Foods That Last Forever
Long-term storage is important for all preppers to learn, understand, and apply as they put together their family preparedness plans. Indefinite shelf life can mean different things when considering various food products. You don't have to consider yourself to be one of the survivalists to have what's necessary to survive a disaster or emergency. Just quality foods you've properly prepared in containers and a conducive environment. Let's jump in and learn together.
1. Honey
If you can buy raw honey, it will last forever. Please remember that storing honey in 5-gallon buckets is not the best idea. You may have to chisel the honey when you want to use it after a few years. It will crystalize, which is fine if it's stored in quart mason jars. You can set your jars outside in the heat of the sun and they will eventually go back to their liquid state. You can also heat the jars in water on your stove too. If you microwave the jars you will lose some critical nutrients in the honey.
My favorite place to buy raw natural honey is Cox's Honey from Shelley, Idaho. Cox's Honey
2. Sugar
Sugar is very inexpensive and it will store indefinitely if it doesn't get moisture in it. If you find a bucket of sugar that is rock hard, somehow it has gotten moisture in it. Please keep it dry and stored in a cool place. I store my sugar in 5-gallon buckets with Gamma Lids. Gamma Lids The lids are the critical part since they have a rubber seal that you can really tighten.
Please DO NOT use oxygen absorbers in your sugar to store it. Some people use Mylar bags for storing their sugar, but I don't. I use 5-gallon buckets with Gamma Lids. I open the bags of sugar and store them in the clean white 5-gallon buckets. I also have smaller airtight containers in my pantry so I can refill them from the larger buckets. I find the smaller containers much easier to use in a kitchen/pantry setting.
3. Apple Cider Vinegar
Apple cider vinegar lasts forever as long as the unopened bottles are stored in a cool dry place. You can use apple cider vinegar for so many things relating to health benefits. Apple Cider Vinegar Health Benefits Don't confuse apple cider vinegar with white vinegar which many people use as a cleaning solution.
Look at item number 11 below where I discuss white distilled vinegar.
4. Pure Vanilla Extract
A pure vanilla extract will last indefinitely if stored in a cool dry place. This is the one I buy: Pure Vanilla Extract I don't think an imitation vanilla will have near the longevity traits of pure vanilla. Once the jars are opened the shelf life will be less.
5. Maple Syrup
If you can buy REAL Maple Syrup in a glass jar it will last about 50 years. That's a very long time in my book! I'm not talking about Pancake Syrup. There are different grades of Maple Syrup, so make sure it's truly maple syrup from a maple tree. If you keep the glass bottles of Real Maple syrup in the freezer, they will last indefinitely. Be sure and leave room for expansion in the jars stored in the freezer.
6. Salt
I grew up with salt with added iodine, it doesn't last as long. Good old plain salt will last indefinitely if stored in a cool dry place. Himalayan salt will last forever as well. Whether sea salt or table salt, just purchase salt without added ingredients and you should be good to go.
7. Corn Starch
You can store your cornstarch in its original container, and as long as it stays dry, it will last forever in a cool dark place.
8. Wheat
Thank goodness wheat lasts forever because I store a LOT of it. I'm very picky when I buy my hard white wheat because I don't want to ruin my wheat grinder with rocks or debris from certain brands of wheat. I only buy my wheat from Lehi Mills here in Utah. I'm sure there are other brands that have a similar quality, but I've researched this brand and Lehi Mills cleans their wheat about nine times. If you decide to buy hard white wheat make sure it is thoroughly cleaned.
As mentioned in my earlier story, even wheat needs to be stored so it isn't subject to moisture or pests. That's another reason I like the containers of wheat from Lehi Mills. I can actually leave the wheat in those for long-term storage, but once opened, I either put a gamma lid on that bucket or move the wheat to one of my other buckets with a gamma lid.
Note that here in Utah Costco will often sell the Lehi MIlls wheat as part of a "roadshow" presentation in their stores. I'm not sure if they do that in other states. Let me know if you've seen this product in your Costco outside of Utah.
9. Soy Sauce
Soy sauce can last indefinitely if stored unopened in a cool dry place. It has a lot of sodium. I tend to buy smaller bottles because I like a fresh bottle stored in my refrigerator that has been opened for six months or less.
10. White Rice
White rice will store indefinitely if you store it in a cool dry place in an airtight container. You may remember, brown rice has a higher fat content so you can only store it for six months. White rice can be used in so many recipes, it fills the belly, and is a very inexpensive food storage item. The longer you store white rice the less sticky it becomes. I LOVE sticky rice.
I learned something from a Chinese restaurant. The owner told me when he opens a new bag of white rice he mixes some of the old white rice into the storage container to make sure the old rice will still be "sticky." Is it an old wives' tale? I don't know, but I mix some of my old rice with my new rice, just in case.
I really like Jasmine rice since it tends to be more sticky rice when cooked. When it comes to more fluffy rice, I'll use basmati rice. Don't plan on really long-term storage in the usual bag rice is sold in. Put any rice you buy in an airtight container, and keep it in a cool dry environment.
11. White Distilled Vinegar
Its acidic nature makes vinegar self-preserving. You can use it for salad dressings, canning, and so much more. Please store your bottles in a cool dark place. They will store forever if unopened.
12. Corn Syrup
I quote Karo Syrup, "Karo syrup is safe to eat for an indefinite period of time regardless of whether it has been opened. However, for best results, we recommend using before the "Best by" date stamped on the container. Bottles may be refrigerated after opening, however, the syrup may be thicker and slower to pour."
Any item you buy should have a "best by" or "expiration" date stamped on the packaging somewhere. You can't go wrong following these dates, and my experience is that most products actually are good beyond that date.
Please keep in mind once the jars are opened the shelf life is shortened.
13. Hard Liquor
I don't drink alcohol, but I did go to the liquor store in town and ask how long the different bottles would last. (These would be great for bartering after a severe disaster.) I was told that vodka, rum, gin, whiskey, and tequila last forever. They mentioned I should store them upright in a cool dark location so the liquid doesn't come in contact with the metal lid or cap that is subject to corrosion.
Liquor is much more shelf stable than beer or wine and will last indefinitely if not opened and stored in a cool, dry, dark environment.
14. Dry Beans
Beans will last forever, and I mean forever. One thing to keep in mind, the older the bean, the more water and fuel will be needed to cook them. A pressure cooker is great for cooking old beans. You can also soak the beans overnight, drain and cover the beans again with fresh water, and then cook them until tender. You can pressure can the beans as well.
It's always best to put your dry beans in airtight containers to keep moisture and pests out. Canned beans are processed and do have a much shorter shelf life, so follow the dates on those cans of beans.
15. Instant Coffee
This is a really great food storage item because it lasts over 20 years, if not longer, if the containers are unopened. It's basically dehydrated coffee. It makes for a great bartering item as well. This is my favorite Instant Coffee, Jacob's Velvet Instant Coffee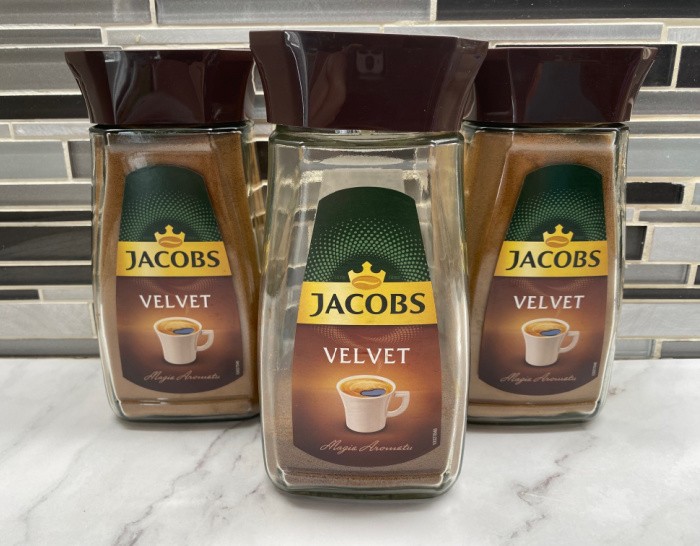 Final Word
This is a short list, but at least you get the drift that there are at least 15 foods that last forever. Let me know of other items you like in your inventory of long-term food storage products, I'd like to share your ideas and experiences with my readers. Please be prepared for the unexpected. May God bless this world, Linda
Copyright Picture: AdobeStock_124769665 by Karandaev