Natural Disaster Preparedness Tips You Need
It's no surprise that natural disasters seem to have been happening more and more every year, but what is surprising is that most Americans are still caught unprepared when they do happen. Even the Covid-19 pandemic took many of us by surprise because of how wiped out grocery store shelves became in such a short period of time.
Being prepared for these dangerous situations by having the right supplies, as well as a number of tips on how to deal with them may very well save your family's lives one day. Here's more on natural disaster preparedness tips that you need to know. In case you missed this post, Power Grid Failure: What You Will Need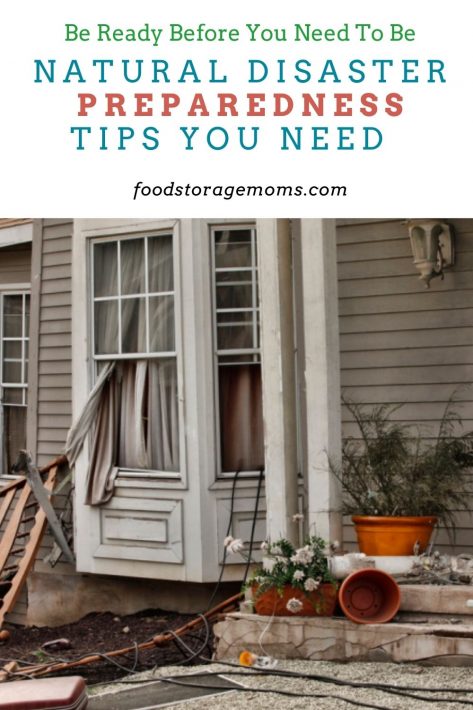 Prepare an Emergency Supply
I want you to pause and ask yourself if a natural disaster were to hit your area sometime in the near future, would you have enough food, water, and other supplies to be able to hunker down and survive the aftermath? I wouldn't be surprised if the answer was no because that's how it is for most people. But that doesn't have to continue being the case. These are several emergency supplies and items that you'll need to start rounding up:
"Prepare Your Family For Survival" by Linda Loosli
At least a 3 day supply of food for everyone in your family (nonperishable foods).
A minimum of a 3 day supply of drinking water for everyone in your family. (On average, you'll need 4-gallons of water a day, per person, covering all your drinking and sanitary purposes.)
Face masks
First-aid kit
Medicine
Extra cash
Flashlight with extra batteries
Lighter and matches
Multi-Tool that comes with a knife
Spare clothing for each member of your family
Sleeping bags
Camping Tent
Emergency blankets
Hand Crank weather radio
Two-way radios
A whistle and emergency flares
Duct tape
Trash bags, baby wipes, and hand sanitizer
All your Important documents and valuables and keep them in a waterproof container.
Entertainment for you and the kids.
Multiple Different Ways to Get Fresh Water
It could take up to a week or two, or maybe even longer, before your area's drinking water is working properly again. What will you do if your backup drinking water runs out? Before it ever comes to this, there are a few different ways that you can purify water.
Boiling water is the best way to ensure that all bacteria, fungi, and parasites have been destroyed. But if you're unable to heat your water, you can bleach it using your household bleach that contains 5% to 6% sodium hypochlorite. For every gallon of water, you're looking to use, you'll need ½ a teaspoon of bleach, or 40 drops with an eyedropper.
Make sure you don't use bleach with a scent since that adds chemicals that aren't good for you.
You also have the option of using a water filter to purify your drinking water. LifeStraw is one portable water filter option that will allow you to drink directly from most any water source. There's also the Sawyer Mini which can filter up to 100,000 gallons of water before you need to replace it.
Have an Escape Plan
There are a number of disasters that may require you to escape from your home, whether it's a hurricane, tornado, wildfire, flood, or even a terrorist threat. It's crucial that you have an escape plan already in place, especially for those of you who live in a city or a highly-populated area. That's because everyone will be fighting over limited resources and a lot of looting may take place. This is why escaping to less populated areas is probably a safer option for you and your family.
What happens if your main route out of town is blocked by thousands of others who are fleeing? You'll need to know the backroads and a number of different routes that you can take to get out quickly.
Once you've got your family to safety, where will you be staying? And lastly, what if the disaster takes place when you and your family members are all separated? You need to have a meeting location already in place because you never know if all cell phone service will be down.
Extend the Battery on Your Phone
If your cell phone is still working following a disaster, you'll want to keep it going for as long as you can. That way you can get in touch with relatives to let them know that you're doing okay and what your plans are in the meantime. Extend the life of your cell phone battery by doing the following:
Turn off every family member's phone except one.
Put your cell phone on airplane mode.
Close all the apps that you aren't using.
Turn off voice command (Siri).
Disable the vibrate setting for notifications which uses extra power.
Purchase a solar-powered portable charger.
Choosing an Appropriate Meeting Place
As I mentioned already, your family may be in separate locations when the disaster strikes. Chances are that your home may not be a safe place to meet following a disaster. This is why you should have a number of different meeting places picked out for use when your family tries to meet up. These are a few options for you to consider:
Within Your Neighborhood: The threat may only be a danger for you returning inside your home. You could meet at your mailbox or at a neighbor's house.
Just Beyond Your Neighborhood: You also need to come up with a location that's within walking distance of your home, if the threat only affects your neighborhood area. Consider safe places such as a police station, your local library, or a park that's close by.
Within Your Region: The disaster's threat may cause your entire town or city to be unsafe. Choose a location, whether it's a friend or relative's house, that's within an hour or two drive from your home.
Consider Family Member Circumstances: If you have children or someone with special medical needs your choices may be limited, but certainly need to be evaluated before the disaster hits.
Staying Warm During a Power Outage
Should heavy snowfall or an ice storm cause your area's power to go out, you need to know how to stay warm. For those of you who have a fireplace or a wood stove, your family will have a much easier time staying warm. Just be sure that you always have plenty of dry firewood or coal (if appropriate) to keep it going. Consider these other options for keeping your family warm when the electricity goes out:
Wear extra layers of clothing.
Insulate your windows and doors by placing blankets around them.
High-quality sleeping bags will trap your body's heat better than a blanket.
Drink warm fluids (hot cocoa, coffee, tea).
Wear hand warmers and a wool or fleece hat.
Have your family sleep in a camping tent in your living room, which will help trap your body temperatures.
This natural disaster preparedness tip is so important.
Natural Disaster Preparedness Tips You Need
Related: How to Be Ready for the Next Disaster
Final Word
You just never know what type of natural disaster you may be facing, and there's no way to be entirely prepared when one happens. But with these preparedness tips, your family will be in a much better situation when one does happen. What natural disaster preparedness tips would you add to this list? May God Bless this world, Linda.
Copyright Images: Home Damaged Deposit photos_166834396_s-2019