How to Be Prepared Before You Need to Be
I have been prepared for just about any SHTF scenario for most of my adult life. When COVID-19 happened, I was able to survive without going to the store every week. Part of why I started my blog was to help you to be prepared before you need to be.
When you are prepared, you don't have to stress or be worried when something happens. So, today, I am going to share with you some great ways to start being prepared!
Be Prepared Before You Need to Be
Life happens and we don't always know what is going to happen. The key to being prepared is thinking ahead. Here are some ways to start doing that!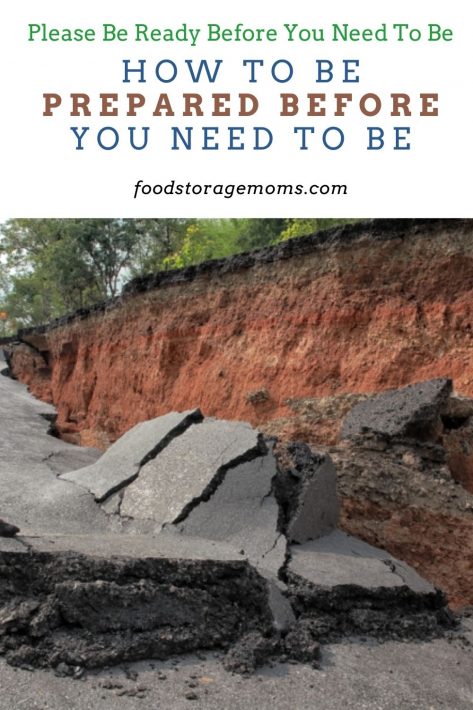 What Could Happen?
The first thing you need to do is think of reasons why you would need to be prepared. Each person is going to have to prepare differently depending on their circumstances, where they live, and what could happen in their area.
For example, I prepare for several situations that could happen which include: fires, flooding, earthquakes (I live in an area where they are frequent), and pandemics. Maybe you have wildfires, earthquakes, or blizzards where you live.
Think of the things that can happen where you live, and check out my blog to help you with preparing for different scenarios. Here are a few good posts you may want to check out:
Start Preparing!
Once you have figured out what you need to prepare for, start doing it! No matter what natural disaster or SHTF scenario could happen, you will need some basic necessities, such as food and water. If you haven't started prepping, I would encourage you to read my post "Prepping For Beginners: A Guide to Get You Started."
Be Prepared with a Garden
Another great way to be prepared for the inevitable is to be self-sufficient. Right now you can buy things all day long at the store, and you can have a year of food and water saved up, BUT what happens if you can no longer go to the store? You have to know how to grow at least some of your own food.
Start learning how to get that Green Thumb! If you haven't grown your own food before, I would suggest reading "The 8 Easiest Vegetables to Grow for Beginners." Additionally, you look at what food grows best where you live by month and zone. I have done all the work for you in these posts:
Be Prepared With Water Sources
The truth is, we can have water stocked up and stored and have enough for several months or longer, but if we can't purchase more, we have to know how to get it on our own. If you are just starting out, read "How to Store Water For Drinking and Cooking." In addition to storing water, you need to know how to find water sources and how to make water safe to drink. To be prepared before you need to be, I suggest reading the following posts:
Don't Forget to Stock Other Essentials
Food and water are what you need to stock first! You can't live without food and water. However, you also want to be prepared with other things you may not think about. Here is a list of other items I would recommend having a stockpile of for any SHTF scenario:
Think about Bartering and Trading
This year, we have seen a coin shortage which tells me, we may be trending towards a cashless society. I always keep cash hidden and out of the bank for any SHTF scenario, but that doesn't mean that at some point it will be useless.
Therefore, it is always a good idea to think about ways you could barter or trade to get what you may need without cash. Please do have cash hidden somewhere in case you can't get cash out of the bank. But, also, know how to barter and trade. Here are some posts to get you thinking:
How to Be Prepared Before You Need to Be
Final Word
When it comes to being prepared, we may not think of everything, but the more we prep, the better we will be in any situation. Being prepared isn't just about preparing for a major disaster or collapse, it's about being prepared even for situations that can come our way, such as a job loss, personal health issues, death of a loved one, etc. Remember, luck favors the prepared. May God Bless this world, Linda
Copyright Images: Beneath the Asphalt Deposit photos_49226117_s-2019