Do you think because the air temperatures are cooling down that you can't plant anything this time of year? While it may be true that most vegetables won't have enough time to produce anything before the first frost hits due to the cooler temperatures, there are plenty of things you can plant during this month. If you aren't sure what to plant in October, keep reading to find out more about planting in October.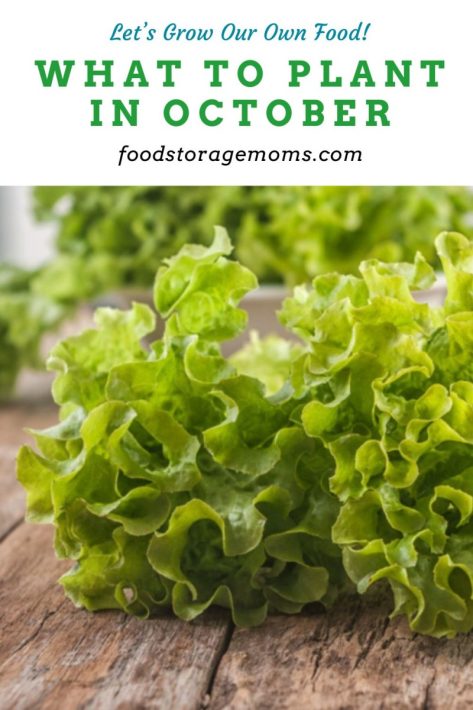 Nowadays, the Zones are so off now, because of the weather. We used to be able to base are planting on the Zones in our region. It's a bit trickier now, because of the excessive rainfall, cold, and hot temperatures. We may have trouble growing things we used to grow, so keep an eye on the temperatures in your area. Don't forget to check the temperature of the soil as well. Please keep teaching your family how to garden, it will be a badly needed skill sooner than later, trust me.
I update this series every month each year. This year it seems even more important to grow our own food. We can do it, in pots, buckets, raised gardens, and of course, in the ground, if you have a yard that will support a garden. If nothing else, get your soil amended now, it will be ready for a late fall planting and it will give you an early start so you'll be ready for next year.
What is the Window for Planting in October?
The window for what to plant in October is approximately six weeks before your first frost. In my area, that date could be from September to October. Yesterday, I actually planted tomatoes. Keep in mind I live in Southern Utah which is Zone 8a.
This is where I buy my seeds rather than relying on my local garden center: SeedsNow
I highly recommend these for seedlings: CowPots and Organic Seedling Soil, this way you plant your seeds and place the CowPots in your garden when the temperatures are right.
How I Store My Garden Seeds
Plastic Photo Container and Label Maker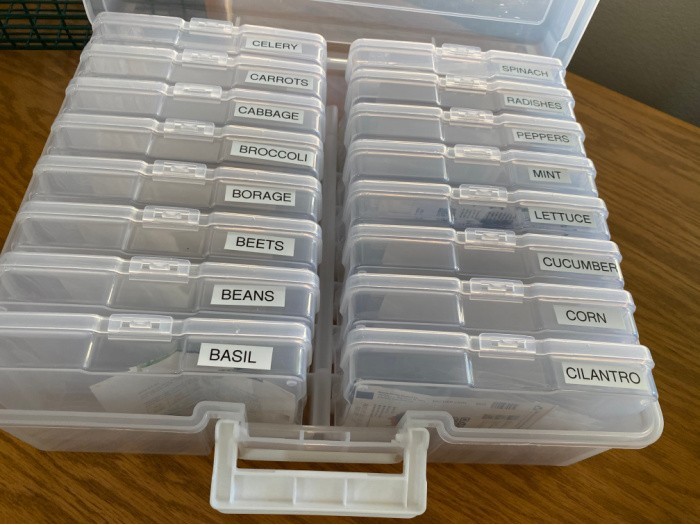 What To Plant In October
Find Out Your Garden Zone and Frost Times
If you aren't sure what zone you are in or when your first frost will be, Check here to find your zone. All you have to do is put in your zip code.
What to Plant in October by Zone
I live in Zone 8a, so most of what I have written would apply to that Zone. So, I wanted to make sure my readers know what you can plant in your Zone. Below is a list of things you can plant in each zone in October!
Zones 1- and parts of 3
In Zones 1-3, October is the time to harvest. In fact, in some places, we've had blizzards happening in October in these zones over the years. October is not the best time to begin planting outdoors. However, you can plant things such as herbs, peppers, and tomatoes indoors.
Zone 3
In Zone 3, you have to be careful about frost. October can be your best friend or your worst enemy. Instead of planting things in October, you'll want to harvest your crops. Crops you should be harvesting include:
Zone 4
The weather is starting to take a nosedive in Zone 4. This means it's almost time to start wrapping up your outdoor garden. It is time to harvest your root veggies and apples. However, you can also plant:
Zone 5
October is the perfect time for Zone 5 growers to begin their compost and mulching efforts. Again, there isn't much you can plant in this zone in October, but you should be harvesting fruits. You can plant:
Zone 6
In Zone 6 it's still a little late in the season to begin planting much. This is the time to start tidying up your garden and adding to your compost. You can still plant:
Spinach
Lettuce
Kale
Broccoli
Carrots
Zone 7
Usually, you'll want to plant more in September than you would in October if you live in Zone 7. However, you can still plant the following if you plant in early October:
Radishes
Garlic
Onions
Spinach
Carrots
Turnips
Broccoli
Kale
Lettuce
Zone 8
If you live in Zone 8, you are in luck because there are still a variety of things you can plant in your garden this month. These include:
Lettuce
Cabbage
Spinach
Carrots
Beets
Peas
Strawberries
Garlic
Onion
Radishes
Turnips
Broccoli
Bok Choi
Bright Lights Swiss Chard
Zone 9
In this Zone, the weather is much the same as in Zone 8. This means you have a few options for planting in this zone as well. Here are items that you can start planting this month:
Zone 10
If you live in Zone 10, it's time to plant and transplant. Here are some things you can start doing in October
Transplant………..
Tomatoes
Eggplants
Peppers
Plant…………………
Beans
Root Veggies
Lettuce
Spinach
Why Plant in October?
In many states, you may still be feeling warmer weather in October. Fall is about to sneak up on you, but that doesn't mean you don't have time to plant more in your garden before winter hits. Here is why it's important to plant in October:
Autumn's cooler weather is easier on plants and on you.
The soil is still warm which allows the plants to take root, and it's that root growth that makes for healthy plants.
Fall actually has more good days for planting than spring does.
You don't have to wait for the soil to warm up.
It's typically bargain time at the stores. This means you can get plants and seeds for a fraction of the cost.
Autumn showers are plentiful so you won't have to water your plants as often or as long.
Pests and disease problems are minimal in October.
What to Plant in October
If you haven't planted year-round, you are in for a real treat! There are various plants you can plant even in October! Hopefully, you can find the seedlings for the plants you want at the garden centers near your home. Better yet, get some seeds and grow your own seedlings.
Brussels Sprouts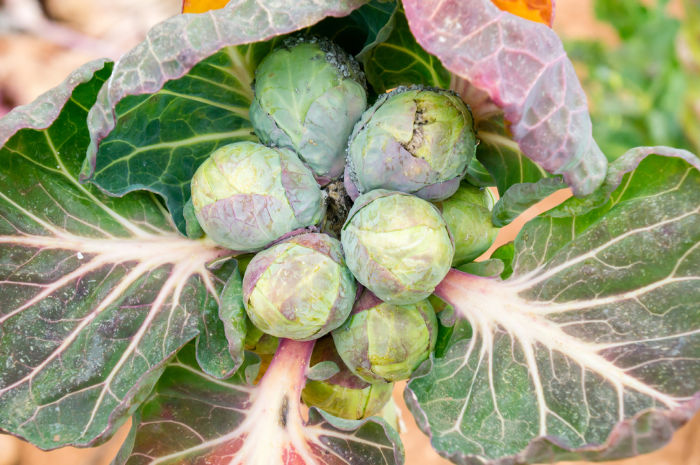 Fortunately for you, Brussels sprouts grow best in cool weather. This means October is a perfect time to plant them. They can sprout from the seed when soil temperatures are between 45 degrees and 85 degrees.
You should plan to plant them 6-8 weeks before your first frost. Zones 9-10 gardeners can plant Brussels sprouts between October and December.
How to Grow Brussels Sprouts
Brussel Sprouts are actually pretty easy plants to grow, especially in the fall. Here are some tips you need to know when planting Brussels sprouts:
Plant your sprouts 6-8 weeks before the first frost.
Select an area of your garden that gets full sun.
Make sure the soil is rich.
Sow seeds 3-4 inches apart. Or, if you have seedlings, plant them 18-24 inches apart.
Keep the plants watered so the soil has consistent moisture.
Fertilize your plants a month after planting with All Purpose Food Granules
You will want to keep an eye out for worms.
If you want to have low-maintenance plants in your garden, Brussels Sprouts can be a great choice.
How to Harvest Brussels Sprouts
Your Brussels sprouts will start to ripen around 80-90 days after being planted. Snip off the sprouts when they are about 1-2 inches in diameter. The leaves will turn yellow as the plants mature. Store your unused Brussels sprouts in the refrigerator.
Bulbs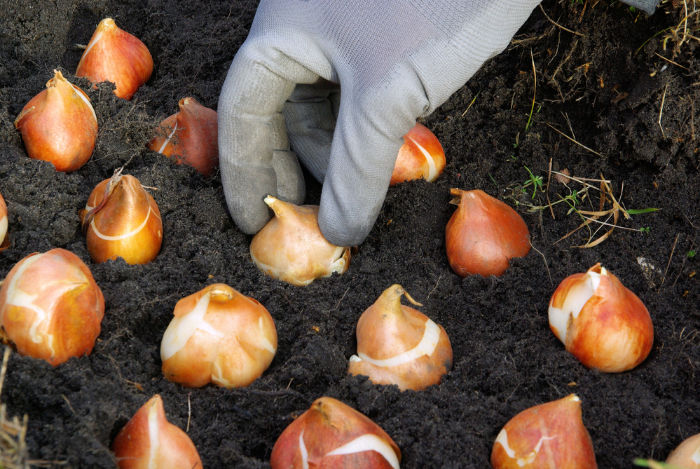 Did you know that most anything with a bulb can be planted in October? Bulbs actually NEED to be planted during the early fall so they have enough time to root and develop before spring, let's get busy and plant bulbs now so we'll have a great harvest next year. Some people call these plants spring bulb plants since you plant them in the ball so they will have spring blooms.
The cold dormant time from October to March gives these plants the "chill hours" they need to thrive the following year. You do, however, want to plant your bulbs at least 6 weeks before the first frost.
How to Grow Bulbs
Planting your bulbs is actually super easy, but keep in mind, that you won't reap the benefits until the following spring. Here are some tips for planting and growing bulbs this fall:
Choose a spot with full sunlight. This means at least 6 hours per day.
Dig a hole 2-3 times deeper than the bulb is long. For a 3-inch bulb, the hole should be 6-9 inches deep.
Place your bulb in the ground pointy side up (if there is a pointy side).
Plant in rich well-draining soil.
Spread a layer of mulch to prevent small animals from digging up your bulbs.
Plant in groups instead of in straight rows.
Keep them watered well.
Carrots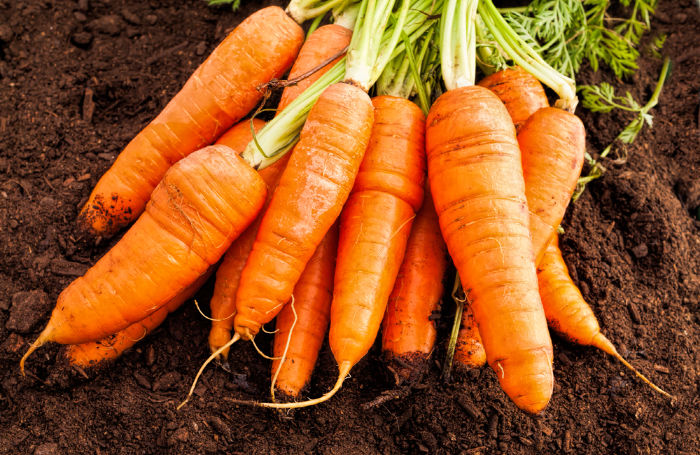 The great thing about growing carrots is that they are fun and easy to grow during the fall months. Carrots grow best during fall and winter in zone 8. It takes 70-80 days to reach harvest.
How to Grow Carrots
Planting carrots is super easy. Here is how you can grow carrots during October with minimal effort:
Dig your carrot plot to a depth of 12 inches.
Make sure the soil is smooth.
Add a 1-inch layer of compost to the soil.
Plant your carrot seeds over the soil. Then, cover with a quarter-inch of soil.
Plant seeds in rows that are 3 inches away from each other.
Water carefully since you don't want to wash away the seeds.
Keep your plot moist at all times.
How to Harvest Carrots
To determine if carrots are ready to harvest, dig around the base of the stems with your finger. This will tell you the size of the carrot.
Carrots should be close to harvest about 8 weeks after planting. You'll want to pick these fall carrots before the ground freezes to avoid rotting.
Planting Kale in October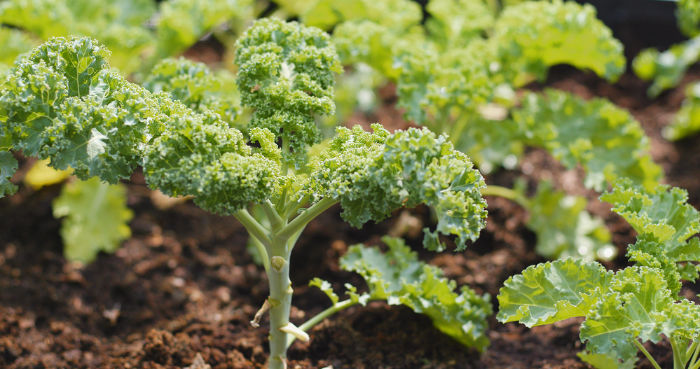 When it comes to planting Kale, it is best done in the Autumn months so you can have some delicious salads come harvest time. This is because Kale is a hardy-cool season plant. In fact, it can even tolerate fall frosts.
How to Grow Kale
Growing kale is pretty easy to do. Here are some of my tips on how to grow kale in October:
Mix 1-½ cups of 5-10-10 fertilizer into the top 3 to 4 inches of soil.
Plant your seeds 1/4 to 1/2 inch deep.
Spread the seedlings out so they are spaced 8-12 inches apart after approximately 2 weeks.
Water plants regularly, but don't overwater them.
Place a heavy amount of mulch around the plants after the first frost.
How to Harvest Kale
Your kale plants can continue to produce leaves during the winter months. When Kale is ready to harvest, the leaves will be the size of your hand. To harvest, only pick about a fistful of leaves per harvest.
You want to avoid picking the terminal bud (top center of the plant) to keep the plant producing more leaves. Kale can continue to grow until it's 20 degrees outside.
Lettuce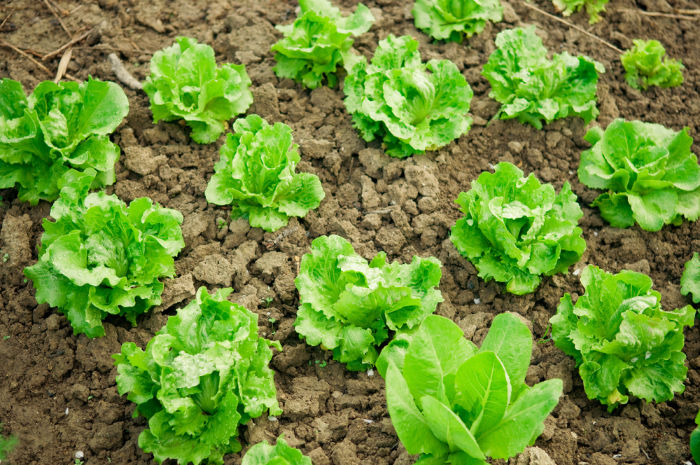 Like Kale, Lettuce is a hardy plant that can grow well in the spring or the fall. The great thing about growing lettuce is that it is a super source of vitamin A.
How to Grow Lettuce
If you grow lettuce in the fall, you'll want to plant it 8 weeks before the first frost. Lettuce can tolerate a light frost, so that's good. Here are some tips on growing lettuce in the fall:
Plant your seeds when the soil is above 40 degrees. They germinate best in temperatures between 55-65 degrees.
Select a spot that is sunny to give your lettuce lots of sunlight each day.
Plant seeds in well-draining soil that have been tilled. Feed the soil with composted organic matter.
Plant seeds 1/4 to 1/2 inch deep.
Cover seeds with 1/4 to 1/2 inch of soil.
Water lettuce when you notice the leaves are wilting.
Mulch around the plants to preserve moisture.
How to Harvest Lettuce
You'll harvest your lettuce when it's reached full size, but just before maturity for the best taste. It is best to harvest it in the morning before the sun has hit the leaves.
For Butterhead or Romaine lettuce, harvest by removing the outer leaves, digging up the whole plant, or cutting the plant an inch above the soil surface.
For Crisphead lettuce, you'll want to harvest the outer leaves when the center is firm.
Radishes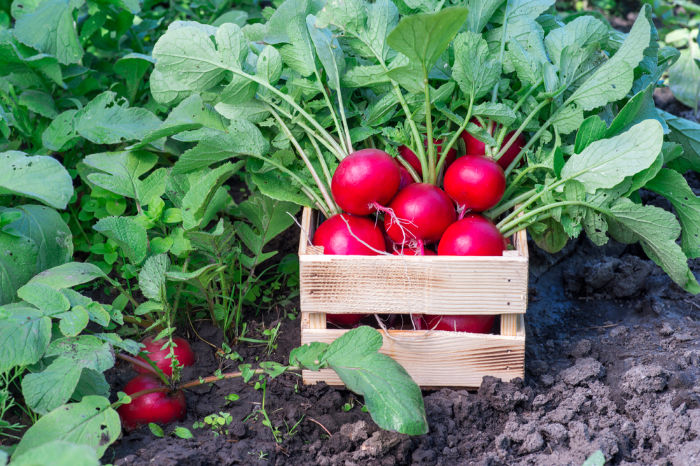 Radishes can be planted in both the spring and the fall. They are hardy and easy to grow root vegetables that can be planted multiple times throughout the year.
How to Grow Radishes
Since radishes are one of the easiest vegetables to grow, you won't have any problems planting them in October. Here are some tips on growing your radishes:
Plant your radishes in a sunny spot.
Radishes grow like carrots and should be planted in rich organic matter.
Plant seeds 4-6 weeks before the first frost.
Sow your seeds 1/2 to 1 inch deep. Plant them 1 inch apart.
Thin your radishes to about 2 inches apart when they are at least a week old.
Keep your soil evenly moist. However, don't waterlog the plant.
Put a thin layer of mulch around the plants to keep them moist.
How to Harvest Radishes
Radishes grow very quickly. In fact, you can begin harvesting them 3-weeks after you planted them. You'll want to harvest them when the roots are about 1 inch in diameter at the soil surface. Pull one out to test for size and maturity before harvesting all of them.
Blueberries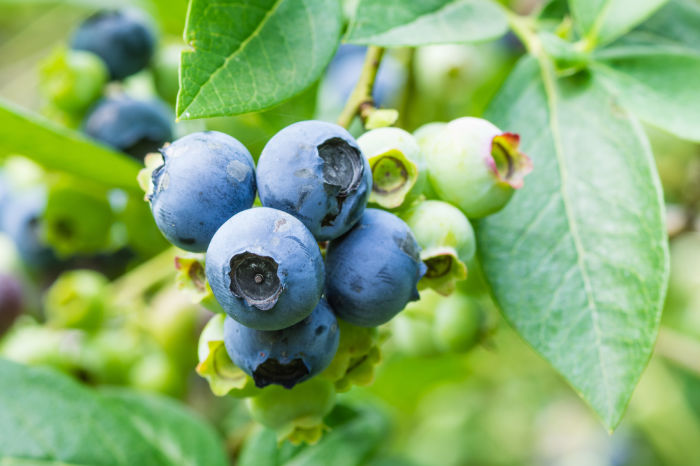 Did you know blueberries are an ideal fall plant? Planting blueberries in the fall allows them plenty of time to develop their roots, as well as ensures them the right amount of chilling to set the fruit for next year.
You will, however, want to make sure you are buying the right type of blueberry bushes for your climate zone!
Northern highbush varieties will do better in Northern states, whereas rabbiteye and southern highbush varieties do better in the south.
How to Grow Blueberries
Blueberries are one of those fruits that need to be planted in late September or early October. Here are some tips for growing blueberries:
Select a sunny location for your blueberry bushes with well-drained soil.
You want to plant your bushes approximately 2 1/2 feet in diameter and 1 foot deep for each plant.
Remove 1/3 to 1/2 of the soil, add an equal amount of pre-moistened peat moss, and mix well to help the plants grow better.
Put 2-4 inches of mulch around plants to help keep the moisture in the soil and to keep out weeds.
How to Harvest Blueberries
You'll know it's time to harvest your blueberries because they'll turn blue! Don't harvest blueberries before they turn blue.
When blueberries are ready to harvest, they'll fall off the branches into your hands without any tugging or pulling.
Flowers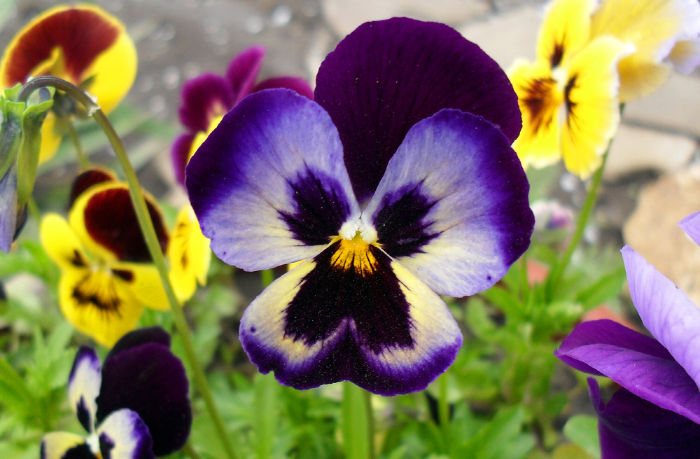 In addition to food sources that you can plant in your October garden, there are several flowers that can be planted as well. Flowers you can plant during the cooler Autumn weather include peonies and pansies.
You can also replant and divide Hostas during this time. Flowers can be planted in zones 5-10 at this time of year.
If you need some really good sturdy garden gloves, I love these: DIGZ Garden Gloves They come in different sizes!!
Please Check Out What To Plant Each Month:
Final Word
Taking advantage of your garden all year long is the best way to be self-sufficient. Not only is it a good idea to be self-sufficient in the event that emergencies come your way, but using your garden to help provide food, saves you more at the store! This is where I buy my seeds: SeedsNow
How often are you taking advantage of your garden to bless your family with the fresh food you want and need? What do you plan to plant this October? Let me know in the comments below! May God bless this world, Linda
Copyright Images: Lettuce Depositphotos_150493086_S