How To Store More Toilet Paper For Survival
Toilet paper is one of the first things that will disappear from the supermarkets after a disaster or unforeseen emergency. I am here to show you how to store more toilet paper for survival. You can never have too much toilet paper, in my opinion. If you think about how much toilet paper your family uses weekly then you can calculate the amount you decide you want to store for an emergency for a month, six months or even longer. If you use three rolls a week then you need 12 or so rolls a month. That would mean 156 rolls a year since there are 52 weeks each year. Three times 52 weeks=156 rolls a year.Remember not all months have just 4 weeks, some have 5 weeks.
How To Store More Toilet Paper:
My sister, Carol had this great idea to store toilet paper in a container. We loaded up and counted out the 36 rolls. We were trying to figure out how to store more in our garages, and yet try and keep the bugs out of the toilet paper plastic bags as much as possible. We both have small homes (1900 square feet). Therefore, we have very little storage space, as in no storage space actually.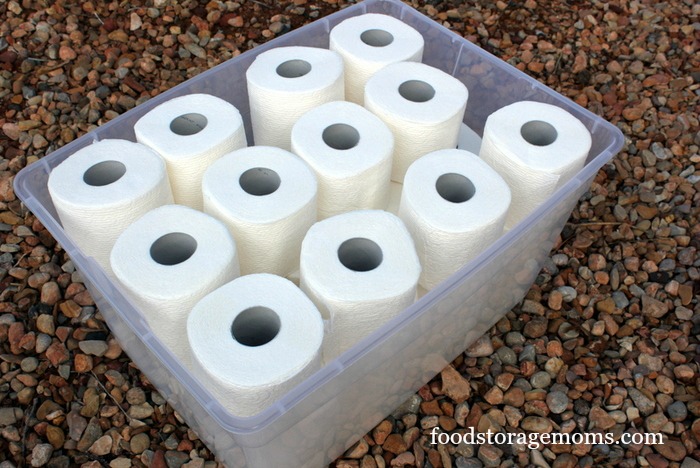 Carol, had this awesome idea to smash the rolls and see how many we could put in this container and still put the lid on it. Well, we can put 48 rolls in the same container if we smash them. I think we could actually put 54 if the lid had a tighter lid. But she had this container and it now holds 48 rolls. She can also stack additional plastic containers on top and achieve her goal of storing enough toilet paper for a year. There is something to be said about looking around your home or apartment and know that you have the necessary items for survival. Toilet paper is one of them for sure. I try to buy a bundle every month at Costco, but I am now going to have it delivered to my house. I do not like to go to the supermarket or grocery store. This is my new way to buy toilet paper: Georgia-Pacific Envision 19880/01 White 2-Ply Embossed Bathroom Tissue, 4.05″ Length x 4″ Width (Case of 80 Rolls)
. Life is good when I don't have to drive into town and shop.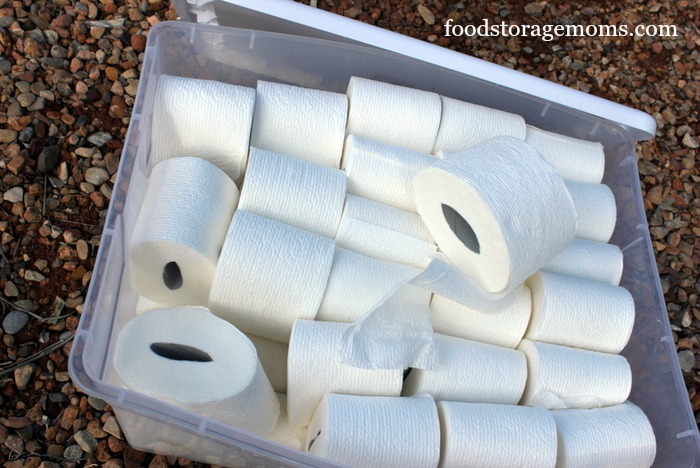 I know people save their old phone books and make family cloth like this post I wrote a few months ago: Family Cloth by Food Storage Moms. I say whatever works for you do it! The next time you go to the supermarket grab a bundle or two of toilet paper, you will need it, I promise!
Please remember to store water whenever possible, these are one of my favorite containers because they are easy to carry: WaterBrick 1833-0001 Stackable Water and Food Storage Container, 3.5 gal of Liquid, 27 lb of Dry Food Products, Blue