Emergency Water Storage How to Store It
I've talked about emergency water storage many times, but it needs to be shared over and over as a reminder to do it. I had a long-time friend text my husband and asked him to ask me "Ask Linda if 24 cases of Blue Can water is enough?"
I laughed because I knew he was teasing me because I wrote a post about Blue Can Water and his wife ordered a bunch. Why, because it's the best water ever! Let's be clear here, I recommend several types of emergency water storage. There are so many ways to store water for the long term.
We all have different budgets and space needed for emergency water storage. I'm going to share some ideas today that hopefully work for you. Keep in mind you don't have to buy ALL of it today. I have slowly collected the water I need for my family of two for many years.
I add a new container or storage source every year. You may remember, I don't use bleach in my BPA-free water storage containers. You can use bleach if desired, but you need to rotate the water every six months. The formula for bleach is 1/8 teaspoon per one gallon or 1/2 teaspoon per 5-gallon container.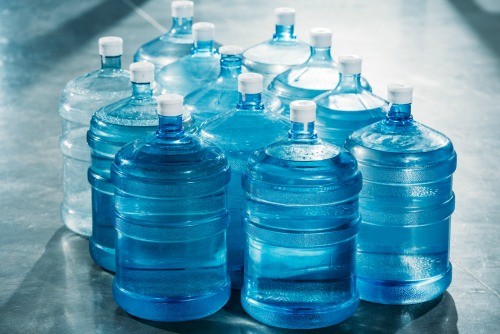 I prefer NOT to rotate my water every six months, so I did the research and highly recommend Water Preserver Concentrate. I quote from Amazon:
Use tap water to store emergency drinking water for 5 years. To be used with a 55-gallon water storage barrel.

Water Preserver is the first and only product recognized and proven effective for 5-year water storage, registered and licensed by federal and state EPA.

Water Preserver was scientifically tested for 10 years to ensure its potency for 5-year storage.

Guaranteed 100% effective.

Water Preserver is a proprietary formula of stabilized, ph-balanced sodium hypochlorite with highly effective residual action that kills bacteria, viruses, mold, and fungus. Accept no substitutes. End of quote.
Water Preserver Amounts
If I use Water Preserver Concentrate I only have to rotate my water every five years. Here is the formula/ratio for this product:
One whole bottle (0.73 ounces) for a 50-55-gallon container
WaterBricks 1.6-gallon containers-1/4 teaspoon
WaterBricks 3.5-gallon containers-1/2 teaspoon
One-gallon containers-8 drops
Five-gallon containers-40 drops
160-gallon container-3 bottles
250-gallon container-4.5 to 5 bottles
You can check the bottle of Water Preserver Concentrate for ratios to be used with larger high-capacity emergency water storage containers.
Please remember, you must store ALL your water containers at least two inches ( with 2 by 4's) off the concrete so the chemicals from the concrete/cement do not leach into the plastic containers. I highly recommend a LEAD-FREE hose to fill your containers outside. This is the one I use and share with my neighbors: Lead-Free Hose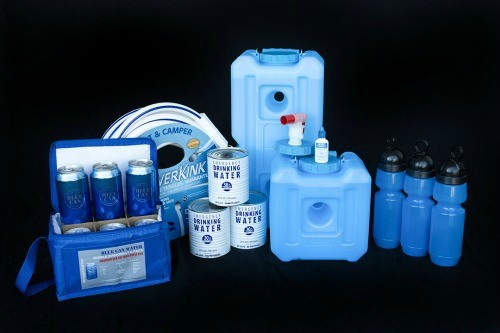 Emergency Water Storage Containers
We all need water to stay alive, please do not be one of those families standing in line at a grocery store when the aisles are empty after a disaster. I highly suggest 4 gallons per person per day. I get thirsty just thinking about The American Red Cross recommending one gallon per person per day.
Yes, that is better than nothing. Just giving you the heads up, the government may not be able to get water for anyone after a major emergency for days, weeks, or months, please keep that in mind. Please, okay I am begging you, please be prepared to hydrate YOUR family ASAP for any disaster when it happens, and it will.
1. 55-gallon barrel containers:
Pros: fairly inexpensive, you can buy them at Walmart.
Cons: hard to pump the water out. Please remember to purchase a pump and bung to tighten the opening on top. You may need a UV bag/cover to protect the barrels from the sun.
2. 24-Bottle Cases
Pros: fairly cheap
Cons: short shelf life. I quote Dasani " DASANI will hold its crisp, fresh taste for up to 12 months. After that, it's best to recycle the old one and start with a fresh, new bottle." End of quote.
You could still use this water for laundry, or personal hygiene well after the expiration dates. My issue would be if the plastic containers become brittle from the heat and start to crack, then leak.
3. 30-Year Drinking Water
Pros: the water containers shown above in the white cans with blue lettering last 30 years.
Cons: the water tastes like a can, expensive.
4. Envelopes/Pouches of Water
The Ohio Prepper let me know you can freeze these and they do not burst after thawing, Great tip!
Pros: they fit in a backpack or the car, 5-year shelf-life
Cons: not enough water for me, very small.
5. WaterBricks for Emergency Water Storage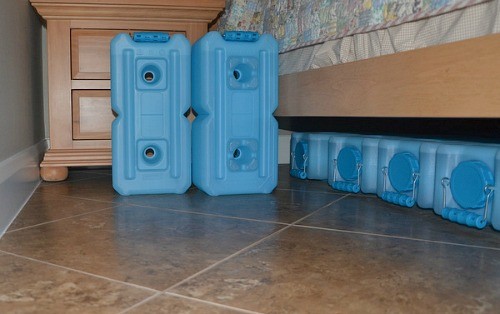 Pros: they are available in two sizes, 1.6-gallons, and 3.5-gallons, and they are stackable.
Cons: I hate to say they are expensive because nowadays everything is expensive. I have 16 of the 3.5-gallon WaterBricks stored beneath my guest queen-size bed. This equals 56 gallons under that bed. Here is the link to see the post I wrote: WaterBricks Under The Bed
They are stackable and you can even store them behind a couch in the living room. There is always a way to store water in a small home, apartment or mobile home. My motto has always been, to buy right the first time.
6. Bathtub Bags
Pros: cheap and they hold up to about 100 gallons.
Cons: you better hope the water lines are still safe to drink when you fill those water bags. I am not a fan of them for this reason. But water is water, you decide. I worry our water may be contaminated so I have opted not to recommend these.
7. Blue Can Water for Emergency Water Storage
I quote: "Two-Day Supply Cases, each case of Blue Can Water contains 24 cans, which is 288 oz or 2.25 gallons per case. The box is made from double-thick cardboard, making it perfect for storage. The water and packaging comply with standards for purified drinking water with a 50-year shelf life. All cans are also made of corrosion-resistant aluminum and are hermetically sealed.
• Standard Case Pack: 24 12 oz (354.88 ml) Units
• Gallons/Case: 2.25 Gallons (8.51 Liters)
• Case Dimensions: 16″L x 10.6″W x 5.5″H
• Case Weight: 20.4 lbs. (8.98 kg)
• Storage Temperature: 33 to 150 degrees F (1 to 60 degrees C) " End of quote.
Pros: they are expensive but so is a diet drink from a convenience store. Save your money and invest in good water that lasts 50 years with the safest water containers ever. They can be stored up to 150 degrees!!! Great for our car emergency bags.
Final Word
Please remember to have a way to purify water in case you have to hike to get some from a lake or stream near your location or home. Big Berkey's are great with the black ceramic filters, and Sports Berkey Bottles, and LifeStraws are awesome! Please be prepared for the unexpected. May God bless this world, Linda