The Best 5-Gallon Water Jugs
Today it's all about the best 5-gallon water jugs you may want to consider buying. Would you like to start storing as much water as possible in your home? Keeping water available is an everyday activity for most of us who want to make sure we're prepared for anything that could happen.
You never know when an emergency will occur and you find you have limited access to a fresh supply of water. If you start collecting water now, you won't need to worry about running out at a time when you'll need it. Please fill your containers with a lead-free hose to protect your family from one of the heavy metals. Camco Lead-Free/BPA-Free 5/8 inch Hose
However, knowing how to store the water properly is a must. Please remember to keep your water containers off the ground or concrete. I use 2 by 4's spaced evenly to keep my water up and off the ground so the water is as safe as possible from chemicals that may leach from the ground surface into my containers.
In case you missed this post, How To Store Water-Pros And Cons. I recommend this Water Preserver so you only have to rotate the water every 5 years. If you decide to use unscented bleach to preserve your water, you would be wise to rotate the water every six months.
I'm writing about 5-gallon jugs today since that is one storage option we can all consider. Yes, you may want to invest in a cart to haul the water from one location to another, and having a water cooler, handy water dispenser, or just a way to get the jugs high enough to pour out some contents, all take planning.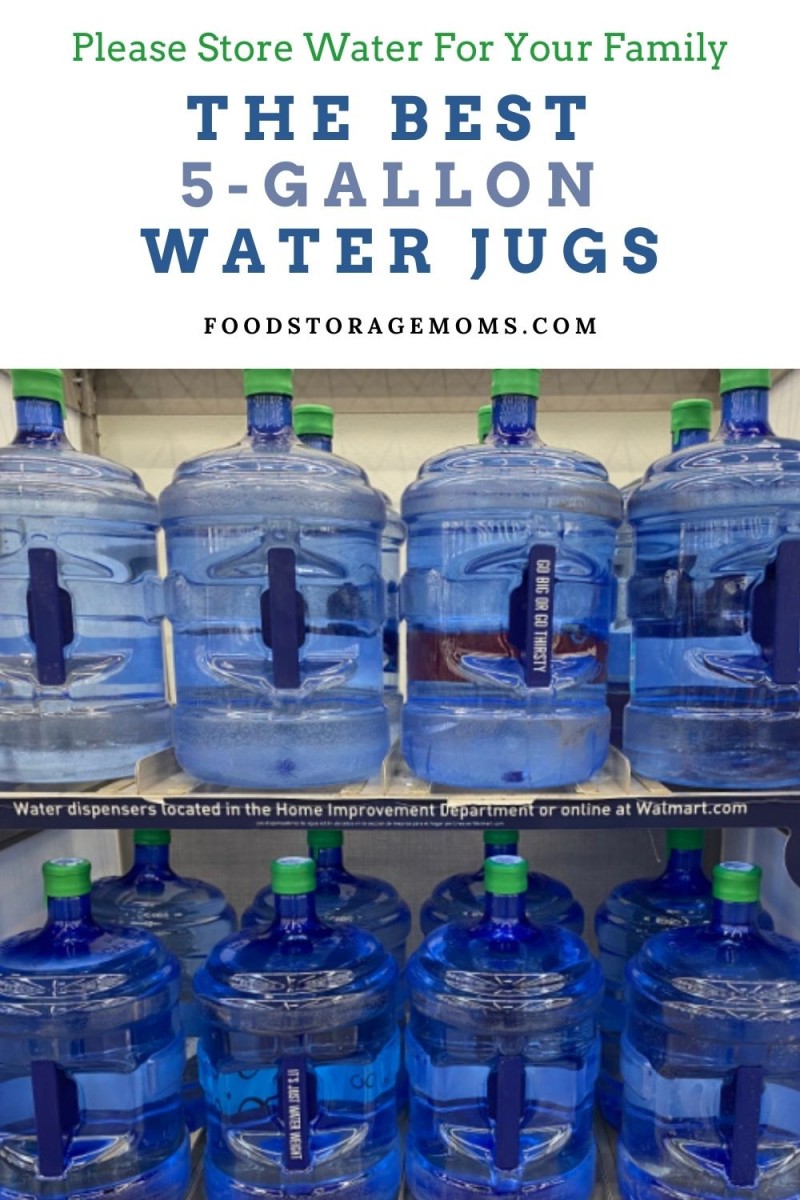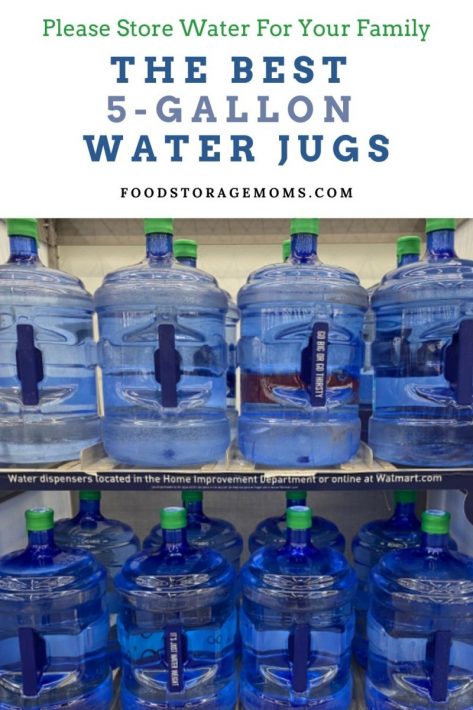 The Best 5-Gallon Water Jugs
In the past, people have used old one-gallon milk jugs to store water for later use, but this isn't the best solution. Unfortunately, those containers break easily, ultimately leading to wasted water. It's also hard to find sufficient storage space with dozens, if not hundreds, of storage containers. If you don't want that to happen, shop around for 5-gallon water jugs that are durable and sturdy.
Some people may ask why it's so important to store water at home since just about every family has water available from the taps located in kitchens, bathrooms, and even outside. If you've read any of my posts relating to water storage, you've learned you can't rely on fresh, clean, and safe water from those taps, even in the best of times.
If you Google Flint, Michigan some of the first links will be to the history of their culinary water problems. We all take clean water for granted, but things can change in a hurry during a disaster or general emergency situation since unwanted contaminants, like minerals, chemicals, bacteria, germs, dirt, viruses, and more seep into water systems and well water sources.
Proper hydration is critical for survival and that takes purified water from reliable sources. We need water to cook most of our food, clean our clothes, and provide a minimal level of personal hygiene to stay healthy. I suggest every family have four gallons of water per person per day to support those uses of this critical resource. You can possibly get by with less, but it would really be a struggle.
Mark and I have used 55-gallon containers stored on pallets on the side of our home. We also have 160 and 250-gallon tanks in our garage. These have been great for higher volume storage options, but not everyone has the space or financial resources to accommodate these options. That's why the 5-gallon approach is so good, whether as 5-gallon jugs or 5-gallon bottles, you get the same storage capacity and overall benefits from both.
The proper water jugs will extend the shelf life of your water for lengthier periods of time. If you're not sure which water jugs to choose, check out this list of the best 5-gallon water jugs available.
1. Saratoga Farms 5-Gallon Stackables
When storing water and saving space are your priorities, the Saratoga Farms 5-Gallon Stackables are a must-have. These water jugs hold a lot of water and are easy to stack on top of one another, allowing you to make use of smaller spaces. Suppose you don't have a lot of room in the basement or attic for water storage. No worries, because these stackables are as convenient as it gets.
Durable and Safer for Your Drinking Water
Besides stacking them with ease, they're durable containers made with high-quality, food-grade plastic that isn't toxic or harmful. As a result, you don't need to worry about the plastic contaminating the water that you may end up using and drinking in an emergency. If great-tasting and reliable water is your goal, this is one good container option.
2. Brio-BPA-Free Reusable Plastic Water Bottle Jug Container
Keep things simple and store plenty of water with the Brio BPA-Free Reusable Plastic Water Bottle Jug Container. These jugs are available in a natural blue color. They don't contain any toxins that could contaminate your water, leaving them fresh and safe for you to use for personal hygiene purposes.
It's also safe to drink the water stored in these containers as long as the water you put in them has come from a reliable source, or you've put the water through a carbon filtration process. These specific jug containers come with convenient features that make them a top choice for preppers. They come equipped with a crown top that prevents leaks.
It Has an Attached Handle for Easy Transport
The last thing you want is to have your water leaking from any of the containers because then it's wasted and can cause a real mess. The attached handle makes it easy to transport these large containers when you need to use them. Most importantly, you won't need any single-use plastic products when using reusable plastic water bottle jug containers.
3. Scepter Lightweight BPA 5-Gallon
When you'd like something lightweight, spacious, and compact enough to fit in even the tightest of spaces, the Specter Lightweight BPA 5-Gallon Container is an excellent option. It's made with food-grade plastic and is easy to carry around from one place to the next.
If you don't want to end up lugging heavy containers to the basement and back up those basement stairs again, this is the perfect water jug to buy. It's known for its sleek appearance and universal fit.
BPA-free
It's BPA-free, so you won't have to worry about using anything that could harm you in the process of storing water. These water containers are ideal when you're storing water on shelving units and trying to save as much space as possible. You'll love the way they fit with ease into smaller spots. Save water without all the stress using Scepter's convenient water jug containers.
4. BILLET4X4 Scepter 5-Gallon
Although it may closely resemble a gas can, the BILLET4x4 Scepter 5 Gallon is another incredible water jug worth considering when you're saving and storing water for emergencies. It's available in blue plastic material with a convenient plastic straw attached to it.
It's the perfect water jug to take with you when you're on the go and want to make sure you have access to plenty of water wherever you're headed. It's a lightweight container made with high-quality plastic that doesn't get crushed or damaged easily.
Sturdy and Reliable
It's an unbreakable product that won't get rusty or deteriorate over time. It's worth the investment when you want to make sure you have something sturdy and reliable to hold as much water as you feel may be needed. Not only is it perfect for preppers, but also for anyone planning a hiking and camping trip where they'll go off the grid for a few days or weeks and want good water at their base camp.
5. Ability One 5-Gallon Plastic Water Jugs
The Ability One brand makes a water jug that looks a lot like the Scepter brand. The Ability One 5-Gallon Plastic Water Jug is available in two different colors, desert sand and forest green. It's lightweight, compact, and great for traveling or storage purposes. Whether you want to keep a stockpile of water at home or take a large amount of water with you on an off-grid adventure, this is an excellent water jug to buy.
A Waterjug that's Leakproof
It's made with durable, rugged plastic commonly used by military members. It has a convenient handle attached to it that makes transporting the water jug simple and stress-free. It's easy to fill with water and should last you a lifetime with no problems. If you want to make sure water isn't leaking, this is an excellent jug to have because it's leakproof.
Some things to consider as part of your water container storage plan are where to source the water to fill the containers, and that leads us to how to properly prepare the water before you fill them. The prep stage can affect not only the safety of the water, but also if the water is great tasting water with no strange colors or odors.
Mark and I have had reverse osmosis systems in our last two homes. Yes, it does require some installation, but I always felt safe drinking, cooking, and using the water for other chores. I'm a real fussbudget, so having water that compliments the benefits of chlorine by eliminating the spread of germs, reducing mineral content, and making the water taste more like spring water is important to me.
I wasn't aware of it, but there are a number of companies that specialize in water delivery services. Most of these companies rely on 5-gallon containers when they deliver the water. They also sell or rent not only the containers, but also the dispensing equipment to make easy access to the delivered water as easy as possible.
One of these companies is Culligan. I knew they delivered the tanks used in many households to soften their water, but was glad to hear that my readers can call on them, or others, to make deliveries as convenient as can be. Companies like Culligan base their success on quality products, but also on customer service. Some things to consider when choosing a water delivery service would include, but not be limited to:
How often do they deliver in your area?
How easy is it to schedule the deliveries?
Can you rely on the delivery date and time being met as promised?
Will the water be pure water that's been filtered as you would expect, without any bad taste or odors?
Do they have any special promotions that make their company more attractive?
Are their employees insured and bonded since in many cases they will be in your home making the deliveries?
Final Word
When you're searching for 5- gallon water jugs that you can use to store water, you're likely hoping to find containers that won't leak or quickly end up damaged when placed and then held in your favorite storage area. Many of these options are lightweight, compact, and easy to travel with when you want to bring water along on a trip.
Remember that any glass containers you may be considering have some weight and breakage issues to deal with. If you have kids around that can be a concern. That's why I've stuck with strong and reliable plastic containers for my water storage needs.
Before buying any of these containers, consider your reasons for storing the water and how much space you have available. You can then select the perfect water containers to buy out of these five high-quality water jugs available on Amazon at incredible prices. May God Bless this world, Linda
Copyright Images: Large Water JugAdobeStock_325731161 by klepach