Cranberry Jalapeno Cream Cheese Appetizer
This is a Cranberry Jalapeno Cream Cheese Appetizer that is sure to please any crowd!  It's that time of year when we get to share our homemade appetizers at family and friend parties. This is a really easy one to make. I love fresh cranberries, and my sister, Denise (from Texas) taught me one year how to make homemade cranberry sauce.
Okay, I was instantly hooked on it. It is only fresh cranberries, sugar and water. You bring the sugar and water to a boil then add the fresh cranberries, stirring almost constantly. I can't stir them constantly because I always have five things going on at the same time! LOL! What I love about this recipe is I can add some jalapeno jelly from a jar to give this cranberry sauce a little kick!
Here are the fresh cranberries I wash and add to the sugar and water mixture that has been boiling. Just stir until the cranberries start to break down and the mixture thickens. It will get thicker after it cools as well.

Cranberry Jalapeno Cream Cheese Appetizer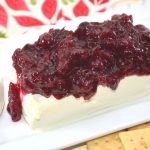 Cranberry Jalapeno Cream Cheese Appetizer
Ingredients
1-

eight-ounce cream cheese softened

1-12

ounce

package freshly washed cranberries

1

cup

sugar

1

cup

water

1/2

cup

to 1 cup of your favorite Jalapeno Jelly

I use one whole jar 10 ounces
Instructions
Boil the sugar and water until the sugar dissolves. Turn down the heat on the stove. Add the cranberries and stir until the cranberries break down slightly and it starts to thicken. The mixture will thicken when it cools and is refrigerated. Before placing the cranberry sauce in the refrigerator add the amount of Jalapeno jelly you prefer. The more you add the more "kick" the Cranberry Jalapeno Cream Cheese Appetizer will have….I add the whole jar. I do buy the mild Jalapeno Jelly. After the mixture is refrigerated and ready to serve, spread the mixture over the softened cream cheese. Serve with your favorite crackers.
Oh my gosh, I love fresh cranberry sauce, do you make your own? This cranberry jalapeno cream cheese appetizer is a keeper for parties! let me know if you make it!