The Best Frito Salad You Will Ever Make
If you love Frito corn chips you will really like making this Frito Salad. Did you grow up eating those yummy corn chips, I sure did! My family loves those chips to dip in creamy homemade dips. My sister told me about a salad that her daughter made, so I modified the recipe and this is what I came up with, The best Frito Salad you will ever make.
This salad can be made with ingredients you have in your pantry and refrigerator. You may even grow most of the vegetables in your garden, so that makes this one a keeper. If you love sweet red and yellow bell peppers you will make this salad all the time, I promise. It has a crunch with the vegetables and the Fritos corn chips. All I can say is that it's yummy and your family will love it.
Ingredients for Frito Salad
Here are the ingredients: canned corn, green onions, red and yellow bell peppers, Cilantro, Roma tomatoes, a lime, and some grated cheese. Then you make the dressing with mayo and some spices.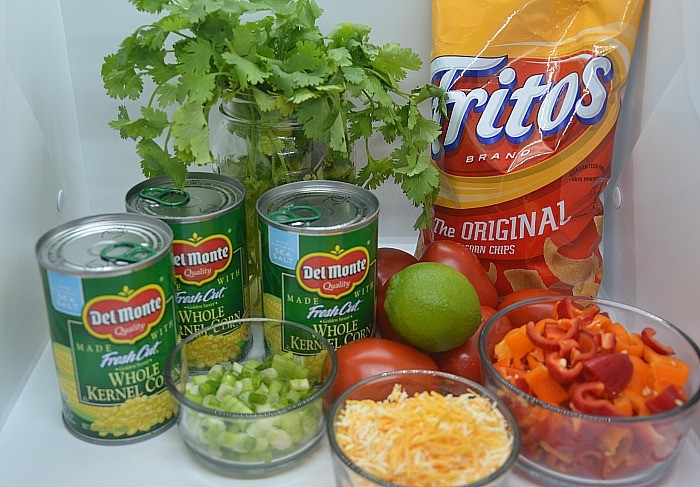 What's really great about this salad is that you can make it in the morning by chopping the veggies, draining the corn, and mixing up the dressing. Then put it all together right before you serve it.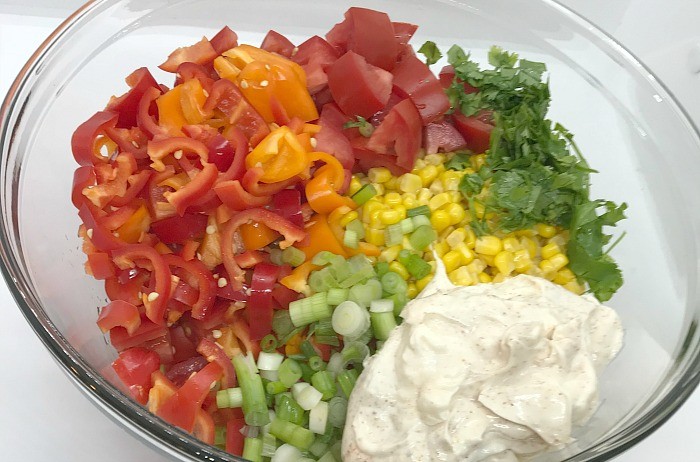 Have you used this kitchen gadget to mince your parsley or in this case your Cilantro? It's awesome Zyliss Herb Mincer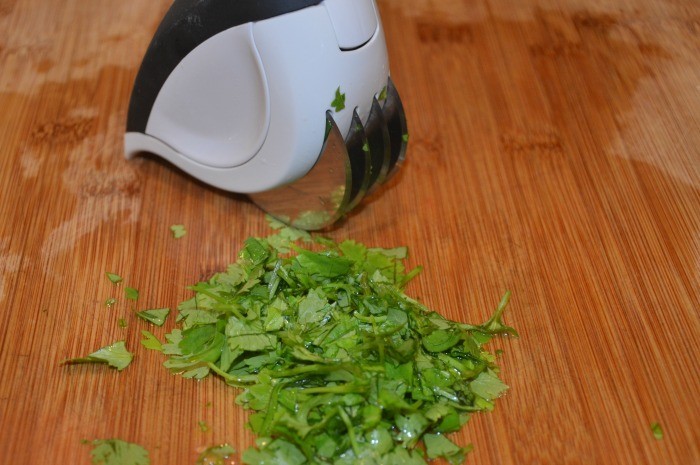 Frito Salad
Frito Salad by Food Storage Moms
Ingredients
Ingredients

3

cans of corn (15 ounces, drained)

1

bunch green onions, chopped

8

chopped mini yellow and red bell peppers

1/2

cup

Cilantro, chopped

6

Roma tomatoes, chopped

1-1/2

cups

grated cheddar cheese

Dressing

1

cup

mayonnaise

1/2

teaspoon

chili powder

1/2

teaspoon

cumin

Juice of one lime

1

pkg.

Fritos (9.25 ounces)
Instructions
Instructions

Combine the corn, green onions, bell peppers, Cilantro, and tomatoes in a large mixing bowl. Make the dressing in a separate bowl and whisk until smooth. Pour the dressing over the vegetables and mix together. Right before you serve the salad, add the grated cheese and Fritos.
You may want to make my no-fail French bread you can make in one hour to go along with this salad. If you have fresh ingredients, you can make this bread. My daughters sold the bread door-to-door for years. I prefer bread flour, just giving you the heads up.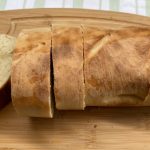 French Bread In One Hour
Ingredients
2-1/2

cups

hot water

4

teaspoons

SAF instant yeast

3

tablespoons

sugar

1

tablespoon

salt

1

tablespoon

shortening or melted butter

6

cups

bread flour
Instructions
I dump everything in a bowl or my Bosch bread mixer and mix the bread dough for about 6-8 minutes. I then cut the dough with a dough cutter into two sections. I roll out the two pieces of dough into a rectangle shape and roll up into a tube shape and place them on a greased cookie sheet or French bread/baguette pan. Grease some plastic wrap and cover the dough and let rise until double in size. Just before placing the loaves in the oven to bake, remove the plastic wrap and use a sharp knife to slice a few shallow cuts on the diagonal on the top of the dough. Preheat the oven to (400°F) = (204°C) and bake for 25-35 minutes or until golden brown. Lightly brush the baked loaves with butter on the tops and serve while warm.
Let me know if you try making this easy Frito Salad, I hope you like it as much as Mark and I do. Thanks for being prepared for the unexpected. May God bless this world. Blessings, Linda
My Favorite Things