This is the perfect sausage gravy recipe for Saturday morning, or any other morning, for that matter. Having a good quality sausage as part of any meal is a real treat. My parents used to make their own sausage and I loved it. I've found this Jimmy Dean sausage to be a close second. I like sausage patties and Mark likes his link style, but any version of sausage can bring smiles to both of us.
I try to bring new and adventurous recipes for you to try. If you like sausage, gravy, and possibly biscuits or toast in combination, you've got a recipe that will bring the whole family around for seconds. Enjoy! In case you missed this post, Pork Breakfast Sausage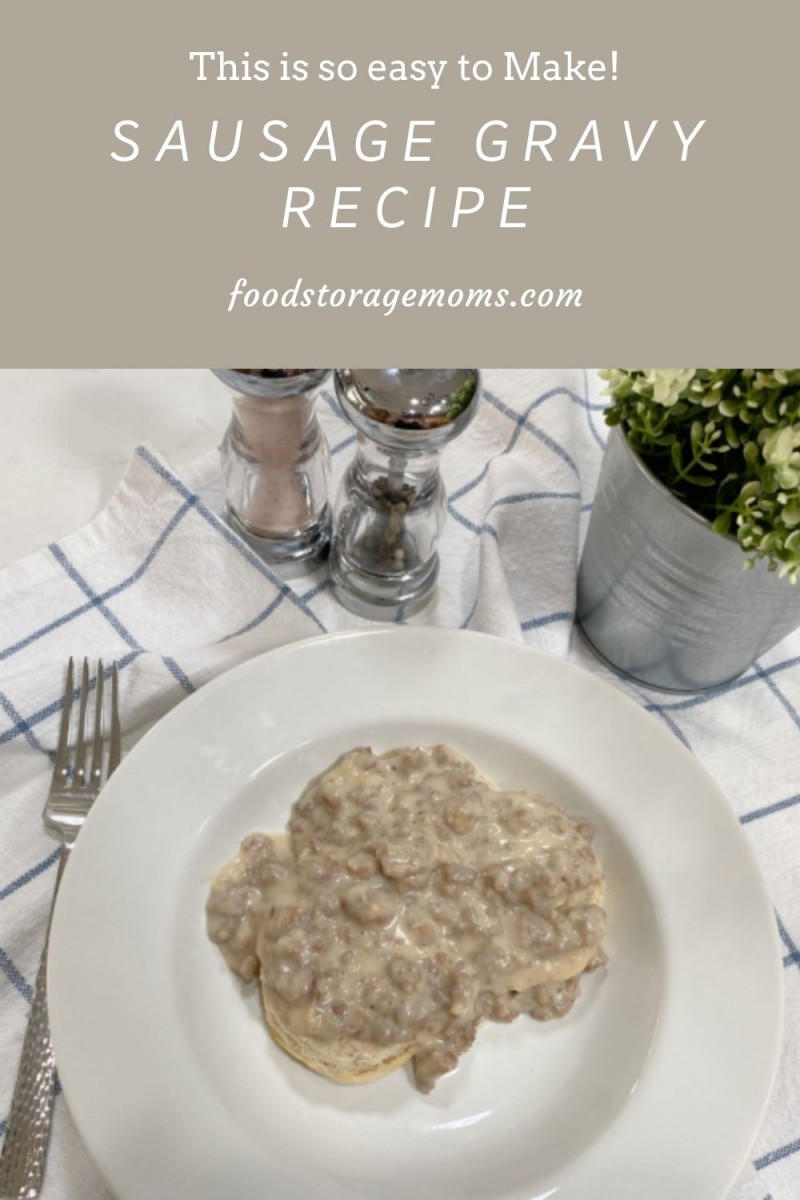 Kitchen Tools You May Need:
Sausage Gravy Recipe
Step One: Gather Ingredients
I always bring out all the listed ingredients into one area so I can check them off the recipe list before starting. I sure don't want to miss any key items that would add to the success of the final product.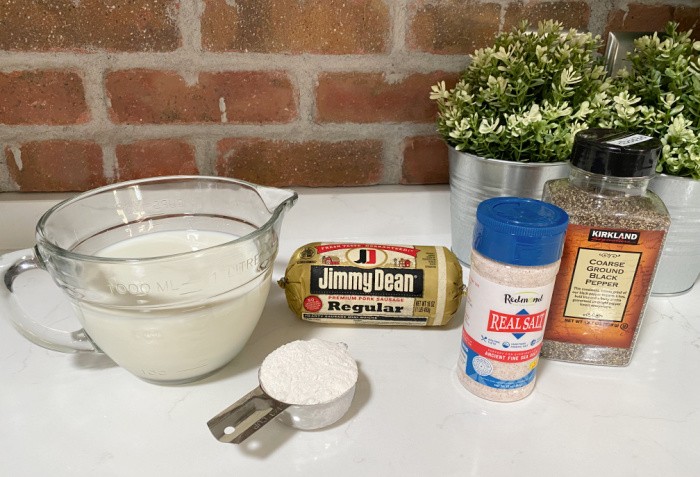 Step Two: Cook Sausage
I had Mark cook the sausage in my 12″ cast iron pan. We use it all the time to cook so many different things. I find that it heats and cooks very consistently on my natural gas stove. Mark made sure the sausage was broken up into small pieces, not only so it could be cooked all the way through, but so the pieces were small enough to easily mix with the other ingredients.
Step Three: Make Sure Meat is Fully Cooked
As you can see below, we made sure the sausage was cooked until fully done and safe to eat. It took a few minutes, but it's worth it to be safe. The picture below shows this Jimmy Dean sausage didn't have any greasy texture to it, just high-quality meat. Be aware that Jimmy Dean sausage, as well as sausage from other vendors, comes in various flavors. Don't be afraid to try out the variety of offerings as you experiment with this recipe. Note that I used the "regular" flavor for today's recipe.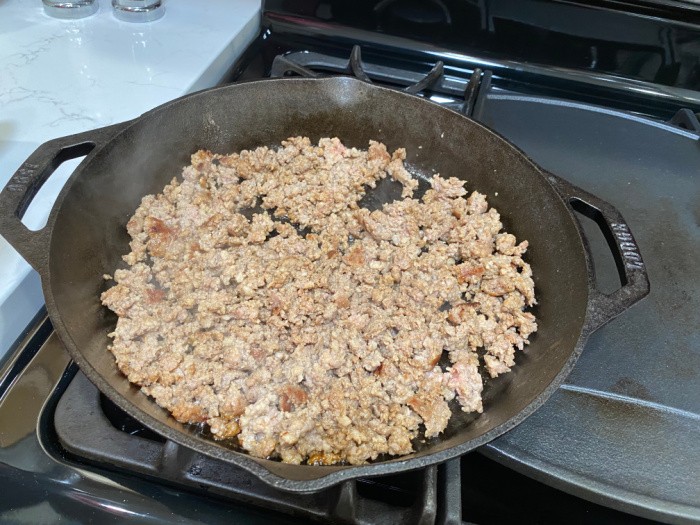 Step Four: Stir in Flour
The next step is to stir in the flour. I wasn't sure how well this could be done in the cast iron pan, but it worked out great.
Step Five: Stir Til Flour Mixes
The flour pretty well disappears and will be ready for the milk to be added when the flour is fully mixed with the sausage. Note that the sausage stays in pieces as you mix in the flour, just the way you want it.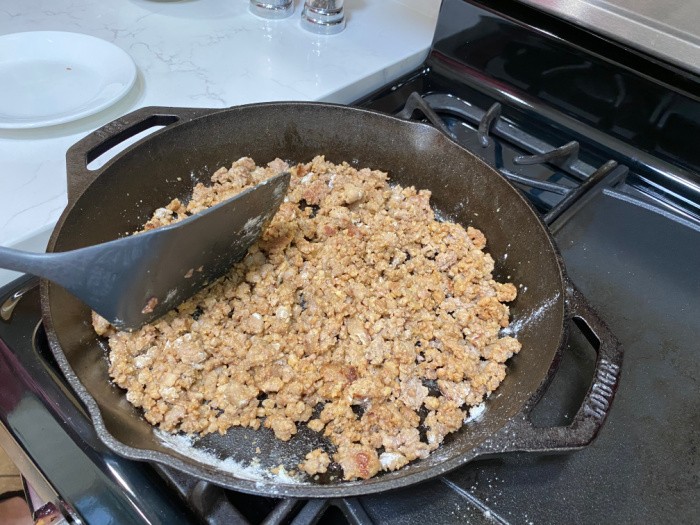 Step Six: Add Milk
For years we've been making "cream chipped beef on toast" as a special treat for family, so I was used to adding milk to recipes that called for a "sauce" that thickens up as it's heated. That's exactly what happened here, we stirred the milk, flour, and sausage mixture until it had the consistency of a gravy.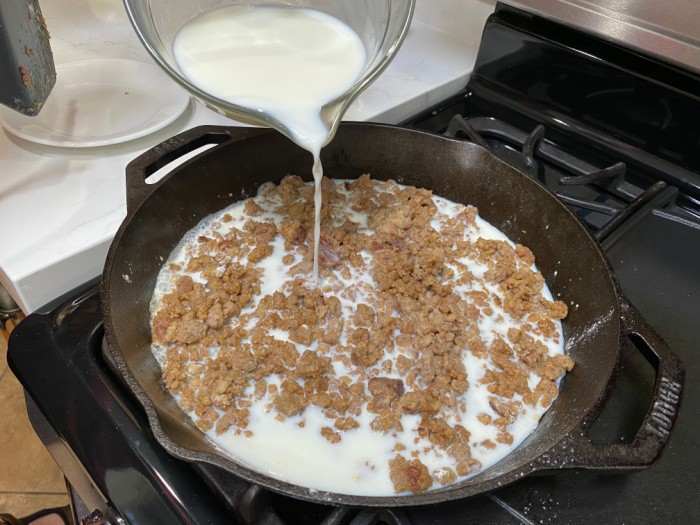 Step Seven: Stir to Thicken
As you can see, the heated mixture becomes a gravy, and just right as a topping. We let it simmer for a few minutes, just to be sure.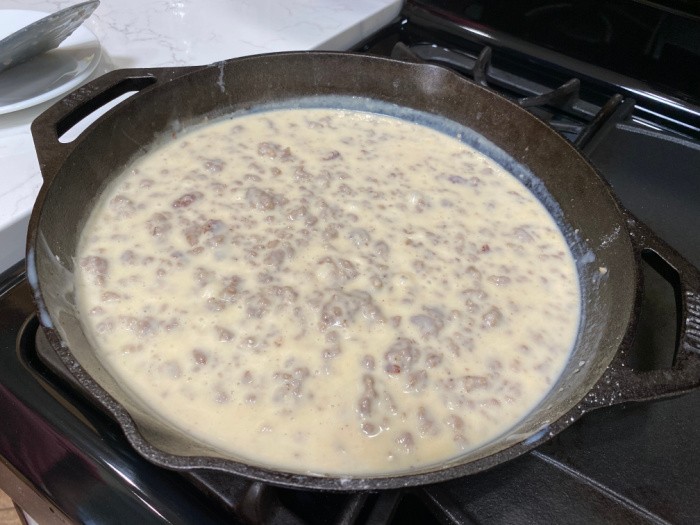 Step Eight: Cook Biscuits
While the sausage gravy was being made, I was cooking some lite and fluffy biscuits. We had it timed just right and were able to top the biscuits with the sausage gravy for dinner while they were both hot and tasty. With a little salt and pepper to bring out the sausage flavor, we had plenty to eat and fully enjoyed the texture and savory taste.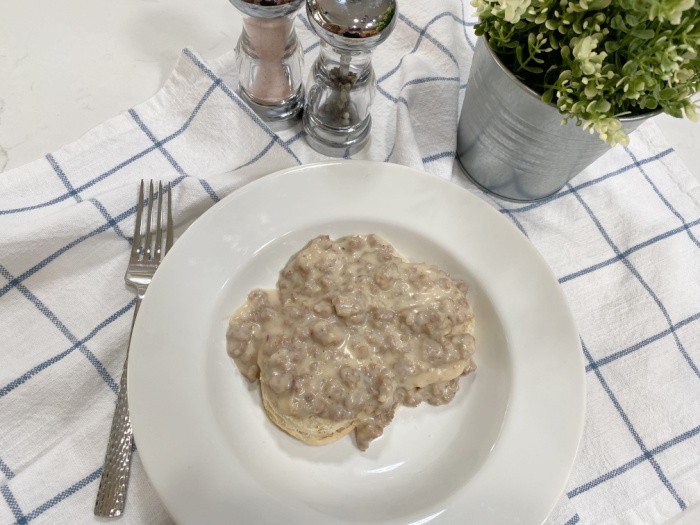 Finished Product
Sausage Gravy Recipe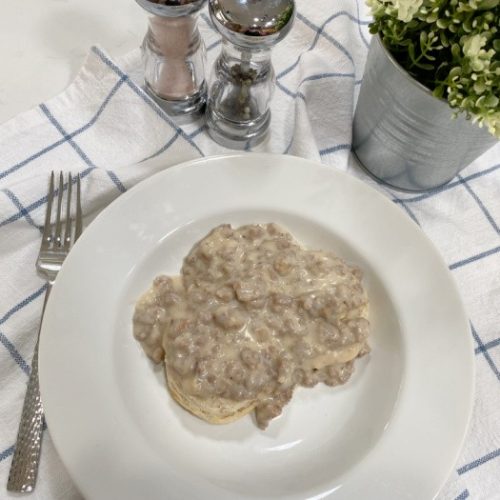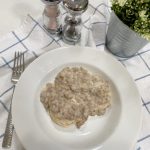 Sausage Gravy Recipe
Ingredients
1

16-0unce

package sausage (I bought Jimmy Dean Regular Flavor)

1/3

cup

white flour

3

cups

milk (I used whole milk)

1/2

teaspoon

salt

1/8

teaspoon

ground black pepper
Instructions
Brown the sausage in a large frying pan over medium-high heat, Crumble the meat with a spatula as it cooks. Continue frying the meat until you no longer see any pink, stir often. When the sausage is completely cooked, sprinkle the flour on the meat, add the milk slowly stirring constantly. Cook until the mixture thickens. Season with salt and pepper. Serve over biscuits or toast.
How do I store this after making it?
Let it cool down, and store it in an airtight container in the refrigerator.
How long will it be good in the refrigerator?
It will keep 2-3 days in your refrigerator.
Are There Some Health Benefits from Eating Sausage?
No one can claim that sausage falls into the "health food" category of meal options. There are certainly some concerns about the amount of fat and salt typically found in sausage. But you also should consider that sausage has some healthy aspects. First of all, niacin is considered one of the best nutrients for healthy skin, hair, and eyes. Sausage can provide up to 40% of your recommended daily amount.
Since most sausage is made from pork, you are getting high levels of protein when you have sausage as part of your meal. If you are looking to help build your muscle mass and maintain healthy tissue, sausage is for you.
Healthy blood requires vitamin B-12 and iron to stay strong. These nutrients prove to be essential for building healthy red blood cells, along with other critical blood benefits. Sausage has a significant amount of these nutrients.
Can Sausage Gravy be made From Other Meats?
As mentioned above, it could be a fun adventure if you try different kinds of sausage, particularly if it's made from a variety of meat options. Besides pork, you can purchase sausage made from beef, veal, turkey, and chicken. Those of you who try to limit meat intake should research sausage eaten by your vegan friends, you'll probably find some sausage options made with tofu (bean curd). Sure, each meat or meatless variation will have a different flavor and texture, but when it's sausage you'll find they all tend to be tasty.
Can this recipe be frozen?
I have never frozen it after making it since we tend to eat it all, yummy! If you think you won't eat the amount listed in the recipe, you may want to consider cutting the sausage package in half and freeze the other half of the sausage. Then cut the recipe in half. Fresh is best, in my opinion.
Final Word
Some people think that sausage is best eaten in the morning as part of a breakfast meal. I love sausage in many variations, including sandwiches, a topping on a salad, quiche, and of course, pizza. Be willing to try lots of offerings where sausage is the main meat ingredient, you won't be sorry. I hope you enjoy this sausage gravy recipe as much as we do, it's delicious! Please let me know how you like to use your sausage and I'll share your ideas with my other readers. May God bless this world, Linda