Easy Homemade Biscuit Recipe
This is my mom's easy homemade biscuit recipe. These biscuits are moist on the inside and slightly crispy on the outside. In other words, the perfect biscuit ever. I feel an urgency that people need to make bread and biscuits now more than ever before. If you can make bread, biscuits, crackers, and tortillas, you can fill the belly of many family members. All you need is some soup with vegetables and a little bit of meat.
That's actually okay because I'm a visual person anyway. So let's pretend you are in my kitchen and we are making these fabulous biscuits together. You will never buy those biscuits in a can again, I promise. Maybe you never did, I'm just thinking out loud.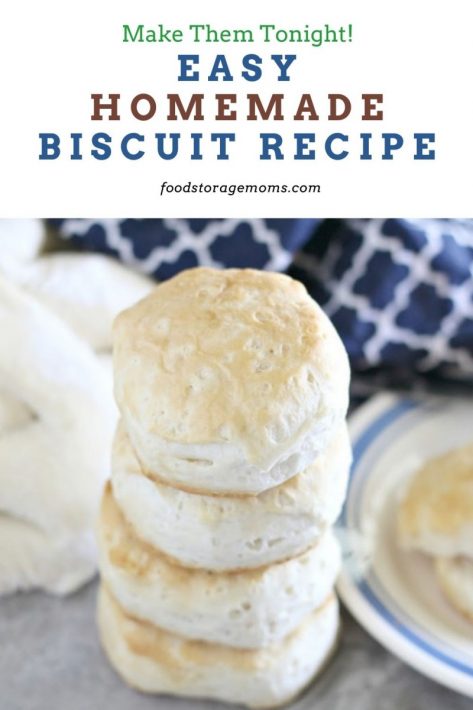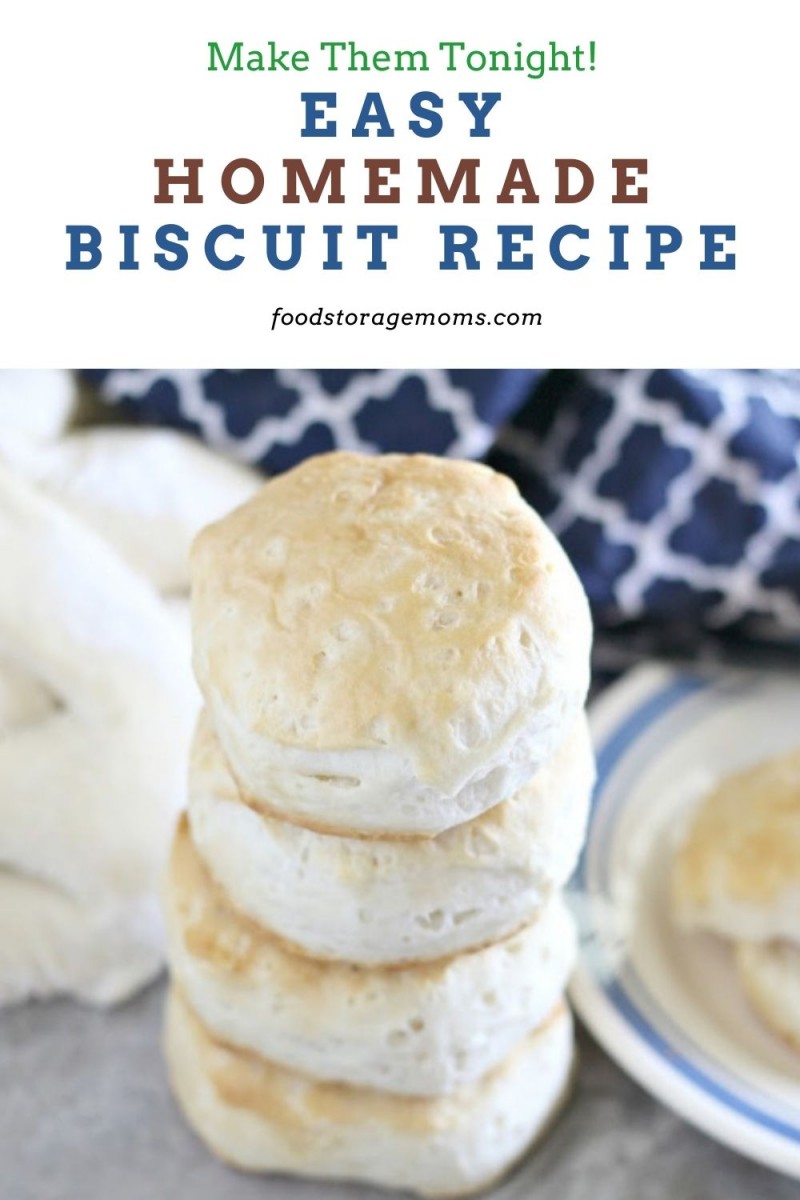 Kitchen Tools Needed
Whisk
Parchment paper
Plastic wrap
Rolling pin
Easy Homemade Biscuit Recipe
Oh, how I wish I could have you put your hands around this dough, and then helped roll it out. You could grab your biscuit cutters or those metal cups we grew up on and you would have the best biscuits ever, ready to bake!
One awesome thing you may want to know about this biscuit dough is it will keep for up to 5 days in the refrigerator. You just roll out the dough and cut the biscuits you would like to bake, as needed.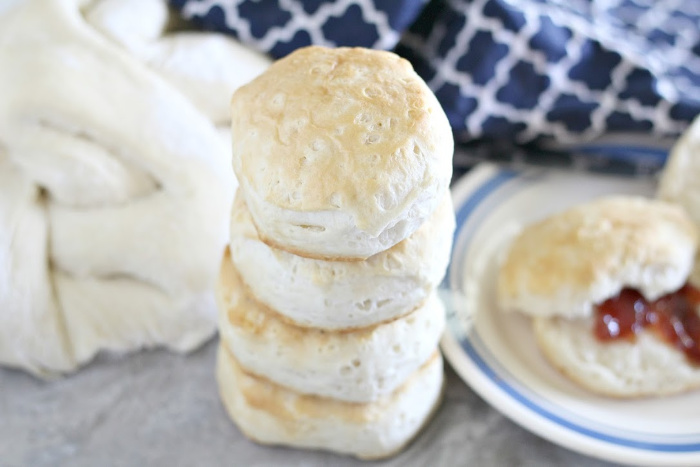 Step 1: Combine Some of the Ingredients
Grab a bowl, and add the yeast, sugar, baking soda, buttermilk, warm water, and butter. Thoroughly mix them together.
Step 2: Add the Flour
Add the flour to the mixture above, one cup at a time while using a whisk to stir the mixture. When it starts getting thick I use my hands to knead it, ever so slightly. Oh, how I love the feel of homemade dough in my hands.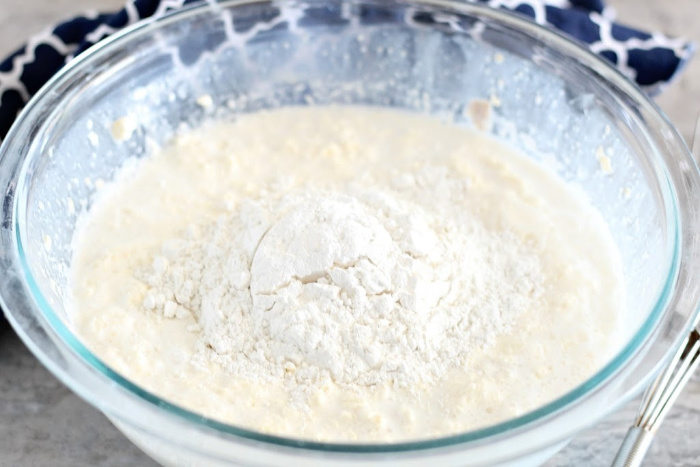 Step 3: Continue Mixing Dough
Then continue mixing the biscuit dough with your hands. Sprinkle the countertop with flour and roll out the dough.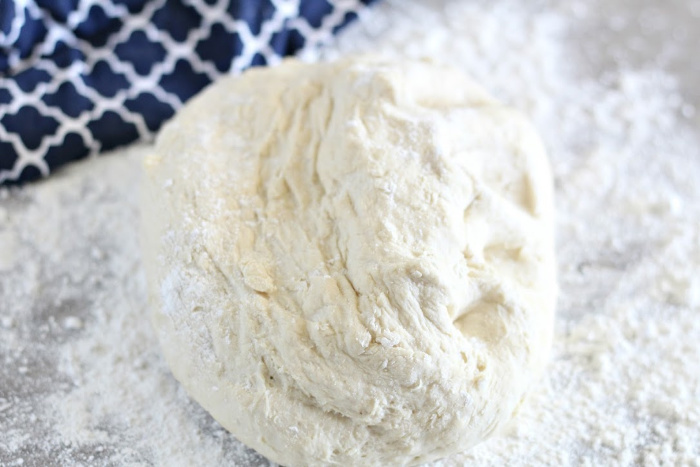 Step 5: Roll the Dough Out
I like to roll the dough out to at least 1/2 inch thickness in a rectangular shape.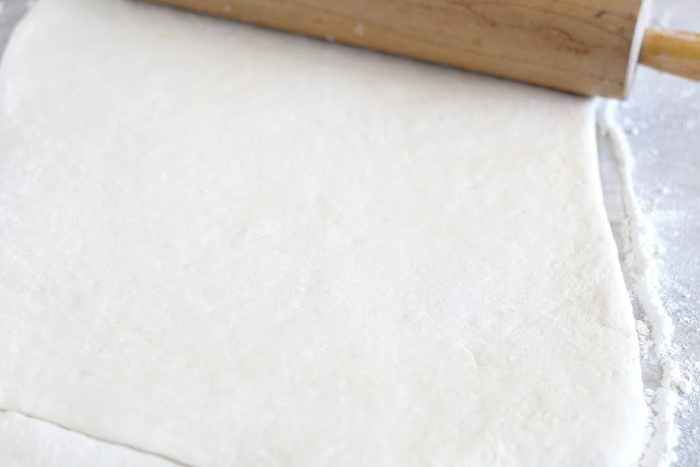 Step 6: Cut The Biscuits
Place the cut biscuits on parchment paper or a greased cookie sheet or baking sheet. Brush with melted butter (optional) and cover with greased plastic wrap. Let the biscuits rise for a minimum of 20-30 minutes.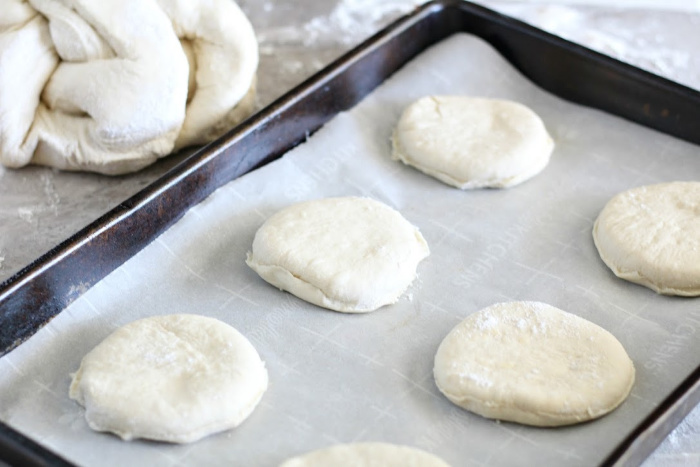 Step 5: Bake the Biscuits
Remove the plastic wrap and bake the biscuits at (425°F) = (218°C) degrees for about 12-15 minutes or until golden brown. Serve immediately with melted butter and jam.
Finished Product
My mother made these biscuits all the time. One of my favorite desserts was a biscuit cut in half, topped with sliced strawberries, and whipping cream.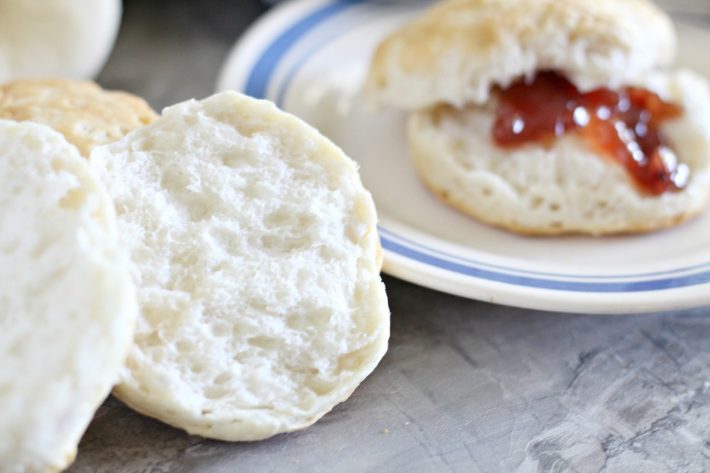 What Can I Serve Biscuits With?
Creamed chip beef (printable recipe below)
Creamed tuna
Butter and jam
Butter and honey or Honey Butter
Strawberry shortcake
Eggs and bacon
Chili
Sausage gravy
Buttermilk Biscuits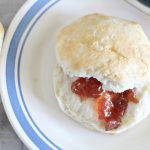 Biscuits by Food Storage Moms
Ingredients
4

tsp.

instant SAF yeast

1/4

cup

of sugar

1

tsp.

baking soda

2

cups

buttermilk

1/2

cup

of warm water

1

cup

shortening or softened butter (I use butter)

5

cups

white bread flour
Instructions
1. Combine all the ingredients in a bowl, except the flour.

2. Then slowly add the flour one cup at a time, and mix thoroughly.

3. Place the covered bowl in the refrigerator. The dough will keep for about 5 days in the refrigerator.

4. Roll out the dough when ready to make the desired amount of biscuits.

5. Brush them with melted butter and let rise for 20-30 minutes. Bake at (425°F) = (218°C) degrees for about 12-15 minutes. Enjoy.
Creamed Chip Beef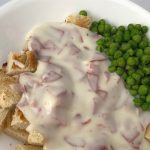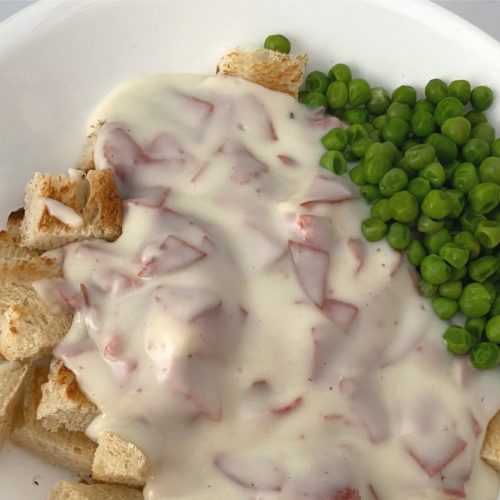 Cream Chipped Beef
Ingredients
1

cup

butter

1

cup

flour

1/2

gallon

milk

2

4.5-

ounce jars of dried beef (rinse and cut into bite-size pieces)

pepper to taste

sugar optional to taste
Instructions
Grab a large saucepan and melt the butter, stirring constantly.

Add the flour and blend until smooth. This is called a Roux.

Add the milk slowly and stir constantly until the mixture starts to thicken.

Add more milk if it's too thick.

Add the beef and pepper and sugar, if desired.

Serve over biscuits or toast. Enjoy.
Freezable Biscuit Dough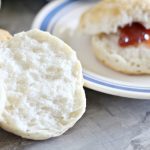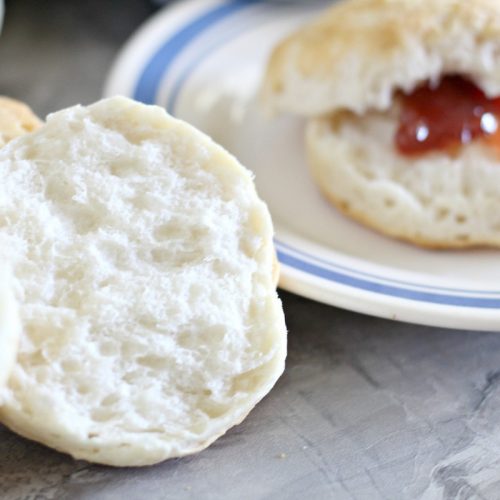 Biscuits by Cheryl M. FREEZABLE DOUGH
Ingredients
2

cups

flour

1

tablespoon

baking powder

1/2

teaspoon

salt

1/2

cup

shortening/butter

3/4-1

cup

milk or buttermilk
Instructions
1. Place dry ingredients with the shortening or butter in a food processor.

2. Pulse until crumbly.

3. Add milk or buttermilk gradually until the ball forms.

4. Roll onto a floured surface and cut into biscuit shapes. Freeze them on a cookie sheet for one hour.

5. Bake at degrees (450°F) = (232°C) for about 12 minutes.

PLEASE NOTE ON FREEZING:

I freeze these for an hour in a single layer then toss them in bulk freezer bags. Then you can pull out as many as you want at a time. Yes, you can bake from fresh or frozen with those directions. May take a minute or two longer from frozen or brown to suit you.
How do I store the homemade biscuits after baking them?
I store mine in an airtight container on the pantry shelf or kitchen countertop.
Can I substitute something for buttermilk?
You can, but they will not be as good. If you are out of buttermilk, you can make your own. In case you missed this post, How To Make Buttermilk
Can I use All Purpose flour?
Yes, you can, I have bread and all-purpose flour stored. They both work great.
What if I don't have a biscuit cutter?
You can use a pizza cutter or knife and cut the dough into squares. No one said they had to be circles, well maybe my grandmother did.
Final Word
It's crazy, but I believe if we can teach the world to make biscuits by using this easy homemade biscuit recipe they will not starve. Of course, we need other foods to go with it, but these will fill the belly.
If you are nervous about making bread, try making biscuits. These are easy to make and so fluffy they will melt in your mouth. Thanks for prepping, keep up the good work. May God bless this world, Linda