3 Classic Apple Recipes You Will Love To Make
I want to share 3 classic apple recipes you will love to make today. Plus, I added some links below from some of my favorite bloggers. Have you walked around the produce aisle at the grocery store lately? There are so many fruits and vegetables just waiting to be picked up and purchased. I always wonder what kind of apple is good to use for this and that. I did a little research and this is what I came up with. I bet your mouth is watering for your favorite apple right now. You get the picture, right? My favorite apple peeler: Johnny Apple Peeler TM by VICTORIO VKP1010, Suction Base
Baking, canning, snacking, etc. Did you grow up hearing this statement "An Apple a Day Keeps the Doctor Away?" I know I did. I usually sent sliced apples in my girls' lunch boxes when they were going to school. We had a large bowl full of apples on the kitchen table. Washed and ready to snack on at any moment.
I wanted to write a post on the different apples I like to buy at the grocery store. I really wish we had fruit trees in our yard, but we don't have them in our current home location. We had them for years. Life changes. So now I buy the following varieties:
1. The Gala apple is a mild, sweet and crisp textured apple. They're an ideal fruit for kids.
2. Granny Smith apples have a crisp bite and tart taste. These are good for apple pies or other baking recipes.
3. The Braeburn apple is firm, crisp and well balanced between sweet and tart. Great for baking or eaten right off the tree. Perfect for apple recipes below.
4. Golden Delicious apples are softer textured, so they will not store as well. They are ideal for freezing, salads and pies.
5. Fuji is a larger apple with a crisp texture. They are very sweet, which makes them great for eating raw. They are great in salads. Perfect for apple recipes.
6. The Jonagold apple is a sweet one with a thin skin. They are slightly tart so they are great for any recipe calling for apples.
7. Jazz apples have a creamy yellow texture that makes them very juicy. Some people say they even have a hint of a pear flavor. They are a crisp snacking apple.
8.The Ambrosia apple has a creamy yellow flesh that is juicy sweet. These apples compliment sweet and savory meals. Delicious with root vegetables.
9. The Honeycrisp apple is a white flesh fruit and is very crisp and sweet smelling. High in fiber and low in calories. This is my favorite one!
Classic Apple Recipes:
1. Swedish Apple Pie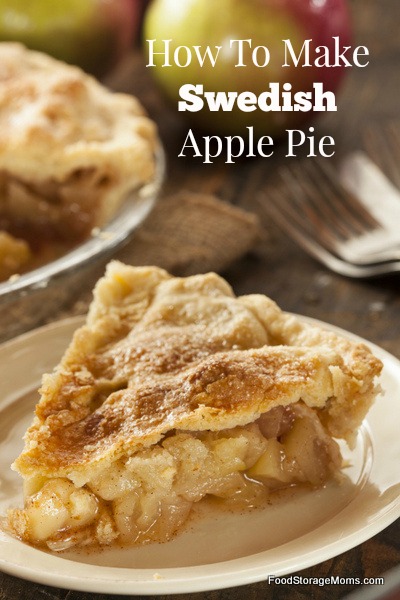 Swedish Apple Pie
Ingredients
Swedish Apple Pie Filling:
8-10

peeled

cored, sliced apples

1

tablespoon

sugar

1

tablespoon

cinnamon
Mix all the ingredients together. Spread mixture over the apples. (It will be thick)
1-1/2

sticks butter

3/4 cup

1-1/2

cups

sugar

Pinch

of salt

1-1/2

cups

flour or 1-1/2 cups freshly ground whole wheat flour

1

egg

3/4

cup

pecans

optional
Instructions
Press the apples down in a greased pie pan.

Sprinkle apples with 1 tablespoon sugar and 1 tablespoon cinnamon

I sprinkle a cinnamon-sugar mixture over the crust.

Bake @ 350 degrees for 45-50 minutes. Serve with a little whip cream (yep, I always have Gossner's shelf stable whip cream in the pantry...and one or two in the refrigerator ready to whip). You could also serve with a scoop of vanilla ice cream... Gotta love it!

This can be prepared in a 9-inch by 13-inch pan, just adjust the ingredient amounts.
2. Russian Apple Pirog (Kristina's recipe)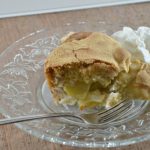 Russian Apple Pirog
(Kristina's recipe)
Ingredients
4

green apples unpeeled and cut into bite-size pieces

1

fresh lemon to squeeze over the chopped/cut up apples

3

eggs slightly beaten

1

cup

sugar

1

cup

flour

1

teaspoon

baking soda

butter to grease your pan
Instructions
Preheat the oven to 375 degrees. Beat the eggs with a mixer then add sugar, flour, and baking soda. Butter or grease the baking pan. I used a springform pan. Nordic Ware Leakproof Springform Pan, 10 Cup, 9 Inch Add the chopped apples into the buttered pan. Pour the egg mixture over the apples. Bake about 40 minutes or until set and golden brown. Serve warm or cold. If desired, place in the refrigerator and invert onto platter the next morning and serve with whipped cream or ice cream. Enjoy!
3. Chicken-Apple-Grape Salad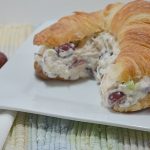 Chicken-Apple-Grape Salad
Ingredients
3

cups

cooked shredded chicken

1

cup

Mayo or Miracle Whip

1

cup

chopped apple

1/2

cup

chopped celery

3

fresh green onions chopped

1

cup

sliced red grapes or 1 cup freeze dried red grapes

not reconstituted

1/2

teaspoon

dill weed

salt and pepper to taste
Instructions
Mix everything together in a medium bowl. Serve on a bed of lettuce or in a roll/croissant.
Let me know what your favorite apple is, I would love to hear. Thanks again for being prepared for the unexpected. Have no fear if you are prepared. May God bless you and your family.
My favorite things:
OXO Good Grips Swivel Peeler
Cuisinart CTG-00-SMB Stainless Steel Mixing Bowls with Lids, Set of 3
OXO Good Grips 3-Piece Stainless-Steel Mixing Bowl Set, White
Kirkland Saigon Cinnamon 10.7 Oz Bottles( Pack of 2) – 21.4 Oz Total