How To Cook Prime Rib: 2 Easy Ways
Today it's all about how to cook prime rib. I've been dying to share with you how to make the best classic prime rib dinner ever! In my family, our tradition for many years has been to serve a prime rib dinner on Christmas Eve. I've updated this post with more information for everyone. I decided to update the post today because we are getting close to the holidays and I think many of you may be deciding what to fix for those special holiday dinners.
Sometimes I think people are afraid to cook prime rib. Now, you do have to decide between a bone-in or boneless roast, but both are good choices. I have cooked both and love them equally.
Mark and I used to live in Salt Lake City, Utah, and every year we would order a prime rib roast ahead of time. The reason was this awesome meat store called Snider Bros Meats would sell out fast. Now that we are back in Salt Lake City, Utah after ten years of being in Southern Utah we can continue the tradition.
If you didn't order by December 5th you would have to buy it somewhere else. Maybe that's changed, but that's how it was when we lived there. I always had to give Snider's the size in inches so it would fit in our roaster pan.
We have been following this tradition for almost 50+ years now. Wow, how time has flown by. Now our daughters carry on the same tradition, and it brings me joy that they feel the same desire to follow family traditions that I have loved over the years.
When the family was smaller we baked our prime rib in the oven in a roaster pan with a rack. As the family grew with sons-in-law and grandkids, we needed to use a large electric roaster pan to bake it.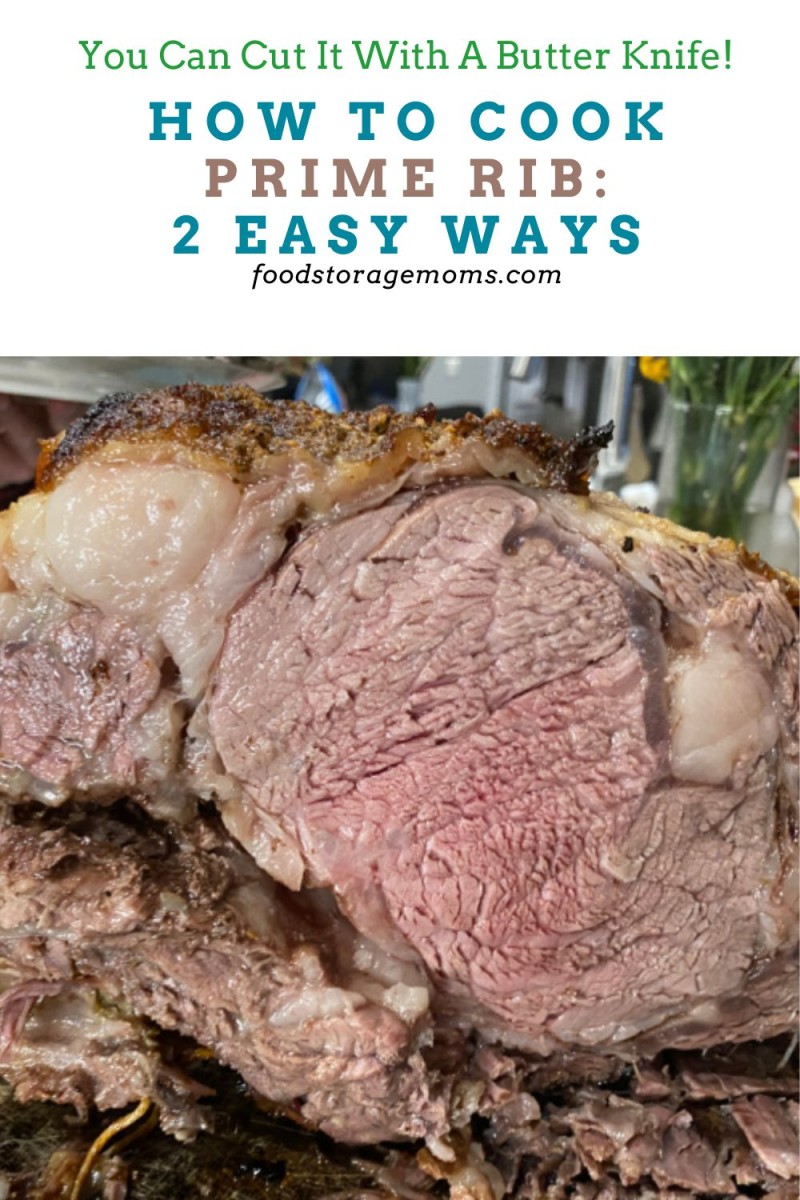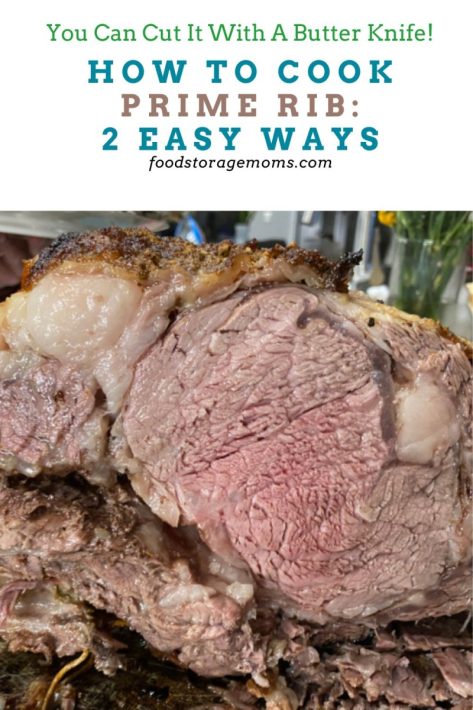 Ingredients
Prime Rib Roast (weight of choice): A standing rib roast. It is a cut of beef from one of the nine primal ribs. It has a large 'eye' right in the center of the cut, which is a very choice meat that is marbled with fat and is known for being tender, flavorful, and juicy.
Traeger Prime Rib Rub: A rub that is comprised of rosemary and garlic. Both savory and sweet! Pairs perfectly with any cut of meat, especially prime rib!
Items You Need In The Kitchen
How To Cook Prime Rib
This year I opted to show you how I cook my prime rib in two different ways. I like them equally as well, but not everyone has an electric roaster and some don't have a heavy-duty roasting pan. The advantage of the electric roaster pan it doesn't take up space in our conventional oven.
I typically buy my prime rib roast pre-seasoned. If you ask, the butcher can suggest some seasonings they recommend if yours is not pre-seasoned. This year the butcher recommended Traeger Prime Rib Rub.
How To Find and Purchase the Right Prime Rib
Step One – Choose the Right Roast Based on Size and Cut
Choose the prime rib roast you want based on the size, and whether you want the cut to be "USDA Choice," "USDA Prime," or "USDA Select" grade. Mark and I opted for the "USDA Choice," which cost $10.00 per pound less. Yikes! I asked the butcher if the "USDA Choice" would be tender. He told us to make sure we cook it slow and low, meaning at a lower temperature which allows the moisture of the juices to tenderize the meat. So We did.
Step Two – Buying From a Butcher
We opted to buy locally from Harmon's Grocers in our new neighborhood in South Jordan, Utah. This is what it looks like before the butcher saws off the end rib bones of the prime rib.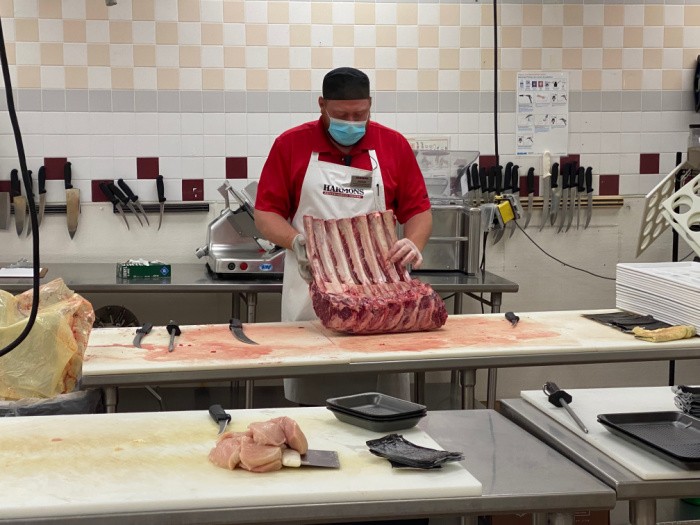 Step Three – The Butcher Cuts The meat
He actually runs the whole thing through a meat saw.
Step Four-Butcher Prepared The Meat For Slicing
Then the butcher cuts the bone away from the meat to make it easier to slice after we bake it.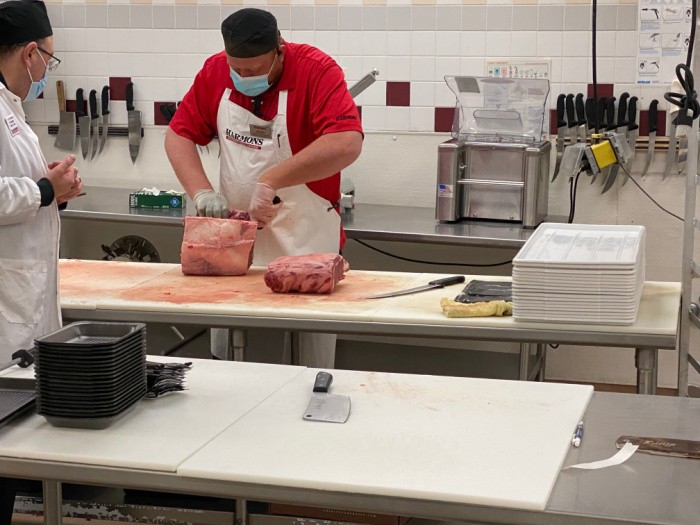 Step Five-Butcher Tied the Bones
Because the butcher made it easier for us to slice the prime rib after baking it, he needed to tie it back together to keep it as one piece as it bakes.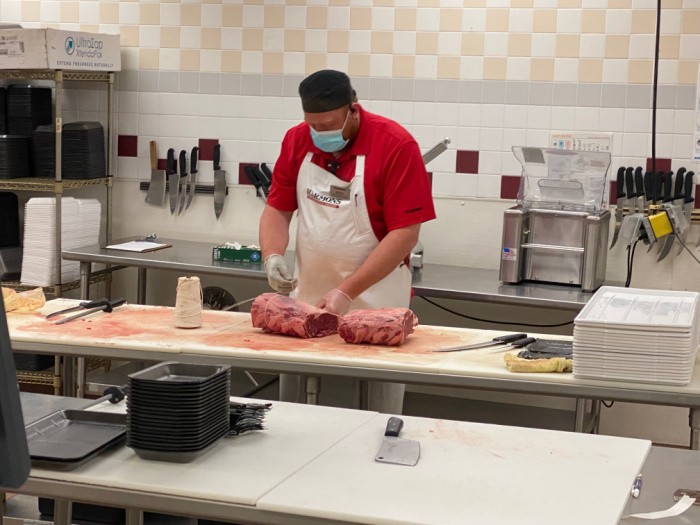 How To Cook Prime Rib in a Roaster Pan
The picture below is the roaster pan with a 7-8 pound prime rib with the Traeger Prime Rib Rub on it. You cook it without the lid, just so you know. We preheated the oven to 350 degrees and baked it for 6 hours.
How To Cook Prime Rib in an Electric Roaster
This prime rib roast was also between 7-8 pounds, we put the Traeger Prime Rib Rub on it and baked it with the lid. We set the temperature at 250 degrees and it took about 6 hours too. We like ours rare to medium-rare. My grandson, Max said he could cut it with a spoon! It was perfect!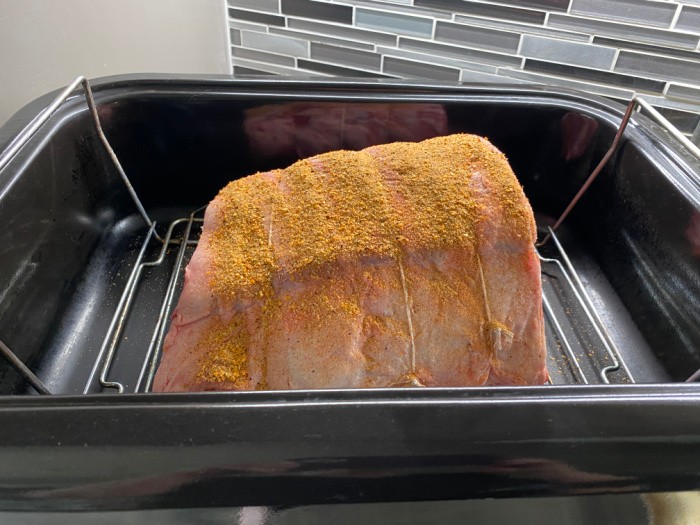 Step Eight-The Electric Oven Roaster Pan
We like our prime rib on the rare to medium-rare side, you could cut it with a butter knife. It was tender and juicy. This is the electric roaster oven pan.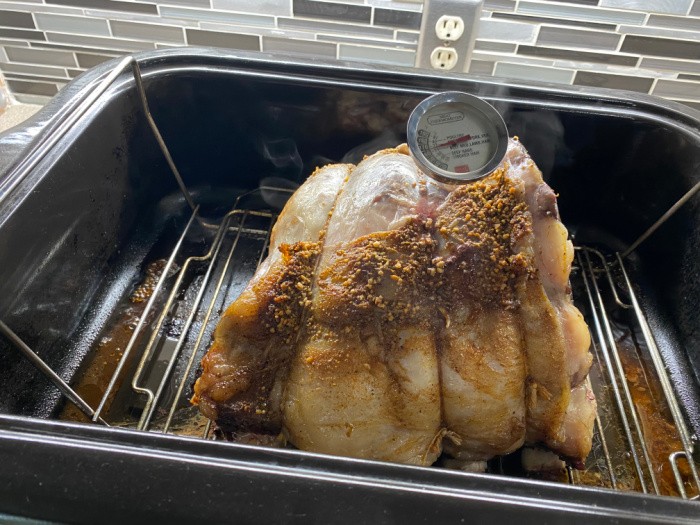 Step Nine-Oven Roaster Pan
This is the one we cooked in the oven roaster pan without the lid. I did not use any aluminum foil on the pan. It was perfection through and through.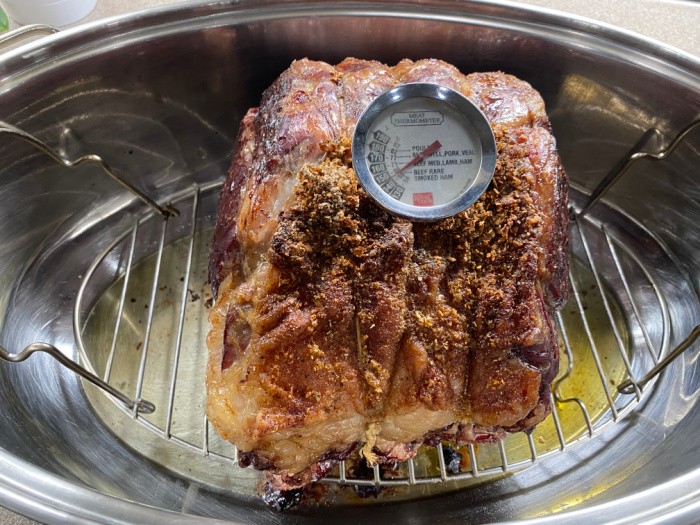 Step Ten- Fully Cooked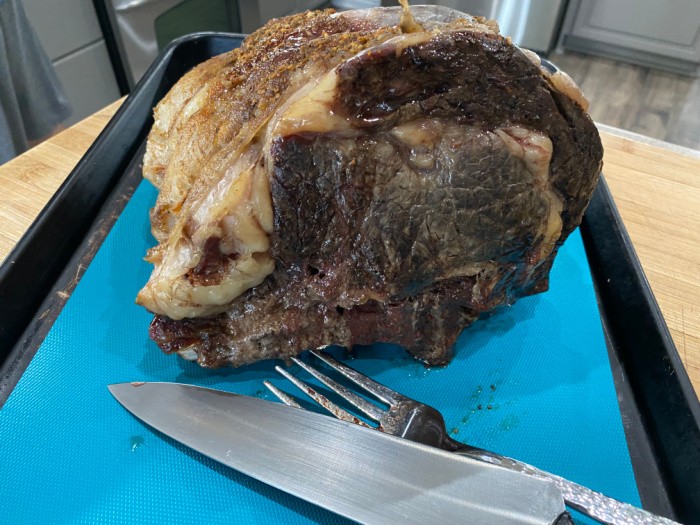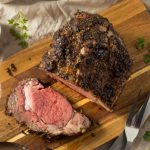 Prime Rib
Ingredients
Prime Rib Roast (weight of choice)

Traeger Prime Rib Rub
Instructions
1. Place the pan of meat in a preheated oven temperature of (250°F) = (121°C) degrees.

2. Season the roast and cook the fat side up uncovered in the oven. If you use an electric roaster you will bake it with the cover. If you bake a prime rib in a roaster pan, you will not cover the meat with the lid.

3. A meat thermometer is recommended to ensure the desired doneness.

4. Remove the roast from the oven when the temperature hits 138 to be rare, 148 to be medium, and 158 degrees to be well done.

5. Larger roasts may cook faster than the times listed, so watch over your thermometer.

6. Your roast will continue to cook for approximately 5 additional degrees once removed from the oven or roaster.

7. Let the roast sit for at least 15 minutes before you start to carve it. Oven temperatures vary so much, please keep your eye on the temperature of the meat.

The following temperatures will vary, so these times are approximate.

1. 4-6 pounds: 2-1/2 to 4 hours

2. 6-8 pounds: 4 to 5-1/2 hours

3. 8-10 pounds: 5-1/2 to 6 hours

4. 10-12 pounds: 6-1/2 to 7 hours

5. 12-16 pounds: 7-9 hours
How To Make Gravy From The Drippings
Here are some easy steps to make a delicious gravy from the meat drippings:
Take the roast from the pan and cut away any excess fat. You should leave about 1/4 cup of the fat and drippings in the pan.
Put the pan back on the stovetop and set the heat to medium-high. You may need to scrape some drippings stuck to the inside of the pan.
When you see the fat and drippings come to a low boil, sprinkle about 1/4 cup of flour over the drippings and fat in the pan.
It's best to use a wire whisk to stir the flour into the fat and drippings. Make sure the flour turns brown, it improves the flavor.
Add 3 to 4 cups of water, milk, beef stock, or beer to the gravy slowly. Be sure to continue using the whisk to stir and break up any possible lumps.
As you simmer the gravy it will thicken, providing about 2 cups of gravy. Finish off by adding salt, pepper, and possibly some herbs to the desired taste.
How thick should I slice the Prime Rib?
The answer to this question really is a personal preference. I like my cuts cooked longer than Mark does since he eats his "medium rare."
A thin-sliced end cut is my cut of choice. I have noticed that Mark's cuts tend to be juicier. I'd suggest cutting the meat into 1/2 to 3/4-inch thick slices.
Is Prime Rib cooked fat side up?
Most professional cooks will tell you to cook the prime rib roast with the fat side up, and thus, the bone side on the bottom. It's a good idea to let the meat sit outside the fridge long enough to get to room temperature before you put it in the oven or electric roaster. Depending on the thickness of the roast, this could take up to two hours or longer to get it to room temperature.
Plan on preheating the oven to 250 degrees and cook for the time(s) suggested in the recipe below based on the weight of your prime rib roast. Also, I'd suggest using a meat thermometer to check on the meat's internal temperature so it's cooked to the desired level.
What is the difference between Prime Rib and a Ribeye Roast?
It is a matter of semantics. The rib-eye steak is actually part of the prime rib roast. You may find that the roast tends to have more fat and muscle, with the rib-eye steak cut having less of both fat and muscle.
Both taste great and can be enjoyed in almost any situation, depending on the number of people to be served and how they want it cooked.
A better question might be, do you buy a prime cut, choice cut, or select cut? The answer is based on taste and cost. Prime cuts have more fat or "marbling" in the roast, giving it more flavor and possibly a more tender result after cooking. Prime is said to have an "abundant" amount of marbling.
Choice cuts are still good quality, but they have less or a moderate amount of marbling. Select cuts have just a slight amount of marbling, so the tenderness and flavor may be lacking.
The cost could be based on the time of year, location (mid-west costs MAY be cheaper), and the quality of the cut. Be sure to compare shops/stores and look for positive reviews, if possible.
How long should I wait before slicing the Prime Rib after cooking it?
I've found it's a good idea to let the prime rib roast sit for at least 15 minutes after removal from the oven. The meat will tend to be more moist and juicy as you let the natural juices be absorbed by the meat.
Those wanting the meat to be more well done should ask for cuts towards the end of the roast, with the ones wanting a rare approach to wait for the center cuts.
How much Prime Rib do I need to buy?
You need to buy the size based on the number of people to be served, taking into account that men tend to eat more than women and children at your event.
You could use the rule of thumb of one pound per person uncooked, but you will probably end up with some leftovers, which isn't all bad if you like making prime rib sandwiches later. When you think about it, a pound of meat is a lot to consume in one sitting.
Another rule of thumb is to plan on 2-3 people per rib. See how much meat is on each rib and plan accordingly.
Which is better bone-in Prime Rib or boneless Prime Rib?
With some experience cooking prime rib you'll form your own ideas about which meat choice is best. From my personal experience, I like the bone-in roast since it seems to come out more juicy, as long as I don't cook it too long.
Do you cut Prime Rib with the grain or against it?
The way the meat is cut can influence how tender it ends up. If you examine the meat and look for the way the muscle fibers are running through the meat, you'll want to cut across the grain to get the most tender-tasting cuts.
What is the best cut of a Prime Rib?
When you try to determine the "best" cut, again, that is a personal preference. End cuts tend to be cooked through more, and thus are more well done. The juicy and rare cuts are found in the middle of the roast.
Why is Prime Rib served rare?
One thing you'll notice about prime rib is that it appears pinker in color than most roasts tend to be. Some people don't like the idea of eating something that may look "uncooked."
Mark loves his prime rib cooked to medium rare, which means the meat is cooked to about 140 degrees. The rare cuts will come out more juicy if that's the way you like it. Cook it longer or at a higher temp and it may be more tough, chewy, and dry to the taste. You'll learn through experience, so try different size roasts and a variety of cooking times.
Can Prime Rib be cooked well done?
As mentioned a couple of times above, the more well-done cuts will be found at the end of the roast where the meat is thinner. If you and your guests want a thicker cut but cooked to be considered well-done throughout, you may find that the end cuts are cooked past the desired level.
It is great that you can cook this roast to a degree that will please everyone, just keep track of cooking times and internal temps as outlined in the recipe.
Something you might want to consider is "browning" the roast before you start the regular cooking cycle. If you like your roasts to be a little more cooked on the outside of the full roast, set your oven to 500 degrees and brown the meat for approximately 15 minutes. Once this step is completed, turn the oven down to the desired temperature and cook for the allotted time.
What is the best way to season a Prime Rib?
Some people like to make their own seasoning. Olive oil is a common ingredient, along with garlic. Other cooks have suggested using rosemary, thyme, and sage to add some special flavors. Don't be afraid to try other seasoning mixtures to find what is liked best by your family. Every family has its own version of what makes the perfect prime rib!
Does Prime Rib taste good served with horseradish?
We love to serve it with horseradish mixed with sour cream on the side, to taste. You can make the bottle of horseradish a little milder by adding more sour cream, depending on the "heat" of the brand you choose to purchase.
Please invest in a good meat thermometer:
Rare prime rib- 138 degrees
Medium-rare prime rib- 130 degrees
Medium prime rib – 148 degrees
Well Done prime rib – 158 degrees
Interested in some recipes that pair perfectly with Prime Rib? Check these out!
Cheesy Potatoes
These potatoes are famous in Utah, they are called either "cheesy potatoes" or "funeral potatoes." They are super yummy!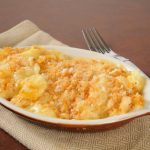 Cheesy Potatoes
Ingredients
12

Potatoes (shredded or sliced)

1

Pint

Sour Cream

2

Cans Cream of Chicken Soup

1/4

Cup

Butter

2-3

Cups

Cheese-grated

1

Cup

Frosted Flakes type cereal
Instructions
Combine all of the ingredients in a large bowl, and sprinkle with salt and pepper. Grease a 9 by 13-inch pan and scoop the mixture into the pan. I crush the frosted flakes and sprinkle them over the casserole. Bake at (350°F) = (176°C) degrees covered with foil for 1 hour, or until bubbly.
Cheesy Cauliflower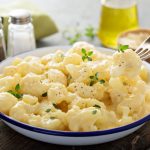 Cheesy Cauliflower Casserole
Ingredients
1-2

cauliflower heads (2 small or 1 large)

1/4

cup

butter

4

tablespoons

flour

2

cups

milk

1/2

teaspoon

salt

1/4

teaspoon

pepper

1/2

teaspoon

dry mustard

3

cups

shredded cheese, mozzarella, cheddar, or sharp
Instructions
How To Cook The Cauliflower
How to Boil the Cauliflower:

1. Bring a large pot of water to boil, place cauliflower in the boiling water, completely covered, and boil the whole head for about 15 minutes, flowerets 3-6 minutes or until cooked to your taste. Do not overcook. Drain and chop into finely cut pieces.

How to steam cauliflower:

1. Grab a large soup pot and fill the bottom with 2-inches of water. Place the steamer in the pot and then the cauliflower. Cover with a lid. Steam the cauliflower for 5-7 minutes. Drain and chop into finely cut pieces.
Casserole Cheesy Cauliflower Sauce
1. Preheat the oven to (350°F) = (176°C) degrees.

2. Grease a 9 by 13-inch baking pan and set aside.

3. Melt the butter in a large saucepan, add the flour and whisk immediately. This is called a roux.

4. Add the milk to the roux stirring constantly and cook until the mixture is thick and smooth.

5. Add the salt, pepper, the dry mustard and continue stirring.

6. Add 2-1/2 cups of the shredded/grated cheese reserving 1/2 cup to top the casserole before baking.

7. Keep stirring until the cheese has melted and the mixture is smooth. Combine the cooked cauliflower and the cheese mixture and stir until mixed.

3. Pour into the greased 9 by 13 baking pan. Sprinkle the remaining 1/2 cup of cheese on top. Bake uncovered for 30 minutes or until cooked through.
Twice Baked Potatoes
We usually decide ahead of time which potato we feel like eating with the prime rib dinner, so I'm sharing almost all of them today.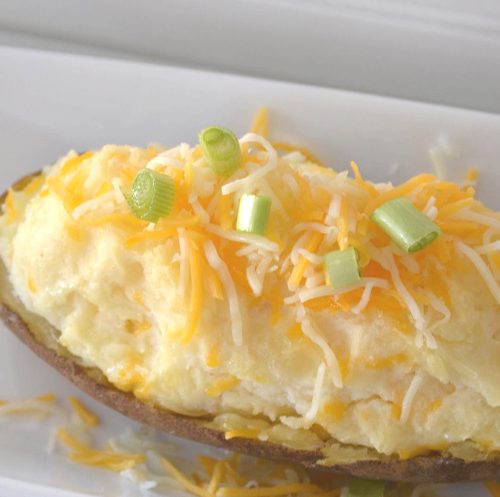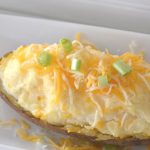 Twice Baked Potatoes
Ingredients
8

Baked Russet potatoes

Oil

Kosher Salt

2

cups

grated cheese

2

cups

sour cream
Instructions
You can bake the russet potatoes covered with foil (non-shiny outside), plain or oiled, and sprinkled with Kosher Salt. I poke the potatoes with a fork. I don't know if it's an old wives' tale but I always do this when baking them. After baking, cut them in half lengthwise. Scoop out the insides as close to the edge of the peel as possible. I mash the insides with my potato masher with butter, sour cream, green onion, and salt in a medium-sized bowl. Heap the filling back into the skins and bake until heated through. Bake at (350°F) = (176°C) degrees for about 30 minutes. Sprinkle with grated cheese on top when you serve them.
Mashed Potatoes
Mark would have these every night of the week! They really are creamy and fluffy with all that butter, milk, sour cream, or whipped cream!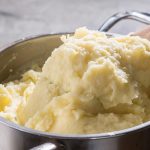 Mashed Potatoes
Ingredients
8

Russet Potatoes

Sour Cream, Whipped Cream, or Milk

Butter

Salt and Pepper
Instructions
Peel the potatoes and cut them into medium size chunks. Then boil them in water until a fork test shows that they are cooked enough. I drain the water and add whatever I have in the refrigerator to make them creamy and fluffy. I use either milk, sour cream, whip cream, butter, and salt, then mash them with my stainless steel masher. You can cook them in your pressure cooker as well. Easy Peasy!
Dinner Rolls
I always make my homemade no-fail dinner rolls. You can make these rolls, if you have fresh ingredients, I promise.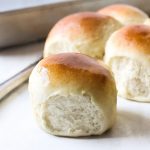 No-Fail Dinner Rolls by Food Storage Moms
Ingredients
4

Teaspoons

SAF Instant Yeast

1/2

Cup

Water

2

Cups

Warm Milk

1/4

Cup

Olive Oil

1/2

Cup

Sugar

1-1/2

Teaspoons

Sea Salt

4

Teaspoons

Dough Enhancer NutriMill (optional)

2

Eggs

6-7

Cups

White bread flour (Add 1/2 of the flour and then add more until the dough pulls away from the sides of the mixing bowl)
Instructions
Place all of the ingredients in order into your mixing bowl. Be careful with the eggs not to add the warm milk too slowly or you will have scrambled eggs. Add half of the flour and keep adding the rest of the flour until the bread dough pulls away from the sides of the mixing bowl. Cover with greased plastic wrap and let rise the first time, about an hour. Punch the dough down and mold it into small balls about 1-1/2 inches to 2 inches in diameter. Cover with greased plastic and let rise one more time, about an hour, or until double the size. Remove the plastic wrap and bake at (350°F) = (176°C) degrees for about 15-20 minutes on a greased cookie sheet. Do not overbake. They should be golden brown. I spread a little butter on the tops after baking so the rolls are soft on top. If you like a crispier top you can skip this step.
Horseradish Recipe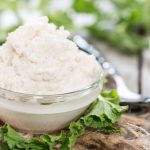 Creamy Horseradish Sauce
Ingredients
1

cup

sour cream

4

tablespoons

bottled horseradish

salt and pepper to taste
Instructions
Combine all of the ingredients and stir until smooth and creamy. Add more sour cream if it's too "hot" or more horseradish if it's too mild. It's easy to adjust it. Enjoy.
Final Word
I hope you enjoyed reading about how to cook a prime rib dinner for the holidays. We also have green beans, asparagus, or some other vegetable in season. Please let me know what your family does for the holidays. I would love to hear what your prime rib recipes are. Please keep prepping. May God bless this world. Linda
Copyright Images: Horseradish Sauce Depositphotos_75414815_S, Prime Rib Depositphotos_224939572_S