How To Stop Influenza In Your Home
Are you wondering how to stop influenza in your home? Our community here in Southern Utah seems to have been hit hard by the bug. Has your city been hit hard this year? Some people have ended up with bronchitis, lung infections, and pneumonia.
Well, let's talk about ways to help stop the germs from spreading throughout your home. Please keep in mind I am not a doctor, nurse, or a person in the medical field. I'm a mom and a grandma. I want to start with the symptoms of Influenza versus a Cold.
Let's compare the difference between the two as I have researched them. Please check with your medical doctor if you have any concerns. When in doubt, call your doctor or go to the emergency room if you are concerned with an illness in your family.
Here are the symptoms listed below. Please stock N-95 Face Shields I had a friend that needed to go to an InstaCare center and she mentioned they were handing these N-95 masks out in "stations" with hand sanitizer and tissues.
WOW! That's awesome! Obviously, they are trying to cut down the spread of the germs in that center. I love the idea!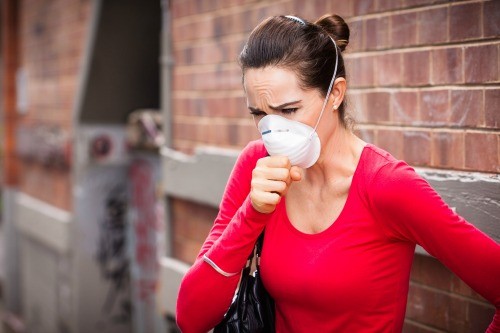 Influenza
Influenza is fast and abrupt when it hits you.
A sore throat
May have a fever
Chills
A headache
Extreme exhaustion or fatigue
May have body aches
Sneezing sometimes
Stuffy nose sometimes
Children may vomit or have diarrhea
Chest hurts, cough is common
Colds
Gradual onset, you start to feel like you are coming down with something.
Fever is rare
Scratchy throat
Aches very slight
Chills not common
Sneezing is common
Stuffy nose is common
A headache is rare
Chest hurts, cough is mild to moderate
I hope this gives you an idea of the possible differences between the two illnesses.  The complications would be sinus infections, earaches, bronchitis, pneumonia, and lung infections, to name a few.
Stop Influenza Tips:
Wash your hands often.
Cover your mouth when coughing, preferably on your shoulder if a tissue is not available, and throw in the trash can.
Use Clorox wipes on cell phones, home phones, light switches, TV remotes and all electronics where applicable.
Avoid touching your eyes, nose, and mouth, this will spread the germs big time.
Keep your house clean.
Scrub countertops with applicable cleaners every day during flu season (I use Clorox wipes).
Wash your hands, yes I already mentioned this one, it's critical.
Keep your bathrooms clean, don't forget to use a cleaner on the flush handle Clean Bathrooms by Linda
Empty waste paper/trash cans daily.
I use doTerra Breathe to keep my sinuses in check.
Stay hydrated with water, Gatorade (electrolyte drinks) try to get the clear colors.
Stock your favorite over the counter drugs so you don't have to go to the stores when you REALLY need them.
Keep chicken stock on hand to make soups.
Think about these lozenges, they are my all-time favorite ones: My Doctor Suggests Lozenges
Hold off on cow milk products, they may increase mucous (keep breastfeeding your baby).
Eat a lot of fresh fruits and vegetables.
Keep your immune system strong, we are we eat, that statement is so true.
Put humidity in the air with a humidifier whether warm or cool.
Keep kids hydrated, the toddlers don't always know they need water (watch for chapped or shiny lips).
I use My Doctor Suggests Silver Solution whenever I have been around sick people or gone to public places. No, you will not turn blue with this product. I've used commercially made silver solutions for many years and my skin color is normal. You have to decide what works for you, my entire family uses it, even my grandkids. I buy 12 bottles at a time when it goes on sale. Silver Solutions by Dr. Gordon Pedersen
Change your bed sheets at least weekly, or more often to stop the germs from spreading.
Change pillowcases often because germs are hiding in them.
Replace toothbrushes often or soak them in an antibacterial mouthwash or hydrogen peroxide overnight.
Using mattress pads and pillow covers will also cut down on bacteria and virus germs from spreading.
Rosa mentioned using oregano essential oil use with a carrier such as coconut oil and apply topically, diffuse, take 1-2 diluted drops or gargle diluted fore sore throats.
Linda S. mentioned keeping a supply of popsicles in the freezer helps keep kids & toddlers hydrated. You can't make them drink but I've yet to see a child turn down a treat!
Viv reminded me of the dirty grocery carts and door knobs. Wipe down the door knobs with Clorox wipes.
Carol mentioned using elderberry syrup or tablets Sambucol and spraying counters and every handle in the house with hydrogen peroxide.
Kim mentioned And don't forget to keep in mind the gas pumps handles! I always grab a paper towel from the window cleaning station and use it to push the buttons on the pump and fuel button too, then use it to hold the gas pump handle before and after filling up, and hand sanitizer as soon as I get back into the car. Thanks for helping all of us remember vigilance is the key.
Kandyce gives her family Vitamin D to help cut the time they are sick.
My Sister's Garlic Soup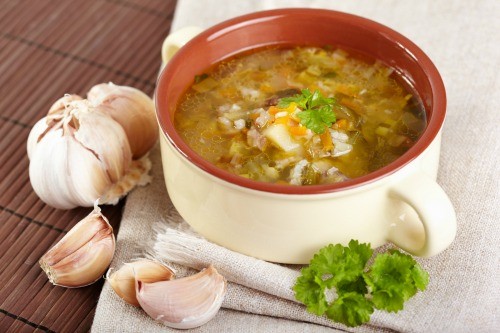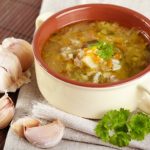 My Sister's Garlic Soup
Ingredients
1-

quart

chicken stock

1-10.5

ounce

can mild Rotel diced tomatoes and green chilies

5-6

chopped garlic cloves (you can store fresh garlic cloves in the freezer peeled and ready to use)

1-

chopped onion

2-

chopped carrots

1-2

cooked chicken breasts (optional or two cans of canned chicken)

Add leftover cooked rice or pasta
Instructions
Bring to boil and simmer until the vegetables are ready to eat.
Several years ago, Mark and I lived in a neighborhood where one particular family seemed to "catch" every bug going around. Well, bossy boots here finally said after cleaning her house with other women almost monthly that she needs to clean her house to cut down on germs. Her kids were old enough to learn to keep the house clean.
They could easily stop influenza if they would just clean their house. They had strep throat all the time. I get it, my girls were sick every once in a while, but I was a clean freak, I own it.
Final Word
The biggest way to stop influenza is to prevent the germs from spreading. Do whatever you can to stop influenza in your home by cleaning, washing hands, and staying out of the public.
If you really want to stop influenza stay home if you are sick and keep your sick kids home from daycare centers, preschools, and public schools.
Please let me know how you try to stop influenza in your family. What natural remedies do you prefer? I would love to hear.
May God bless your family to stay well and safe. Keep stocking up on water and cans of food. Thanks again for being prepared for the unexpected.
My Favorite Things:
Copyright pictures:
Influenza: AdobeStock_125574879 by Tashatuvango
Coughing: AdobeStock_68907091 by Johan Larson
Garlic Soup: AdobeStock_40354814 by Galina Mikhadishina