Today it's all about making a get home bag for your family. You can decide what you may want to put in your bag. Here's the deal, most everyone has a bug out bag or 72-hour kit, right?
Hopefully, you said yes. Well, we may be miles from our home when a disaster hits in our neighborhood. Now what?
We may be at work, grocery shopping, or going to a movie and the roads are blocked or shut down for some reason. Are you prepared to walk home in your work shoes?
My flip flops would not cut it, I can tell you that right now. In case you missed this post, Mommy's Get Home Bag or What You Need in a Stay At Home Bag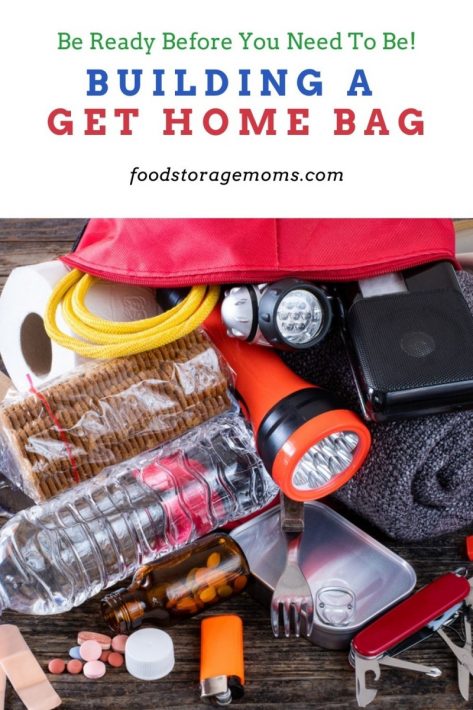 Get Home Bag
If you have a get home bag or survival kit on your person or in your car you can hopefully walk home, or at least have the essentials you need if you have to stay in place if you are directed to. You may be thinking, "is it okay to leave this bag in my car?"
Let's talk about this. This bag will be smaller than your 72-hour bug out bag, but you still may not want to drag it into the office every day if you park the car and walk in to work. Here is my 72-hour Kit article complete with printables.
I would make sure you have another bag filled with things in your office in a drawer or cupboard in case you must stay within your office for an extended period of time, should a disaster hit during work hours.
Office Emergency Bag
Hopefully, this will never happen, but just in case, I would stock a few items in your office like the following. Please rotate food and water as needed.
Flashlight: either with or without batteries. Please store batteries if you have a flashlight that needs them. I prefer solar ones like this one Goal Zero
All-purpose knife
Snacks: like protein bars, trail mix, or jerky
Water: I highly recommend a case of Blue Cans (cheapest place to buy them is on this website: Brownells Website
First Aid Kit: (this would have fewer items than your car first aid kit) You may want Bandaid strips, Neosporin, Blood Clot stopper, Benadryl, fever reducers, etc.
Heavy gloves: to use for tasks of all kinds.
Knife: you can always use a knife in case of an emergency.
Headlamp with extra batteries: you can always use some headlamps in case the power goes out unexpectedly and there are zero windows in your office or it's dark inside and outside.
Paracord: it's nice to have a few different lengths of paracord because it can be used for numerous purposes in emergencies.
Cash (small bills): you will need these in case the ATM's do not work because of a power outage.
Contact Information: Contact List
Rain Poncho: no one wants to be cold and wet. Also, possible change of clothes if they get wet, soiled or otherwise uncomfortable.
Get Home Bag Items
Some of these will be duplicates from the office bag, just giving you the heads up. The 72-hour kits are for about 3 days or so, as we've all been told to prepare for. These get home bags are just that, it has enough stuff to get you home.
Contact List: this is one I designed for my readers: Contact List
Toilet Paper: you know when nature calls so you may as well be ready. You can use TP for your nose or private parts.
First Aid Kit: please stock small packets of Neosporin, Bandaids, fever reducer, Benadryl, and whatever you can fit in your bag.
Hand Sanitizer: it helps to cut down on germs, no matter what the source. We never know who or what we may have to touch, carry or otherwise deal with emergency situations.
Cash: small bills just in case the power is out for an extended period and the ATMs, bank drive windows or other sources for cash do not work.
Flashlight: either with or without batteries. I prefer a solar one like above. Goal Zero
Water container with a purifier: my favorite one is the Sports Berkey Bottle
Food/snacks: like protein bars, trail mix, crackers, energy bars, and other items we all like in a pinch.
Binoculars: you may need to see in the distance what is or has caused the problems you're dealing with and thus determine how long you'll be in the current situation.
Paracord: cut some strips and tie them to your bag to use when needed.
Headlamps and batteries: flashlights are great, but if you have to carry items then a headlamp really comes in handy.
Sunscreen and lip screen: who knows if you'll be outside when things turn ugly. We may not have the safety and cover provided by an office.
Bug Spray: again, you may be outside when trouble comes.
Wool socks/boots or comfortable shoes: you may have to hike or walk farther than you expect.
N95 or N100 masks: we never know if we will be in the middle of a pandemic or an unforeseen disaster where germs become an issue. These would help with widespread diseases or smoke inhalation.
Hatchet: you never know when you may need one of these.
Bandannas and rain ponchos
Duct Tape: you can use duct tape for so many things, the list is endless.
Matches: if outside and cold then you may want or need to start a fire for warmth or to attract attention from others coming to help.
Hat: a waterproof one will serve two purposes, sunshine, and rain.
Garbage bags: for ground cover or use as a poncho/baggies.
Compass or GPS: this is great to help you get your bearings as to where you are at any given time.
Zip Ties: here are some ways you can use Zip Ties
Whistle: may need it to get other's attention, particularly if the building has collapsed around you. Here is a great Whistle
Thank you, Matt: put a few days worth of medications in your bag, you don't know when you will get home.
MAPS
Thank you, Matt
Final Word
I hope you put together a get home bag for you and your family members. Life is good if we are prepared before we need to be ready. Thanks for being prepared for the unexpected. May God bless this world, Linda
Copyright Images: Depositphotos_107903872_m-2015, Emergency Bag Depositphotos_377504588_s-2019