25 Reasons To Store Bandanas For Survival
I have 25 reasons to store bandanas for survival today. Here's the deal, they are inexpensive and easy to store. I almost feel like the ideas below are similar to my duct tape list but it's how I roll with preparedness stuff.
I can take just about any item and my mind automatically thinks "how many of these should I store and how many ways can I use them to survive an unforeseen emergency. We have to have an arsenal of supplies because if the grid goes down can you just imagine how empty the store shelves will be?
I bet you are visualizing them right now. If not, that's okay, but the next time you go to the store think of the things you need and the shelves that are normally stacked to the ceiling become bare. No water, no food, no first aid supplies, the list goes on and on.
I went to our local hardware store a few years ago and stocked up on a dozen plus bandanas. The package says bandannas with two n's, but I call them bandanas. If you have some ideas to add to my list, please send them to me, I would love it. You can use bandanas for so many things, so let's get started.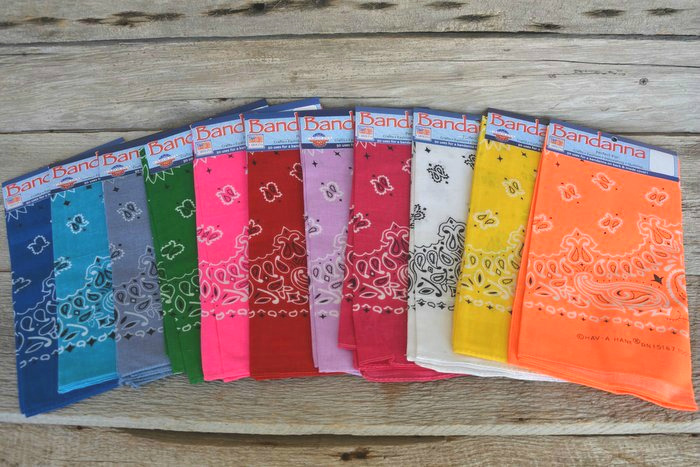 Store Bandanas:
Use as a hat or scarf
Make a protective mask with one of them
Cold compress (wet one or add ice if available)
Make a splint with a paint stick (I learned this in my C.E.R.T. class)
They make great eye patches (not just for Halloween)
Make some handcuffs (yes we may need them if we do not have zip ties to protect ourselves)
Patch clothes that have a hole (choose any color)
Toilet paper if nothing else is available
Great for straining water or food items
Cover your eyes to sleep
Put a few together to use as a last ditch effort for hot pads
Girls/women can make some menstrual items by layering them
Wash your dishes with one
Dry your dishes with one
You could gag someone with one if they become hysterical after a disaster (that sounds mean but it may come to this)
Blindfold (we used these for "Pin the tail on the donkey" at parties when I was young
My son-in-law uses one to work out with, they make a great sweatband
Check out the one on the far right side, totally fluorescent orange (it screams emergency)
Use them for a napkin or a plate to hold snacks
If you do not have anything to start a fire, cut or tear them into strips to make a fire starter (store matches)
Choose one color for your family and wear them on your wrist or neck, depending on the ages involved after a disaster or on a vacation as well
Tear some into strips to add to your 72-hour bug out bags to tie on branches if you go exploring in the mountains to keep track of where you are
They make great grease collectors
Awesome dust masks although I prefer N-95's
Compression wrap when needed for profuse bleeding
Final Word
Please store bandanas, and spread the word to have others store a few for any unforeseen emergency that may come your way. May God bless you for your efforts.