Food Shortage: Why Shelves are Empty & What to Do
The year 2020 has been a year to remember for sure. From a global pandemic to looting, riots, and killer bees. But, the next thing we have to worry about is food shortage. The national lockdowns and social distancing measures have dried up work and incomes and disrupted agricultural production as well as supply routes. This means millions of people are worrying about how they will get enough to eat when the shelves dry up too.
Of course, this is not a post to spread panic or worry because we are prepared! This is an informational post to help you understand why the shelves are empty and how to prepare more so you are in a place where you don't have to worry. 
Food Shortage: Why are Grocery Store Shelves Empty?
When it comes to being prepared, it is important to know why something is happening so you can look for trends in the future, as well as know when things may make a turn for the better. There are several reasons why we are seeing empty shelves in the grocery store. 
Shifts in Eating Habits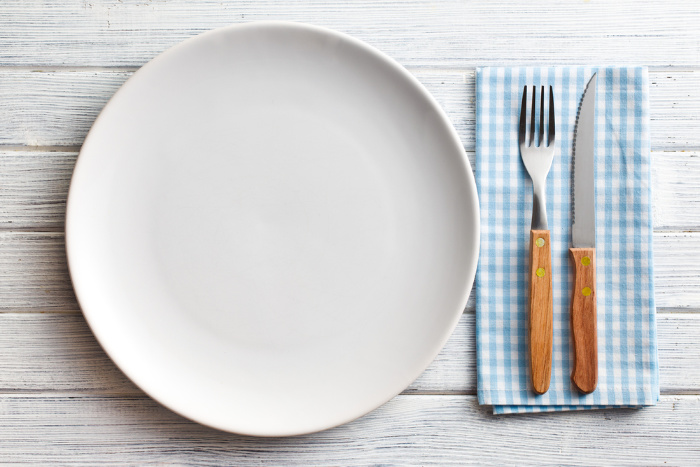 Before the pandemic, people were able to go to restaurants as often as they pleased. When the lockdowns and social distancing took hold, more people bought food from the grocery stores instead of going out to eat. A LOT of our food supply had been going to restaurants prior to the lockdown, which means:
A 50-pound bag of flour or a 48-ounce container of sour creams doesn't have anywhere to go.
Buns that were sold to restaurants needed "new" packaging on the fly.
Companies that sold to restaurants can't switch to retail quick enough.
Panic Shopping
Not only are people eating at home more, but you see a lot of reports of price gouging, import restrictions, and more stay at home orders. This drives people to panic shop and stock up even more than they have before. Obviously, this leads to empty shelves which makes the cycle spin even faster.
Meat Processing Plants were Closed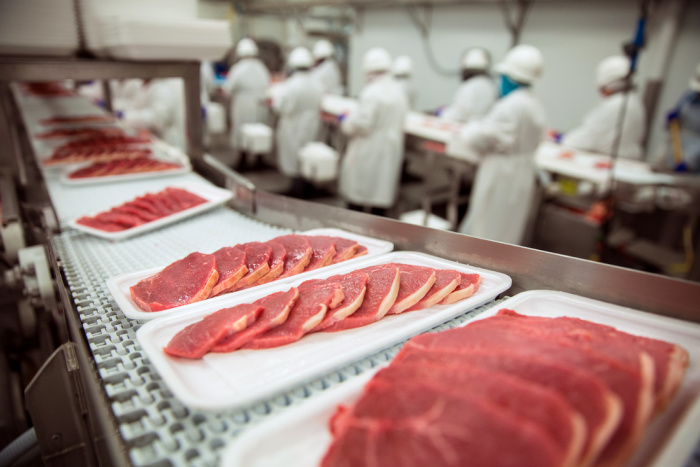 When dealing with raw meat, you have to be very very careful. Due to people testing positive for COVID19, many meat processing and packing plants closed for a period of time. There are plenty of hogs, chickens, and cows, but they all have to go through processing and packing plants. If workers get sick, or the plant closes, there is a limited supply of meat being sent into the stores.
Importing Has Slowed
Global trade has fallen in the last few months pretty significantly. The United States imports about half of our fruit, such as grapes and bananas, from Mexico.
We also import about 20% of our vegetables from Mexico during this time of the year. And, as many people know, we import a ton from China.
Imports have drastically slowed from China and small business owners can't get many of the products that they sell. Therefore, we will see more empty shelves. 
Basically, there are a whole lot of reasons you are seeing empty shelves, but just because the shelves are empty doesn't mean you can't still prep.
How to Prepare During a Food Shortage
Obviously, if you are a prepper, you will already have at least a few months of food stocked up. But, if you aren't out there restocking, your food supply will soon run out, and you will have your own food shortage. Here are some things you can do:
Buy What's Available During a Food Shortage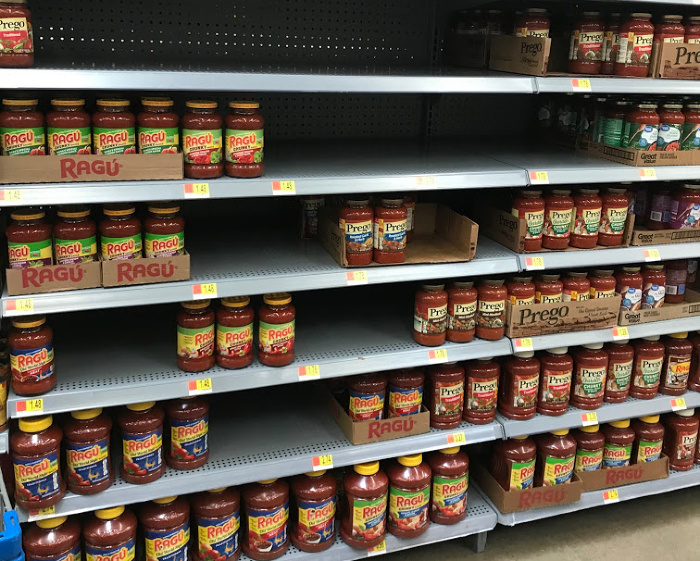 As shelves empty, you may not be able to get what you want, but there are still things on the shelves that you can buy. Grab what you can based on what you will eat. Obviously, if it comes down to it, you and your family will eat pretty much whatever you have, even if you don't like it. If you can't get white flour, be patient and it may show up again sooner than we expect.
Make Frequent Shopping Trips
There may not be what you need on the shelves on Saturday, but you may be able to find it on Tuesday. If you are like me, you may only go to the store with a huge list once a month. When shelves are empty, it's best to go more often.
You can also find out when each store has its various shipments. You will have more luck finding the supplies you need on the day the shipment is put on the shelves.
Always Buy the Limit
In many stores, there is a limit on what you can buy for certain items. If there is a limit of 5 cases of water, but you only need two, consider buying all 5 cases of water. You don't know when the shortage will improve, so to be on the safe side, buy the limit of anything you are buying, if its something that will be used or eaten.
Can or Freeze Fresh Fruits and Vegetables
When I go to the store, the produce section seems to have pretty much everything. Use this to your advantage. You can stock up on fruits and vegetables. Obviously, fresh fruits and veggies don't last long, but if you can them or freeze them, you can keep them for a longer period of time. And don't forget, you can dehydrate most of it if you have a dehydrator. I highly recommend this canning book I received when I took the Utah State University's USDA Master Canner Preserver Classes. USDA Complete Canning Guide
Related: Home Canning-Important Do's and Don'ts
Keep in mind the capacity in your freezer and that electricity can go out if you are choosing to freeze your fresh produce. Canning them can be the best option with so many uncertainties.
Related: 15 Items Perfect for Freezer Storage
Go to Multiple Stores During a Food Shortage
When shopping for things you need to restock, go to multiple stores. In fact, go to off the wall stores that you normally wouldn't think of. For example, during the toilet paper shortage, I went to Lowes to get toilet paper and never had a problem.
You may not realize it, but a lot of home improvement stores, gas stations, and places you don't normally buy food may have just what you need.
Grow Your Own Food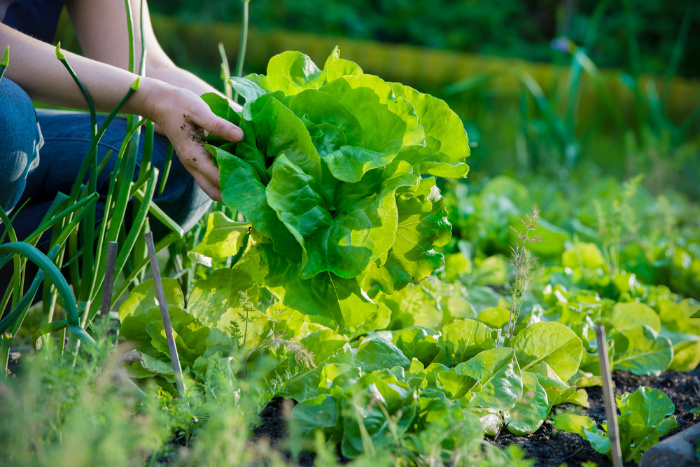 When it comes to food shortages, the best way to be prepared is to have your own supply. As preppers, we have to be self-reliant. This means that we know how to grow and harvest our own food for survival. If you haven't started a garden, now is the perfect time to do it.
Even if you live in an apartment, you can still have container gardens. If you aren't sure where to start, check out my post on What to Plant in June: Zones 1-10. In my post, you will find what you can plant in each zone, as well as a list of posts for what to plant each month of the year. 
Get Livestock if You Can
Not all of us can have livestock, but if you live in the country, you most certainly can. Here's the thing, even if you don't know what the heck you are doing, those animals can feed you in an emergency. So, if you can get a pig, a cow, some chickens, or any other animal you can eat, consider doing it. 
If you live in the city, you can't have all the livestock you can in the country, but there are still some you MAY be able to keep right on your city property. Here are 6 Farm Animals Perfect for City Living:
Chickens (not roosters)
Rabbits
Ducks
Quail
Pygmy Goats
Dexter Cattle
If you live in the city, be sure to check your local city guidelines on having farm animals in the city where you live and how you must keep them. 
Know Wild Edible Plants
One of the ways people stayed alive for generations was because they knew what they could and couldn't eat in the wild. Even if you don't have a green thumb, can't grow a garden in your apartment, or just don't know where to start, there are food sources all around you. Check out our posts on edible weeds you can find in your backyard:
Final Word
As a prepper, I hope you were prepared before the shortage. If you are new and not prepared, start stocking up on non-perishable items such as canned goods, rice, beans, canned meats, canned soups, canned tomatoes, spices, pasta, and other items your family will eat.
Then slowly stock up on long-term food. Dehydrated food is great, but freeze-dried food has a longer shelf-life. One can a month works great. Just do it, you have a 3-month supply in no time. Then move onto a 6-month, and then a 12-month supply
Check out my post How to Prepare for a Food Shortage for more helpful information. Stay calm, learn, and keep prepping! You can do this one can at a time. May God bless this world, Linda
Copyright Images: Shopper at Grocery Store Deposit photos_22948142_s-2019, White Plate With Blue Napkin Deposit photos_31145011_s-2019, Pork Processing Company Depositphotos_78184714_s-2019, Picking Vegetables Depositphotos_10828132_s-2019