Everyday Carry Bag-What You Need
EDC stands for an everyday carry bag, which is different than our 72-hour kits or bug-out bags. This is not designed to replace your 72-hour kit or bug-out bag, but consider one of these for riding on a bus to work, commuting by train, or one you would carry like a purse or small backpack. You see a lot of these on college campuses. These are great for commuters who ride the bus or train for transportation to work many miles away.
I strongly feel the need to update this post today, especially for those who have never heard of one of these handy bags. It's basically gear in a strong bag with compartments, and will typically have shoulder straps. Mine has several zippers, I mean several. I love it. It has the main spacious compartment, but then the exterior has places to stash the accessories you need.
I could even call mine a laptop backpack because I bought it for our trip to Europe and I needed to carry some critical items with me. I call mine my everyday carry backpack because when we travel it goes with me, just like so many people rely on their backpacks for school, meeting presentations, and sales sessions. It's water resistant and has a front zipper where I can place my passport or other ID. It even has a laptop pocket, but my laptop is only 13 inches, so it's not a large laptop requiring much space.
The main compartment needs to have sufficient space to carry the majority of the items. It may prove to be hard to place things in a manner to have an internal organization that helps, but you may want to put some things in storage bags before putting them in the EDC itself.
We have all heard about cars being stranded on the side of the road or at a complete standstill on the highway due to congestion. We wouldn't have our 72-hour kits with us 24/7 on most regular days, so this is why I like to talk about these. These bags aren't designed for long-term survival, but they would at least get you through some minor glitches in everyday situations.
Some men and women prefer bags that look similar to a toolkit/belt that a carpenter would wear. It hooks to your belt and thigh. It can be looped onto a belt buckle and your upper thigh to secure the bag while hiking, as well. This list will get you started and you can add to it as needed. When we leave home we usually grab our phone, wallet, and keys to the car, house, and work entrances. I have friends that carry their concealed weapons in these as well. You would never know that, but they do it for security.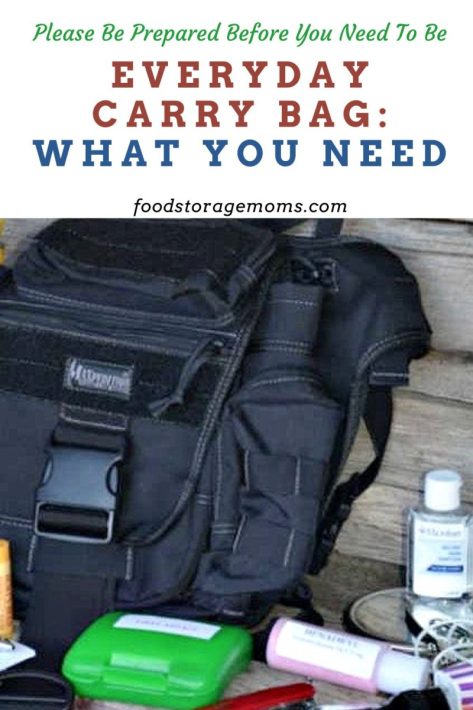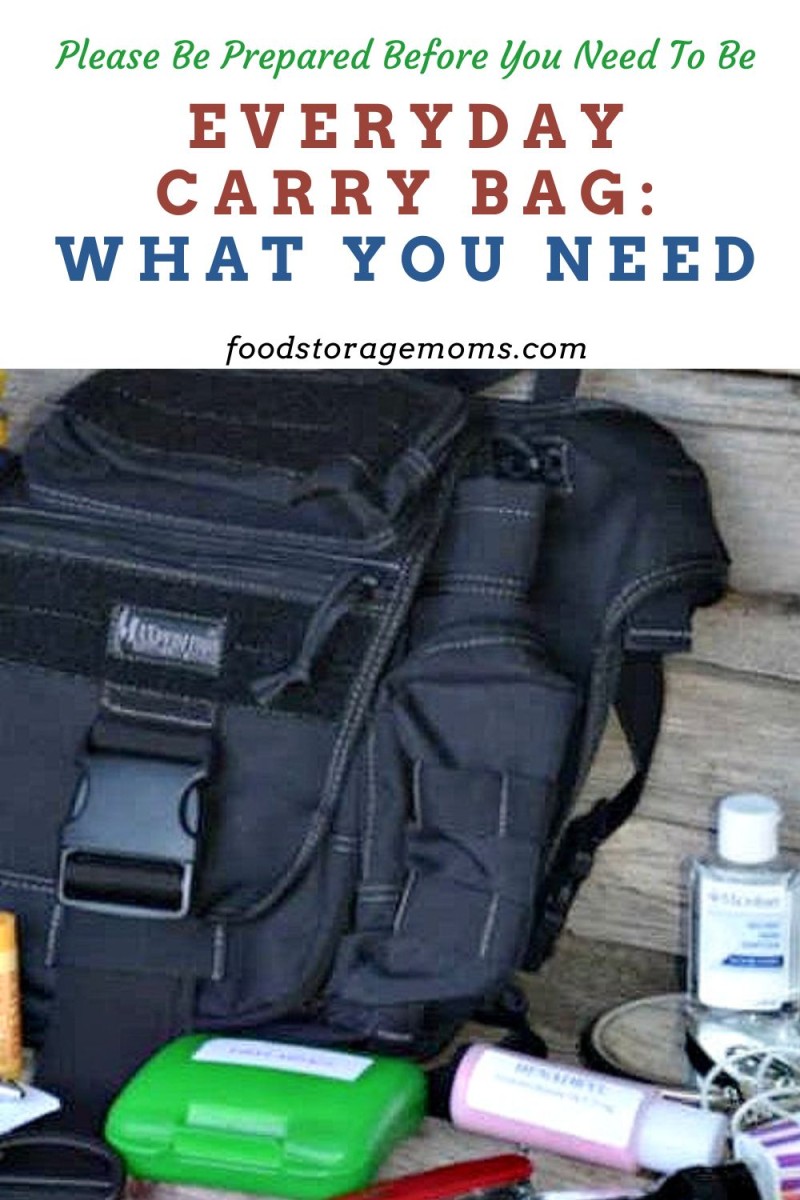 Items I carry in my Everyday Carry Bag:
Multi-tool knife or Pocket Knife, you can use these for so many things. Our "handyman" son-in-law has his multitool everywhere he goes.
Hand sanitizer – keep my hands clean from bacteria.
Mirror – if stranded I can flash this to let people find me, or freshen up my hair or makeup.
Compass – if stranded or lost I can at least know the direction I am heading when I try to get help if needed.
Whistle – I prefer the extremely loud ones to get people's attention if I need assistance.
Cash – small bills and coins for emergency cash if the power goes down and you can't use ATMs or point of sale units.
Water bottle (with a filter)
Lip gloss
Small first aid kit
Duct tape (small rolls now available)
Seatbelt cutter
Flashlight–extra batteries
Pen and small paper tablet
Folding knife – for protection or other uses when something sharp proves handy to have.
USB charger – for phones and tablets
Aspirin, Tylenol, and Benadryl
Pepper spray (make sure it's legal where you live)
Black Sharpie
Here is a printable to get you started: Printable. Now, remember, this list is just to get you started, you may have an emergency car bag in your vehicles with additional items. I wouldn't be carrying an ax around in my EDC bag, just giving you the heads up here. I do have one in my car though. Please let me know of any items you would add to this list. I love your ideas!
Other EDC Items To Consider: (if not in your Emergency Car Kit)
Names and phone numbers of who to contact in an emergency.
Battery or crank-powered portable radio with extra batteries.
Flashlight – preferably one that's solar power or crank using a LED light.
Compass and maps – not everyone has GPS in their car and on phones.
Can of motor oil.
Jumper cables.
Rags/paper towels.
Shovel/Axe
Tire gauge
Toolbox
Window scraper for ice.
Necessities for survival in your Everyday Carry Bag:
Water/Granola bars/Jerky
Blankets
Jackets/sweaters
Emergency cash: approximately $100.00 in small bills
First Aid Kit
Baby Wipes
Hand Sanitizer
Scissors/pens/pencils (not crayons-they melt)
Emergency snack food and/or MRE meals (items may need to be replaced more frequently if stored in extreme heat conditions).
Whistles
Umbrella
Hand warmers
Extra blankets
Diaper rash ointment-zinc in packets
Imodium or Pepto Bismol tablets
From Deborah: "One easy-to-carry item everyone should pack is cayenne pepper. Sprinkle it on a minor cut (yes, it burns like the dickens) and the bleeding stops – immediately. Another excellent item for scrapes or scratches: is lavender essential oil. Both of these are well worth carrying."
From Sharon: "Cornstarch will stop bleeding without the burn. Also good for diaper rash."
From Frank: "I didn't see a bandanna on your list. It seems silly, but they can be used for many things (Such as a tie down, a towel, a sling, a bandage, etc), and if you place one over a metal cup of boiling water it will absorb the steam and when you squeeze the water out is distilled. A neat trick when desperate for drinkable water."
Who Makes The Best EDC Backpack?
Here is one of the EDC bags I recommend: Maxpedition Jumbo Versipack, Khaki I want my bag to feature good durability. As with other items I buy, I want high quality, so I stress to my readers to buy right the first time. I also want easy access, so I can see what I need without stressing to find things. You may prefer particular fabrics for comfort, style, or strength. I've found nylon is a fabric that tends to have longevity built in.
Here is another one that might work for you, this is the one I have: Maxpedition Fatboy Versipack Black
The bag can hold my iPad, my laptop, and a wallet, as well as the items in the EDC printable list. It never hurts to be ready for the unexpected. Just think over the last few years, or months for that matter, how many accidents on trains, cars, buses, or other forms of travel where the passengers were stranded for some time before help arrived.
The question here has to be what is the best bag for you? I wanted one I could travel with and keep in my car.
Final Word
These everyday carry bags give you that extra level of comfort when you're away from home knowing that you can take care of yourself for a few hours if need be. I haven't listed travel on planes since you'd have to check the bag due to TSA restrictions on some of the contents, unless it were a private plane, then you'd be fine. Let me know your thoughts about what I feel needs to be added or deleted based on your own experiences. May God Bless this world, Linda