Today, it's all about Powdered Eggs: Everything You Need To Know. Here's the deal, some people have chickens and I admire you so much! If you have read blogs about raising chickens in HOA's and how to get around it, they are not accurate in most cases. Some HOA's may let you, but I live where there is no way I could have chickens in our HOA.
Trust me, we have tried and it's against the law in my county if your lot is small. I live on .19 acres, I would get major fines. I would love to move but it's not in the cards this year. So before you go out and buy chickens, please check the laws in your county or city.
Yes, I could dehydrate my own eggs, but I don't want to do that. Here again, I admire those who do. Mark and I took classes to get our Master Canning and Preserver Certificate. It was critical for us to learn any new canning safety tips, and we did.
We have been dehydrating, canning, and pressure canning together for over 50 years. I would rather buy eggs already processed and have a longer shelf-life. So, let's get started. In case you missed this post, How to Freeze Eggs: Everything You Need to Know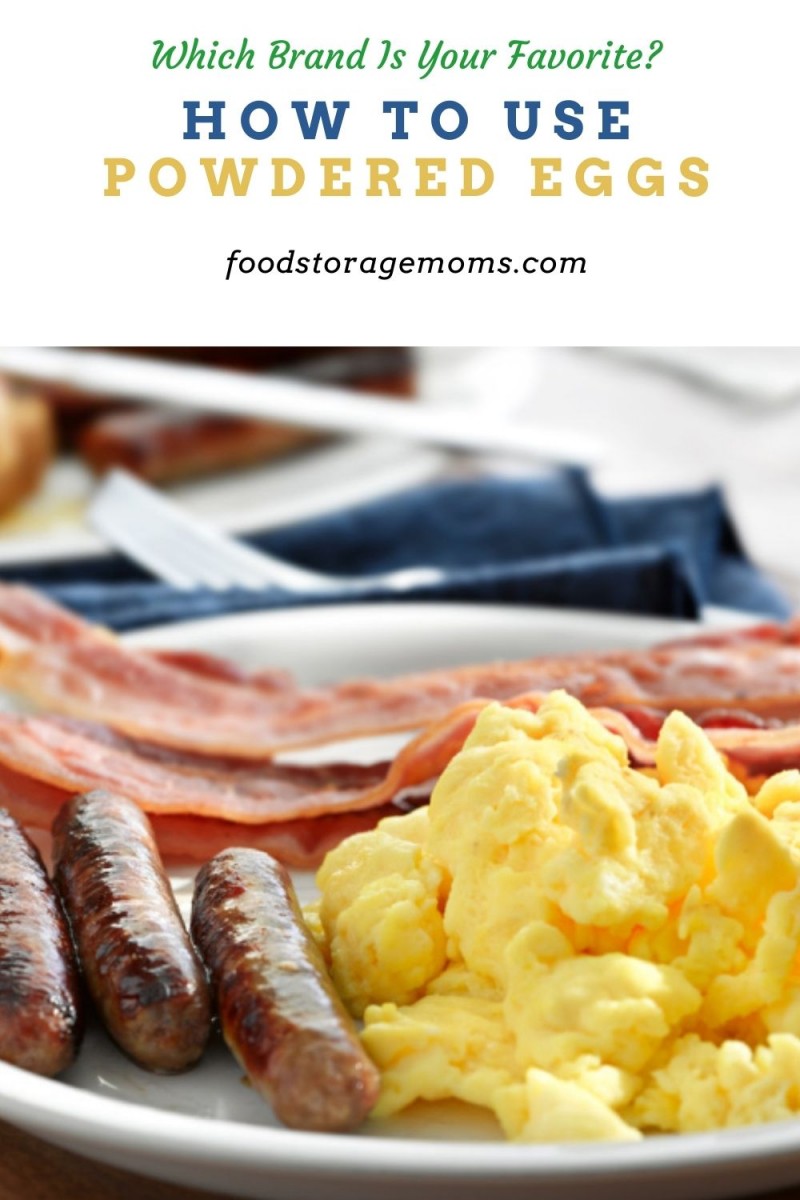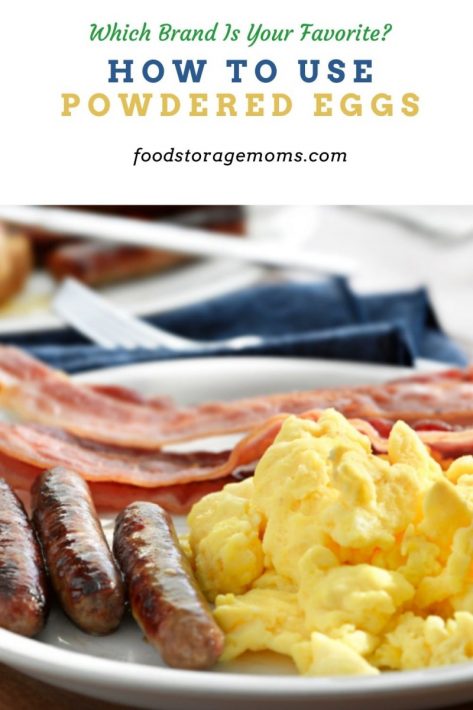 Related Topic: Molasses: Everything You Need to Know
Related Topic: How to Freeze Milk: Everything You Need to Know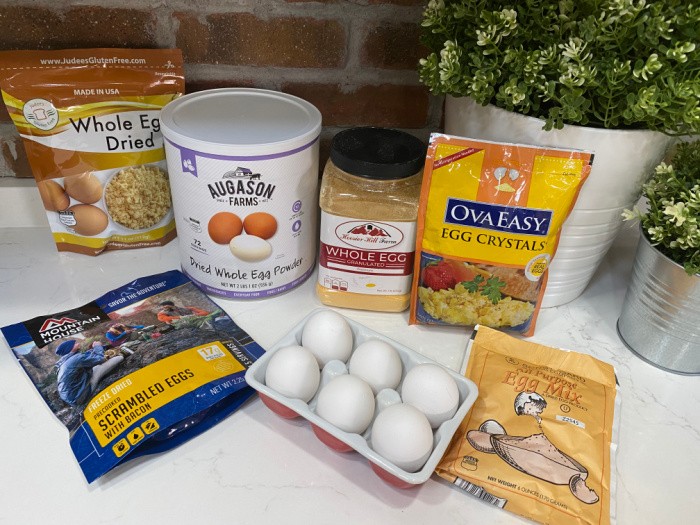 Powdered Eggs vs. Fresh Eggs
Who doesn't love the smell of bacon and eggs cooking on the stove, right? We can have scrambled eggs with bacon or bacon with scrambled eggs!! Same thing, but we love it! I bet you remember going camping or driving up to the mountains to fix breakfast outside! I sure do!
The fresh cool air and the smell from the pine trees made the breakfast taste even better. In case you are wondering about the size of the cast iron pan I used today, this is like the one I used 8-inch Cast Iron Pan
I decided to write this post so you could learn the difference between a few brands. A Salt Lake City store called Honeyville Grain used to have me teach classes using OvaEasy eggs. By the way, I had to use a butane stove at the time before they did their remodel. Fun time, great company!
The picture below shows store-bought eggs and bacon to show you the difference between powdered eggs and fresh eggs. My two Shih Tzu's went crazy smelling the bacon and eggs while they were cooking. They got the eggs and I got the bacon! Gotta love it!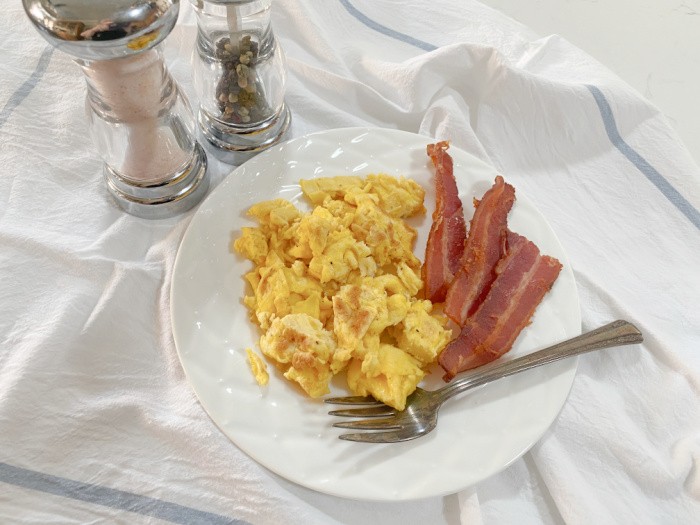 Powdered Eggs: Everything You Need To Know
Powdered Eggs: Everything You Need To Know
Please remember when companies talk about shelf life they typically recommend storing the products unopened in 50-70 degree storage areas. After opening, I would store them in the refrigerator, unless otherwise specified.
Powdered Eggs
I want to compare two eggs from powder to two fresh eggs wherever I can during this post. One package was a one-person meal, so let's get started.
1. Augason Farms Dried Whole Egg Powder #10 Can
Augason Farms makes a number of different dried foods. As you'll find out, this #10 can product can make a large volume of eggs from the powder in the can. Augason Farms Dried Whole Eggs Powder These have up to a ten-year shelf-life if unopened.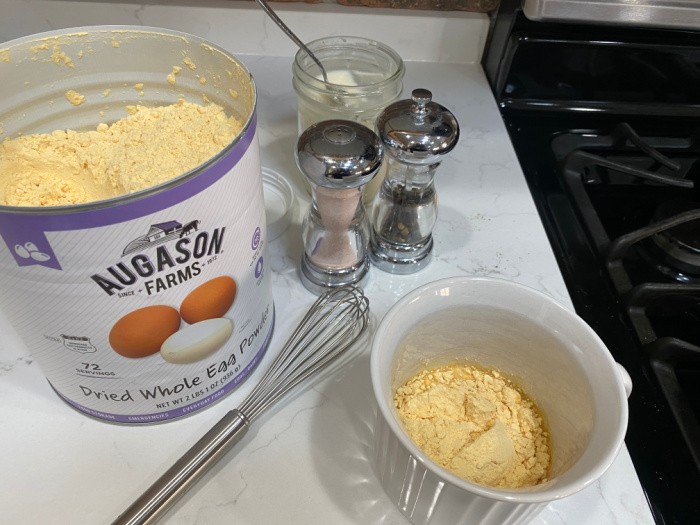 Yield: Two Eggs – Takes 1/3 Cup of Egg Powder and 1/3 Cup of Warm Water
Directions: Remove the oxygen absorber from the container and discard it. Combine the powder with warm water and mix well. Cook to consistency desired. This product can be used in baking and cooking. For Example, it's great for use in omelets, French toast, bread, muffins, cookies, cakes, and more.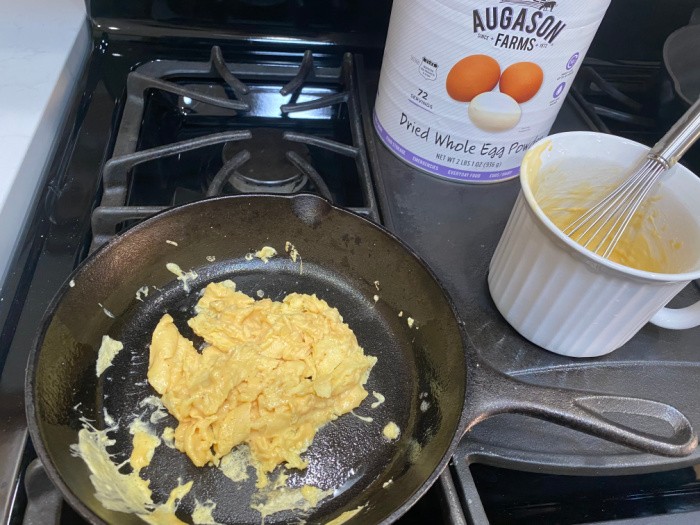 When you are using the powder with other dry ingredients, it isn't necessary to reconstitute the egg powder. Simply add it to the other dry ingredients and increase the liquid requirements with the necessary amount to match the yield.
Ingredients: Dried whole eggs, less than 2% sodium, Silicoaluminate (as an anticaking agent). The only allergen may be the eggs themselves.
Note: the container states "No refrigeration necessary." I would assume that means as long as the container remains unopened. If it were me, once opened, I would put the contents in an airtight container and store it in your fridge.
Do I recommend this one? Yes.
Shelf Life: Unopened 10 years, it does not state shelf life after opening.
2. Hoosier Hill Farm Whole Egg (Granulated)
Hoosier Hill Farm is a company I recently became familiar with. This product comes in a plastic sealed container that weighs one pound (1 lb.) Hoosier Hill Whole Farm Whole Egg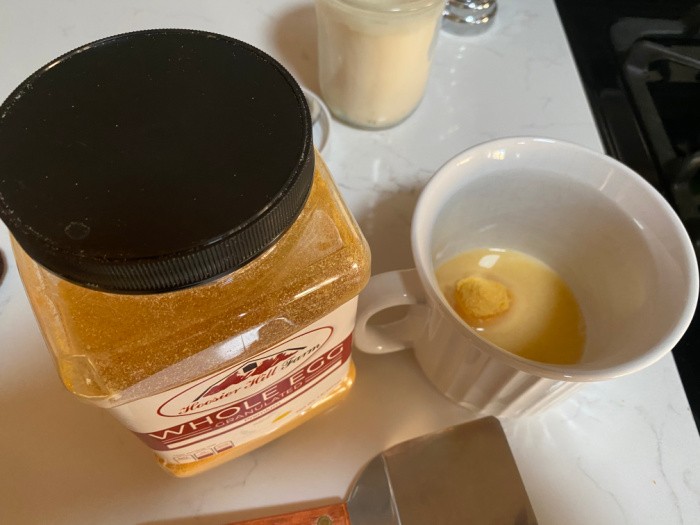 Yield: Two Eggs – Takes 4 tbsp of the Egg Powder and 4 tbsp of Water
Directions: Add the powder and water to a small mixing bowl and stir until well mixed. Cook to consistency you like. The powder can be used as a substitute in almost any recipe where eggs are required. They are great in pancakes, waffles, omelets, protein drinks, desserts, and other meal items where eggs are called for. This product is also easy to use for your outdoor adventures when hiking, camping, and survival food provisions are appropriate.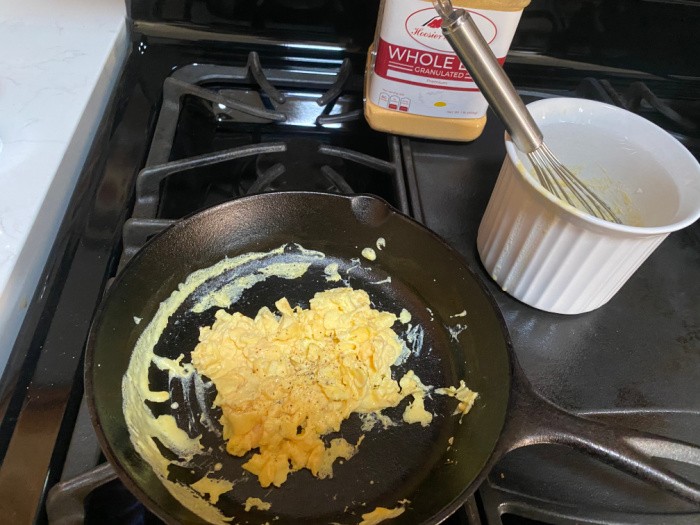 Ingredients: Spray dried whole eggs.
Note: the container states that it should be "Stored in a cool/dry place." If you are using it in the outdoors it will be hard to refrigerate anyway. I always like to put my opened products in airtight containers and place them in the fridge, just in case. Also note that the container states the product is produced in an environment where various nut products are processed, so if you have nut allergies you need to be cautious when using this food source.
Do I recommend this one? Yes.
Shelf Life: One year unopened, it does not state shelf life after opening.
3. Judee's Gluten-Free Whole Dried Eggs
Judee's Gluten Free is also a new producer I've become acquainted with. I found it to be a little thicker than other products I've tried, but some of my readers may like the texture.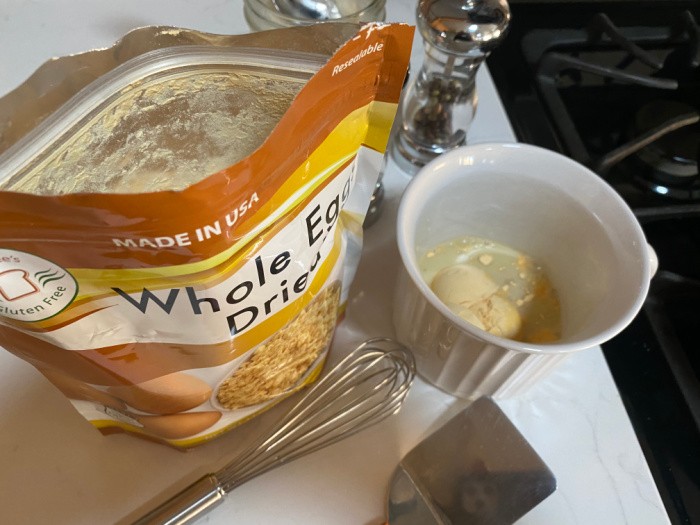 Yield: Two Eggs – Takes 4 tbsp Egg Powder and 5 tbsp Water.
Directions: This product is designed to be used when baking. You simply mix the dried egg powder with the flour you are using in your recipe. Add the water for the egg yield shown above, along with the liquid listed in your recipe. Since the package states you add powdered eggs to your flour, I assume you can use this egg product in flour-based recipes like pancakes, waffles, muffins, etc.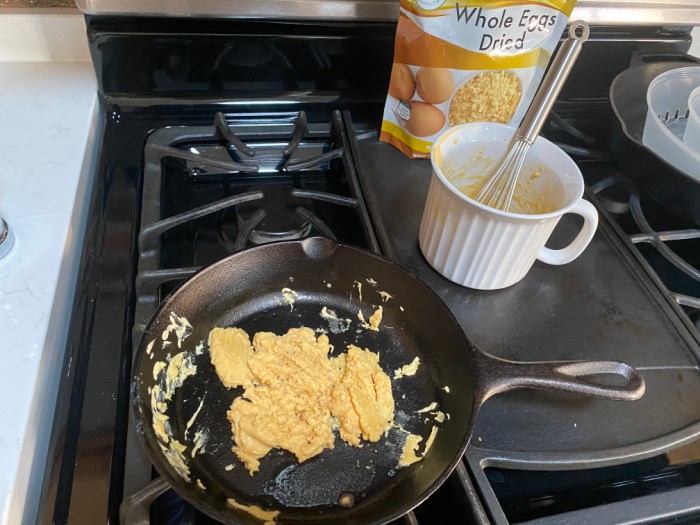 Ingredients: Contains pasteurized spray-dried whole eggs.
Note: The package states that it contains an oxygen absorber that needs to be discarded. It also indicates that the opened container should be stored in the refrigerator for up to six months. The package also states that the product is gluten-free, which makes sense if it only contains egg products. But it also says the processing equipment is not used for any gluten or nut-based products. Just be aware, since it is designed for use with various flours, if gluten is an issue for your family you'll need to use gluten-free flour when mixing with this egg powder.
Do I recommend this one? No.
Shelf Life: One-year unopened, 6 months opened (keep in refrigerator).
4. Sonstegard All Purpose Egg Mix
This Sonstegard All Purpose Egg Mix is formulated a little differently than the egg powders listed above since it's referred to as a "mix." It's designed to be used much the same way as the powders when used as a whole egg substitute in things like pancakes, waffles, muffins, and other recipes calling for eggs.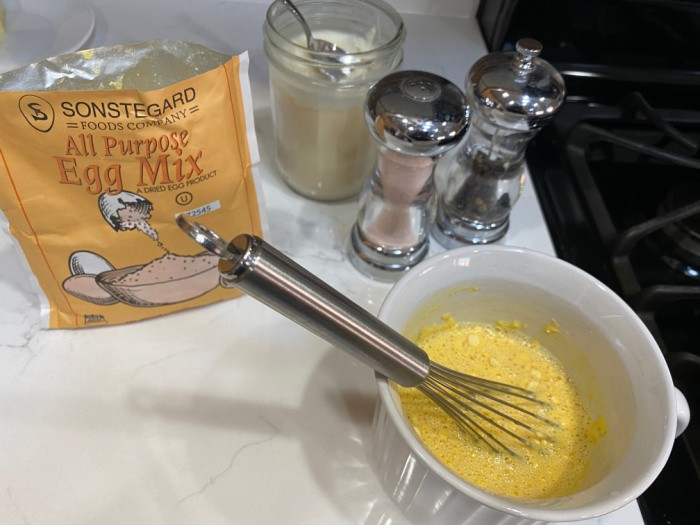 Yield: Two Eggs – Takes 4 tablespoons of Egg Mix and 1/2 Cup of Water
Directions: If cooking scrambled eggs, in a bowl, add the egg mix with the water and beat with a fork or mixer. Heat 4 teaspoons of butter or margarine in a skillet and then add the mixture from your bowl and stir until fully cooked.
If planning to use it in a recipe as an egg substitute, I'd combine the egg mix with your other ingredients and then add the water as listed above and in your recipe. Should work fine like the powders above in muffins, pancakes, waffles, and other recipes calling for eggs.
If you look at the picture below, I must confess, this was the worst one I tried. I was gagging when I mixed them and then the darned eggs would never set up. Please notice it says "All-purpose Egg Mix," well they cooked up like a white sauce. The liquid "popping" up everywhere. What A mess! I can't recommend these eggs. They may be okay for baking, but who wants six different kinds of powdered eggs in the pantry, right?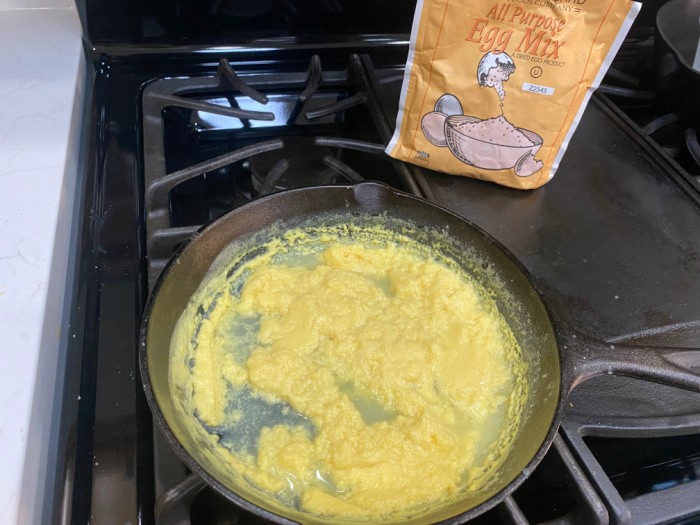 Ingredients: It contains whole eggs, Maltodextrin, vegetable oil (corn oil or soybean oil), salt, and citric acid.
Note: The container states you should store the product in a cool, dry place. It also indicates that if you've added the mix to water it needs to be used immediately. The only allergen listed is eggs.
Do I recommend this one? No
Shelf Life: One year unopened from the manufacture date, it does not state shelf life after opening.
5. Mountain House Precooked Scrambled Eggs w/Bacon
Mountain House is a company well known in the high adventure/camping circles for its products which are designed for use in the great out of doors. I've always liked how well they fit into that niche based on the quality and ease of use I experienced. This particular product is freeze-dried and precooked, which is much different than the other highlighted items reviewed above. It's really designed for use as a scrambled eggs meal and includes bacon for flavor. Mountain House Scrambles Eggs with Bacon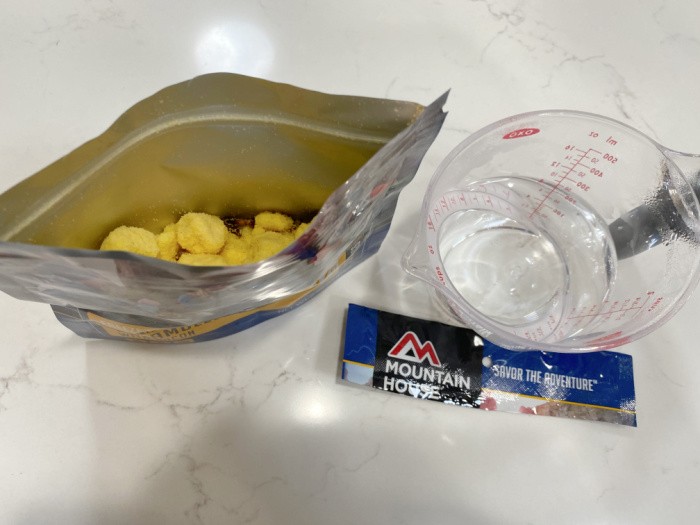 Yield: This egg product is packaged as a 1.5 servings meal.
Directions: You simply open the package, discard the oxygen absorber, add one cup (8 fl oz) of boiling water to the package (saves washing a pan or bowl), and stirring. Close the package "zipper," and then stir again in three minutes. You'll want to let it stand for 5-6 minutes, drain off excess water (if any), then stir one last time before enjoying the meal.
This one would be great for camping but would be very hard to take to an emergency shelter if we were evacuated because you need boiling water to eat it.
Ingredients: Contains whole eggs (glucose has been removed for stability), egg yolk, nonfat dry milk, modified corn starch, corn oil, smoke flavor xanthan gum. The bacon is cured with water, salt, sodium erythorbate, sodium nitrate, smoke flavoring, sugar, dextrose, brown sugar, sodium phosphate, potassium chloride, and flavoring.
Note: This is a food source designed for very long-term storage. The package I have says it is "Best By Aug 2049." Just plan on using the contents once opened. It states it is gluten-free.
Related: Ham and Cheese Crustless Quiche
Do I recommend this one? Yes
Shelf Life: 30 years, this is a one-time use product.
6. OvaEasy Egg Crystals
OvaEasy is probably my favorite egg substitute. I like the flavor, texture, and ease of use. I can recommend this product to anyone wanting a quality food source and substitute wherever eggs are needed for a recipe. Ova Easy Egg Crystals
Yield: Two Eggs – Takes 4 tbsp of the egg crystals with 6 tbsp of cold water.
Directions: In a bowl, mix crystals with cold water. Whisk until they are fully mixed. You can cook or microwave the mixture just like you would cook regular scrambled eggs, omelets, or for use in recipes used for baking. Be sure to refrigerate any of the mixture leftovers.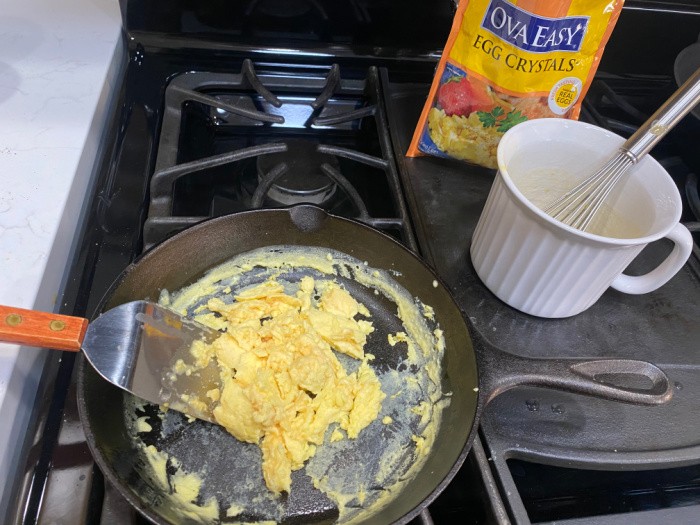 Ingredients: It has whole eggs, egg yolk, and dried egg whites.
Notes: You can close the bag with unused OvaEasy and place it in a cool and dry place. The container states it doesn't need to be refrigerated.
Do I recommend this one? Yes
Shelf Life: 30 months unopened, 6 months after opening. I store my opened bags in the refrigerator. The website states store in a cool area.
How do I use powdered eggs?
You basically add water to the powdered egg mixture with the ratios on each package to equal one fresh egg. There is zero mess, no cracking the eggs, just whisk and you have eggs in minutes ready to go for baking, cooking, or a breakfast.
They are perfect for camping, you just mix them when you are ready to cook them. They work great in a Dutch oven for your favorite egg casserole with chopped vegetables, cheese, and hashbrowns.
If you are making cakes, cupcakes, pancakes you add the dry powdered eggs to your recipe and stir into the flour mixture and then add the liquid.
Powdered eggs are just like powdered milk in a sense, you just add water to the dry mixture. I recommend a whisk to make the eggs a little smoother.
Powdered eggs are easy to use when making omelets, scrambled eggs, and even a quiche. They are ready when you are without having to crack the shells. Add your favorite vegetables and different cheeses and you can change up your breakfast every single day.
You never have to worry about refrigeration, the powdered eggs are ready when you are. They take up very little space which makes them perfect for that next camping trip.
In fact, most restaurants use powdered eggs because of the storage shelf life and they do not need to be refrigerated.
Powdered Eggs: Everything You Need To Know
In case you missed this post, How Fresh Eggs are Different From Store Bought Ones, or this one, What You Need to Know About Farm Fresh Eggs
Final Word
When it comes to Powdered Eggs, there are actually quite a few different brands to choose from. I've given you my take on six of them, now it's up to you to choose which one you'd like to add to your life. If it comes down to you using powdered eggs, it's best to be as prepared as possible. May God Bless this world, Linda.
Copyright Images: Eggs Depositphotos_440565156_s-2019, Breakfast Meal Depositphotos_8630348_S