Peach Facts: What You May Not Know
Peaches are a flavorful fruit from the peach tree that is native to the Northwest China region. Although they were originally found growing in China, peaches are now readily available around the world. While you may know that this fruit tastes good on its own, or when added to smoothies and fruit bowls, there are a lot of things you might not know about this incredible fruit. So if you want to know more about peach facts, you're in the right spot!
There's a town in Utah called Brigham City! My family used to go there and buy several bushels. We didn't make the trip this year, they are winding down a friend brought my daughter about 20 super large, juicy, and absolutely the best peaches anywhere. The bonus is these peach seeds slip right out when you cut them open.
This may not seem like a big deal, but I had had trouble getting grocery store peaches to ripen and remove the seed. The peaches would end up swiveled before they ripened and I couldn't remove the seed. The label at the store said
In case you missed this post, How To Make An Easy Peach Glaze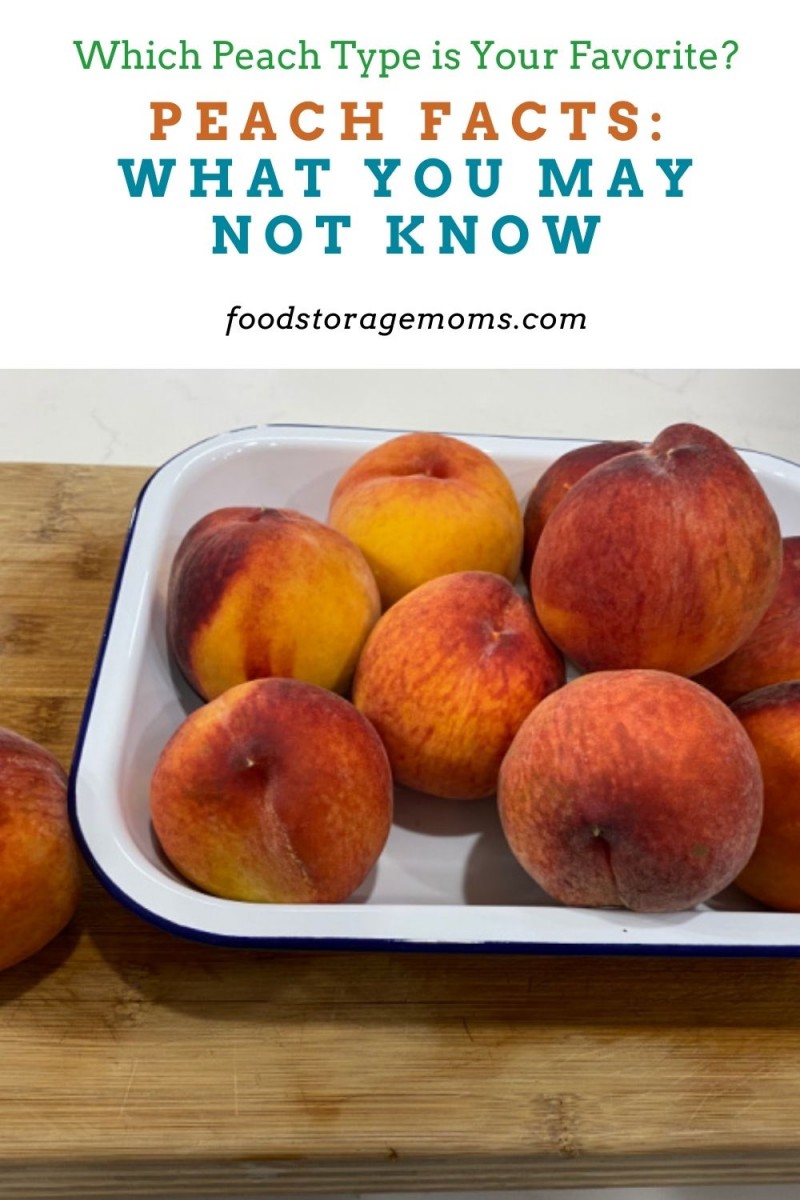 Peach Facts To Know
How Many Varieties of Peaches Exist?
Most people don't realize that there are dozens of peach varieties in existence! It's the reason why some taste sweeter than others. Believe it or not, there are more than 2000 varieties worldwide, with at least 30+ varieties available in the United States. These are a few of the popular varieties that you might've tasted before.
Yellow Peaches
Yellow peaches are, by far, one of the most popular types of peaches in existence. The skin is thin and has a slightly fuzzy texture, but you can still eat it all and enjoy every bite. Although they're known as yellow peaches, they can have light red, pink, and even orange hues. If you want to bite into a juicy peach, this is a great option.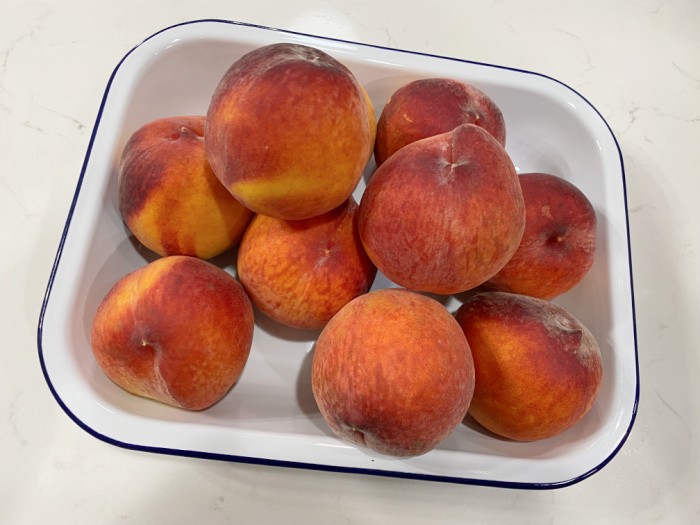 Donut Peaches
Donut peaches get their name because of their flat appearance. Although they tend to look more like mini pumpkins because of their shape, they're sweet and delicious. These peaches have a bit of an almond flavor that pairs well with their naturally sweet taste. When you like to eat sweeter fruits, this variety is an excellent choice.
White Peaches
White peaches aren't nearly as acidic as yellow peaches, but they still provide a great taste. In addition, they have a slightly sweet and slightly floral flavor that makes them a great addition to fruit salads with berries, chopped apples, and other fresh ingredients.
Please do not "can" white flesh peaches. I quote Penn State Extension, "White-fleshed peaches have a natural pH above 4.6, which makes them a low-acid food; therefore, water bath or atmospheric steam canning will not destroy harmful bacteria in white peaches. Freezing is the recommended method of preservation for white peaches. Jun 30, 2020″
Clingstone Peaches
The clingstone peach is tasty and perfect for eating on the spot. These peaches don't do as well when used to prepare baked goods, but they're still worth buying. If you like to grab a peach to eat while on the go, this is the perfect kind.
Of course, plenty of other peaches are available and easy to find in different places, such as the grocery store and farmer's markets. If you love the fruit, it's good to know of these different varieties.
You can begin trying the different types of peaches and then make a list of your favorites. When you know which ones are your favorites, you can buy them from the store or grow them at home to make sure you don't run out.
More Peach Facts
Which Peach Is the Sweetest?
Of all the different peach varieties available, the donut peach is known for having the sweetest taste. Some people might even consider such a sweet taste as slightly sour, but that makes this fruit variety taste so great.
You can add it to smoothies with other ingredients, such as fresh spinach and mashed bananas. The sweetness of the peach will give your smoothie the perfect flavor. You wouldn't need to add any extra sugar or other types of sweeteners to the beverage!
How Long Does It Take to Grow Peaches?
Once the flowers on a peach tree get pollinated, it takes at least three months to harvest them. Three months is the minimum, and it can take up to five months before you can harvest peaches to eat. It's normal for peaches to be ready for harvest in the warmer summer months. The average peach tree will continue to produce fruit for at least ten years, with most producing peaches each year for up to 12 years.
Is It Challenging to Grow Peaches?
If peaches are your favorite fruit, you might wonder if it's challenging to grow them at home. It's a process that requires both effort and commitment. If you're willing to put forth the effort involved in watering the tree, providing regular feedings, pruning tree branches, and keeping pests away, you can grow these peaches with no problem. However, if you don't have the time to commit to caring for a peach tree, you should consider buying them at a grocery store or a farmer's market.
How Do You Clean Peaches?
It's a good idea to clean your peaches before you eat them to get rid of any dirt, germs, or bacteria.. The best way to clean peaches is to fill a large plastic bowl with two cups of cold water and a teaspoon of vinegar. Place the peaches into the bowl and allow them to soak in the water with vinegar for 15 minutes. Next, remove the peaches from the bowl and then hold them under the faucet while continuing to allow the cold water to run over them, brushing anything off of the peaches that you might see. It's that simple. Once you've washed the peaches, you can put them in your fridge to keep them cold and fresh, or place them on the countertop. It's been my experience that they'll last longer in the fridge. If you're anxious to have them ripen faster then the countertop might be your best option.
Things You Can Do With Peaches
While peaches are great to eat for breakfast or a quick snack in the middle of the day, you can do so much more with them. You can slice them, freeze them, and then add them to your blender to prepare smoothies. You might want to add fresh chunks of peaches to your oatmeal or cereal in the morning. Peaches are a great ingredient to use when baking different foods. You can make peach pie, peach cobbler, and even a sweet peach loaf bread!
Mark loves peaches, and his favorite option is to slice them into a cereal bowl and pour milk on top. Depending on the variety of peach, he may or may not feel the need to add a little sugar. He also loves fresh peach pie! He's pretty easy to please.
Final Word
Now that you know more about peach facts, you may pay closer attention to the different varieties available at big-box stores, local grocery stores, and the farmer's markets that you like to visit. You can stock up on peaches or even decide to grow a peach tree in your backyard if you have the time to maintain it. May God Bless this world, Linda