How to Control the Tomato Hornworm Naturally
The Tomato Hornworm is a type of caterpillar commonly found on or around tomato plants. It gets its name for its ability to destroy tomato plants by using them as hosts. These caterpillars chew through the leaves of the plant, ultimately causing it to wither away and die.
If you end up with these pests in your garden, they can cause significant damage, while destroying everything you've worked hard to grow. Find out why you need to get rid of them and how to easily do so.
Wear garden gloves whenever you work in the garden, you never know when there are spiders hiding. Garden Gloves
In case you missed these posts, Top Gardening Tips for Growing Tomatoes and Tips For Growing Sweet Tomatoes
How to Control the Tomato Hornworm Naturally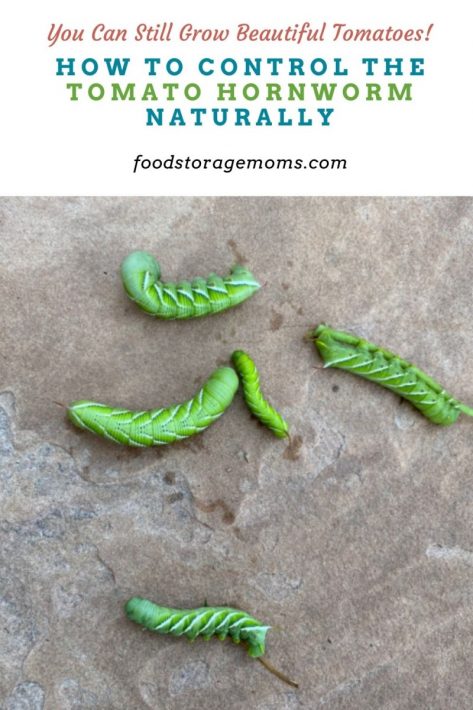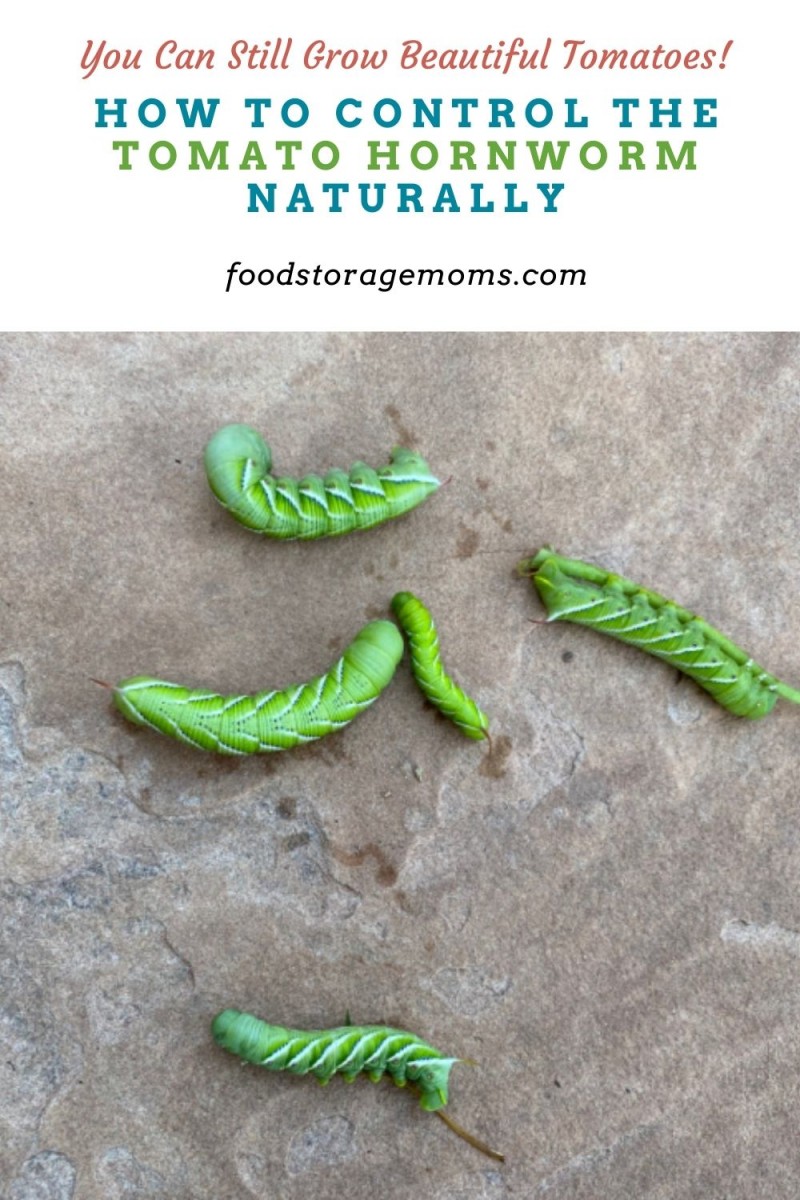 Why It's Important to Get Rid of the Tomato Hornworms
It's essential to get rid of the Tomato Hornworms because of their destructive tendencies. If you take the time to plant tomatoes, it's because you want them to grow to the point that you can have a successful harvest. I spread these out on the lawn so you could see them.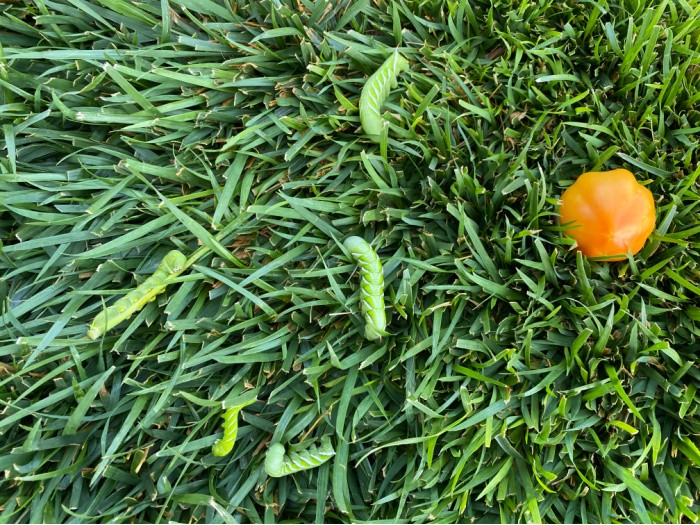 When producing large, ripe tomatoes, you can use them at home in different recipes or even sell them, depending on what your garden goals are. Most people enjoy growing tomatoes to ensure that they have enough of them to use in salads, stews, salsa, and other recipes. 
Unfortunately, if you plant the seeds, water the tomato plants, and take good care of them, all your effort and hard work can go down the drain because of the Tomato Hornworms.
An infestation of these caterpillars could cause damage to the plants, causing you to have to start all over again if you want to grow tomatoes outside.
Once you spot one of these caterpillars, it's essential to remove it from the area and take preventive measures to keep other Tomato Hornworms away from your garden.
How to Tell If You're Dealing with Tomato Hornworms
If you're not sure if you have a problem with the Tomato Hornworms, it's important to look for telltale signs of them. Check your tomato plants as often as twice a day for good measure. First, look at the top of the plant.
It's common for these insects to start at the top and work their way down, causing damage as they move along. You might notice chewed pieces of leaves missing from the plant. If so, it's a good chance that you're dealing with the Tomato Hornworm.
Other signs include black droppings and missing stems from some of your tomato plants.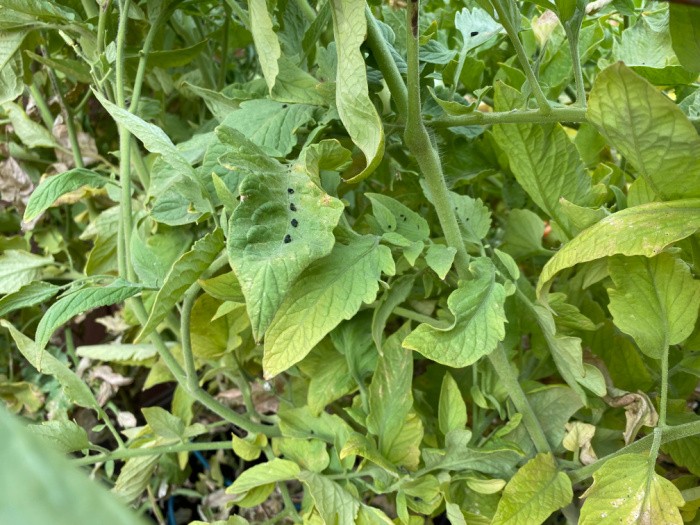 It's possible to even come across one of these caterpillars while you're inspecting your plants. If you do spot one, you know that you have a problem that needs your attention!
Because they are hard to locate on the plants, if you do find them, attempt to pull them off. You can also cut off the leaf or stem and throw it away. Of course, this won't prevent other ones to show up and eat to their heart's delight.
Unfortunately, it's not always easy to tell if you're dealing with Tomato Hornworms until the damage happens. These caterpillars blend in with their surroundings exceptionally well because of their green color.
If you don't have excellent vision, you might not spot one as it sits on a leaf or stem and uses the plant as a food source. Whether you have an issue or not, it's still a good idea to try some of the natural control methods below.
Soap and Water with Pepper Spray
Combine two tablespoons of your favorite dish soap into a spray bottle full of water and shake it well. Once you've combined these two ingredients, add a bit of cayenne pepper to the mixture, shake well, and spray the tomato plants with soapy water.
It's the perfect natural pest control product to use. The ingredients are safe for your tomato plants, so you won't have to worry about applying any toxic chemicals on top of the plants.
This approach is also safe for humans since we'll generally rinse the tomatoes before we eat them in various recipes.
In addition, the cayenne pepper has such a strong scent to these insects that it deters them and keeps them from coming back to the tomato plant.
Make sure you're proactive with this spray. It's best to spray a generous amount of the product around your plants at least once a week to keep these caterpillars away for good. However, it won't kill the tomato plants or any other plants you have next to them.
Plant Marigolds Next to Tomatoes
Consider planting some marigolds next to your tomato plants. Marigolds are an excellent companion plant. The growing conditions for both plants are a lot alike, making it easy to care for your tomatoes and marigolds simultaneously.
However, the scent that comes from marigolds is what truly keeps the Tomato Hornworms away. You can plant marigolds on several sides of your tomato plants to act as a barrier of protection against these pesky and destructive insects.
Plant Chamomile
Chamomile is another excellent companion plant for tomato plants. You don't want these insects to destroy your crops. Like the marigold plants, chamomile has a more pungent scent that deters these caterpillars from getting too close to your tomato plants.
So, if you have marigolds on both sides of your tomato plant, consider planting chamomile at the top and bottoms of these plants as an extra precautionary measure. The goal is to create that perfect barrier to keep these unwanted insects at bay.
Set Traps
Some people attempt to set traps to get rid of these insects. You can try to set a trap and see if it works well for you. Start by using a small plastic cup and covering it with plastic wrap. Next, poke several holes into the plastic wrap and add a few plant leaves inside.
These insects may attempt to access the plant leaves by crawling into the cup, but they won't be able to get back out because of the plastic wrap that you've placed over the cup. While it's not the most effective method, it's worth a shot.
Final Word
When you're growing assorted plants in your garden, you want to see them thrive and eventually harvest them, bringing them into the home and enjoying the fresh produce with your family.
However, the Tomato Hornworm is a destructive insect that can damage your tomato plants, making it impossible for them to reach their full harvest potential.
If you don't want your hard work to go to waste, the best thing to do is use several natural remedies to keep these insects away. Make sure to create a barrier using companion plants, and don't forget about using the natural spray consisting of dish soap, cayenne pepper, and water.
Keep in mind, you can use all these protective methods at the same time too. May God Bless this world, Linda