Top Gardening Tips for Growing Tomatoes
For many gardeners out there, tomatoes are one of the main reasons why they fell in love with gardening in the first place. I too, know from experience just how rewarding and satisfying it is every time I get to enjoy a slice of tomato that I grew in my very own garden. Here are some of the top gardening tips for growing tomatoes.
If it's your first time ever growing tomatoes, or you're just hoping for better results this time around, I'd be more than happy to share what I know with you. These are some of the top gardening tips for growing tomatoes that you ought to know. This is where I buy my garden seeds: SeedsNow
Top Gardening Tips for Growing Tomatoes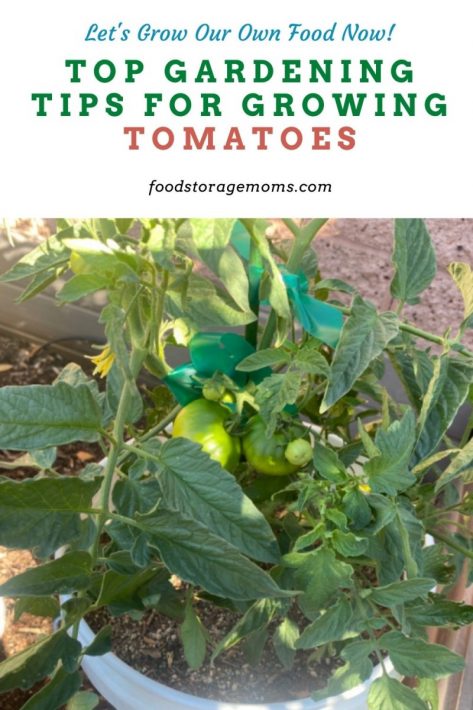 Wait for the Right Time to Plant
Just because you've had a few days of sunshine and temperatures have finally started to warm up, doesn't mean it's necessarily the right time to plant your tomatoes. For tomato plants, you need to be patient and wait until all threats of frost are out of the way. However, if you're getting antsy like most gardeners do, you can consider starting your seedlings indoors to give them a head start.
Make Sure Your Garden Soil is Up to Snuff
Your garden soil plays a huge role in how much success you will have as a gardener. Good soil needs to be well-draining, full of nutrients, along with having a light and fluffy texture. Without just one of these variables, your tomato plants will have a harder time growing to their full potential. If you are not satisfied with what you are currently having to work with, here are several tips on how to improve your garden soil.
Plant them Deep
You want your tomato plants to be robust and strong, with a healthy root system that runs deep. Do this by planting your tomato plants down deeper than you would expect. Only the top few leaves should be showing when properly planted. Go ahead and pinch off the lower branches and cover them with soil. This is an important tip to growing tomatoes. In case you missed this post, How to Garden With 5-Gallon Buckets
Provide Plenty of Sunlight
Tomato plants enjoy lots and lots of sunshine. You will need to plant them in a location that receives full sunlight, which is about 6 to 8 hours each day. If there's not enough sunlight in your backyard for growing tomatoes, you may want to consider planting them in pots or containers that you can move around in your yard. That, or grow them indoors where they are placed under a consistent light source.
Stake Your Plants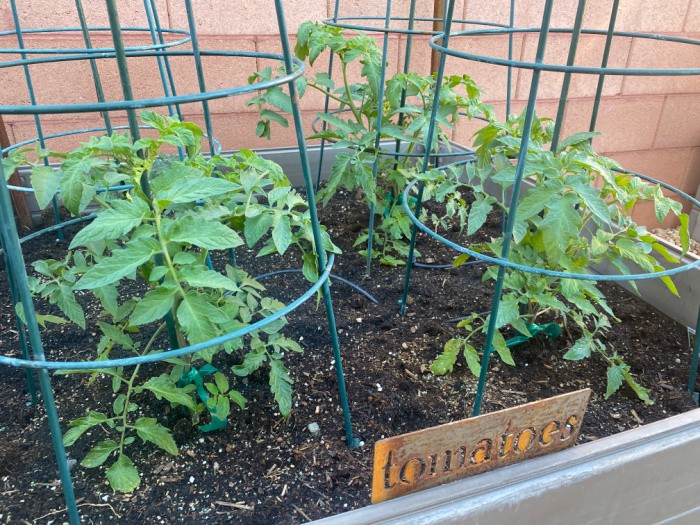 Once your tomatoes start to grow, it will only be a matter of time before the plant can no longer support its weight. This can cause your tomato plant's stem to break, or your fruit will be growing on the ground, which can lead to disease and rotting. Staking your tomato plants as they begin to grow is the best way to prevent all of this. You may even need to do this as many as one to two times a week to keep up with them.
Note that I use some narrow gauge garden poles I buy at my local nursery. I tie the main plant stem to the poles with green stretchable plant tape. Try to tie them such that the plant has some room to grow without damaging the branches. Don't tie too tight since the plant should slide up the tape as it grows. Green Stretchable Garden Tape and the 36-inch Garden Poles (these last for years) and Burpee Sturdy Tomato Cages
Also, note I use some heavy-duty tomato cages. These are a little hard to find, but I buy mine from Glover Nursery in West Joran, Utah. They have lasted for years and really help support those branches as the tomatoes grow to full size. My plants often grow to nearly my height in my 18″ deep grow boxes/raises planters. I don't want my tomatoes to rest on the ground as they mature. You'll love these cages!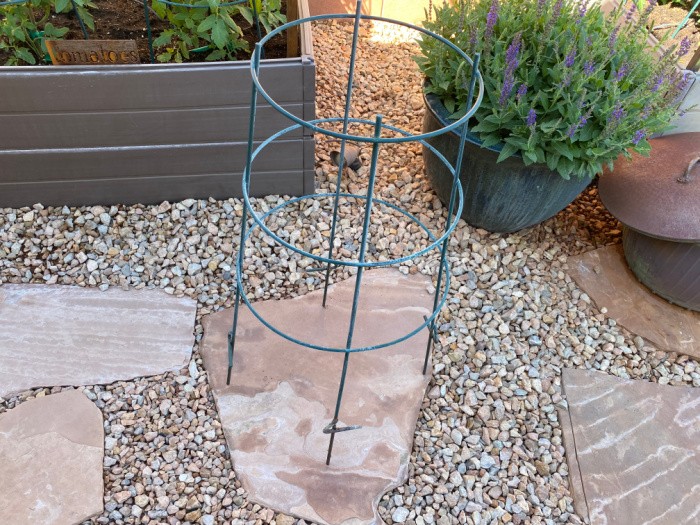 Give them Calcium
Unfortunately, you won't know it if your tomato plant has a calcium deficiency until after you go to pick its fruit. You'll wind up with tomatoes that are rotten on the bottom. Yuck! You can avoid blossom end rot by adding calcium to your plants. You can do this by sprinkling powdered milk around the base of the stem, and don't hesitate to do this sooner rather than later. If you have questions about growing them in your particular location, don't be afraid to inquire at your local nursery or stores like Lowe's or Home Depot if they have a functioning garden center. They can prove very helpful.
Blossom Rot
This is tomato blossom rot. I picked this one from a pot I'm growing tomatoes in. You can still save the plant. It's caused by insufficient calcium in the tissue of the tomato. You need to maintain moisture in the soil throughout the season. You can add crushed egg shells or use the product shown above. Bonide Blossom Rot Concentrate
Add Mulch
Mulch does your garden several favors for you as a gardener, which is why it comes very highly recommended. It helps the soil around your plants retain moisture, while keeping weeds down and away from them. It also keeps the soil from getting on your plants when you're watering them, which can help prevent them from exposure to possible diseases.
Water Your Plants Regularly
When your seedlings are first starting out, they will need to be watered daily, and sometimes twice if temperatures are already getting hot. Once they start to mature, they'll need about 1 to 1 ½ inches of water each week. If you're wondering if it's time for more water, stick your finger into the ground next to the plant. If the soil is dry before it reaches your first knuckle, you'll know it's time to water.
While tomato plants do need plenty of water, be aware that it is possible to overwater them too. In fact, it can be easy to do so because overwatering looks a lot like underwatering. Your plants may start to shrivel up and their fruit may start to crack. Watering them earlier in the day is also recommended. If this is throwing you in a frazzle, here's more info on when and how much to water your tomato plants.
Fertilize with Just the Right Amount
Your tomato plants will thrive when you choose to fertilize, but you need to be careful that you use a balanced approach when you do. Over-fertilizing will give your plants too much nitrogen, which can lead to bushier plants, but fewer tomatoes. If you notice yellow leaves on your plants, that means they're not receiving enough nitrogen, and you will need to increase their feeding. A general rule of thumb, tomato plants should be fertilized about once every month.
Trim and Prune Foliage
If left unkempt, tomato plants will become a bushy mess, and your tomato crops will suffer because of it. That's why it's so important to prune your tomato plants regularly, because this will also allow them to reach harvest sooner. This should be done to the older leaves once the plant is around 3 feet tall. Most gardeners prefer to prune back the foliage and leaves that are located closest to the ground in order to avoid diseases and bugs.
Don't Turn a Blindeye to Pests and Diseases
Checking your tomato plants on a regular basis is critical to making sure that they remain healthy. If you're noticing any sign of disease or evidence that something is munching on their leaves, don't let it go. Take care of it immediately. These are the types of pests and diseases you may find yourself running into and how to treat them organically.
Cheryl-Master Gardener Tip
When your tomato plants get 2 1/2 feet tall, take off the bottom leaves far enough to allow air to circulate and keep away from watering the leaves. Choose the best 3-4 strongest stems and train them up, pruning out the rest carefully. Tie these up onto poles to spread out. This will bring in lots of sunshine and give great pollination. I was taught this method at one of my Master Gardener classes. It was an excellent class and I have used this method ever since. My plants can get over 5 ft. and produce huge crops. Adding more air to circulate really sets the blossoms for fruit. Toward the end of the season, I prune the top so everything below can ripen. Make sure to add calcium as they start to produce!
Final Word
Growing tomato plants does require a bit of love and attention on your part, but you and your family will be rewarded with delicious-tasting fruit all summer long. Mark and I really enjoy BLT sandwiches during the summer, they're so delicious! If you're a gardener and have had success in the past growing tomatoes, what are some other helpful tips that beginners would benefit from? May God Bless this world, Linda.
Please Check Out What To Plant Each Month: