How To Grow Tomato Plants Anywhere
Would you like to know how to grow tomato plants anywhere? I keep hearing about people living in apartments, small properties, rentals, etc. They want to have a garden, but for one reason or another, they cannot "plant" in the soil they have in their yards. Or they have zero soil….they only have a balcony, porch or a small slab of concrete in a 10 by 10 backyard.
Well, it took me about six years of experimenting and way too much money wasted trying different ways to succeed in having a garden here in So. Utah. I thought I could plant vegetables in the soil we have here by just adding mulch. Well, it's not good soil. I am not an inexperienced gardener…I have had a garden for over 40 years. Southern Utah threw me for a loop. But I would not give up. I finally figured out the garden soil needed to be deeper, more mulch and needed to drain better. I came up with four-foot square grow box gardens that are 18 inches deep.
Today I am going to show you something I hope will work for someone with a very small area of land, patio or balcony. If my 4 feet by 4 feet square gardens work why won't some individual "garden" boxes work. I picked up some filing boxes from Walmart for about $6.00 each. I had some burlap in my fabric stash so I decided that fabric would keep the soil in the filing box. I cut the width and length that would fit these boxes with a little overlap. Then I purchased some Miracle Grow potting soil for outside use and went to work. I only planted two tomato plants because I already have several tomatoes in my 4 foot by 4-foot boxes. I was so excited my tomato cages would fit on the outside of these boxes. They are called The Sturdy Tomato Cage.
Grow Tomato Plants Anywhere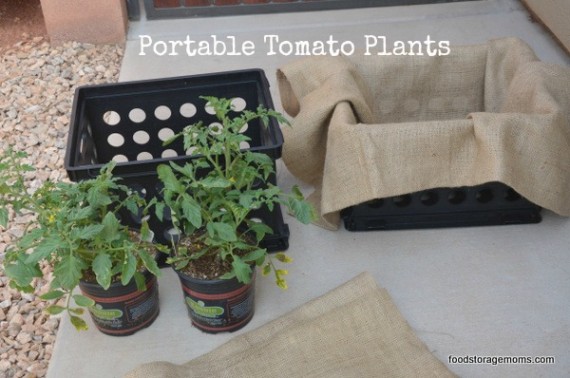 If you think about it, this would be a great Mother's Day gift for someone who would love fresh tomatoes….I mean who doesn't LOVE fresh tomatoes. One thing to think about, you could actually get as many of these containers (reuse them every year) that would fit the space available or a number of vegetables you would like. One for tomatoes, one for Zucchini, one for Cucumbers, one for herbs, etc. The possibilities are endless!
P.S. One of our readers sent me another great idea: use old tires for planting root vegetables! Thank you, Dan!