The Best Vegetables To Plant In April
Are you ready for the list of the best vegetables to plant in April? I planted some seeds indoors and some
outdoors in the month of March. April is here and I'm planting again today. Do you love digging in the earth as much as I do? I have one seedling container that has three sprouts right now and some seeds. I highly recommend these for seedlings: CowPots and Organic Seedling Soil, this way you plant your seeds and place the CowPots in your garden when the temperatures are right.
I planted outside are just breaking through the soil mixture I added a couple of months ago. Life is so exciting when you see those little green sprouts, some I recognize and some I don't. I meant to get out there and put the markers in the rows, but well I didn't get to it this year.
The good thing is that I know I planted spinach, radishes, and Cilantro so far with seeds outside in my raised garden beds so they shouldn't be too hard to identify when they get a little bigger.
The tomato plants were planted a week ago, fingers crossed I will miss all the freezing temperatures. I think I'm good, but Mother Nature surprises all us some years. Oh, yes, I check the temperatures for Mark's golf games and my vegetable gardens.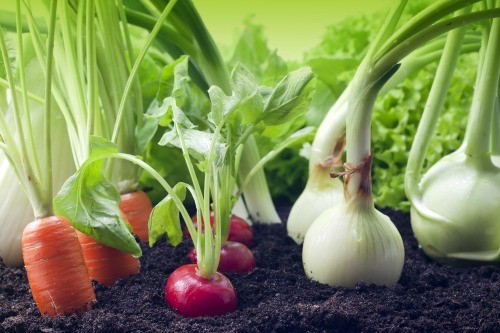 I live in Southern Utah so my Zone may be different than yours. I really like the website USDA Plant Hardiness Zones to check for each state zone to determine when you can plant certain plants. My zone is 8a.
You basically put in your state then your zip code where shown on the website and you will soon learn when you can plant different vegetables, etc.
Today we are talking about the best vegetables to plant in April. There is something that connects us to the universe when we garden, dig, pull weeds or whatever. God had given us this great earth to produce our own food, and yes, we can do it!
Please remember to prepare your soil before you sow your seeds. This is the article I wrote on getting soil nutrients, Soil For The Garden
I start with Miracle Grow All-Purpose Garden Soil, you can't go wrong with any Miracle Grow product. You can buy them just about anywhere like Walmart, Ace Hardware, Home Depot, etc.
Azomite Micronized Bag, 44 lb
FibreDust Coco Coir Block
Unco Industries Wiggle Worm Soil Builder Earthworm Castings Organic Fertilizer, 15-Pound
Miracle-Gro Nature's Care Organic Bone Meal, 3 lb.
Espoma VM8 8-Quart Organic Vermiculite
Vegetables To Plant In April
I buy all of my seeds from this website Seeds Now because they are "✓ Pure NON-Genetically Modified (NON-GMO) seeds   ✓ 100% NON-Hybrid   ✓ 100% Heirloom/Open-Pollinated   ✓ 100% Raw & Un-treated".
These are the seeds you can plant outside in April:
Asparagus
Beetroot
Broadbeans
Carrots
Cauliflower
Kale
Lettuce
Leeks
Peas
Radishes
Spinach (Perpetual, it just keeps on growing)
Tomatoes (if you are past the frost weather)
Turnips
Winter salad greens
Please check for your "zone" to plant and get started teaching your family how to prepare the soil, plant the seeds, the proper plants, mark the rows (remember I forgot to place the markers in the first raised garden bed), weed, fertilize, watch for insects, harvest and preserve your bounty.
Tools To Prepare Gardens
Gloves: I try to buy them at the end of the season for the following year to get the really good ones half-price.
Shovels: I always say "buy right the first time." If you clean your garden tools before you put them away they will last much longer. Plus, when you need to use them they are clean, ready to grab and take out to the yard. I have regular size shovels, square shovels, and short-handled shovels. I use the square ones for cleaning out the gutters in front of our home.
Small garden tools, such as a small shovel, weed digger, a spade, and claw tool. Here again, buy good ones that will last many years.
Purchase non-GMO seeds and plants.
Use Miracle Grow Root Starter in the holes where you are placing seedlings or plants. Trust me, this stuff works. I have used it every year in all of my gardens. Miracle Grow Root Starter or the liquid Miracle Grow Root Starter
Watering can for mixing up your root starter or sprinkling your newly set seedlings.
A good hose, one that doesn't kink and has a good nozzle. That reminds me, I need to order one today. Here's a Good Hose and a Good Hose Nozzle
A pitchfork: I have a long-handled one and a short-handled one. I use these to turn the soil over and mix in the new nutrients I purchase each year.
A rake to smooth and level the soil. Oh my gosh, I can hardly wait to get my hands on the prepared soil in my raised beds.
Tomato cages: the only place I can buy the ones I really like is at a local nursery in South Jordan, Utah called Glover Nursery located on Redwood Road. They are called Tomato Cages and last for years since they are so heavy duty. This is what they look like: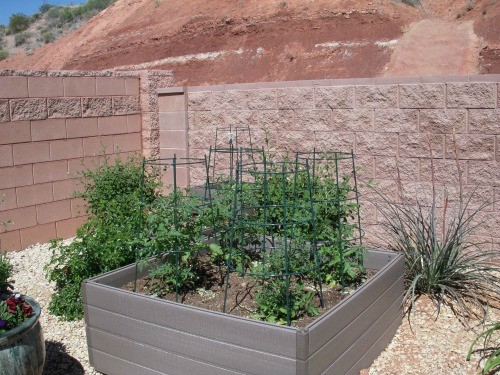 Final Word
It is so important that we learn to grow a garden and teach our families the joy of being self-reliant. We can't depend on anyone else to take care of our family. The government should not be looked at as the source to depend on to feed their families. I am begging you to teach your family to be self-sufficient, the time is coming that we will only have the food we can produce in our own backyards. Please be prepared for the unexpected. May God bless you and your family.
Copyright pictures:
Vegetables: AdobeStock_41860264 by Udrall