How To Make The Best Cinnamon Squares Ever
I love making cinnamon rolls, so today I'm sharing a new recipe called Cinnamon Squares! I remember teaching a class about how to make cinnamon rolls and the class members were so surprised how much cinnamon I use. I use a lot, and I mean a lot. Let's just say I buy at least ten containers of that yummy spice from Costco for my yearly baking. I own it. Of course, I have been known to share a jar or two with friends. If you can learn to make bread with the flour your body can tolerate you can survive any disaster for a very long time. Plus, it will save you $$$ on your grocery bill.
I know a lot of people are on diets, and I should be on one for sure. I will admit I have a sweet tooth, but I'm trying to cut back on the bad carbs. I'm trying to eat healthier and exercising as well. But let's be honest, who doesn't love cinnamon rolls or cinnamon squares? This recipe is my roll recipe, but with a new twist, I am dying to share with you today. I need pictures, so bear with me, I have a lot of pictures today to walk you through how to make these.
I bet you can almost smell the cinnamon above, right? I hope you try making these, they are the best cinnamon squares ever!
Cinnamon Squares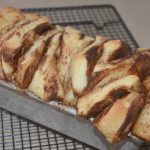 Cinnamon Squares
Ingredients
4

teaspoons

SAF instant yeast

1/2

cup

water

2

cups

warm milk

1/4

cup

olive oil

1

cup

sugar

1-1/2

teaspoons

sea salt

4

teaspoons

dough enhancer (optional)

2

eggs

6-7

cups

white bread flour (Add half of the flour and then add more until the dough pulls away from the sides of the mixing bowl.)

1/2

cup

butter (softened)

1/4-1

cup

brown sugar (sprinkled)

2-4

tbsp

cinnamon (as desired)
Cream Cheese Frosting:
1/2

cup

butter (softened)

1-8-

ounce

cream cheese (softened)

3 to 3-1/2

cups

powdered sugar

1-2

teaspoons

vanilla
Instructions
Place the ingredients in order into your mixing bowl. I use a Bosch bread mixer, but I have made these by hand for years. Be careful with the eggs not to add the warm milk too quickly or you will have scrambled eggs. Add half of the flour and keep adding the rest of the flour until the bread dough pulls away from the sides of the mixing bowl. Cover with greased plastic wrap, let rise the first time for about an hour.

Punch the dough down and roll the dough into one-12-inch by 18-inch rectangle. Spread the butter, sprinkle a lot of cinnamon and brown sugar to taste. Use a pizza cutter to "square" the dough. Cut into squares the size of your bread pans. Tip your bread pans to stand up on end and layer the squares of dough until the pans are full. Cover with greased plastic and let rise one more time, about an hour or until double the size. Bake at 350 degrees for about 20-30 minutes. Do not overbake. They should be a golden brown.

Cream the butter with the cream cheese and slowly add the powdered sugar to the thickness you desire. Add the vanilla until blended.

You can drizzle cream cheese frosting on them when partially cool after removing them from the pans.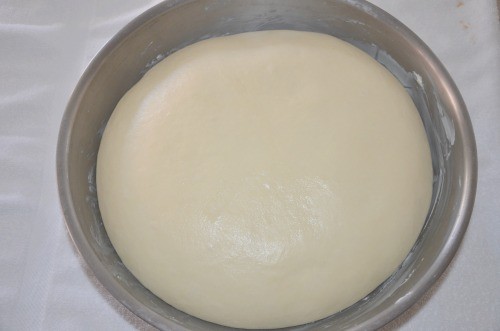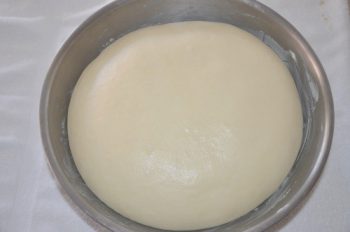 The picture above is my dough I mixed in my Bosch mixer, punched it down and placed in my buttered 18-inch stainless steel bowl. Everyone should have one of these, this has to be 25 years old and is still going strong. Stainless Steel Bowl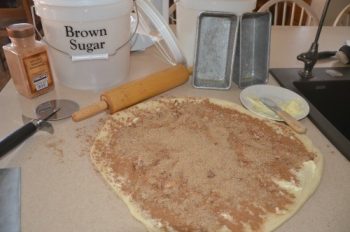 I rolled out the dough to about 12-inches by 18-inches. I slathered a lot of butter, then sprinkled a LOT of cinnamon and a few sprinkles of soft brown sugar evenly on the dough. I totally forgot to take a picture of how I "squared" the dough. You basically square the dough with a pizza cutter and then cut the dough vertically and then diagonally to make squares that are a bit smaller than your bread pans. I only use small one-pound bread pans. I have some stainless steel ones and several of the aluminum ones too. Fat Daddio Pans "Includes (2) 7.75″x3.75″x2.75″ anodized bread pans"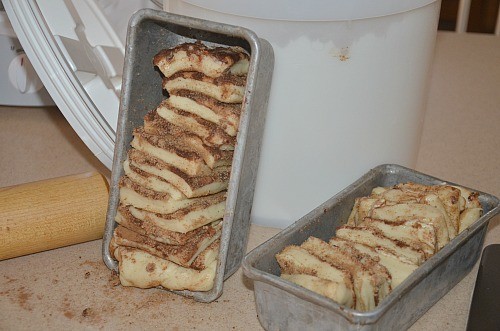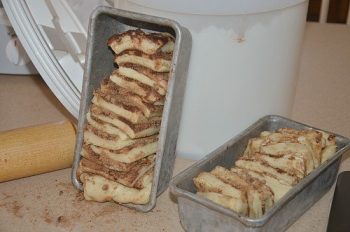 These are not perfectly shaped by any means. Here's the deal with these, they are so moist and gooey, gooey cinnamon squares your whole family will love to make and eat, I promise.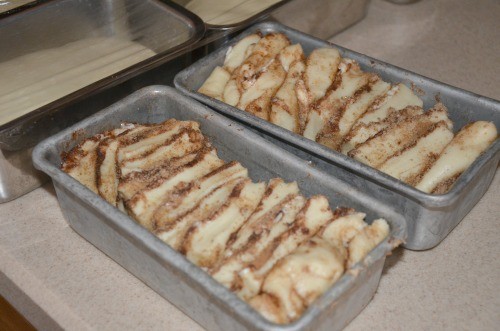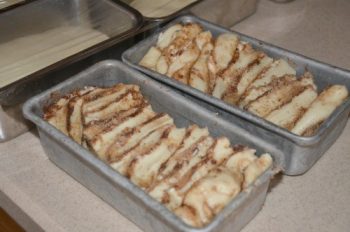 Next, you cover the cinnamon squares with greased plastic wrap and let rise. After they double in size, bake in a preheated oven at 350 degrees for 20-30 minutes. If you use larger pans they will need to be baked a little longer.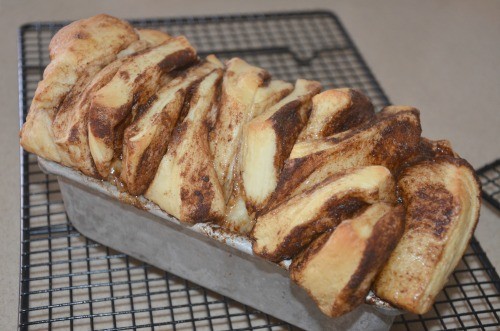 After baking, remove the cinnamon squares from the oven, immediately remove from the pans and cool on a rack. You can drizzle some cream cheese frosting if desired, or eat them warm from the oven as is. You will love these!
Thanks again for being prepared for the unexpected. These would bake great in a Sun Oven, or even in a Dutch Oven. If you have a camping combination stove/oven those would work great to bake these outside with propane. If you have a wood stove you can bake these inside your home. Please try cooking and baking outside now before we have a major disaster or grid down. Please teach your family to be self-reliant. Today. Right. Now. Not. Tomorrow.
May God bless you and your family.
Copyright pictures:
Cinnamon Sticks: AdobeStock_116496289 by Rawf8