If you want to learn how to make no-fail cinnamon rolls you have come to the right place. I promise. If you have fresh ingredients you can make these. When I teach classes on how to make these cinnamon rolls people literally can't get enough of them. There is really only one trick. You really must have fresh ingredients and lots of cinnamon.
I'm so grateful for emails from readers who tell me this is the best cinnamon roll recipe they have ever made. It really is no-fail of your ingredients are fresh. Enjoy.
No Fail Cinnamon Rolls:
Here is how I make cinnamon rolls: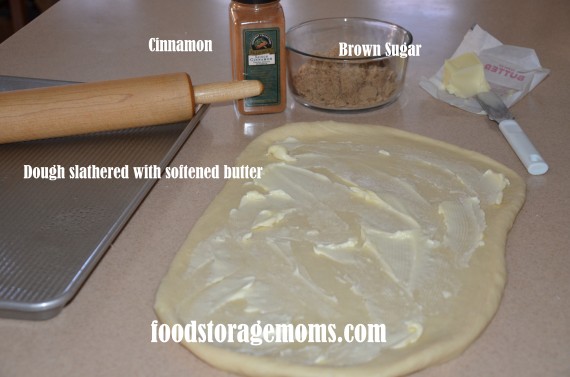 Slather Butter On No Fail Cinnamon Rolls Dough:
Make the dough according to the printable recipe below and roll out as instructed. Slather with butter as desired. Next, sprinkle LOTS of cinnamon on the buttered dough.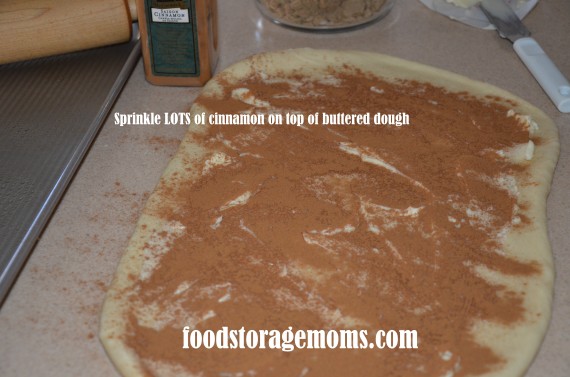 Cinnamon Rolls-LOTS Of Cinnamon.
Next, you can either use white granulated sugar or my favorite, brown sugar….sprinkle either sugar over the buttered cinnamon dough.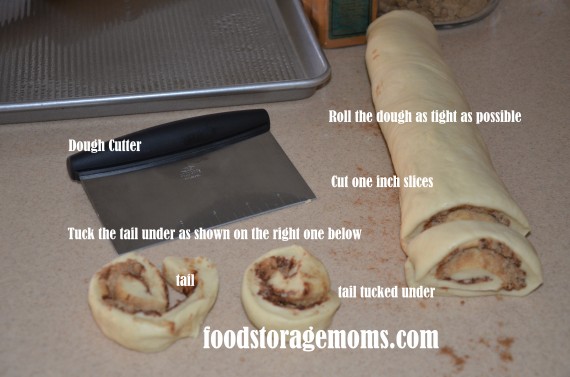 Cinnamon Rolls Ready To Roll And Slice:
Now they are ready to roll up and slice as above. I use a dough cutter….I don't like to "stretch" my dough….I am sure it's an old wives' tale….I still believe it! LOL! I tuck the tail under the roll and place on the greased cookie sheets.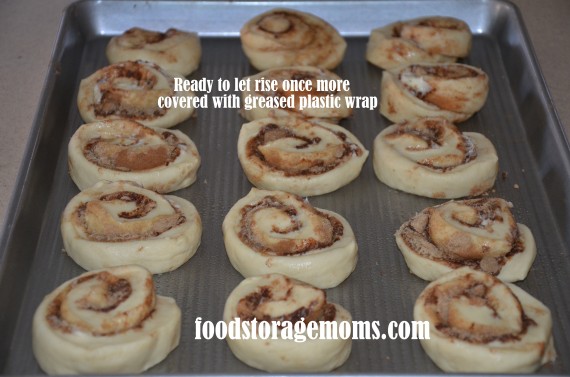 You can see how much the rolls "rise and fluff up" in the picture at the very top. I promise once you make these you will say…why didn't I know about this easy recipe before!!!
Hints: you must have fresh bread flour, fresh yeast, etc. Please do not store your yeast, wheat gluten or dough enhancer in your pantry. Store in the refrigerator what you will use within one month….the rest put in the freezer. Yes, white flour does expire…..it will grow mold spores…as do other products. When in doubt…throw it out……Buy what you use and use what you buy…..I only buy enough white bread flour I can use within 9-12 months.
Please try my whole wheat bread: Whole Wheat Bread by Food Storage Moms.
Please try my French bread in one hour: French Bread In One Hour By Food Storage Moms.
Cinnamon Rolls-No Fail by Food Storage Moms
Ingredients:
4 Teaspoons SAF Instant Yeast
1/2 Cup Water
2 Cups Warm Milk
1/4 Cup Olive Oil
1 Cup Sugar
1-1/2 Teaspoons Sea Salt
4 Teaspoons Dough Enhancer
2 Eggs
6-7 Cups White Bread Flour (Add half of the flour and then add more until the dough pulls away from the sides of the mixing bowl.)
Butter, cinnamon, and brown sugar
 Instructions:
Place all of the ingredients in order into your mixing bowl. Be careful with the eggs not to add the warm milk too quickly or you will have scrambled eggs. Add half of the flour and keep adding the rest of the flour until the bread dough pulls away from the sides of the mixing bowl. Cover with greased plastic wrap, and let rise the first time for about an hour. Punch the dough down and roll the dough into two-12 inch by 18-inch rectangles. Spread the butter, sprinkle a lot of a cinnamon and brown sugar. Roll up tightly and cut into 1/2 inch rolls. Cover with greased plastic and let rise one more time about an hour or until double the size. Bake at 350 degrees for about 15-20 minutes on a greased cookie sheet. Do not overbake. They should be a golden brown.
Cream cheese frosting:
Ingredients:
1/2 cup butter-softened
1-eight ounce cream cheese (softened)
3 to 3-1/2 cups powdered sugar
1-2 teaspoons vanilla
Instructions:
Cream the butter with the cream cheese and slowly add the powdered sugar to the thickness you desire. Add the vanilla until blended.
PRINTABLE recipe: Recipes by Food Storage Moms
This post may contain affiliate links, including Amazon.com. Using links to these sites means I may earn a small percentage of the purchase at no extra cost to you.
Follow Me In Social Media: