How To Make The Best Cream Cheese Frosting In The World
This is the best cream cheese frosting anywhere! I LOVE my mother's recipe because it is good for every kind of cookie, doughnut, cake or pastry! I used to buy some famous Bundt shaped cakes because I liked the frosting, besides the cake itself, not anymore! This frosting is the best! You can make it thinner for a drizzle type frosting, or you make it thicker to use a piping tool of any kind.
I was so glad I found her recipe in her old wooden (heirloom treasure to me) recipe box.
Best Cream Cheese Frosting:
Here are the only ingredients you need….butter, cream cheese, powdered sugar, and vanilla. I use clear vanilla to keep my frosting white. My favorite vanilla: Watkins Original Double Strength Extract, Vanilla, 11 Ounce
. I also learned about vanilla bean paste: Nielsen Massey Madagascar Bourbon Pure Vanilla Bean Paste, 4 Ounce
.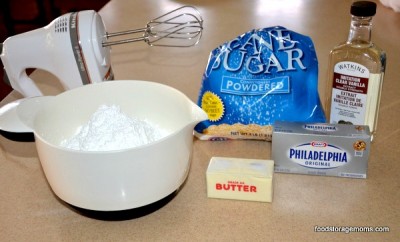 You Can Freeze This Cream Cheese Frosting:
I love this recipe because I can freeze a few batches of cream cheese frosting in small plastic containers. I just pull out the container from the freezer the day before I plan to use it and place it in the refrigerator and it's ready to use when needed.
You should try this recipe on my cinnamon rolls: Linda's Cinnamon Rolls.
Cream Cheese Frosting Ideas:
1. cinnamon rolls
2. cookies
3. cakes
4. graham cracker cookies
5. sheet cakes
6. bundt cakes
7. cupcakes
8. muffins
9. layered cakes
10. pumpkin bread
11. zucchini bread
12. cranberry bread
Cream Cheese Frosting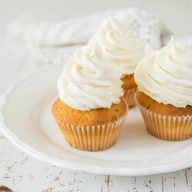 Cream Cheese Frosting
Servings
:
36
cupcakes/or 24 Cinnamon Rolls
Ingredients
1/2

cup

butter, softened

1-

8-

ounce package softened cream cheese

3-3-1/2

cups

powdered sugar

1

teaspoon

vanilla
Instructions
Cream the butter with the cream cheese. Slowly add the powdered sugar to the thickness you desire. Add the vanilla and mix until everything is incorporated.
Recipe Notes
You can make this recipe and freeze it in smaller containers to use at a different time.
Copyright pictures:
Frosting/Cupcakes: AdobeStock_109386144 by anaumenko