This easy-to-make turkey soup can be assembled in about 15 minutes. Turn on your slow cooker, enjoy your day while dinner is cooking in the kitchen.
Most of us have leftover turkey, right? Of course, you can always chop the turkey after the holidays and make this soup later by freezing it.
In case you missed this post, Easy Turkey Pot Pie
Typically, I boil the carcass for turkey soup, I didn't this year. We all know when we see that beautiful turkey on the table we will have lots of leftovers, for soup, some casseroles, and turkey sandwiches.
The sandwiches have always been one of our leftover turkey favorites, but this year with a number of us in the household with colds, I felt the turkey soup was a better use of the flavorful meat. It disappeared in a day or two, so I was right on with that decision.
This weekend we decorated the house for Christmas, and it took longer than expected, so I wasn't up to boiling the carcass. So the next best thing is broth for the soup.
These days I'm trying to simplify my life, so the carcass was tossed. Either way, I made a delicious pot of turkey soup for the family.
This soup is packed with vegetables and turkey and makes it the perfect comfort meal.
Items You May Need In The Kitchen
Easy To Make Turkey Soup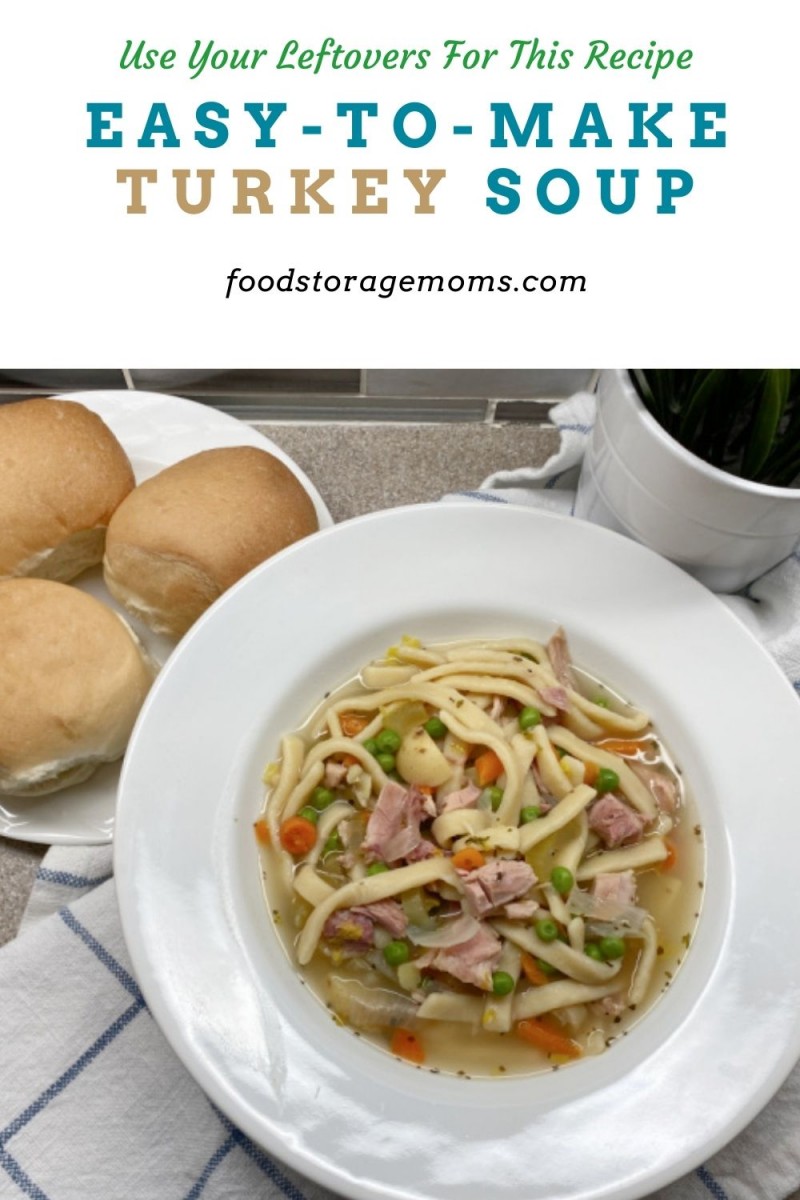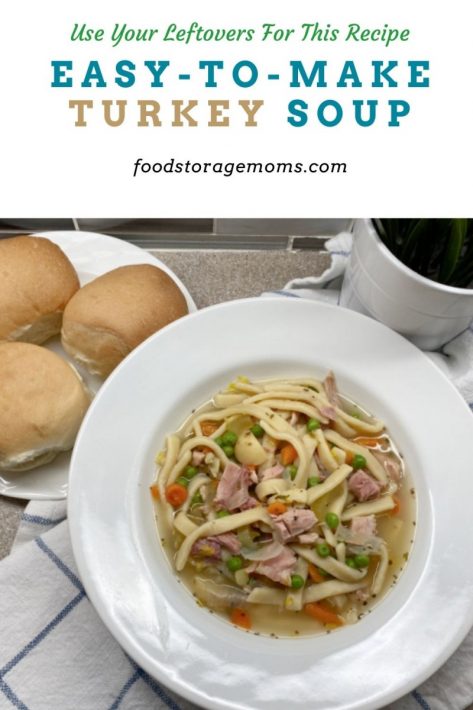 Step One
Gather the ingredients so you are ready to make the soup. I didn't have turkey stock or broth, so I used chicken broth, it was still fabulous! I wish you could smell my kitchen right now, it's heavenly!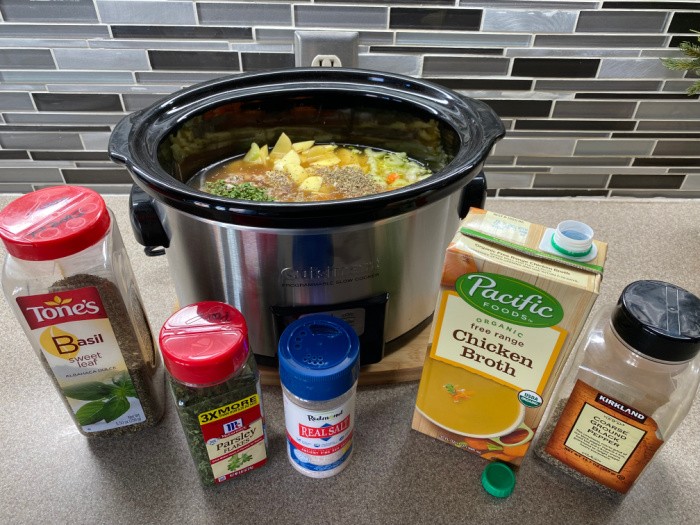 Step Two
I like to chop all of the vegetables and cut up the turkey pieces into bite-size pieces and place them in the slow cooker. The smaller sizes make it easier to cook, and then easier to eat too.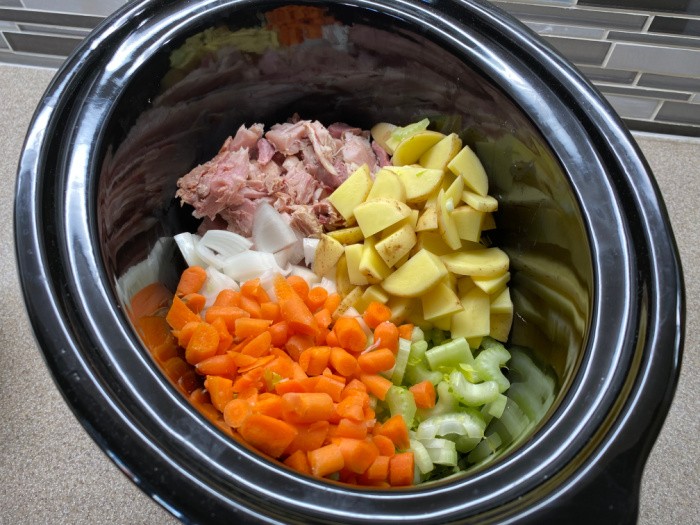 Step Three
Add the chicken or turkey broth/stock and then sprinkle the seasonings on top. Place the lid on the slow cooker and turn it to high for about 5-6 hours or until the vegetables are cooked through.
About 2 hours before you want to serve the soup, separate the Grandma's noodles and stir into the soup. These noodles have become my favorite, particularly when I use them in a soup like this. Now is when I add the frozen peas as well.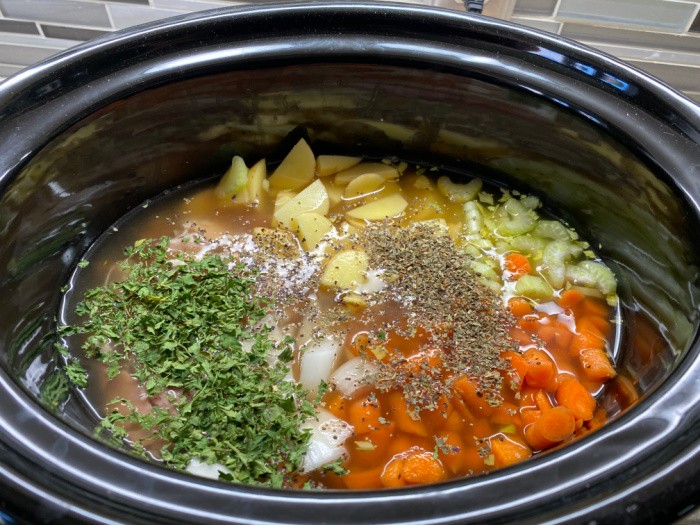 Finished Product
Oh my gosh, isn't it wonderful when we can use up the leftover turkey? This soup is so good on a cold wintery day.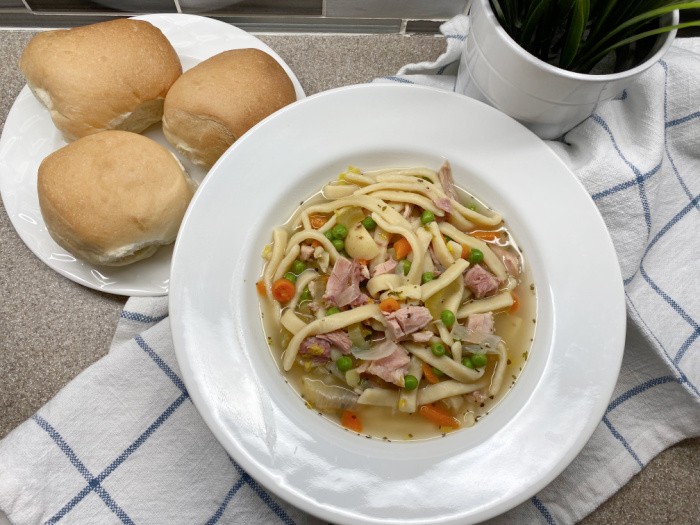 Easy To Make Turkey Soup Recipe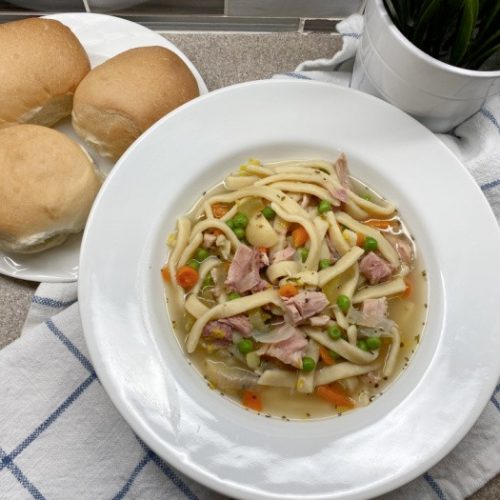 Turkey Soup
Ingredients
3

cups

cooked turkey, cut into bite-size pieces

1

cup

chopped celery

1

cup

chopped uncooked carrots

1

cup

chopped uncooked potatoes

1

onion, chopped

32

-ounces

of Chicken broth

1

teaspoon

Sweet Basil

1

teaspoon

Dried Parsley

2

Cloves of Garlic, optional

Salt and Pepper to Taste

16

-ounce

package of Grandma's Frozen Noodles (Separate the noodles, and add the noodles to the slow cooker, 1-2 hours before you serve the soup)

1

cup

Frozen peas (add 1-2 hours before serving)
Instructions
Grab a slow cooker and add the ingredients in the order shown above, except for Grandma's frozen noodles and the frozen peas. Turn the slow cooker to high for about 5-6 hours or until the vegetables are cooked through. Add the noodles and peas 1-2 hours before you serve the soup. Serve with crackers or homemade dinner rolls.
How do I store turkey soup?
Store the homemade turkey soup in an airtight container. It will stay good for 3 – 4 days.
How long is raw turkey good in the refrigerator?
Poultry, as in turkey, if properly stored will be good for 1-2 days. Please store the turkey in the coldest part of your fridge.
How long is turkey good after you cook the turkey?
After you cook the turkey, it is safe to eat for 3-4 days if stored properly in your refrigerator.
Can I freeze turkey soup?
Absolutely, it tastes great after you freeze it. Please store it in an airtight container, it will stay good in the freezer for 3-4 months. When ready to eat it again, thaw the container inside your fridge.
Can I use a reduced-fat broth?
Yes, you can.
Can I add other vegetables to the soup?
Yes, you can. I have used corn, mushrooms, and green beans. Just about any vegetable will work, that's why I love making soup.
Is it okay to sauté the vegetables before adding them to the slow cooker?
I typically sauté the various vegetables before throwing them in the soup pot. I was in a hurry this year so I didn't. The added butter from doing that is a bonus for flavor.
What can I add to the turkey soup to give it more flavor?
I like simple recipes without a lot of extra spice, but I know my mother used to add bay leaves, dried thyme, dried oregano, and dried sage. Any of your favorite spices would work.
How can I make this soup thicker?
My favorite way to thicken my soup is by adding cream of chicken soup. Recently, a reader mentioned adding instant potatoes, why didn't I think of that? Brilliant idea!!
Of course, you could use flour, cornstarch, lentils, or rice. Literally, just about anything will work.
What can I serve with this soup?
Tossed salad
Fruit Salad
Fresh fruit
Slices of cheese
Can I use a Dutch oven instead of a slow cooker?
I love Dutch ovens, you can simmer the soup on your stove instead of using a slow cooker. Either way, the soup is wonderful.
Final Word
Did you make some turkey soup this year? I love being able to grab the leftovers and make a pot of easy-to-make turkey soup, don't you? It's all about cooking from scratch.
Stay safe, stay well, and keep prepping. May God Bless this world, Linda