3 Salad Recipes We All Grew Up Eating

I think you may have eaten these 3 salad recipes when you were growing up. I know my mom made them a lot. My garden is flourishing and I'm so excited to share these recipes with you. I'm still waiting for my first tomato, but I have picked radishes, spinach, and Cilantro. Do you love it when the seeds you have planted start peeking through the dark rich soil you have planted them in? I sure do. I must confess, I had to ask a young man in the neighborhood to help haul 23 bags of new soil, earthworms, and other Organic nutrients to my backyard. I love it when I can give some gas money to someone who knows how to work. These were not small bags. Mark and I gave up our wheelbarrow, so it's called haul them by hand.
You may remember, I have raised garden beds and it's so much easier for me to plant my seeds and plants without having to bend over so far. I have seven raised beds that are 4 feet by 4 feet and 18 inches tall. I wish I had a mini farm, but I don't, so these work for me. That was always a dream for me when I was raising my daughters, to have a small farm, but it didn't fit into our plan of life. We always had a super huge garden and raised enough fruits and veggies for much of the year. I truly believe this is why all four of my daughters are really hard workers, because we planted seeds, plants, weeded and preserved our harvest. You gotta love it!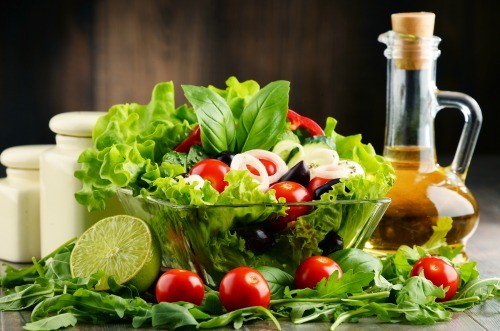 I hope you try one of my 3 salad recipes. Please tell me the version your family enjoyed. I love your comments! I love any kind of salad. I must say I use more dressing than I probably should, but that's how I roll.
3 Salad Recipes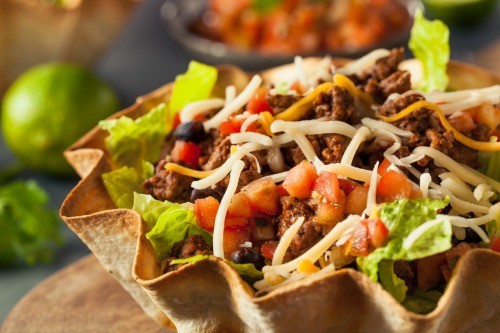 I can't believe I don't have any Mexican in my DNA, because I could eat Mexican food every night and lots of salsa.
1. Taco Salad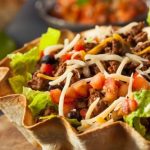 Taco Salad
Ingredients
1-

pound

cooked hamburger drained and crumbled

1

head lettuce chopped into bite-size pieces

2

tomatoes chopped

1

onion finely chopped

1

can kidney beans (rinsed and drained)

1

can of sliced and drained black olives

2

cups

grated cheese

1

bag of Doritos or Tostitos (slightly broken into pieces)

One bottle of Catalina or Russian Dressing
Instructions
Combine all of the ingredients except the dressing in a large bowl and mix together. Pour the desired amount of dressing over the salad and serve immediately.
Recipe Notes
Garnish with sliced avocado if desired after serving.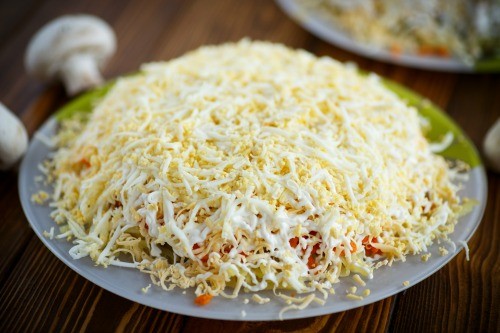 This is one of my all-time favorite salads. You can make it a 10 layer salad if you want by adding even more vegetables.
2. 7-Layer Salad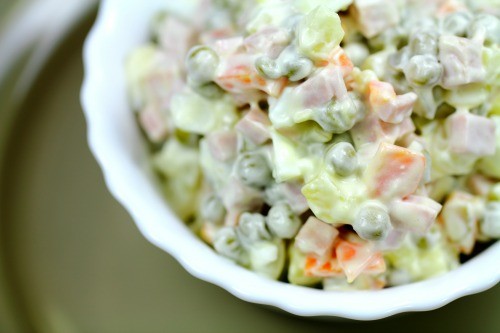 When I was growing up my mom made this salad with ham, if we had leftover ham. Otherwise, it was peas, cheese, lettuce, celery, and onions. I remember my mom used canned peas and Velveeta cheese.
3. Pea and Cheese Salad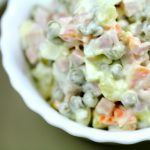 Pea and Cheese Salad
Ingredients
1

large package frozen petite peas (thawed and drained)

1/2

cup

finely chopped purple onion

1

cup

ham cut into cubes (optional)

8-10

slices

of cooked bacon chopped into bite-size pieces

8-

ounces

of cubed cheese (cheddar is my favorite)
Dressing:
1/2

cup

sour cream

1/4

cup

mayonnaise or Miracle Whip

1

tablespoon

white vinegar

salt and pepper
Instructions
Combine the salad ingredients in large bowl. Mix the dressing with a whisk and pour over the salad until thoroughly combined. Place in the refrigerator until cold. Stir again just before serving.
My friends, I hope you let me know if you grew up eating a variation of my 3 salad recipes. I love sharing recipes to hopefully get people to cook from scratch again. Please stay healthy and storing water and food. May God bless you and your family.
"Prepare Your Family For Survival"
My Favorite Things:
Copyright Pictures:
Pea Salad: AdobeStock_28810404 by Jivanshreela
Layered Salad: AdobeStock_98384092 by Peredniankina
Salad: AdobeStock_164408627 by Monticello
Taco Salad: AdobeStock_101936974 by Brent Hofacker
This post may contain affiliate links, including Amazon.com. Using links to these sites means I may earn a small percentage of the purchase at no extra cost to you.