If you want to know the secret on how to make the very best chocolate cake ever, I have the recipe today! This is a very moist chocolate cake I make all the time! I used to buy a certain well-known chocolate Bundt cake until I came up with this recipe.
My family loves this recipe because I can make the cake a few days before I need it. On the day of the party I pull the cake out of the freezer and place the frozen cake on the platter I want to use. I have done this for years because I have four daughters and I always made their birthday cakes ahead of time.
After you place the cake on the platter, cover it with plastic wrap and just let the cake thaw until you are ready to frost and decorate it. I remember picking up one of those very popular chocolate Bundt cakes and thinking "yep it's been frozen", that is what makes your cakes moist.
Secret To Making Cakes Moist:
I pull the cake out of the oven, wait 5-10 minutes depending on what else is going on in the kitchen. I place some parchment paper over the cake (still in the pan) put a plate on top and flip it over onto the large dinner plate.
The cake comes right out of the pan and I take it out to the freezer until I want to frost it say in 5 days or so. If you take any one of these cakes to a party. I promise it will disappear. This recipe is the last one you will ever use when you want to make the best chocolate cake. My favorite Bundt cake pan: Nordic Ware Pro Form Anniversary Cake Pan, 12 Cup
Best Chocolate Cake Ever Recipe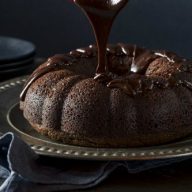 Chocolate Cake by Food Storage Moms
Ingredients
1

package chocolate cake mix (Duncan Hine's)

1

package INSTANT Chocolate pudding 5-5.9 ounces

1

cup

sour cream

1/2

cup

vegetable oil

1/2

cup

water

4

eggs

3/4

cup

mini chocolate chips or regular size chocolate chips
Instructions
Preheat oven to 350 degrees. I place everything but the chocolate chips into the mixer bowl. I blend until completely mixed, about 1-2 minutes. Fold in the chocolate chips. Grease a Bundt pan and scoop the mixture into the Bundt pan. Bake for 50 minutes or until a toothpick comes out clean. I wait for about 5-10 minutes before inverting the baked cake onto a parchment paper lined dinner plate. I freeze the cake overnight or until I need it for a party. The day of the party I remove the frozen cake and place it on the platter I will use to serve it. Remove the parchment paper and cover the cake with plastic wrap until partially thawed and ready to frost and serve.

Frost with cream cheese frosting or whipped cream and sprinkle with crushed candy canes or chocolate ganache.
Frosted with Whipping Cream
The chocolate cake below is made with whipping cream on top. This one is very popular at Christmas time or New Year's Day! The combination of chocolate cake, whipping cream and crushed candy canes are always popular for parties! Now, you can also make my very moist chocolate cake with my cream cheese frosting as well.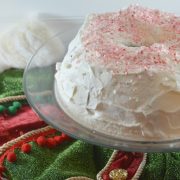 Cream Cheese Frosting
Servings
:
36
cookies or Bundt Cake
Ingredients
1/2 cup butter softened

1-eight ounce cream cheese softened

3 to 3-1/2 cups powdered sugar

1-2 teaspoons vanilla
Instructions
Cream the butter with the cream cheese and slowly add the powdered sugar to the thickness you desire

Add the vanilla until blended.
Recipe Notes
Add 3-4 tablespoons unsweetened cocoa to make chocolate frosting.
One thing I want to mention is this recipe can be made into TWO Bundt cakes so you can keep one and take one to a friend: Nordic Ware 6-Cup Bundt Pan, Multicolor If you decide to make two small 6-cup Bundt cakes then the baking time will be only 43 minutes or until a toothpick comes out clean. It really is the best chocolate cake ever!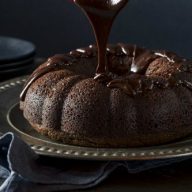 Ganache Frosting by Food Storage Moms
Ingredients
3

cups

chocolate chips (I buy semi-sweet)

3/4

cup

butter (softened)
Instructions
If you don't have a double-boiler to melt the chocolate chips and the butter then use your microwave. I microwave for one minute, stir and repeat this process. Once the mixture is totally melted be ready to spread the mixture over the cold cake you have removed from the freezer. Spread the ganache quickly, covering the top of the cake as best you can. Place the cake in the refrigerator until ready to cut and enjoy!
Final Word
I really hope you try making this cake, you will love it, if you love chocolate! It's important to me to share recipes so people will cook from scratch again. Most of us do cook from scratch, which is awesome. Of course, this recipe uses a cake mix, but who care, right? I watch for them to go on sale and but 12 or so cake mixes when they go on sale for 2 for $2.00. Those of you who buy Duncan Hines cake mixes knows $1.00 is awesome for that brand! I have to admit I'm a snob cake mix chick. Duncan Hines is the only one I will buy. Please remember we need to have some sweet to survive an emergency so it may as well be this chocolate cake. May God Bless this world, Linda